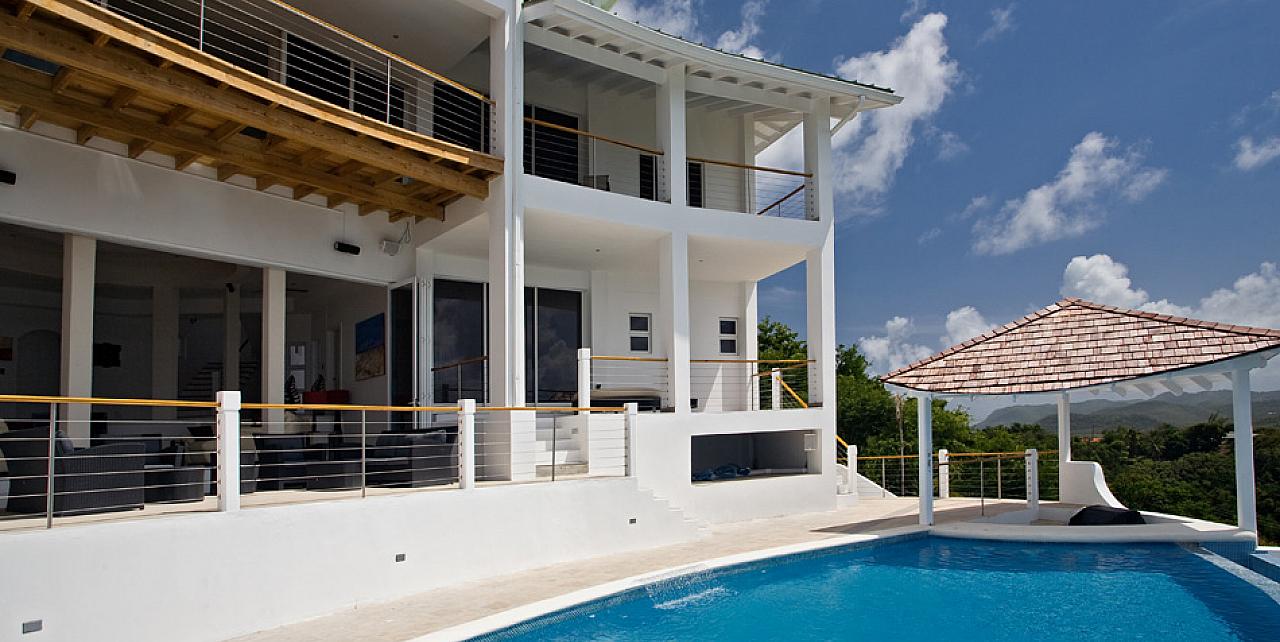 Add to Favourites
From $2,300 USD - $2,800 USD / nt
Plan Your Trip
HAVE QUESTIONS?
UK : 0845-017-6707
USA/CANADA: +1 347 707 1195
BARBADOS: +246-432-6307
INTERNATIONAL: +44 1978 368531
From $2,300 USD - $2,800 USD / nt
Villa Akasha St Lucia is a 6 bedroom villa perched on a hillside within the exclusive Cap Estate in St Lucia. This luxury modern, Miami style property is considered to be one of the finest villas to rent in St Lucia offering fabulous views of the passing yachts heading for Rodney Bay marina or distance views of the island's landmark, The Pitons or nearby Pigeon Island.
The interiors of Villa Akasha St Lucia are contemporary yet have a Caribbean feel, providing modern living with the relaxed lifestyle and each room throughout the villa ( except the cinema !) enjoys the spectacular views thorough the huge floor to ceiling windows.
State of the art equipment is a key feature at Villa Akasha St Lucia including Lutron lighting system, Crestron music and video system which can be enjoyed by the pool or in any of the rooms around the villa. All music, lighting, entertainment systems, security, air conditioning, fans and security gates can be controlled via the remote controls found in each room or the panels on each floor.
All bedrooms have spectacular ocean views, and most have their own private terrace and dressing area along with individual air conditioning controls. Each one fully furnished and bed arrangements are:
• Master Suite – 'Super King'
• Suite 2 – Queen Bed
• Suite 3 – Twin Beds, which can be zipped together to form a King
• Suite 4 – Queen Bed
• Suite 5 – Queen Bed
• Suite 6 – Queen Bed
Extra beds can be placed in the study to accommodate additional guests
The main living room of this luxury villa in St Lucia has a lounge area and dining space. The Lounge has a 50" plasma and surround sound, leather seating, 10ft glass doors opening fully to appreciate the views, the breeze and gives access to the main terrace which has additional seating. The Dining area has a large glass dining table to seat 12. The fully equipped Scavolini kitchen has everything from two ovens, dishwasher, ice maker, wine cooler, an additional sink and seating for six. The adjacent laundry room houses an additional fridge and freezer too.
Outdoors at Villa Akasha St Lucia is a built in BBQ with a Viking outdoor grill which can be lit up at night too, close by is the swimming pool which has seats so you can enjoy a refreshing drink to cool off.
For further enjoyment Villa Akasha offers a theatre to seat 9 people complete with a 110" screen, Blu-Ray DVD's with has great sound quality, wireless internet access, plus a games room with pool table, poker or table tennis .
To access the 3 of the floors of this luxury St Lucia villa there is an elevator which takes you upstairs to the main bar area, which has a 1976 Yamaha Grand Piano or to a higher floor which is the Master bedroom level.
The master bedroom has a super King size bed with lovely views over Pigeon island from the private balcony, there is also extra room which could be used as a Study or bedroom for a young child. The en-suite bathroom boasts a double bath with massage jets, whirlpool and creative lighting. There is also a shower, TV and music at the flick of a switch.
On the top level of the villa is a look-out point, ideal for star gazing or watching the world below pass by, truly amazing views to the Pitons, Mount Gimme and both the Caribbean Sea and Atlantic Ocean an also be seen from this elevated spot.
The villa's design allowing the breeze to pass through the house helps to reduce the need for air-conditioning and with the captured rain water system and installation of solar panels for hot water assist with the eco friendly theme.
Features and amenities include:
• 9000 sq ft of luxury villa living space
• 6 En-Suite bedrooms with Kohler bathroom fixtures, Ralph Lauren towels , stunning views, own private terrace, and dressing area
• Complete air conditioning
• Infinity pool and spa
• Bar and Piano entertainment areas
• 4000 sq ft of outdoor living space
• Swim up Viking outdoor kitchen
• Theatre with 110″ screen and High-Definition
• Games room with pool table
• Elevator
• State of the art Smart Home – Security, Lighting and Audio/Video
• Full CCTV systems & gated grounds
• Italian Scavolini Kitchens
• Italian Furniture
• Backup Power & Water Supplies with purification
See more details...
Amenities
Air Conditioning
BBQ
CD Player
Cinema
Complimentary Concierge Service
DVD Player
Games Room
iPod connection
Private Pool
TV
See more details...
Bedroom : 1 - 6
Bathroom : 6
Staff
• Maid/Cook - Julietta, who works Mon. - Sat. from 8:30 am - 3:30 pm
• Gardner/Poolman - Richard, weekdays from 8 am - 4 pm
• Caretaker
Rate
Bedrooms: 1 Bedrooms

| From | To | Min Stay | Nightly Rate | Weekly Rate |
| --- | --- | --- | --- | --- |
| 15-Apr-2020 | 24-Dec-2020 | 5 | $2,300 USD | $16,100 USD |
Bedrooms: 6 Bedrooms

| From | To | Min Stay | Nightly Rate | Weekly Rate |
| --- | --- | --- | --- | --- |
| 15-Apr-2020 | 24-Dec-2020 | 5 | $2,800 USD | $19,600 USD |
Rental rates are subject to 8.00 % TAX plus any applicable service charge.
Rates based on an occupancy of two guests per bedroom. Rates are subject to 8% tax. Rates and tax are subject to change without notice. Rates also available for 2, 3, 4 & 5 bedroom rental, call or email for further information.
Availability
September , 2020
| Sun | Mon | Tue | Wed | Thu | Fri | Sat |
| --- | --- | --- | --- | --- | --- | --- |
| | | 01 | 02 | 03 | 04 | 05 |
| 06 | 07 | 08 | 09 | 10 | 11 | 12 |
| 13 | 14 | 15 | 16 | 17 | 18 | 19 |
| 20 | 21 | 22 | 23 | 24 | 25 | 26 |
| 27 | 28 | 29 | 30 | | | |
October , 2020
| Sun | Mon | Tue | Wed | Thu | Fri | Sat |
| --- | --- | --- | --- | --- | --- | --- |
| | | | | 01 | 02 | 03 |
| 04 | 05 | 06 | 07 | 08 | 09 | 10 |
| 11 | 12 | 13 | 14 | 15 | 16 | 17 |
| 18 | 19 | 20 | 21 | 22 | 23 | 24 |
| 25 | 26 | 27 | 28 | 29 | 30 | 31 |
November , 2020
Sun
Mon
Tue
Wed
Thu
Fri
Sat
01
02
03
04
05
06
07
08
09
10
11
12
13
14
15
16
17
18
19
20
21
22
23
24
25
26
27
28
29
30
December , 2020
| Sun | Mon | Tue | Wed | Thu | Fri | Sat |
| --- | --- | --- | --- | --- | --- | --- |
| | | 01 | 02 | 03 | 04 | 05 |
| 06 | 07 | 08 | 09 | 10 | 11 | 12 |
| 13 | 14 | 15 | 16 | 17 | 18 | 19 |
| 20 | 21 | 22 | 23 | 24 | 25 | 26 |
| 27 | 28 | 29 | 30 | 31 | | |
January , 2021
| Sun | Mon | Tue | Wed | Thu | Fri | Sat |
| --- | --- | --- | --- | --- | --- | --- |
| | | | | | 01 | 02 |
| 03 | 04 | 05 | 06 | 07 | 08 | 09 |
| 10 | 11 | 12 | 13 | 14 | 15 | 16 |
| 17 | 18 | 19 | 20 | 21 | 22 | 23 |
| 24 | 25 | 26 | 27 | 28 | 29 | 30 |
| 31 | | | | | | |
February , 2021
| Sun | Mon | Tue | Wed | Thu | Fri | Sat |
| --- | --- | --- | --- | --- | --- | --- |
| | 01 | 02 | 03 | 04 | 05 | 06 |
| 07 | 08 | 09 | 10 | 11 | 12 | 13 |
| 14 | 15 | 16 | 17 | 18 | 19 | 20 |
| 21 | 22 | 23 | 24 | 25 | 26 | 27 |
| 28 | | | | | | |
March , 2021
| Sun | Mon | Tue | Wed | Thu | Fri | Sat |
| --- | --- | --- | --- | --- | --- | --- |
| | 01 | 02 | 03 | 04 | 05 | 06 |
| 07 | 08 | 09 | 10 | 11 | 12 | 13 |
| 14 | 15 | 16 | 17 | 18 | 19 | 20 |
| 21 | 22 | 23 | 24 | 25 | 26 | 27 |
| 28 | 29 | 30 | 31 | | | |
April , 2021
| Sun | Mon | Tue | Wed | Thu | Fri | Sat |
| --- | --- | --- | --- | --- | --- | --- |
| | | | | 01 | 02 | 03 |
| 04 | 05 | 06 | 07 | 08 | 09 | 10 |
| 11 | 12 | 13 | 14 | 15 | 16 | 17 |
| 18 | 19 | 20 | 21 | 22 | 23 | 24 |
| 25 | 26 | 27 | 28 | 29 | 30 | |
May , 2021
Sun
Mon
Tue
Wed
Thu
Fri
Sat
01
02
03
04
05
06
07
08
09
10
11
12
13
14
15
16
17
18
19
20
21
22
23
24
25
26
27
28
29
30
31
June , 2021
| Sun | Mon | Tue | Wed | Thu | Fri | Sat |
| --- | --- | --- | --- | --- | --- | --- |
| | | 01 | 02 | 03 | 04 | 05 |
| 06 | 07 | 08 | 09 | 10 | 11 | 12 |
| 13 | 14 | 15 | 16 | 17 | 18 | 19 |
| 20 | 21 | 22 | 23 | 24 | 25 | 26 |
| 27 | 28 | 29 | 30 | | | |
July , 2021
| Sun | Mon | Tue | Wed | Thu | Fri | Sat |
| --- | --- | --- | --- | --- | --- | --- |
| | | | | 01 | 02 | 03 |
| 04 | 05 | 06 | 07 | 08 | 09 | 10 |
| 11 | 12 | 13 | 14 | 15 | 16 | 17 |
| 18 | 19 | 20 | 21 | 22 | 23 | 24 |
| 25 | 26 | 27 | 28 | 29 | 30 | 31 |
August , 2021
| Sun | Mon | Tue | Wed | Thu | Fri | Sat |
| --- | --- | --- | --- | --- | --- | --- |
| 01 | 02 | 03 | 04 | 05 | 06 | 07 |
| 08 | 09 | 10 | 11 | 12 | 13 | 14 |
| 15 | 16 | 17 | 18 | 19 | 20 | 21 |
| 22 | 23 | 24 | 25 | 26 | 27 | 28 |
| 29 | 30 | 31 | | | | |
September , 2021
| Sun | Mon | Tue | Wed | Thu | Fri | Sat |
| --- | --- | --- | --- | --- | --- | --- |
| | | | 01 | 02 | 03 | 04 |
| 05 | 06 | 07 | 08 | 09 | 10 | 11 |
| 12 | 13 | 14 | 15 | 16 | 17 | 18 |
| 19 | 20 | 21 | 22 | 23 | 24 | 25 |
| 26 | 27 | 28 | 29 | 30 | | |
October , 2021
| Sun | Mon | Tue | Wed | Thu | Fri | Sat |
| --- | --- | --- | --- | --- | --- | --- |
| | | | | | 01 | 02 |
| 03 | 04 | 05 | 06 | 07 | 08 | 09 |
| 10 | 11 | 12 | 13 | 14 | 15 | 16 |
| 17 | 18 | 19 | 20 | 21 | 22 | 23 |
| 24 | 25 | 26 | 27 | 28 | 29 | 30 |
| 31 | | | | | | |
November , 2021
| Sun | Mon | Tue | Wed | Thu | Fri | Sat |
| --- | --- | --- | --- | --- | --- | --- |
| | 01 | 02 | 03 | 04 | 05 | 06 |
| 07 | 08 | 09 | 10 | 11 | 12 | 13 |
| 14 | 15 | 16 | 17 | 18 | 19 | 20 |
| 21 | 22 | 23 | 24 | 25 | 26 | 27 |
| 28 | 29 | 30 | | | | |
December , 2021
| Sun | Mon | Tue | Wed | Thu | Fri | Sat |
| --- | --- | --- | --- | --- | --- | --- |
| | | | 01 | 02 | 03 | 04 |
| 05 | 06 | 07 | 08 | 09 | 10 | 11 |
| 12 | 13 | 14 | 15 | 16 | 17 | 18 |
| 19 | 20 | 21 | 22 | 23 | 24 | 25 |
| 26 | 27 | 28 | 29 | 30 | 31 | |
January , 2022
Sun
Mon
Tue
Wed
Thu
Fri
Sat
01
02
03
04
05
06
07
08
09
10
11
12
13
14
15
16
17
18
19
20
21
22
23
24
25
26
27
28
29
30
31
February , 2022
Sun
Mon
Tue
Wed
Thu
Fri
Sat
01
02
03
04
05
06
07
08
09
10
11
12
13
14
15
16
17
18
19
20
21
22
23
24
25
26
27
28
March , 2022
| Sun | Mon | Tue | Wed | Thu | Fri | Sat |
| --- | --- | --- | --- | --- | --- | --- |
| | | 01 | 02 | 03 | 04 | 05 |
| 06 | 07 | 08 | 09 | 10 | 11 | 12 |
| 13 | 14 | 15 | 16 | 17 | 18 | 19 |
| 20 | 21 | 22 | 23 | 24 | 25 | 26 |
| 27 | 28 | 29 | 30 | 31 | | |
April , 2022
| Sun | Mon | Tue | Wed | Thu | Fri | Sat |
| --- | --- | --- | --- | --- | --- | --- |
| | | | | | 01 | 02 |
| 03 | 04 | 05 | 06 | 07 | 08 | 09 |
| 10 | 11 | 12 | 13 | 14 | 15 | 16 |
| 17 | 18 | 19 | 20 | 21 | 22 | 23 |
| 24 | 25 | 26 | 27 | 28 | 29 | 30 |
May , 2022
| Sun | Mon | Tue | Wed | Thu | Fri | Sat |
| --- | --- | --- | --- | --- | --- | --- |
| 01 | 02 | 03 | 04 | 05 | 06 | 07 |
| 08 | 09 | 10 | 11 | 12 | 13 | 14 |
| 15 | 16 | 17 | 18 | 19 | 20 | 21 |
| 22 | 23 | 24 | 25 | 26 | 27 | 28 |
| 29 | 30 | 31 | | | | |
June , 2022
| Sun | Mon | Tue | Wed | Thu | Fri | Sat |
| --- | --- | --- | --- | --- | --- | --- |
| | | | 01 | 02 | 03 | 04 |
| 05 | 06 | 07 | 08 | 09 | 10 | 11 |
| 12 | 13 | 14 | 15 | 16 | 17 | 18 |
| 19 | 20 | 21 | 22 | 23 | 24 | 25 |
| 26 | 27 | 28 | 29 | 30 | | |
July , 2022
| Sun | Mon | Tue | Wed | Thu | Fri | Sat |
| --- | --- | --- | --- | --- | --- | --- |
| | | | | | 01 | 02 |
| 03 | 04 | 05 | 06 | 07 | 08 | 09 |
| 10 | 11 | 12 | 13 | 14 | 15 | 16 |
| 17 | 18 | 19 | 20 | 21 | 22 | 23 |
| 24 | 25 | 26 | 27 | 28 | 29 | 30 |
| 31 | | | | | | |
August , 2022
| Sun | Mon | Tue | Wed | Thu | Fri | Sat |
| --- | --- | --- | --- | --- | --- | --- |
| | 01 | 02 | 03 | 04 | 05 | 06 |
| 07 | 08 | 09 | 10 | 11 | 12 | 13 |
| 14 | 15 | 16 | 17 | 18 | 19 | 20 |
| 21 | 22 | 23 | 24 | 25 | 26 | 27 |
| 28 | 29 | 30 | 31 | | | |
Location
Cap Estate, St Lucia
• 3 minute drive to Championship golf course
• 5 minute drive to Restaurant, Shopping, Casino & Tourist area of Rodney Bay
• 20 minute drive to George F.L Charles airport
• 90 minute drive to Hewanorra airport (20 minutes by helicopter transfer)
Other Properties you may like