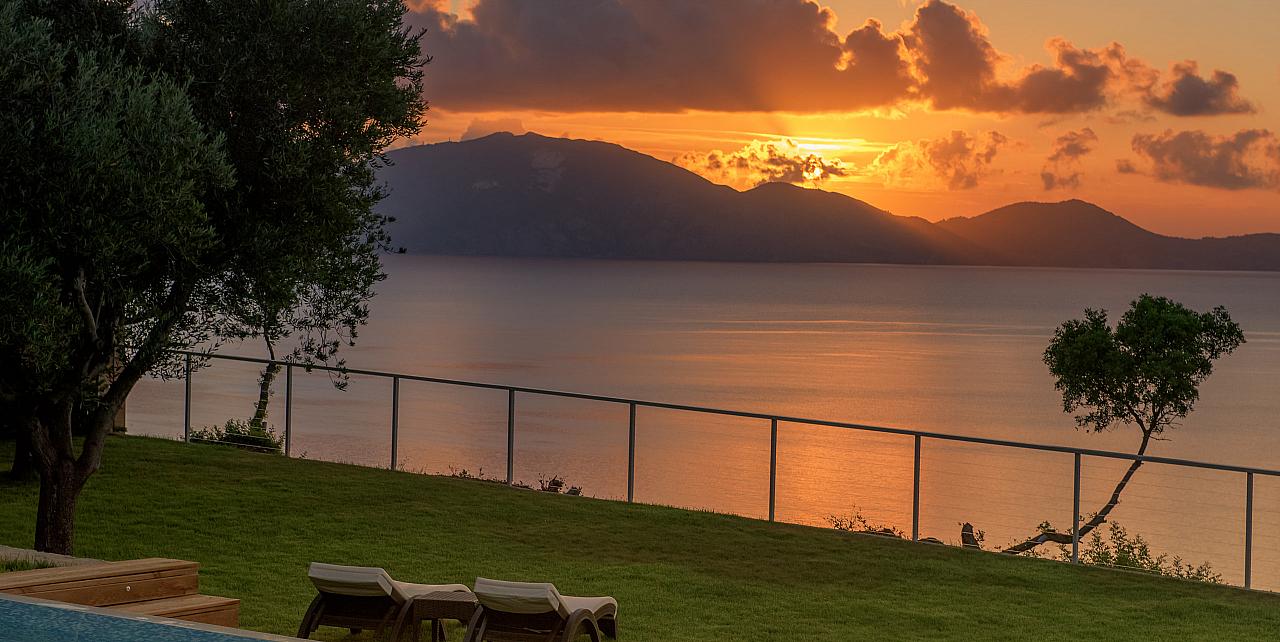 Add to Favourites
From $898 USD - $1,694 USD / nt
Plan Your Trip
HAVE QUESTIONS?
USA/CANADA: +1 347 707 1195
BARBADOS: +246-432-6307
UK /INTERNATIONAL: +44 1978 368531
From $898 USD - $1,694 USD / nt
Villa Avra is an enchanting private luxury villa in Zakynthos. It is located on the hillside above the traditional village of Keri Lake. This is on the southwest coast of the Island. The villa is in a peaceful position. It is set amidst idyllic surroundings, spacious gardens and a pool. The charming Keri beach and its crystal clear waters is accessible on foot. It is just 5 minutes' drive away by car.
The design of villa Avra combines natural, traditional architecture from Zakynthos with modern, luxury comforts. It creates its own exclusive style.
Villa Avra offers 3 bedrooms. 2 have en-suite bathrooms. There is a thirdfamily bathroom to share. Bathroom toiletries , bathrobes and slippers are provided.
Bedroom 1 - Queen Size (Double) bed, En-suite bathroom with shower, Air Conditioning, Television, Safety deposit box, Wardrobes, Mirror.
Bedroom 2 - Queen Size (Double) bed, Air Conditioning, Television, Safety deposit box, Wardrobes, Mirror.
Bedroom 3 - Queen Size (Double) bed, En-suite bathroom with shower, Air Conditioning, Television, Safety deposit box, Wardrobes, Mirror.
The open plan living/dining room flows on to the a large terrace. This overlooks the pool and has a large sofa bed that can sleep an extra two people.
The pool (10m X 5m) has an Inpool hydro and air massage, waterfall effect feature. It is surrounded by lush, landscaped gardens. From here you can enjoy truly magnificent views of the Ionian Sea and the isle of Marathonisi.
There is yoga area. There are also sunbeds, chairs and umbrellas. There is ample outdoor living space, BBQ , outdoor kitchen and dining table.
The indoor kitchen is modern and well equipped. It has all that's needed to prepare meals for up to 8 people.
Villa Avra provides the ultimate villa holiday experience. It offers a variety of comforts, facilities and services to suit individual needs and preferences.
The island of Zakynthos is the most southerly of the Ionian Sea Islands. It is popular with visitors for its natural beauty and cultureis. It is also popular for its world famous, spectacular, Navagio (Shipwreck) beach.
Zakynthos offers many interesting landmarks to discover and explore. Examples include the Keri Caves and Marathonisi (Turtle Island). You can take a trip to the Blue Caves, The Byzantine Museum and Solomos Square and Zakynthos Town.
Visit the traditional Greek tavernas that serve local delicacies. Fresh fish is caught daily by the local fishermen.
There are many activities available on Zakynthos. Renting a boat is a favourite to see the island. Visit the Lighthouse to marvel in the exceptional sunset. Alternatively, explore below the sea with some scuba diving. Take long walks or hikes on the nearby mountain.
If lively night life is what you are looking for then visit the neighbouring beach resort of Laganas. Here there are many nightclubs and bars.
For the larger family group, the neighbouring 3 bedroom villa Artina is ideal to rent together with Villa Avra. This will accommodate additonal guests.
If you are interested in Villa Avra contact us today
See more details...
Amenities
Alarm
Car Parking on site
Children Welcome
Fully Equipped Kitchen
Heatable Pool
Internet Access
iPod connection
Iron & Board
Office
Private Garden
Private Pool
Safe
Satellite TV
Sea view
Security System
Short walk to beach
Sunbeds
TV
Washing Machine
Wireless Internet
See more details...
• Mosquito Nets
• Children's Play Area
• Playstation PS4
Heated pool at an extra cost 
Bedroom : 3
Bathroom : 3
Staff
• Daily Maid Service - Linen & Towels Changed every 2 days
• Pool and Beach towels provided
• Bathroom Amenities
• Bathrobes and slippers
Rate
Bedrooms: 3 Bedrooms

| From | To | Min Stay | Nightly Rate | Weekly Rate |
| --- | --- | --- | --- | --- |
| 01-Jun-2023 | 30-Jun-2023 | 7 | $1,154 USD | $8,077 USD |
| 01-Jul-2023 | 14-Jul-2023 | 7 | $1,374 USD | $9,615 USD |
| 15-Jul-2023 | 24-Aug-2023 | 7 | $1,824 USD | $12,769 USD |
| 25-Aug-2023 | 31-Aug-2023 | 7 | $1,593 USD | $11,154 USD |
| 01-Sep-2023 | 30-Sep-2023 | 7 | $1,154 USD | $8,077 USD |
| 01-Oct-2023 | 31-Oct-2023 | 7 | $967 USD | $6,769 USD |
Rates & taxes are subject to change without notice.
Availability
(Please use as a guide only as availability is subject to change)
June , 2023
| Sun | Mon | Tue | Wed | Thu | Fri | Sat |
| --- | --- | --- | --- | --- | --- | --- |
| | | | | 01 | 02 | 03 |
| 04 | 05 | 06 | 07 | 08 | 09 | 10 |
| 11 | 12 | 13 | 14 | 15 | 16 | 17 |
| 18 | 19 | 20 | 21 | 22 | 23 | 24 |
| 25 | 26 | 27 | 28 | 29 | 30 | |
July , 2023
Sun
Mon
Tue
Wed
Thu
Fri
Sat
01
02
03
04
05
06
07
08
09
10
11
12
13
14
15
16
17
18
19
20
21
22
23
24
25
26
27
28
29
30
31
August , 2023
| Sun | Mon | Tue | Wed | Thu | Fri | Sat |
| --- | --- | --- | --- | --- | --- | --- |
| | | 01 | 02 | 03 | 04 | 05 |
| 06 | 07 | 08 | 09 | 10 | 11 | 12 |
| 13 | 14 | 15 | 16 | 17 | 18 | 19 |
| 20 | 21 | 22 | 23 | 24 | 25 | 26 |
| 27 | 28 | 29 | 30 | 31 | | |
September , 2023
| Sun | Mon | Tue | Wed | Thu | Fri | Sat |
| --- | --- | --- | --- | --- | --- | --- |
| | | | | | 01 | 02 |
| 03 | 04 | 05 | 06 | 07 | 08 | 09 |
| 10 | 11 | 12 | 13 | 14 | 15 | 16 |
| 17 | 18 | 19 | 20 | 21 | 22 | 23 |
| 24 | 25 | 26 | 27 | 28 | 29 | 30 |
October , 2023
| Sun | Mon | Tue | Wed | Thu | Fri | Sat |
| --- | --- | --- | --- | --- | --- | --- |
| 01 | 02 | 03 | 04 | 05 | 06 | 07 |
| 08 | 09 | 10 | 11 | 12 | 13 | 14 |
| 15 | 16 | 17 | 18 | 19 | 20 | 21 |
| 22 | 23 | 24 | 25 | 26 | 27 | 28 |
| 29 | 30 | 31 | | | | |
November , 2023
| Sun | Mon | Tue | Wed | Thu | Fri | Sat |
| --- | --- | --- | --- | --- | --- | --- |
| | | | 01 | 02 | 03 | 04 |
| 05 | 06 | 07 | 08 | 09 | 10 | 11 |
| 12 | 13 | 14 | 15 | 16 | 17 | 18 |
| 19 | 20 | 21 | 22 | 23 | 24 | 25 |
| 26 | 27 | 28 | 29 | 30 | | |
December , 2023
| Sun | Mon | Tue | Wed | Thu | Fri | Sat |
| --- | --- | --- | --- | --- | --- | --- |
| | | | | | 01 | 02 |
| 03 | 04 | 05 | 06 | 07 | 08 | 09 |
| 10 | 11 | 12 | 13 | 14 | 15 | 16 |
| 17 | 18 | 19 | 20 | 21 | 22 | 23 |
| 24 | 25 | 26 | 27 | 28 | 29 | 30 |
| 31 | | | | | | |
January , 2024
| Sun | Mon | Tue | Wed | Thu | Fri | Sat |
| --- | --- | --- | --- | --- | --- | --- |
| | 01 | 02 | 03 | 04 | 05 | 06 |
| 07 | 08 | 09 | 10 | 11 | 12 | 13 |
| 14 | 15 | 16 | 17 | 18 | 19 | 20 |
| 21 | 22 | 23 | 24 | 25 | 26 | 27 |
| 28 | 29 | 30 | 31 | | | |
February , 2024
| Sun | Mon | Tue | Wed | Thu | Fri | Sat |
| --- | --- | --- | --- | --- | --- | --- |
| | | | | 01 | 02 | 03 |
| 04 | 05 | 06 | 07 | 08 | 09 | 10 |
| 11 | 12 | 13 | 14 | 15 | 16 | 17 |
| 18 | 19 | 20 | 21 | 22 | 23 | 24 |
| 25 | 26 | 27 | 28 | 29 | | |
March , 2024
| Sun | Mon | Tue | Wed | Thu | Fri | Sat |
| --- | --- | --- | --- | --- | --- | --- |
| | | | | | 01 | 02 |
| 03 | 04 | 05 | 06 | 07 | 08 | 09 |
| 10 | 11 | 12 | 13 | 14 | 15 | 16 |
| 17 | 18 | 19 | 20 | 21 | 22 | 23 |
| 24 | 25 | 26 | 27 | 28 | 29 | 30 |
| 31 | | | | | | |
April , 2024
| Sun | Mon | Tue | Wed | Thu | Fri | Sat |
| --- | --- | --- | --- | --- | --- | --- |
| | 01 | 02 | 03 | 04 | 05 | 06 |
| 07 | 08 | 09 | 10 | 11 | 12 | 13 |
| 14 | 15 | 16 | 17 | 18 | 19 | 20 |
| 21 | 22 | 23 | 24 | 25 | 26 | 27 |
| 28 | 29 | 30 | | | | |
May , 2024
| Sun | Mon | Tue | Wed | Thu | Fri | Sat |
| --- | --- | --- | --- | --- | --- | --- |
| | | | 01 | 02 | 03 | 04 |
| 05 | 06 | 07 | 08 | 09 | 10 | 11 |
| 12 | 13 | 14 | 15 | 16 | 17 | 18 |
| 19 | 20 | 21 | 22 | 23 | 24 | 25 |
| 26 | 27 | 28 | 29 | 30 | 31 | |
June , 2024
| Sun | Mon | Tue | Wed | Thu | Fri | Sat |
| --- | --- | --- | --- | --- | --- | --- |
| | | | | | | 01 |
| 02 | 03 | 04 | 05 | 06 | 07 | 08 |
| 09 | 10 | 11 | 12 | 13 | 14 | 15 |
| 16 | 17 | 18 | 19 | 20 | 21 | 22 |
| 23 | 24 | 25 | 26 | 27 | 28 | 29 |
| 30 | | | | | | |
July , 2024
| Sun | Mon | Tue | Wed | Thu | Fri | Sat |
| --- | --- | --- | --- | --- | --- | --- |
| | 01 | 02 | 03 | 04 | 05 | 06 |
| 07 | 08 | 09 | 10 | 11 | 12 | 13 |
| 14 | 15 | 16 | 17 | 18 | 19 | 20 |
| 21 | 22 | 23 | 24 | 25 | 26 | 27 |
| 28 | 29 | 30 | 31 | | | |
August , 2024
| Sun | Mon | Tue | Wed | Thu | Fri | Sat |
| --- | --- | --- | --- | --- | --- | --- |
| | | | | 01 | 02 | 03 |
| 04 | 05 | 06 | 07 | 08 | 09 | 10 |
| 11 | 12 | 13 | 14 | 15 | 16 | 17 |
| 18 | 19 | 20 | 21 | 22 | 23 | 24 |
| 25 | 26 | 27 | 28 | 29 | 30 | 31 |
September , 2024
Sun
Mon
Tue
Wed
Thu
Fri
Sat
01
02
03
04
05
06
07
08
09
10
11
12
13
14
15
16
17
18
19
20
21
22
23
24
25
26
27
28
29
30
October , 2024
| Sun | Mon | Tue | Wed | Thu | Fri | Sat |
| --- | --- | --- | --- | --- | --- | --- |
| | | 01 | 02 | 03 | 04 | 05 |
| 06 | 07 | 08 | 09 | 10 | 11 | 12 |
| 13 | 14 | 15 | 16 | 17 | 18 | 19 |
| 20 | 21 | 22 | 23 | 24 | 25 | 26 |
| 27 | 28 | 29 | 30 | 31 | | |
November , 2024
| Sun | Mon | Tue | Wed | Thu | Fri | Sat |
| --- | --- | --- | --- | --- | --- | --- |
| | | | | | 01 | 02 |
| 03 | 04 | 05 | 06 | 07 | 08 | 09 |
| 10 | 11 | 12 | 13 | 14 | 15 | 16 |
| 17 | 18 | 19 | 20 | 21 | 22 | 23 |
| 24 | 25 | 26 | 27 | 28 | 29 | 30 |
December , 2024
| Sun | Mon | Tue | Wed | Thu | Fri | Sat |
| --- | --- | --- | --- | --- | --- | --- |
| 01 | 02 | 03 | 04 | 05 | 06 | 07 |
| 08 | 09 | 10 | 11 | 12 | 13 | 14 |
| 15 | 16 | 17 | 18 | 19 | 20 | 21 |
| 22 | 23 | 24 | 25 | 26 | 27 | 28 |
| 29 | 30 | 31 | | | | |
January , 2025
| Sun | Mon | Tue | Wed | Thu | Fri | Sat |
| --- | --- | --- | --- | --- | --- | --- |
| | | | 01 | 02 | 03 | 04 |
| 05 | 06 | 07 | 08 | 09 | 10 | 11 |
| 12 | 13 | 14 | 15 | 16 | 17 | 18 |
| 19 | 20 | 21 | 22 | 23 | 24 | 25 |
| 26 | 27 | 28 | 29 | 30 | 31 | |
February , 2025
| Sun | Mon | Tue | Wed | Thu | Fri | Sat |
| --- | --- | --- | --- | --- | --- | --- |
| | | | | | | 01 |
| 02 | 03 | 04 | 05 | 06 | 07 | 08 |
| 09 | 10 | 11 | 12 | 13 | 14 | 15 |
| 16 | 17 | 18 | 19 | 20 | 21 | 22 |
| 23 | 24 | 25 | 26 | 27 | 28 | |
March , 2025
Sun
Mon
Tue
Wed
Thu
Fri
Sat
01
02
03
04
05
06
07
08
09
10
11
12
13
14
15
16
17
18
19
20
21
22
23
24
25
26
27
28
29
30
31
April , 2025
| Sun | Mon | Tue | Wed | Thu | Fri | Sat |
| --- | --- | --- | --- | --- | --- | --- |
| | | 01 | 02 | 03 | 04 | 05 |
| 06 | 07 | 08 | 09 | 10 | 11 | 12 |
| 13 | 14 | 15 | 16 | 17 | 18 | 19 |
| 20 | 21 | 22 | 23 | 24 | 25 | 26 |
| 27 | 28 | 29 | 30 | | | |
May , 2025
| Sun | Mon | Tue | Wed | Thu | Fri | Sat |
| --- | --- | --- | --- | --- | --- | --- |
| | | | | 01 | 02 | 03 |
| 04 | 05 | 06 | 07 | 08 | 09 | 10 |
| 11 | 12 | 13 | 14 | 15 | 16 | 17 |
| 18 | 19 | 20 | 21 | 22 | 23 | 24 |
| 25 | 26 | 27 | 28 | 29 | 30 | 31 |
Location
Keri Lake, Zante Zakynthos
• Keri Beach 300m (on foot)
• Keri Beach 800m (by car)
• Keri Centre 300m
• Mini market / Tavernas 400m
• Airport 15km
• Zakynthos Town 18km
• 18km Main Port
• 18km Laganas
• 3km Marathias
Other Properties you may like