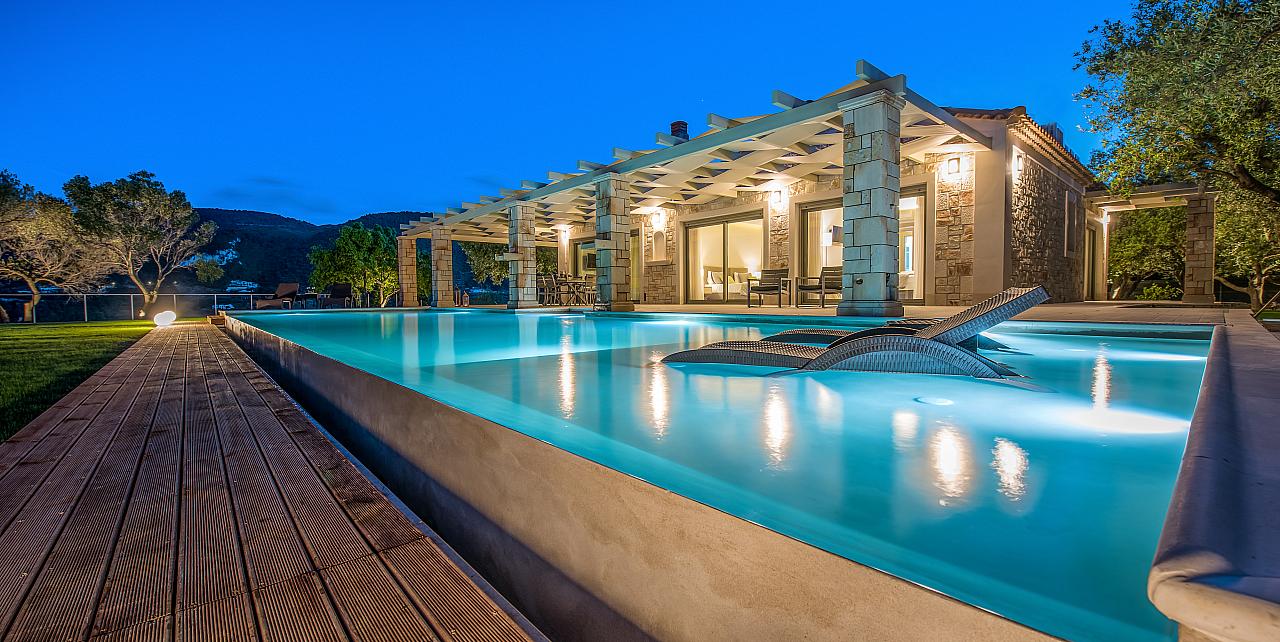 Add to Favourites
Plan Your Trip
HAVE QUESTIONS?
USA/CANADA: +1 347 707 1195
BARBADOS: +246-432-6307
UK /INTERNATIONAL: +44 1978 368531
We love this villa because...
Magnificent views to the Ionian Sea, Full Privacy, Infinity Pool, Extensive range of add-on services & activities, Personal care to all guests
Artina Villa is a luxurious 3 bedroom villa in Zakynthos (also known as Zante). It is a delightful villa set within 21 acres of private grounds. The grounds include a beautiful olive tree garden. This is located on an elevated position above the Ionian Sea.
The traditional Greek village of Keri, Zakynthos is a 5 minute drive away. Here you will find restaurants, shops, markets and cafés .
The views from Artina Villa are truly breath-taking. The look out over the green bay of Keri Lake (Limni Keri) and Marathonisi island. The views extend towards the stunning crystal blue waters of Zakynthos.
There are 3 bedrooms in Artina Villa. These feature quality linens and 2 sofa-beds for the extra guests. Artina Villa can accommodate up to 8 people. There are 2 en-suite bathrooms and 1 common bathroom
The accommodation at Artina Villa consists of :
Master bedroom 1 - queen bed and en-suite bathroom. Climate control and 32 inch plasma screen TV with satellite channels. Desk top and Safe. Views to the swimming pool, sea and garden.
Master bedroom 2 - queen bed and en-suite bathroom. Climate control and 32 inch plasma screenTV with satellite channels. Desk top and safe. Views to the garden.
Bedroom 3 - Two single beds. Climate control and 32 inch plasma screen TV with satellite channels. Desk-top and safe. Views to the swimming pool, sea and garden.
The 3rd bathroom has a bath and shower cubicle. All bathrooms have hair dryers, bathrobes and slippers. There are quality towels and a selection of bathroom amenities.
The living room provides the sofa beds. These convert into single beds for 2 additional guests.
There are floor-to-ceiling windows seamlessly leading to spacious terraces and the stunning sea and mountain views.
Also in the living room is a feature fireplace. It has climate control and 42 inch Flat plasma screen TV with satellite channels. It is equipped with PlayStation, board games, Laptop and Printer. There is also a sound System, CD/DVD Player and iPod dock.
The views are out to the swimming pool, the sea and the garden. The fully equipped kitchen /dining room is open plan with a large dining table.
The villa is air-conditioned (cold/heat). Free Wi-Fi internet is available in all areas.
Outdoors:
Private heated pool that measures 16.5 m. x 5.5 m. Depth: 0.25 m. - 1.60 m. This includes an Aero-massage and Hydro-massage. There is shallow end for children too. Heating provided on request at an extra charge.
There is a sun deck, loungers and umbrellas to relax under. From here you will enjoy the panoramic views to Keri Lake Bay and the Ionian Sea.
Pool towels are provided along with an outdoor shower.
To take full advantage of outdoor villa living, there is a BBQ, bar and outdoor dining area. Children can play in the playground area of the garden whilst their parents take some time out. Baby sitting can also be arranged for the younger guests.
A private road leads up to the villa. The villa has secure private parking and a Helipad for guests who prefer to arrive in style.
Beauty and wellness treatments can be arranged at an extra charge and enjoyed at the villa itself. Or maybe you would like a private chef to prepare a delicious BBQ or a more formal dinner. This can be arranged with a,wine tasting if desired for any special occasion.
The outdoor bar area can also be fully stocked as required for you (this will be at your cost).
There are a great variety of sports and activities on the island. These include tennis. Water sports such as scuba diving, snorkelling and canoeing are available. SUP Fishing trips can also be organised. Car, boat and bicycle rentals cn also be arranged.
Should you be visiting Artina Villa to celebrate a special occasion the villa management will be happy to assist with planning services. They work with verified local caterers and suppliers.
We can put together various package options to suit. Please ask for further details based on your requirements
The Greek island of Zakynthos is the most southerly of the Ionian Sea Islands. It is popular for its natural beauty, its culture and the famous Navagio (Shipwreck) beach. This is considered to be one of the world's most spectacular beaches.
There are many amazing landmarks to discover. Visit Keri Caves and Marathonisi (Turtle Island). Take a trip to the Blue Caves, The Byzantine Museum and Solomos Square. Visit Zakynthos Town and so much more.
To welcome you to Artina Villa a grocery starter will be waiting for you. This includes fresh fruit, selected coffee and tea. There is also milk, butter, cereal, juices and eggs provided. In addition there will be bread, hceese, ham, praline Marmalades, pure local honey and a sesame stick. The villa's own labelled wine will be included along with some additional local delicacies such as nougat and rare oil olive.
See more details...
Amenities
Air Conditioning
Bar
BBQ
Car Parking on site
Car Recommended
Children Welcome
Childrens Pool
Well Equipped Kitchen
Heatable Pool
Helipad
Infinity edge pool
Laundry Room
Private Garden
Private Pool
Safe
Satellite TV
Sea view
Sound System
TV
Welcome basket
Wireless Internet
See more details...
Bedroom : 3
Bathroom : 3
Staff
• Daily cleaning service included
Additonal staff and service cn=an be arranged on request at an additonal cost
Rate
Rates based on a maximum of 8 guests and include all taxes and VAT. Rates, taxes and service charges are subject to change without notice.
Availability
(Please use as a guide only as availability is subject to change)
September , 2023
| Sun | Mon | Tue | Wed | Thu | Fri | Sat |
| --- | --- | --- | --- | --- | --- | --- |
| | | | | | 01 | 02 |
| 03 | 04 | 05 | 06 | 07 | 08 | 09 |
| 10 | 11 | 12 | 13 | 14 | 15 | 16 |
| 17 | 18 | 19 | 20 | 21 | 22 | 23 |
| 24 | 25 | 26 | 27 | 28 | 29 | 30 |
October , 2023
| Sun | Mon | Tue | Wed | Thu | Fri | Sat |
| --- | --- | --- | --- | --- | --- | --- |
| 01 | 02 | 03 | 04 | 05 | 06 | 07 |
| 08 | 09 | 10 | 11 | 12 | 13 | 14 |
| 15 | 16 | 17 | 18 | 19 | 20 | 21 |
| 22 | 23 | 24 | 25 | 26 | 27 | 28 |
| 29 | 30 | 31 | | | | |
November , 2023
| Sun | Mon | Tue | Wed | Thu | Fri | Sat |
| --- | --- | --- | --- | --- | --- | --- |
| | | | 01 | 02 | 03 | 04 |
| 05 | 06 | 07 | 08 | 09 | 10 | 11 |
| 12 | 13 | 14 | 15 | 16 | 17 | 18 |
| 19 | 20 | 21 | 22 | 23 | 24 | 25 |
| 26 | 27 | 28 | 29 | 30 | | |
December , 2023
| Sun | Mon | Tue | Wed | Thu | Fri | Sat |
| --- | --- | --- | --- | --- | --- | --- |
| | | | | | 01 | 02 |
| 03 | 04 | 05 | 06 | 07 | 08 | 09 |
| 10 | 11 | 12 | 13 | 14 | 15 | 16 |
| 17 | 18 | 19 | 20 | 21 | 22 | 23 |
| 24 | 25 | 26 | 27 | 28 | 29 | 30 |
| 31 | | | | | | |
January , 2024
| Sun | Mon | Tue | Wed | Thu | Fri | Sat |
| --- | --- | --- | --- | --- | --- | --- |
| | 01 | 02 | 03 | 04 | 05 | 06 |
| 07 | 08 | 09 | 10 | 11 | 12 | 13 |
| 14 | 15 | 16 | 17 | 18 | 19 | 20 |
| 21 | 22 | 23 | 24 | 25 | 26 | 27 |
| 28 | 29 | 30 | 31 | | | |
February , 2024
| Sun | Mon | Tue | Wed | Thu | Fri | Sat |
| --- | --- | --- | --- | --- | --- | --- |
| | | | | 01 | 02 | 03 |
| 04 | 05 | 06 | 07 | 08 | 09 | 10 |
| 11 | 12 | 13 | 14 | 15 | 16 | 17 |
| 18 | 19 | 20 | 21 | 22 | 23 | 24 |
| 25 | 26 | 27 | 28 | 29 | | |
March , 2024
| Sun | Mon | Tue | Wed | Thu | Fri | Sat |
| --- | --- | --- | --- | --- | --- | --- |
| | | | | | 01 | 02 |
| 03 | 04 | 05 | 06 | 07 | 08 | 09 |
| 10 | 11 | 12 | 13 | 14 | 15 | 16 |
| 17 | 18 | 19 | 20 | 21 | 22 | 23 |
| 24 | 25 | 26 | 27 | 28 | 29 | 30 |
| 31 | | | | | | |
April , 2024
| Sun | Mon | Tue | Wed | Thu | Fri | Sat |
| --- | --- | --- | --- | --- | --- | --- |
| | 01 | 02 | 03 | 04 | 05 | 06 |
| 07 | 08 | 09 | 10 | 11 | 12 | 13 |
| 14 | 15 | 16 | 17 | 18 | 19 | 20 |
| 21 | 22 | 23 | 24 | 25 | 26 | 27 |
| 28 | 29 | 30 | | | | |
May , 2024
| Sun | Mon | Tue | Wed | Thu | Fri | Sat |
| --- | --- | --- | --- | --- | --- | --- |
| | | | 01 | 02 | 03 | 04 |
| 05 | 06 | 07 | 08 | 09 | 10 | 11 |
| 12 | 13 | 14 | 15 | 16 | 17 | 18 |
| 19 | 20 | 21 | 22 | 23 | 24 | 25 |
| 26 | 27 | 28 | 29 | 30 | 31 | |
June , 2024
| Sun | Mon | Tue | Wed | Thu | Fri | Sat |
| --- | --- | --- | --- | --- | --- | --- |
| | | | | | | 01 |
| 02 | 03 | 04 | 05 | 06 | 07 | 08 |
| 09 | 10 | 11 | 12 | 13 | 14 | 15 |
| 16 | 17 | 18 | 19 | 20 | 21 | 22 |
| 23 | 24 | 25 | 26 | 27 | 28 | 29 |
| 30 | | | | | | |
July , 2024
| Sun | Mon | Tue | Wed | Thu | Fri | Sat |
| --- | --- | --- | --- | --- | --- | --- |
| | 01 | 02 | 03 | 04 | 05 | 06 |
| 07 | 08 | 09 | 10 | 11 | 12 | 13 |
| 14 | 15 | 16 | 17 | 18 | 19 | 20 |
| 21 | 22 | 23 | 24 | 25 | 26 | 27 |
| 28 | 29 | 30 | 31 | | | |
August , 2024
| Sun | Mon | Tue | Wed | Thu | Fri | Sat |
| --- | --- | --- | --- | --- | --- | --- |
| | | | | 01 | 02 | 03 |
| 04 | 05 | 06 | 07 | 08 | 09 | 10 |
| 11 | 12 | 13 | 14 | 15 | 16 | 17 |
| 18 | 19 | 20 | 21 | 22 | 23 | 24 |
| 25 | 26 | 27 | 28 | 29 | 30 | 31 |
September , 2024
Sun
Mon
Tue
Wed
Thu
Fri
Sat
01
02
03
04
05
06
07
08
09
10
11
12
13
14
15
16
17
18
19
20
21
22
23
24
25
26
27
28
29
30
October , 2024
| Sun | Mon | Tue | Wed | Thu | Fri | Sat |
| --- | --- | --- | --- | --- | --- | --- |
| | | 01 | 02 | 03 | 04 | 05 |
| 06 | 07 | 08 | 09 | 10 | 11 | 12 |
| 13 | 14 | 15 | 16 | 17 | 18 | 19 |
| 20 | 21 | 22 | 23 | 24 | 25 | 26 |
| 27 | 28 | 29 | 30 | 31 | | |
November , 2024
| Sun | Mon | Tue | Wed | Thu | Fri | Sat |
| --- | --- | --- | --- | --- | --- | --- |
| | | | | | 01 | 02 |
| 03 | 04 | 05 | 06 | 07 | 08 | 09 |
| 10 | 11 | 12 | 13 | 14 | 15 | 16 |
| 17 | 18 | 19 | 20 | 21 | 22 | 23 |
| 24 | 25 | 26 | 27 | 28 | 29 | 30 |
December , 2024
| Sun | Mon | Tue | Wed | Thu | Fri | Sat |
| --- | --- | --- | --- | --- | --- | --- |
| 01 | 02 | 03 | 04 | 05 | 06 | 07 |
| 08 | 09 | 10 | 11 | 12 | 13 | 14 |
| 15 | 16 | 17 | 18 | 19 | 20 | 21 |
| 22 | 23 | 24 | 25 | 26 | 27 | 28 |
| 29 | 30 | 31 | | | | |
January , 2025
| Sun | Mon | Tue | Wed | Thu | Fri | Sat |
| --- | --- | --- | --- | --- | --- | --- |
| | | | 01 | 02 | 03 | 04 |
| 05 | 06 | 07 | 08 | 09 | 10 | 11 |
| 12 | 13 | 14 | 15 | 16 | 17 | 18 |
| 19 | 20 | 21 | 22 | 23 | 24 | 25 |
| 26 | 27 | 28 | 29 | 30 | 31 | |
February , 2025
| Sun | Mon | Tue | Wed | Thu | Fri | Sat |
| --- | --- | --- | --- | --- | --- | --- |
| | | | | | | 01 |
| 02 | 03 | 04 | 05 | 06 | 07 | 08 |
| 09 | 10 | 11 | 12 | 13 | 14 | 15 |
| 16 | 17 | 18 | 19 | 20 | 21 | 22 |
| 23 | 24 | 25 | 26 | 27 | 28 | |
March , 2025
Sun
Mon
Tue
Wed
Thu
Fri
Sat
01
02
03
04
05
06
07
08
09
10
11
12
13
14
15
16
17
18
19
20
21
22
23
24
25
26
27
28
29
30
31
April , 2025
| Sun | Mon | Tue | Wed | Thu | Fri | Sat |
| --- | --- | --- | --- | --- | --- | --- |
| | | 01 | 02 | 03 | 04 | 05 |
| 06 | 07 | 08 | 09 | 10 | 11 | 12 |
| 13 | 14 | 15 | 16 | 17 | 18 | 19 |
| 20 | 21 | 22 | 23 | 24 | 25 | 26 |
| 27 | 28 | 29 | 30 | | | |
May , 2025
| Sun | Mon | Tue | Wed | Thu | Fri | Sat |
| --- | --- | --- | --- | --- | --- | --- |
| | | | | 01 | 02 | 03 |
| 04 | 05 | 06 | 07 | 08 | 09 | 10 |
| 11 | 12 | 13 | 14 | 15 | 16 | 17 |
| 18 | 19 | 20 | 21 | 22 | 23 | 24 |
| 25 | 26 | 27 | 28 | 29 | 30 | 31 |
June , 2025
Sun
Mon
Tue
Wed
Thu
Fri
Sat
01
02
03
04
05
06
07
08
09
10
11
12
13
14
15
16
17
18
19
20
21
22
23
24
25
26
27
28
29
30
July , 2025
| Sun | Mon | Tue | Wed | Thu | Fri | Sat |
| --- | --- | --- | --- | --- | --- | --- |
| | | 01 | 02 | 03 | 04 | 05 |
| 06 | 07 | 08 | 09 | 10 | 11 | 12 |
| 13 | 14 | 15 | 16 | 17 | 18 | 19 |
| 20 | 21 | 22 | 23 | 24 | 25 | 26 |
| 27 | 28 | 29 | 30 | 31 | | |
August , 2025
| Sun | Mon | Tue | Wed | Thu | Fri | Sat |
| --- | --- | --- | --- | --- | --- | --- |
| | | | | | 01 | 02 |
| 03 | 04 | 05 | 06 | 07 | 08 | 09 |
| 10 | 11 | 12 | 13 | 14 | 15 | 16 |
| 17 | 18 | 19 | 20 | 21 | 22 | 23 |
| 24 | 25 | 26 | 27 | 28 | 29 | 30 |
| 31 | | | | | | |
Location
Limni Keri, 29092, Zakynthos Greece
• Town Limni Keri- 600 metres
• Beach Limni Keri - 300 minutes
• Keri Beach: 1.2 km – less than a 5 min drive
• Supermarket/ Restaurant – 2kms
• Zakynthos Airport (ZTH): 12 km
• Zakynthos Port: 15 km
• Zakynthos Town: 15 km
Other Properties you may like