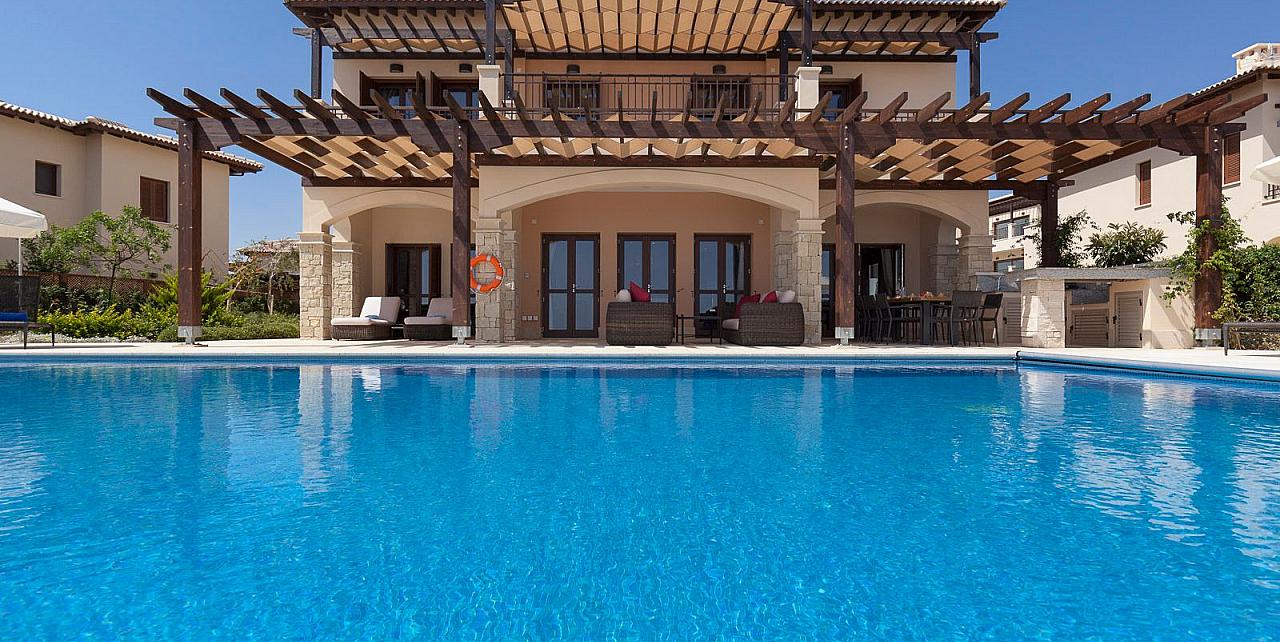 Aphrodite Hills Resort - Mythos Villa Iris
Add to Favourites
From $1,073 USD - $2,188 USD / nt
Plan Your Trip
HAVE QUESTIONS?
UK : 0845-017-6707
USA/CANADA: +1 347 707 1195
BARBADOS: +246-432-6307
INTERNATIONAL: +44 1978 368531
From $1,073 USD - $2,188 USD / nt
Aphrodite Hills in Cyprus offers a luxury lifestyle experience in a fabulous resort with a very high standard of facilities and services. There is a variety of accommodation to choose from at Aphrodite Hills Cyprus, from apartments to villas and all have fabulous views either of the mountains, ravine or the Mediterranean Sea.
Activities include golf, tennis, spa treatments, horse riding, football academy, the village square and beach club, children's activities, a choice of restaurants - Aphrodite Hills offers a wide range of options to keep you busy during your stay.
Villa Iris
This beautiful 5 bedroom villa is part of the most exclusive Mythos Collection of villas located on the Alexander Heights area of Aphrodite Hills. Ensuring panoramic views of the Mediterranean Sea, the architects and designers of this prestigious villa have created one of the most luxurious residences on Cyprus. With expansive contemporary living areas, top quality furnishings and fittings, marble flooring and magnificent sea views from the French doors that lead directly to the terrace and swimming pool, the attention to detail is exceptional. The adjacent dining area offers a gorgeous granite dining table with its signature lighting on the ceiling above it, and leads through to the high-quality kitchen which is complete with central island, granite worktops and integrated stainless-steel appliances (microwave, oven, fridge) and equipment (toaster, coffee machine, kettle etc.).
The five, beautifully appointed bedrooms are located on the the levels of the house :
Ground floor : Bedroom with king-size bed, en-suite bathroom with shower, French doors leading out to the terrace
First Floor : the Master bedroom with king size bed, a large TV and plenty of wardrobe and floor space. The shuttered French doors open out to the balcony from where one can enjoy the amazing, panoramic views. The master bedroom en-suite bathroom which is fully tiled in granite and offers twin WC, bath and separate shower. Two further bedrooms are located along the corridor, both with double beds and these rooms share a luxurious bathroom.
Lower ground floor : here you will find the 5th bedroom with double bed, a sitting area and en-suite bathroom
Outside, the large terrace has been designed to make the most of the sweeping, uninterrupted sea views. The private garden is beautifully landscaped, with the unique big 'Green Egg' (a ceramic barbeque grill) and a built-in barbecue area for alfresco meals, which can be enjoyed under the shaded veranda. The stunning infinity pool and walk-in steps is the ultimate luxury, and features a Jacuzzi.
Top level services are included in the rental of a Mythos Villa such as:
• One Private transfer from/to the airport for up to max. persons accommodated in this villa
• Daily Maid Service (change of linen, cleaning, dish washing)
• Branded bathroom amenities: Including shampoo, conditioner, body lotion and shower gel plus bathrobes and slippers.
• Kids Club: Free unlimited use of the Aphrodite Hills Kids Club (ages 3-12 years only), valid for duration of stay
• The Retreat Spa: Access to Gym, Pool, Sauna, Steam Room, valid for duration of stay, without a locker, plus personalised consultation with Spa Specialist regarding any booked treatments upon request.
• Village Square Restaurants: Preferential booking status at Resort Restaurants
• 'Good Morning' Breakfast Basket delivered daily to your doorstep. This includes freshly baked pastries, fresh loaf of bread, fresh milk, orange juice, still water, yoghurts, seasonal fruit and a daily newspaper (specific newspapers can be pre-ordered on arrival)
• Luxury Food Hamper (including Mineral Water, Sparkling water, Tea, Coffee, Decaffeinated, Coffee, Orange juice, Apple juice, Fresh Semi-skimmed milk, Fresh Full-fat milk, Nespresso capsules, Filter Coffee, House wine, Sparkling Wine, Coca-Cola, Beer, White sugar, Brown sugar, Chocolate Biscuits, White bread, Brown bread, Butter, Jam, Honey, Chocolate & Banana Oats, Plain Oats, Turkey, Cheese, Halloumi, Eggs, Crisps (Salt and Salt & Vinegar), Smoked Salmon, Olive Oil, Pasta, Tomato Pasta Sauce, Cantucci Italian almond and raisin cookies, Macaroon Biscuits, Seasonal Fruit, Salt and Pepper, Washing Powder, Kitchen roll)
See more details...
Special Offer(s):
2020 MYTHOS EARLY BOOKING DISCOUNT!
5% Early booking discount for all bookings staying between 1 April to 17 July 2020 and 31 August to 31 October 2020 when booked by 29 February 2020.
Early booking discount applies only to basic accommodation rate and not on the BB or HB supplements.
Call or message for availability or further information
Amenities
Air Conditioned bedrooms
BBQ
Car Parking on site
Car Recommended
Childrens Club
Communal Facilities
Complimentary Concierge Service
Fully Equipped Kitchen
Gated Development
Jacuzzi
Laundry Room
Private Garden
Private Pool
Spa
Sunbeds
Wireless Internet
See more details...
Bedroom : 5
Bathroom : 5
Staff
A chef can be arranged at an extra charge.
Rate
Bedrooms: 5 Bedrooms

| From | To | Min Stay | Nightly Rate | Weekly Rate |
| --- | --- | --- | --- | --- |
| 01-Dec-2019 | 29-Feb-2020 | 7 | $1,073 USD | $7,508 USD |
| 01-Mar-2020 | 31-Mar-2020 | 7 | $1,180 USD | $8,253 USD |
| 01-Apr-2020 | 30-Jun-2020 | 7 | $1,591 USD | $11,136 USD |
| 01-Jul-2020 | 31-Aug-2020 | 7 | $2,188 USD | $15,313 USD |
| 01-Sep-2020 | 31-Oct-2020 | 7 | $1,591 USD | $11,136 USD |
Rates are based on 2 guests per bedroom staying in a 5 Bedroom Villa from the Mythos Collection. Rates quoted above include all taxes and service charges. Rates and taxes are subject to change without notice. All Resort facilities (hotel pool included) can be used by Rental guests, but at a fee, and are subject to availability. Villas & Apartments are not adjacent to the hotel
Availability
February , 2020
| Sun | Mon | Tue | Wed | Thu | Fri | Sat |
| --- | --- | --- | --- | --- | --- | --- |
| | | | | | | 01 |
| 02 | 03 | 04 | 05 | 06 | 07 | 08 |
| 09 | 10 | 11 | 12 | 13 | 14 | 15 |
| 16 | 17 | 18 | 19 | 20 | 21 | 22 |
| 23 | 24 | 25 | 26 | 27 | 28 | 29 |
March , 2020
| Sun | Mon | Tue | Wed | Thu | Fri | Sat |
| --- | --- | --- | --- | --- | --- | --- |
| 01 | 02 | 03 | 04 | 05 | 06 | 07 |
| 08 | 09 | 10 | 11 | 12 | 13 | 14 |
| 15 | 16 | 17 | 18 | 19 | 20 | 21 |
| 22 | 23 | 24 | 25 | 26 | 27 | 28 |
| 29 | 30 | 31 | | | | |
April , 2020
| Sun | Mon | Tue | Wed | Thu | Fri | Sat |
| --- | --- | --- | --- | --- | --- | --- |
| | | | 01 | 02 | 03 | 04 |
| 05 | 06 | 07 | 08 | 09 | 10 | 11 |
| 12 | 13 | 14 | 15 | 16 | 17 | 18 |
| 19 | 20 | 21 | 22 | 23 | 24 | 25 |
| 26 | 27 | 28 | 29 | 30 | | |
May , 2020
Sun
Mon
Tue
Wed
Thu
Fri
Sat
01
02
03
04
05
06
07
08
09
10
11
12
13
14
15
16
17
18
19
20
21
22
23
24
25
26
27
28
29
30
31
June , 2020
Sun
Mon
Tue
Wed
Thu
Fri
Sat
01
02
03
04
05
06
07
08
09
10
11
12
13
14
15
16
17
18
19
20
21
22
23
24
25
26
27
28
29
30
July , 2020
| Sun | Mon | Tue | Wed | Thu | Fri | Sat |
| --- | --- | --- | --- | --- | --- | --- |
| | | | 01 | 02 | 03 | 04 |
| 05 | 06 | 07 | 08 | 09 | 10 | 11 |
| 12 | 13 | 14 | 15 | 16 | 17 | 18 |
| 19 | 20 | 21 | 22 | 23 | 24 | 25 |
| 26 | 27 | 28 | 29 | 30 | 31 | |
August , 2020
| Sun | Mon | Tue | Wed | Thu | Fri | Sat |
| --- | --- | --- | --- | --- | --- | --- |
| | | | | | | 01 |
| 02 | 03 | 04 | 05 | 06 | 07 | 08 |
| 09 | 10 | 11 | 12 | 13 | 14 | 15 |
| 16 | 17 | 18 | 19 | 20 | 21 | 22 |
| 23 | 24 | 25 | 26 | 27 | 28 | 29 |
| 30 | 31 | | | | | |
September , 2020
| Sun | Mon | Tue | Wed | Thu | Fri | Sat |
| --- | --- | --- | --- | --- | --- | --- |
| | | 01 | 02 | 03 | 04 | 05 |
| 06 | 07 | 08 | 09 | 10 | 11 | 12 |
| 13 | 14 | 15 | 16 | 17 | 18 | 19 |
| 20 | 21 | 22 | 23 | 24 | 25 | 26 |
| 27 | 28 | 29 | 30 | | | |
October , 2020
| Sun | Mon | Tue | Wed | Thu | Fri | Sat |
| --- | --- | --- | --- | --- | --- | --- |
| | | | | 01 | 02 | 03 |
| 04 | 05 | 06 | 07 | 08 | 09 | 10 |
| 11 | 12 | 13 | 14 | 15 | 16 | 17 |
| 18 | 19 | 20 | 21 | 22 | 23 | 24 |
| 25 | 26 | 27 | 28 | 29 | 30 | 31 |
November , 2020
| Sun | Mon | Tue | Wed | Thu | Fri | Sat |
| --- | --- | --- | --- | --- | --- | --- |
| 01 | 02 | 03 | 04 | 05 | 06 | 07 |
| 08 | 09 | 10 | 11 | 12 | 13 | 14 |
| 15 | 16 | 17 | 18 | 19 | 20 | 21 |
| 22 | 23 | 24 | 25 | 26 | 27 | 28 |
| 29 | 30 | | | | | |
December , 2020
| Sun | Mon | Tue | Wed | Thu | Fri | Sat |
| --- | --- | --- | --- | --- | --- | --- |
| | | 01 | 02 | 03 | 04 | 05 |
| 06 | 07 | 08 | 09 | 10 | 11 | 12 |
| 13 | 14 | 15 | 16 | 17 | 18 | 19 |
| 20 | 21 | 22 | 23 | 24 | 25 | 26 |
| 27 | 28 | 29 | 30 | 31 | | |
January , 2021
Sun
Mon
Tue
Wed
Thu
Fri
Sat
01
02
03
04
05
06
07
08
09
10
11
12
13
14
15
16
17
18
19
20
21
22
23
24
25
26
27
28
29
30
31
February , 2021
| Sun | Mon | Tue | Wed | Thu | Fri | Sat |
| --- | --- | --- | --- | --- | --- | --- |
| 01 | 02 | 03 | 04 | 05 | 06 | 07 |
| 08 | 09 | 10 | 11 | 12 | 13 | 14 |
| 15 | 16 | 17 | 18 | 19 | 20 | 21 |
| 22 | 23 | 24 | 25 | 26 | 27 | 28 |
March , 2021
Sun
Mon
Tue
Wed
Thu
Fri
Sat
01
02
03
04
05
06
07
08
09
10
11
12
13
14
15
16
17
18
19
20
21
22
23
24
25
26
27
28
29
30
31
April , 2021
| Sun | Mon | Tue | Wed | Thu | Fri | Sat |
| --- | --- | --- | --- | --- | --- | --- |
| | | | | 01 | 02 | 03 |
| 04 | 05 | 06 | 07 | 08 | 09 | 10 |
| 11 | 12 | 13 | 14 | 15 | 16 | 17 |
| 18 | 19 | 20 | 21 | 22 | 23 | 24 |
| 25 | 26 | 27 | 28 | 29 | 30 | |
May , 2021
| Sun | Mon | Tue | Wed | Thu | Fri | Sat |
| --- | --- | --- | --- | --- | --- | --- |
| | | | | | | 01 |
| 02 | 03 | 04 | 05 | 06 | 07 | 08 |
| 09 | 10 | 11 | 12 | 13 | 14 | 15 |
| 16 | 17 | 18 | 19 | 20 | 21 | 22 |
| 23 | 24 | 25 | 26 | 27 | 28 | 29 |
| 30 | 31 | | | | | |
June , 2021
| Sun | Mon | Tue | Wed | Thu | Fri | Sat |
| --- | --- | --- | --- | --- | --- | --- |
| | | 01 | 02 | 03 | 04 | 05 |
| 06 | 07 | 08 | 09 | 10 | 11 | 12 |
| 13 | 14 | 15 | 16 | 17 | 18 | 19 |
| 20 | 21 | 22 | 23 | 24 | 25 | 26 |
| 27 | 28 | 29 | 30 | | | |
July , 2021
| Sun | Mon | Tue | Wed | Thu | Fri | Sat |
| --- | --- | --- | --- | --- | --- | --- |
| | | | | 01 | 02 | 03 |
| 04 | 05 | 06 | 07 | 08 | 09 | 10 |
| 11 | 12 | 13 | 14 | 15 | 16 | 17 |
| 18 | 19 | 20 | 21 | 22 | 23 | 24 |
| 25 | 26 | 27 | 28 | 29 | 30 | 31 |
August , 2021
| Sun | Mon | Tue | Wed | Thu | Fri | Sat |
| --- | --- | --- | --- | --- | --- | --- |
| 01 | 02 | 03 | 04 | 05 | 06 | 07 |
| 08 | 09 | 10 | 11 | 12 | 13 | 14 |
| 15 | 16 | 17 | 18 | 19 | 20 | 21 |
| 22 | 23 | 24 | 25 | 26 | 27 | 28 |
| 29 | 30 | 31 | | | | |
September , 2021
| Sun | Mon | Tue | Wed | Thu | Fri | Sat |
| --- | --- | --- | --- | --- | --- | --- |
| | | | 01 | 02 | 03 | 04 |
| 05 | 06 | 07 | 08 | 09 | 10 | 11 |
| 12 | 13 | 14 | 15 | 16 | 17 | 18 |
| 19 | 20 | 21 | 22 | 23 | 24 | 25 |
| 26 | 27 | 28 | 29 | 30 | | |
October , 2021
Sun
Mon
Tue
Wed
Thu
Fri
Sat
01
02
03
04
05
06
07
08
09
10
11
12
13
14
15
16
17
18
19
20
21
22
23
24
25
26
27
28
29
30
31
November , 2021
Sun
Mon
Tue
Wed
Thu
Fri
Sat
01
02
03
04
05
06
07
08
09
10
11
12
13
14
15
16
17
18
19
20
21
22
23
24
25
26
27
28
29
30
December , 2021
| Sun | Mon | Tue | Wed | Thu | Fri | Sat |
| --- | --- | --- | --- | --- | --- | --- |
| | | | 01 | 02 | 03 | 04 |
| 05 | 06 | 07 | 08 | 09 | 10 | 11 |
| 12 | 13 | 14 | 15 | 16 | 17 | 18 |
| 19 | 20 | 21 | 22 | 23 | 24 | 25 |
| 26 | 27 | 28 | 29 | 30 | 31 | |
January , 2022
| Sun | Mon | Tue | Wed | Thu | Fri | Sat |
| --- | --- | --- | --- | --- | --- | --- |
| | | | | | | 01 |
| 02 | 03 | 04 | 05 | 06 | 07 | 08 |
| 09 | 10 | 11 | 12 | 13 | 14 | 15 |
| 16 | 17 | 18 | 19 | 20 | 21 | 22 |
| 23 | 24 | 25 | 26 | 27 | 28 | 29 |
| 30 | 31 | | | | | |
Location
Aphrodite Hills Holiday Residences, Paphos, Cyprus
• Paphos Airport - 15km
Other Properties you may like