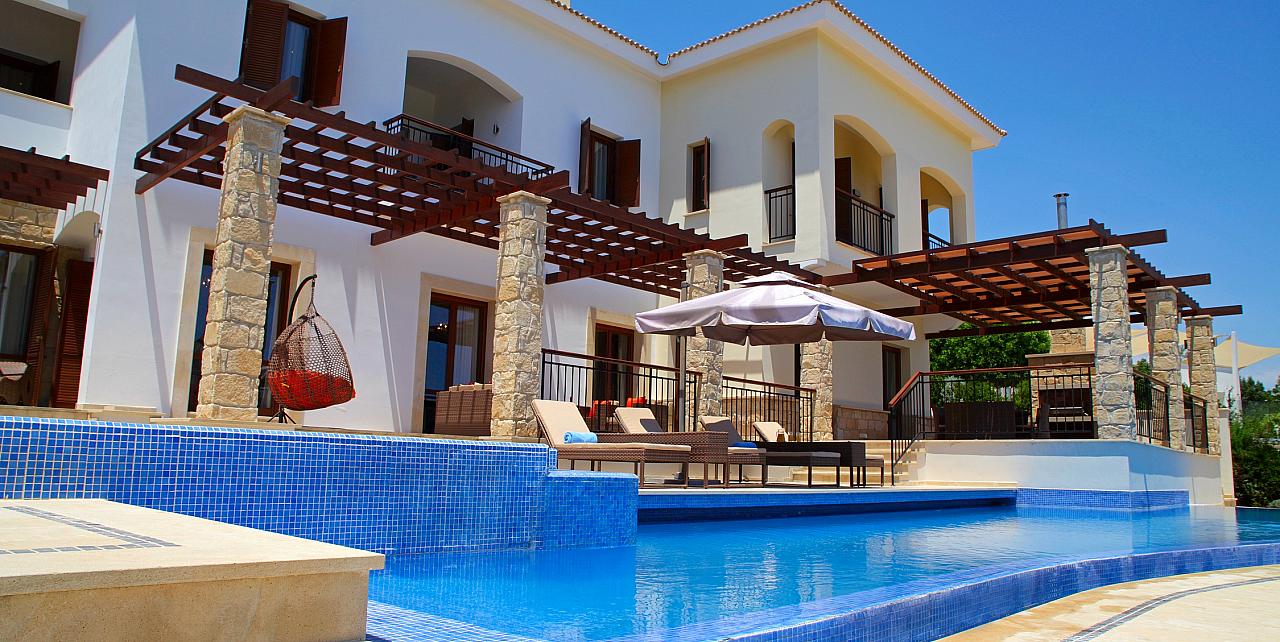 Aphrodite Hills Resort - Elite Villas
Add to Favourites
From $434 USD - $661 USD / nt
Plan Your Trip
HAVE QUESTIONS?
UK : 0845-017-6707
USA/CANADA: +1 347 707 1195
BARBADOS: +246-432-6307
INTERNATIONAL: +44 1978 368531
From $434 USD - $661 USD / nt
Aphrodite Hills in Cyprus offers a luxury lifestyle experience in a fabulous resort with high standard of facilities and services. The accommodation at Aphrodite Hills Cyprus is contemporary with great views either of the mountains, ravine or the Mediterranean.
Activities available : golf, tennis, spa treatments, horse riding, football academy, the village square and beach club - Aphrodite Hills offers a wide range of options to keep you busy during your stay. click here.
The Elite Villas (Junior and Superior) are a selection of villas in the Aphrodite Hills Resort chosen for their size and location. They boast quality furnishings as well as beautiful outdoor areas with special features. The sun beds, umbrellas, stylish crockery and linen are of a quality standard.
Included in the Elite Villas:
• One private transfer to and from the Airport (each way)
• Daily Maid Service (change of linen and towels, mopping, dish washing)
• Branded bathroom amenities: Including shampoo, conditioner, body lotion and shower gel plus bathrobes and slippers.
• Kids Club: Free unlimited use of the Aphrodite Hills Kids Club (ages 3-12 years only), valid for duration of stay
• The Retreat Spa: Access to Gym, Pool, Sauna, Steam Room, valid for duration of stay, without a locker, plus personalised consultation with Spa Specialist regarding any booked treatments upon request.
• Village Square Restaurants: Preferential booking status at Resort Restaurants
• Luxury Welcome Hamper (including Mineral Water, Sparkling water, Tea, Coffee, Decaffeinated, Coffee, Orange juice, Apple juice, Fresh Semi-skimmed milk, Fresh Full-fat milk, Nespresso capsules, Filter Coffee, House wine, Sparkling Wine, Coca-Cola, Beer, White sugar, Brown sugar, Chocolate Biscuits, White bread, Brown bread, Butter, Jam, Honey, Chocolate & Banana Oats, Plain Oats, Turkey, Cheese, Halloumi, Eggs, Crisps (Salt and Salt & Vinegar), Smoked Salmon, Olive Oil, Pasta, Tomato Pasta Sauce, Cantucci Italian almond and raisin cookies, Macaroon Biscuits, Seasonal Fruit, Salt and Pepper, Washing Powder, Kitchen roll)
Resort Facilities Include:
Childrens' Activities - Aphrodite Hills Resort also boasts its very own Kids Club and a variety of on-site facilities for children of all ages. There is a program of activities under the supervision of the professional staff which will keep your young holidaymakers busy!
The Village Square - the heart of Aphrodite Hills, this square features shopping, restaurants, the pub, ATM, 24/7 Medical centre, Wedding Chapel, children's club and much more.
Beach Club - Although the resort not situated on the beach, there are excellent beach facilities at the 2 beach club – which is just a short shuttle drive away from the Resort
Extra features:
• Allocated parking
• Safe private space
• Supervised kids club
• Playground with mini-golf
• Multi-purpose sports court
• Organised activities
• Wellness and sports facilities
• Honeymoon and Wedding packages
• Soft evening entertainment
• Biking trails
Optional Extras:
• Wi-Fi is available at many apartments, junior villas and superior villas as an optional extra, payable locally. For other properties, you have the option of internet via Mi-Fi wireless router. (Free WiFi in all properties throughout the summer 2017 season)
• Heated swimming pool - A selection of villas have heated swimming pools. Please feel free to contact us for further information. (This service is available at an extra charge)
• Extra hours at the Kid's Club, and babysitting service. Prices available on request.
• Dining options - For those who prefer to be catered for whilst on holiday there is a choice of "Bed and Breakfast" and "Dine Around" options. Prices available on request. "Bed and Breakfast" includes a full English breakfast, served at the Golf Clubhouse. "Dine Around" includes the above, plus either lunch or dinner at a selection of Resort restaurants.
See more details...
Special Offer(s):
2020 EARLY BOOKING DISCOUNT!
15% Early booking discount for all bookings staying between 1 April to 17 July 2020 and 31 August to 31 October 2020 when booked by 29 February 2020.
10% Early booking discount for all bookings staying between 1 April to 17 July 2020 and 31 August to 31 October 2020 when booked between 1 March to 30 April 2020.
Offer excludes Mythos Collection Villas
Early booking discount applies only to basic accommodation rate and not on the BB or HB supplements.
Call or message for availability or further information
Amenities
Air Conditioning
Bar
BBQ
Beach Facility
Cable TV
Car Recommended
Childrens Activities
Childrens Club
DVD Player
Internet Access
Private Pool
Restaurant
Satellite TV
Sea view
Steam Room
Tennis Court
TV
Washing Machine
Wireless Internet
See more details...
• Baby Cot, High Chair and Pool Heating are available at an extra charge. 
• Meal Options are also available - Call or email for further information.
Bedroom : 2 - 5
Bathroom : 2 - 5
Staff
• 7 night stay - Housekeeping service, linen and towels changed once during stay.
• 14 nights stay - maid service, linen and towels changed three times during stay.
• Housekeeping does not include cleaning barbecues or washing up.
• Extra service can be arranged , or dry cleaning or laundry at an extra charge.
Rate
Bedrooms: 3 Bedrooms

| From | To | Min Stay | Nightly Rate | Weekly Rate |
| --- | --- | --- | --- | --- |
| 01-Dec-2019 | 29-Feb-2020 | 7 | $434 USD | $3,033 USD |
| 01-Mar-2020 | 31-Mar-2020 | 7 | $476 USD | $3,332 USD |
| 01-Apr-2020 | 19-Apr-2020 | 7 | $594 USD | $4,157 USD |
| 20-Apr-2020 | 20-May-2020 | 7 | $540 USD | $3,778 USD |
| 21-May-2020 | 31-May-2020 | 7 | $594 USD | $4,157 USD |
| 01-Jun-2020 | 30-Jun-2020 | 7 | $540 USD | $3,778 USD |
| 01-Jul-2020 | 31-Aug-2020 | 7 | $661 USD | $4,624 USD |
| 01-Sep-2020 | 20-Oct-2020 | 7 | $540 USD | $3,778 USD |
| 21-Oct-2020 | 31-Oct-2020 | 7 | $594 USD | $4,157 USD |
Rates are based on 2 guests per bedroom staying in a 3 Bedroom Junior Elite Villa with Private Pool on a self catering basis. Rates also available for 2 Bedroom Junior Elite Villa and 2,3,4 & 5 Bedroom Superior Elite Villas. Call or email for quotation.
Rates quoted above include all taxes and service charges. Rates and taxes are subject to change without notice.
All Resort facilities (hotel pool included) can be used by Rental guests, but at a fee, and are subject to availability.
Availability
January , 2020
| Sun | Mon | Tue | Wed | Thu | Fri | Sat |
| --- | --- | --- | --- | --- | --- | --- |
| | | | 01 | 02 | 03 | 04 |
| 05 | 06 | 07 | 08 | 09 | 10 | 11 |
| 12 | 13 | 14 | 15 | 16 | 17 | 18 |
| 19 | 20 | 21 | 22 | 23 | 24 | 25 |
| 26 | 27 | 28 | 29 | 30 | 31 | |
February , 2020
| Sun | Mon | Tue | Wed | Thu | Fri | Sat |
| --- | --- | --- | --- | --- | --- | --- |
| | | | | | | 01 |
| 02 | 03 | 04 | 05 | 06 | 07 | 08 |
| 09 | 10 | 11 | 12 | 13 | 14 | 15 |
| 16 | 17 | 18 | 19 | 20 | 21 | 22 |
| 23 | 24 | 25 | 26 | 27 | 28 | 29 |
March , 2020
| Sun | Mon | Tue | Wed | Thu | Fri | Sat |
| --- | --- | --- | --- | --- | --- | --- |
| 01 | 02 | 03 | 04 | 05 | 06 | 07 |
| 08 | 09 | 10 | 11 | 12 | 13 | 14 |
| 15 | 16 | 17 | 18 | 19 | 20 | 21 |
| 22 | 23 | 24 | 25 | 26 | 27 | 28 |
| 29 | 30 | 31 | | | | |
April , 2020
| Sun | Mon | Tue | Wed | Thu | Fri | Sat |
| --- | --- | --- | --- | --- | --- | --- |
| | | | 01 | 02 | 03 | 04 |
| 05 | 06 | 07 | 08 | 09 | 10 | 11 |
| 12 | 13 | 14 | 15 | 16 | 17 | 18 |
| 19 | 20 | 21 | 22 | 23 | 24 | 25 |
| 26 | 27 | 28 | 29 | 30 | | |
May , 2020
Sun
Mon
Tue
Wed
Thu
Fri
Sat
01
02
03
04
05
06
07
08
09
10
11
12
13
14
15
16
17
18
19
20
21
22
23
24
25
26
27
28
29
30
31
June , 2020
Sun
Mon
Tue
Wed
Thu
Fri
Sat
01
02
03
04
05
06
07
08
09
10
11
12
13
14
15
16
17
18
19
20
21
22
23
24
25
26
27
28
29
30
July , 2020
| Sun | Mon | Tue | Wed | Thu | Fri | Sat |
| --- | --- | --- | --- | --- | --- | --- |
| | | | 01 | 02 | 03 | 04 |
| 05 | 06 | 07 | 08 | 09 | 10 | 11 |
| 12 | 13 | 14 | 15 | 16 | 17 | 18 |
| 19 | 20 | 21 | 22 | 23 | 24 | 25 |
| 26 | 27 | 28 | 29 | 30 | 31 | |
August , 2020
| Sun | Mon | Tue | Wed | Thu | Fri | Sat |
| --- | --- | --- | --- | --- | --- | --- |
| | | | | | | 01 |
| 02 | 03 | 04 | 05 | 06 | 07 | 08 |
| 09 | 10 | 11 | 12 | 13 | 14 | 15 |
| 16 | 17 | 18 | 19 | 20 | 21 | 22 |
| 23 | 24 | 25 | 26 | 27 | 28 | 29 |
| 30 | 31 | | | | | |
September , 2020
| Sun | Mon | Tue | Wed | Thu | Fri | Sat |
| --- | --- | --- | --- | --- | --- | --- |
| | | 01 | 02 | 03 | 04 | 05 |
| 06 | 07 | 08 | 09 | 10 | 11 | 12 |
| 13 | 14 | 15 | 16 | 17 | 18 | 19 |
| 20 | 21 | 22 | 23 | 24 | 25 | 26 |
| 27 | 28 | 29 | 30 | | | |
October , 2020
| Sun | Mon | Tue | Wed | Thu | Fri | Sat |
| --- | --- | --- | --- | --- | --- | --- |
| | | | | 01 | 02 | 03 |
| 04 | 05 | 06 | 07 | 08 | 09 | 10 |
| 11 | 12 | 13 | 14 | 15 | 16 | 17 |
| 18 | 19 | 20 | 21 | 22 | 23 | 24 |
| 25 | 26 | 27 | 28 | 29 | 30 | 31 |
November , 2020
| Sun | Mon | Tue | Wed | Thu | Fri | Sat |
| --- | --- | --- | --- | --- | --- | --- |
| 01 | 02 | 03 | 04 | 05 | 06 | 07 |
| 08 | 09 | 10 | 11 | 12 | 13 | 14 |
| 15 | 16 | 17 | 18 | 19 | 20 | 21 |
| 22 | 23 | 24 | 25 | 26 | 27 | 28 |
| 29 | 30 | | | | | |
December , 2020
| Sun | Mon | Tue | Wed | Thu | Fri | Sat |
| --- | --- | --- | --- | --- | --- | --- |
| | | 01 | 02 | 03 | 04 | 05 |
| 06 | 07 | 08 | 09 | 10 | 11 | 12 |
| 13 | 14 | 15 | 16 | 17 | 18 | 19 |
| 20 | 21 | 22 | 23 | 24 | 25 | 26 |
| 27 | 28 | 29 | 30 | 31 | | |
January , 2021
Sun
Mon
Tue
Wed
Thu
Fri
Sat
01
02
03
04
05
06
07
08
09
10
11
12
13
14
15
16
17
18
19
20
21
22
23
24
25
26
27
28
29
30
31
February , 2021
| Sun | Mon | Tue | Wed | Thu | Fri | Sat |
| --- | --- | --- | --- | --- | --- | --- |
| 01 | 02 | 03 | 04 | 05 | 06 | 07 |
| 08 | 09 | 10 | 11 | 12 | 13 | 14 |
| 15 | 16 | 17 | 18 | 19 | 20 | 21 |
| 22 | 23 | 24 | 25 | 26 | 27 | 28 |
March , 2021
Sun
Mon
Tue
Wed
Thu
Fri
Sat
01
02
03
04
05
06
07
08
09
10
11
12
13
14
15
16
17
18
19
20
21
22
23
24
25
26
27
28
29
30
31
April , 2021
| Sun | Mon | Tue | Wed | Thu | Fri | Sat |
| --- | --- | --- | --- | --- | --- | --- |
| | | | | 01 | 02 | 03 |
| 04 | 05 | 06 | 07 | 08 | 09 | 10 |
| 11 | 12 | 13 | 14 | 15 | 16 | 17 |
| 18 | 19 | 20 | 21 | 22 | 23 | 24 |
| 25 | 26 | 27 | 28 | 29 | 30 | |
May , 2021
| Sun | Mon | Tue | Wed | Thu | Fri | Sat |
| --- | --- | --- | --- | --- | --- | --- |
| | | | | | | 01 |
| 02 | 03 | 04 | 05 | 06 | 07 | 08 |
| 09 | 10 | 11 | 12 | 13 | 14 | 15 |
| 16 | 17 | 18 | 19 | 20 | 21 | 22 |
| 23 | 24 | 25 | 26 | 27 | 28 | 29 |
| 30 | 31 | | | | | |
June , 2021
| Sun | Mon | Tue | Wed | Thu | Fri | Sat |
| --- | --- | --- | --- | --- | --- | --- |
| | | 01 | 02 | 03 | 04 | 05 |
| 06 | 07 | 08 | 09 | 10 | 11 | 12 |
| 13 | 14 | 15 | 16 | 17 | 18 | 19 |
| 20 | 21 | 22 | 23 | 24 | 25 | 26 |
| 27 | 28 | 29 | 30 | | | |
July , 2021
| Sun | Mon | Tue | Wed | Thu | Fri | Sat |
| --- | --- | --- | --- | --- | --- | --- |
| | | | | 01 | 02 | 03 |
| 04 | 05 | 06 | 07 | 08 | 09 | 10 |
| 11 | 12 | 13 | 14 | 15 | 16 | 17 |
| 18 | 19 | 20 | 21 | 22 | 23 | 24 |
| 25 | 26 | 27 | 28 | 29 | 30 | 31 |
August , 2021
| Sun | Mon | Tue | Wed | Thu | Fri | Sat |
| --- | --- | --- | --- | --- | --- | --- |
| 01 | 02 | 03 | 04 | 05 | 06 | 07 |
| 08 | 09 | 10 | 11 | 12 | 13 | 14 |
| 15 | 16 | 17 | 18 | 19 | 20 | 21 |
| 22 | 23 | 24 | 25 | 26 | 27 | 28 |
| 29 | 30 | 31 | | | | |
September , 2021
| Sun | Mon | Tue | Wed | Thu | Fri | Sat |
| --- | --- | --- | --- | --- | --- | --- |
| | | | 01 | 02 | 03 | 04 |
| 05 | 06 | 07 | 08 | 09 | 10 | 11 |
| 12 | 13 | 14 | 15 | 16 | 17 | 18 |
| 19 | 20 | 21 | 22 | 23 | 24 | 25 |
| 26 | 27 | 28 | 29 | 30 | | |
October , 2021
Sun
Mon
Tue
Wed
Thu
Fri
Sat
01
02
03
04
05
06
07
08
09
10
11
12
13
14
15
16
17
18
19
20
21
22
23
24
25
26
27
28
29
30
31
November , 2021
Sun
Mon
Tue
Wed
Thu
Fri
Sat
01
02
03
04
05
06
07
08
09
10
11
12
13
14
15
16
17
18
19
20
21
22
23
24
25
26
27
28
29
30
December , 2021
| Sun | Mon | Tue | Wed | Thu | Fri | Sat |
| --- | --- | --- | --- | --- | --- | --- |
| | | | 01 | 02 | 03 | 04 |
| 05 | 06 | 07 | 08 | 09 | 10 | 11 |
| 12 | 13 | 14 | 15 | 16 | 17 | 18 |
| 19 | 20 | 21 | 22 | 23 | 24 | 25 |
| 26 | 27 | 28 | 29 | 30 | 31 | |
Location
Aphrodite Hills Holiday Residences, Paphos, Cyprus
• Paphos Airport - 15km
Other Properties you may like