Top 10 villas in the world
Top 10 villas in the world- Our personal selection of villas to rent
Are you looking to rent an ultra luxury villa-maybe one of our Top 10 villas in the world. Not sure where to go? Contact us today to discuss our Top 10 villas in the world.
This is our personal list of Top 10 villas in the world to rent for that special holiday or celebration.These are chosen from our own portfolio. Our list is not displayed in any order of preference. In some locations it was very hard to choose. We wanted to cover as many locations as possible.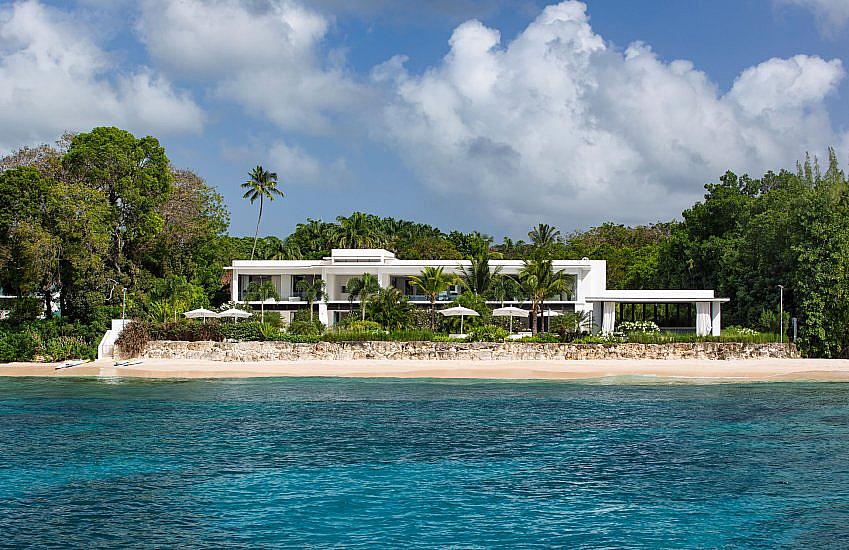 Alaya is a stunning ultra luxurious beach front home in Barbados. It offers 6 bedroom suites in the main house and two separate apartments (2 bed and 1 bed) in a separate building next to the main entrance.
Alaya offers the ultimate in luxury. It definitely deserves a place in our list of Top 10 villas in the world. It even comes with its own Michelin star chef.
Alaya sits on 1.75 acres of breathtaking beachfront on the Platinum West Coast of Barbados. It is located at the end of an extremely private road yet it is just a mile north of Holetown's golf courses, polo, luxury shopping, restaurants and other popular attractions.
Villa Alaya offers the privacy of a hotel and the services of a 5 star hotel. The team of staff include a Michelin star chef. The rental rate also includes all meals, snacks and beverages, quality house wines & champagne and a fully-stocked bar.
Guests may also enjoy the use of a 'Vespa', a Vanquish VQ54 boat with skipper along with two chauffeured Audi Q7 cars.
The magnificent garden leads to the sea and has walkways that simulate floating over lily ponds with LED lighting throughout.
There are few properties anywhere in the world that match the luxury, elegance and sophistication of Alaya.
For more information on Alaya click here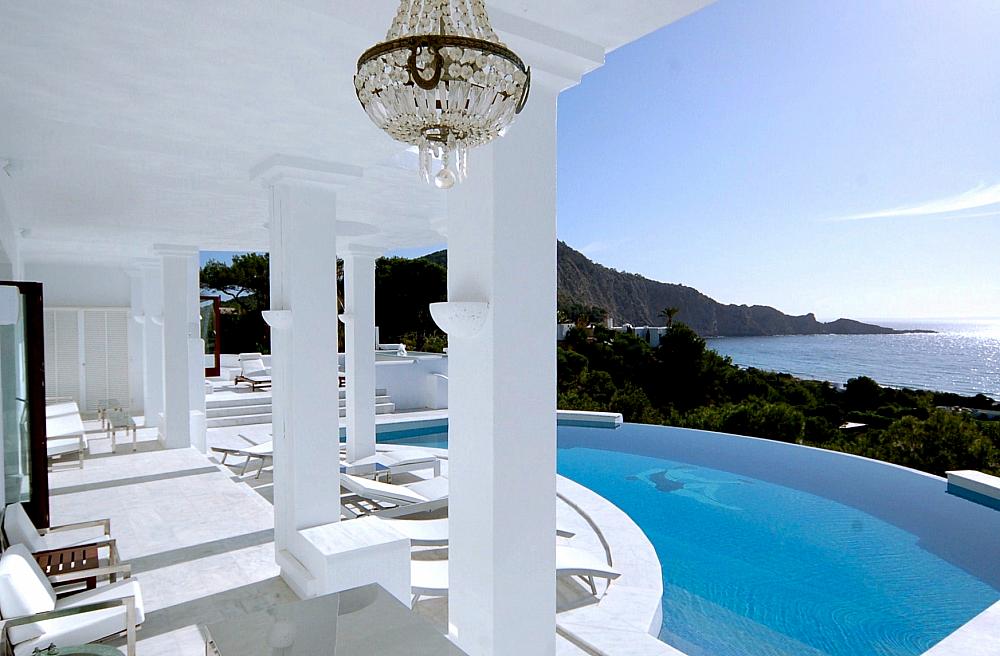 Villa Rica is a stylish 5 bedroom villa in Ibiza. It is located close to the beach and overlooks the Bay of Cala Jondal. It comes with a team of attentive staff.
Cala Jondal is one of the most exclusive bays on Ibiza. It offers a variety of lively beach bars and chic restaurants.
Villa Rica has 5 double ensuite bedrooms all with satellite plasma TV, air conditioning and mini fridges. It also has a gym, thermal detox sauna and a steam room.
On the roof top is a hot tub where up to 10 people can sip cocktails under the stars.
On the lower ground floor is an underwater bar and disco with subaquatic pool windows
There are various dining areas in Villa Rica. These include a BBQ garden lit by twinkling fairy lights. There is a formal dining area for 12 overlooking the glorious pool and a breakfast area with views out to the bay.
If you are looking for something larger for entertaining, Villa Rica has a bigger sister villa, Villa Roca a luxury 8 bedroom villa, fully staffed with pool.
For more information on Villa Rica click here
3. ANI PRIVATE VILLA RESORTS SRIL LANKA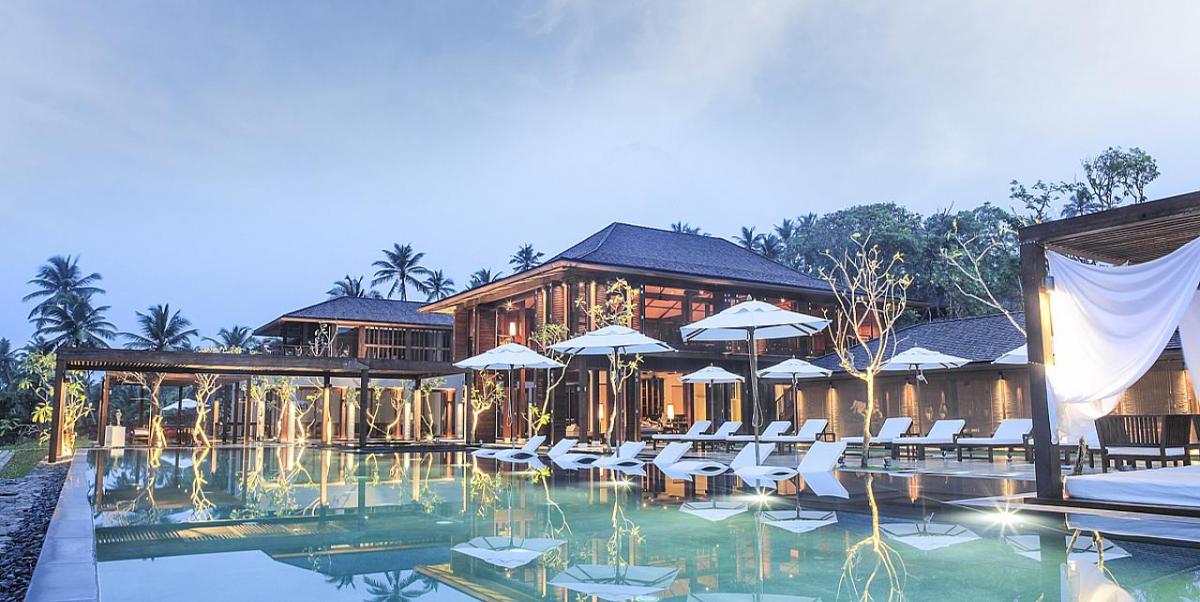 Ani Private Resorts Sri Lanka is a private estate situated in the beautiful region of Dikwella on the Southern Coast of Sri Lanka. Our list of Top 10 villas in the world would not be complete without it.
The 5 acre estate offers has two detached villas which between them offer15 bedroom suites. One offers 8 bedrooms and the other offers 7 bedrooms. They can be rented separately or together. The villas synergise contemporary architecture with the finest bespoke fittings and finishing. This is the ultimate luxury villa holiday.
Enjoy an authentic Spa offering a menu of Asian inspired treatments. There are oversized pools which showcase spellbinding views of the surrounding landscape. There are also dedicated children's pools with waterslides galore.
There are also ample areas for dining on Chef Cyril's attentively crafted dishes from across the globe.
A truly stunning setting for wedding, milestone occassions, or corporate retreats. Ani Villas Sri Lanka even has an events pavillion with a picture perfect ocean backdrop.
For more information on Ani Villas click here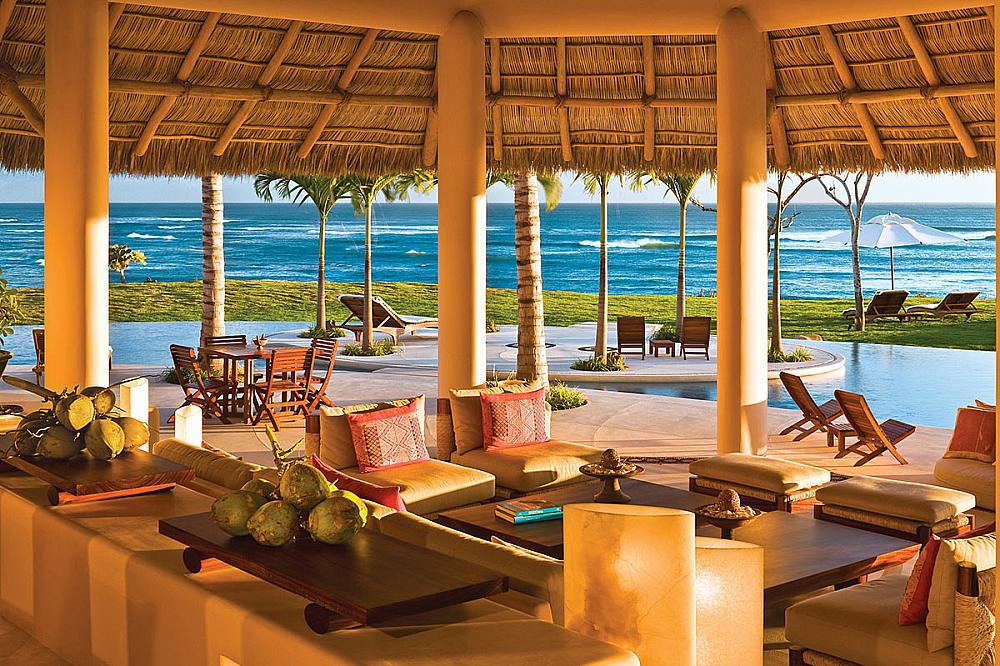 Casa Tres Soles in Mexico sits on a dramatic cliff and enjoys uninterrupted ocean views in all directions. It deserves a place our list of Top 10 villas in the world and is one of the most beautiful homes in Punta Mita.
An extraordinary feeling of peace and serenity pervades the entire property. It is a unique mixture of sophisticated elegance and ethnic informality. The genius of its design is carried through to the smallest detail, giving guests a warm experience of traditional Mexico. Notable works of art by renowned artists and craftsmen enhance every room.
Surrounded by stunning ocean views, the oval shaped terrace is elegantly furnished with oversized sofas. Hand embroidered fabrics, indigenous art and renowned Mexican craft works contribute to the villa's ambience. The view of the ocean merging with the edge of the pool leaves a lasting impression.
The house is surrounded by terraces that seem to float over the curving pool It has more than 160 feet of infinity edge.
The villa also provides a sauna, massage room and a fully equipped gym with satellite TVs.
For more information on Casa Tres Soles Mexico contact us today. Click here for more information.
5. LA BERGERIE, SOUTH OF FRANCE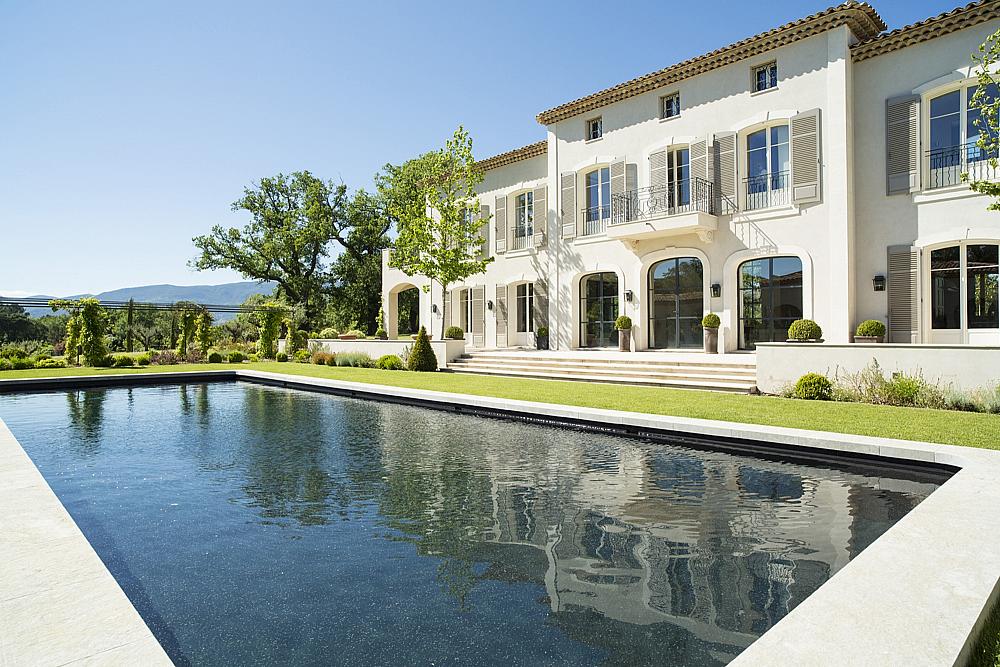 La Bergerie is a magnificent and unforgettable 8 bedroom private villa. It has to be in our list of Top 10 villas in the world. La Bergerie is the epitome of charm and sophistication. It is located in Tourettes just 45 minutes from Nice airport. It is set against a backfrop of exquisite landscaped gardens including lavender gardens. This villa has something for every member of the family to enjoy.
Located in the south of France La Bergerie is a magnificent private estate. Just 45 minutes from Nice airport it is set in 1.4 hectares of the most beautifully kept manicured gardens. La Bergerie also enjoys stunning views of the landscape and hills beyond.
This private residence is the perfect hideaway from which to explore the incredible Cote d'Azur and Provence regions.
La Bergerie provides a seamless blend of classic architecture with contemporary interiors. These are accented by exquisite antique pieces sought from original chateaux. The walls are adorned with art from artists that include Arina Gordienko, Bella Pieroni and Bernard Saint.
Long summer days can be spent in the vast outdoor living and dining areas with wrap around, covered terraces overlooking the pool. The pool is15 metres in length and can be heated in the cooler months.
The villa is set within the world class golf resort of Terre Blanche and its facilities are just a few minutes away by golf cart. Guests may enjoy the exclusive spa, golf course, tennis courts and dine at the first class restaurants at standard resort rates.
For more information on La Bergerie click here
6. HOLLYWOOD MANSION, SOUTH AFRICA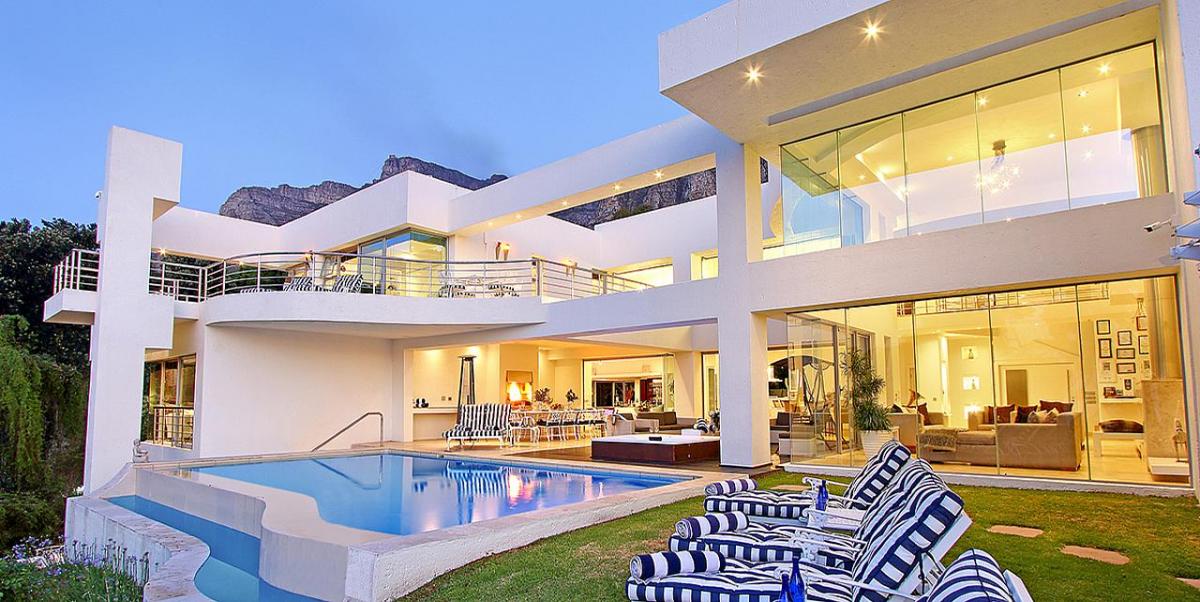 Hollywood Mansion is a fabulous 6 bedroom villa located in Camps Bay in Cape Town. It has magnificent views and a mountain stream running alongside. It is certainly deserving of a place in our list of Top 10 villas in the world.
There is a double volume formal living room overlooked by a balustraded Romeo and Juliet balcony.
The outdoor area is a perfect entertaining spot with a BBQ and a sizeable infinity swimming pool.
There are 9 balconies, 3 studies and 4 lock up garages. There is also a gym, home cinema and an emphasis on security with 360 CCTV and alarms.
Hollywood Mansion offers the ultimate in luxury and has been featured in various home interior magazines.
It is perfect for entertaining with its bar, wine cellar and pool table adjacent to the natural river.
There is piped music of your choice throughout the home, including the pool area.
There is also a Jungle Gym and swing with 2 bridges for the children on the opposite side of the natural river. CCTV Cameras surround the property and can be viewed on every TV.
For more information on Hollywood Mansion click here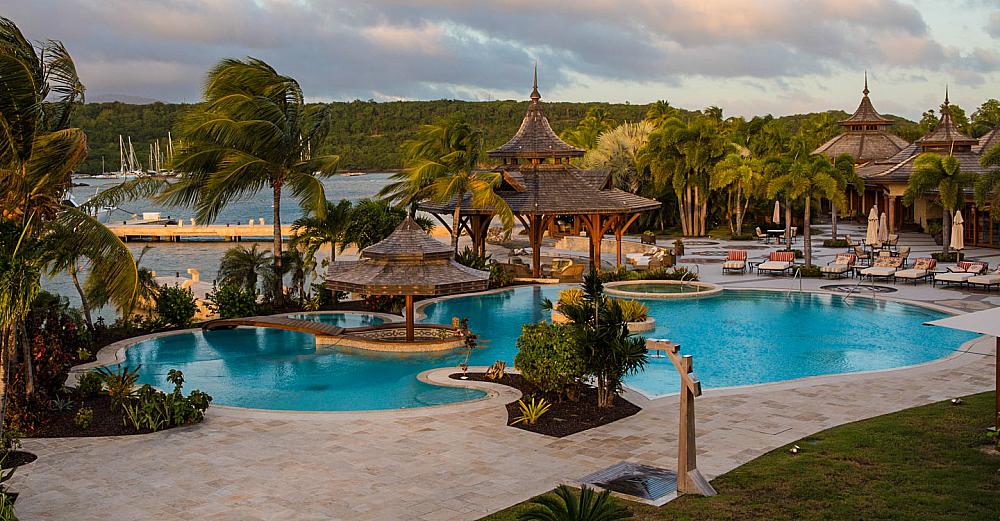 Calivigny Island in Greanda is a magical private Caribbean island. It can be exclusively yours to enjoy and explore. We feel it belongs in our list of Top 10 villas in the world.
This private Caribbean Island is the ideal place for all occasions. The island ensures total privacy to all guests and guarantees a memorable experience.
Guests may stay in the Beach House. This is a beachfront villa of 8,000 sq m, (including the outside areas) with 10 luxury suites. It accommodates up to 20 adults.
This beautiful home is tastefully decorated and furnished with custom-designed furniture by Oscar de la Renta and Richard Frinier.
Each suite is individually decorated and has its own private entrance and en suite bathroom.
There is a second luxury villa of 3,000 sq m with 9 suites. There are also 3 two-bedroom beachside cottages, designed and finished to the highest of standards.
Tailor maid haute cuisine is prepared by 2 world class chefs. Calivigny offers various spots for formal and informal dining, inside and outside including BBQs. A stocked wine cellar is also available (not included in the price)
Calivigny Island is an ideal place for all types of special occasions including weddings, birthday parties and anniversaries. It provides total seclusion, privacy and access to many activities in the most exotic luxurious setting.
For more information on Calivigny Island click here
Crystal Springs is one of the most romantic villas in Barbados. It was designed by world acclaimed Oliver Messel and has 10 bedrooms. It is set on the beach front on a 1.7 acre beachfront estate. We consider it to be one of our Top 10 villas in the world.
With trompe d'oeil, its own beach and use of boat it is set in lush gardens with it's own waterfall. Just steps away from the beach and so close to all the local amenities!
Crystal Springs can accommodate up to 20 guests. It is ideally located between Speightstown and Holetown. In Holetown there is up market shopping. Speightstown is a delightful historic town on the sea where you will find an array of restaurants, bars and shops. Golf at Royal Westmoreland, Apes Hill and Sandy Lane is a short drive away.
Crystal Springs is charming, romantic and stylish. It has views directly overlooking the crystal blue Caribbean sea. Stairways and paths lead down to the small beach/ swimming cove.
There is a heated infinity swimming pool. Crystal Springs also has a modern fitness centre equipped with Technogym equipment.
There is a wonderful air conditioned home cinema with theatre style chairs and large screen. There is even a old time popcorn machine.
The staff at Crystal Springs who have been with the estate for years will look after your every need. Staff include a butler, cook (with assistant), housekeepers and laundresses. There is also a boatman and security guards at night.
For more information on Crystal Springs click here or contact us today to discuss other Top 10 villas in the world.
9. OVER YONDER CAY RESORT-BAHAMAS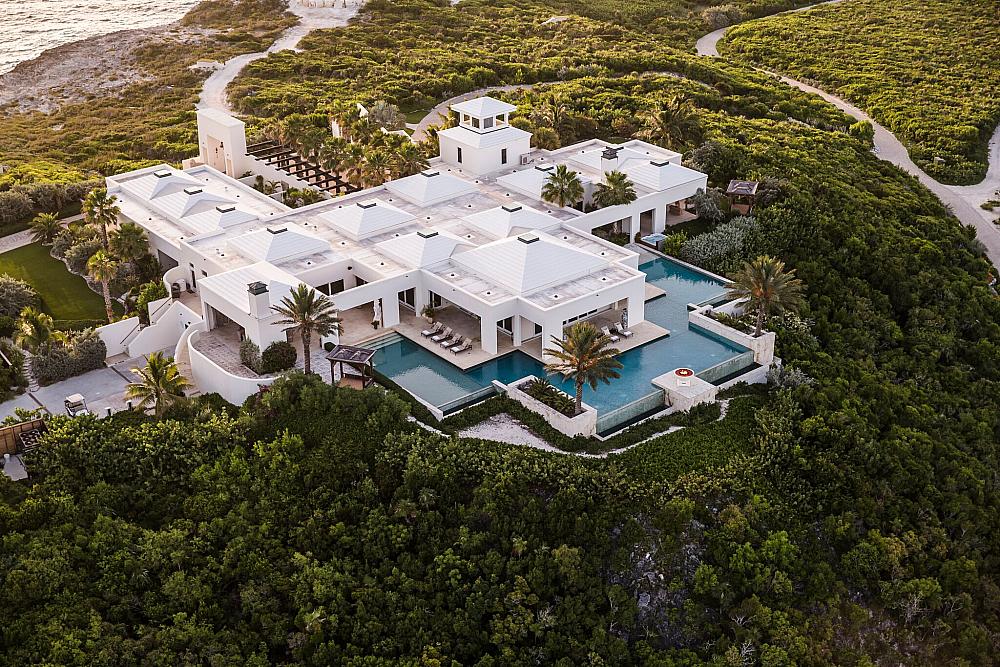 Over Yonder Cay is luxury and privacy at its finest. It has to be included in our list of Top 10 villas in the world. Parties from 2 to 30 guests can be accommodated in four uniquely designed villas. All the villas have private beaches and breath-taking views.
Over Yonder Cay is a former fishing outpost. It is a private island in the Bahamas that has been transformed into a unique eco-friendly haven. Perfect for those seeking authentic and sustainable barefoot luxury.
Rates include full use of all the island's extensive amenities, activities and facilities.
Rental of the whole island ensures total privacy and the full attention from the highly experienced staff. Over Yonder Cay is powered by a state-of-the-art renewable energy system. This includes three wind turbines and a 1.5 acre solar field.
There are four individually designed villas on the island. Each is positioned to take full advantage of the breathtaking views, sunrise, sunset and sea breeze. They have infinity pools, jacuzzis and private beaches. There is private alfresco dining and lounging and comfortable, fully air-conditioned living spaces.
Over Yonder Cay Island Resort is an incredible place to enjoy the holiday of a lifetime. It is also a wonderful place to celebrate milestone events.
For more information on Over Yonder Cay Island Resort click here
10. BANANAQUIT, JUMBY BAY, ANTIGUA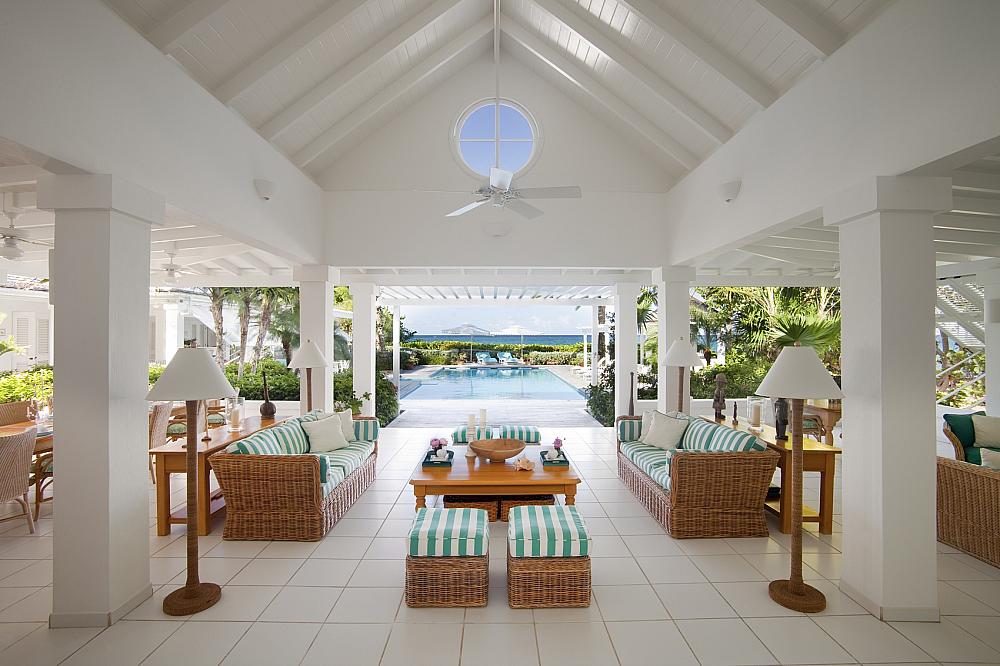 Villa Bananaquit is a 7 bedroom Estate Home. It is located on the exclusive private island of Jumby Bay Island which is off the coast of Antigua in the Caribbean.
This luxury beachfront villa sits on the soft white sandy beach on Pasture Bay.
The accommodation in Bananaquit is designed in an L-shape with seven bedrooms each with their own bathroom. There is a living room, kitchen, dining area. There is also a library and sitting room with TV. The wonderful outdoor lounge areas are the perfect places to relax al fresco. Enjoy the tennis court and a magnificent 15-meter saltwater pool.
This luxury estate home on Jumby Bay Island is extremely private. It has generous living space extending over 11,000 sq. ft. It is tastefully decorated to reflect a tropical, Caribbean style. The indoor and outdoor areas are spectacular with poolside verandas. There is also a magnificent tropical garden.
Jumby Bay Island in Antigua is a secluded hideaway accessible only by boat. It is known worldwide for providing discerning travellers with world-class service and exclusivity.
For more information on accommodation at Jumby Bay, please click here
For more information about Bananaquit click here
This is our own personal choice of Top 10 villas in the world. It was difficult to compile because we have so many beautiful villas available for you to rent. Choosing our favourite Top 10 villas in the world was particularly difficult because we tried to choose no more than one or two from any location. For example, in Barbados alone, there are many villas that deserve to be in our list of Top 10 luxury villas in the world.
You might be interested to read our post on Top 10 villas in Barbados
For more villas similar to our Top 10 beautiful villas in the world contact us today
One of our experienced villa specialists will be happy to help find you one of our Top 10 villas in the world to stay in.