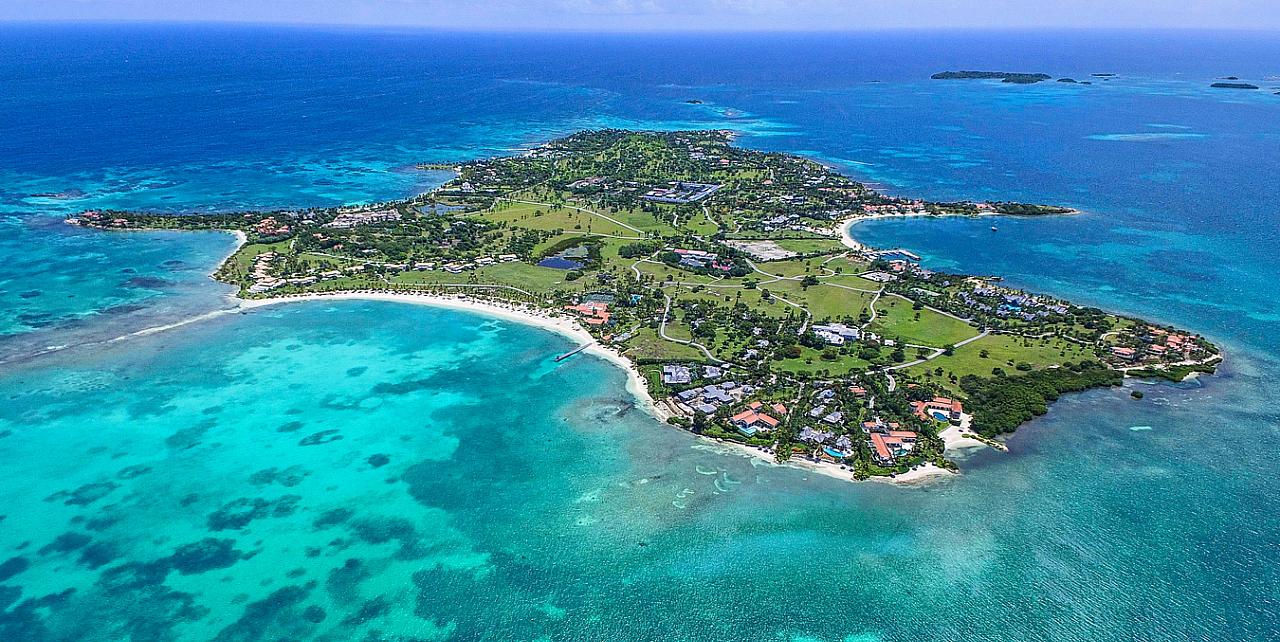 Add to Favourites
Plan Your Trip
HAVE QUESTIONS?
USA/CANADA: +1 347 707 1195
BARBADOS: +246-432-6307
UK /INTERNATIONAL: +44 1978 368531
Jumby Bay Island Antigua offers an experience of sun-soaked hours, serene luxury and soul-soothing solitude, stirred by gentle, passing trade winds. This magnificent Caribbean private island resort is situated off the coast of Antigua, between the Atlantic Ocean and the Caribbean Sea and is blessed with a gloriously temperate climate and stunning beaches. The towering palms, wild orchids, bougainvilla and manicured lawns line the pristine white sandy beaches around this charming island playground where guests can select from the wonderful choices of accommodation whilst experiencing the exclusive atmosphere of an elegant house party.
The perfect picture postcard of white sands lined with thatched-roof bohios and hammocks strung between palm trees. A morning dip in the Caribbean sea or your private pool villa, followed by a relax the sun, or trying your hand at a game of croquet in the afternoon are all accompanied only by the surroundings sounds of nature. There are no cars at Jumby Bay, guests move about easily in golf carts or bicycles along the resort's palm-shaded paths. Jumby Bay has a historic elegant Estate House, which is dramatically set against the backdrop of the Caribbean Sea and the lights of Antigua, and the interiors echo the restaurant's menu of eclectic, international cuisine.
Jumby Bay Island in Antigua is a secluded hideaway accessible only by boat, and is known worldwide for providing discerning travellers with world-class service and exclusivity. Each of the 40 beautifully refurbished rooms and suites and luxurious villas and Estate Home are spread across almost a third of this private Caribbean island that provides the ultimate oasis of luxury, privacy and style.
Jumby Bay Island was the recent Recipient of the 2018 AAA Five-Diamond Award & Forbes Travel Guide 5-Star Rating Award
This exclusive private Caribbean Island offers two stunning beaches. The main Jumby Bay Resort Beach is a crescent of soft, white sand that stretches for ¾ of a mile offering plenty of shade under palapas. Relax on comfortable sun loungers after taking a cooling dip in the calming waters only steps away and enjoy the resort's attentive beach service.
On the Atlantic side, Pasture Bay Beach is an alternative beach option, a totally unspoilt area as it is a natural reserve for the Hawksbill Turtle, and Jumby Bay has a Hawksbill Turtle conservation project. There are palapas and sun loungers, but the beach is kept as natural as possible, therefore provides fabulous snorkelling.
40 Rooms and Suites at Jumby Bay Island Antigua
Each room and suite offers resort bicycles, cotton robes, Italian linens, 42" flat-screen TV with NXTV system, iPod docking station, Bose sound system for CDs/DVDs, Wi-Fi, direct-dial telephone with voice mail, mini bar, in-room safe, iron with ironing board, hair dryer, individual air-conditioning, ceiling fan, James Heeley bath amenities and a Nespresso machine. Services include : twice-daily housekeeping, in-room dining available between 7 a.m. – 10 p.m.
Rondavel Rooms – located towards the southern end of the Resort beach
Octagonal shaped cottages with wrap around terraces, with traditional Jumby Bay style décor and enjoying stunning views of the Caribbean Sea from your terrace. Each room boast Caribbean charm, elegant four-poster beds, bathrooms with private courtyards and outdoor garden showers.
Rondavel one bedroom suite - located towards the southern end of the Resort beach
Jumby Bay's traditional Rondavel cottages, offer a charming guest bedroom, separate living room, bathrooms with spacious walk-in showers, private outdoor garden complete with rain shower, a wrap-around terrace to enjoy stunning views of the Caribbean Sea from your hammock.
Beachside Suite - located along the north end of the main resort beach
Exquisitely furnished to complement this wonderful island setting and nestled beachside, featuring vaulted ceilings in the sitting area which opens to a stylish bedroom. The bathroom provides a dressing area, indoor rain shower, double vanity and in a private courtyard is an outdoor shower with bathtub.
Pool suite - located along the north end of the main resort beach
This beautifully appointed 1 bedroomed pool suite is extremely private with its very own gate and courtyard entrance. This spacious suite consists of 1,346 square feet of living space with vaulted ceilings, separate master bedroom, luxurious bathroom and private outdoor garden with a rain shower and bathtub. There are expansive terraces, glorious sea views and a private pool to complete this magnificent retreat.
Estate Suite - located along the north end of the main resort beach
A one bedroomed suite that can be connected to one or two additional suites with a private butler pantry for in-suite dining. They are totally private, with sophisticated décor in shades of cream/beige offers complemented by British Colonial furnishings. A entrance courtyard with fountain lead to a spacious living and dining area opening onto an infinity-edge pool looking out to the Caribbean Sea. The master bedroom provides a spacious bathroom, powder room, secluded outdoor garden within a walled courtyard boasting a pedestal bath and rain shower. There is also an office area available.
Jumby Bay Island Villas - Enjoy stunning views of the Caribbean Sea, these spacious villas are located along Pond Bay, Davis Bay, Harbour Hill and Jumby Bay. Each providing a luxurious, private retreat with access to all the resort services including housekeeping along with full access to the resort's restaurants, bars, pools, fitness facilities & spa.
Pond Bay Villas at Jumby Bay Island - a gracious collection 4 villas - two, three or four bedrooms overlooking Jumby Bay Beach. Each villa has been beautifully designed creating a sense of Caribbean style. There is a private, secluded courtyard with pool which is surrounded by the four villas that enjoy wonderful views, large patios and floor-to-ceiling doors, large kitchen, living room and bedrooms with expansive bathrooms.
Pond Bay Villas include: Sunflower( 2 or 3 bedrooms ) , Bougainvilla ( 2 or 3 bedrooms ), Hummingbird( 2 or 3 bedrooms ) and Allamanda( 4 bedrooms and includes a chef and butler )
Harbour Villas at Jumby Bay Island - multi-level villas of two, three or four bedrooms, kitchens, living and dining space and each has a magnificent terrace and unique pool. The premium and deluxe Harbour Villas Jumby Bay enjoy either stunning sea views or beach locations and each one is uniquely decorated .
Harbour Beach villas include : Sandy Cove ( 2,3 or 4 bedrooms) Sea Breeze ( 2 , 3 or 4 bedrooms) Sea Hare ( 2 or 3 bedrooms) Sea Horse ( 2 or 3bedrooms) Sea Star ( 2 or 3 bedrooms ) Tortuga ( 2 or 3 bedrooms ) Doniford Cottage ( 3 bedrooms)
Harbour Sea View Villas include : Banyan ( 2 or 3 bedrooms) Poinciana ( 2 bedrooms) Carisbrooke ( 2 or 3 bedrooms) Whispering Palms ( 2, 3 or 4 bedrooms) Jabberwocky (2 or 3 bedrooms )
Jumby Bay Estate Homes - These magnificent homes vary in their location on the island, their views and their decor. Each and every Estate Home at Jumby Bay is individually designed and furnished with a living room, kitchen, indoor/outdoor dining areas and beautiful terraces with exceptional views. You are taken care of by the team of staff each home has including full time housekeeper, a personal chef, handyman, full time gardeners. Some also have a butler. All the amenities of Jumby Bay are available to you as well as access to the resort's restaurants.
Private Estate Homes at Jumby Bay consist of: Calabasah ( 4 bedrooms ) Turtle Reef ( 4 bedrooms) Les Palmiers ( 5 bedrooms) Sandpiper ( 5 bedrooms) East Winds ( 5 bedrooms ) Blue Pelican ( 6 bedrooms) Lazy Lizard ( 6 bedrooms) Bananaquit (7 bedrooms), La Casa (6 bedrooms), Tir Na Nog (6 bedrooms), Morning Glory (8 bedrooms), Frangipani (6 bedrooms) and Oleander (6 bedrooms) Kairos (7 bedrooms) Turtle Crossing ( 7 bedrooms) Evangeline ( 7 bedrooms ) Pure Turquoise ( 7 bedrooms) Mariposa ( 8 bedrooms)
Dining at the Jumby Bay Island Antigua
The Estate House - once the original plantation house at the centre of the island's sugar plantation. Now it is the fine dining focal point of Jumby Bay, offering a main restaurant, 1830 Bar, 3 private dining rooms and a wine room all inspired by local history and island traditions. The delicious cuisine combining traditional and modern flavours with culinary traditions of the Caribbean.
The Verandah - a delightful area cooled by the sea breezes with more than a restaurant and bar. As a guest you will pass through The Verandah on arrival, offered a welcome drink from the bar before taking the gold buggie to your room/suite/villa. There is a boutique and a concierge area which leads to the open-air dining and lounge areas, and a residential kitchen all of which overlook the beautiful blue bay and Jumby Bay Beach. The Verandah serves breakfast, lunch and dinner.
The Poole Grille - is perfect for daytime dining. If you prefer not to leave your sun lounger, order a lunchtime treat and cocktail and it will be served to you. Or you can take time out of the sun and dine under the shaded canopy. The Pool Grille offers fresh light snacks, lunch, refreshing cocktails, smoothies and fruit juices.
The Beach Shack - a vibrant coloured, typical Caribbean Beach shack that offers an authentic, West Indian menu choices, such as lobster roti, refreshing mahi ceviche, and more – which is served casually along the sands of Jumby Bay Beach.
The Beach Bar - located midway down the shoreline on Jumby Bay Beach, the centre of the beach service. Enjoy your favourite cocktail, chilled water, fresh towels, tasty snacks including hand-made ice-cream sandwiches, and fresh fruit sorbets. Private dinners can be arranged or try a cooking class, order a picnic hamper, arrange a romantic torch-lit beach dinner, or dine in your suite service and children's menus are also offered.
The Spa at Jumby Bay Island Antigua
A serene oceanfront setting is the location for The Spa at Jumby Bay Island a wonderful open-air sanctuary to revives your spirit and enchant your soul.
Jumby Bay Explorer's Children's Program at Jumby Bay Island Antigua
Children's program with services and amenities designed just for the younger guests including – children's menus, arranging special events and fun activities. "Jumbie" is Antiguan colloquial word meaning a playful, mischievous spirit so an aptly named place for children of all ages to explore the wildlife and natural surroundings.
See more details...
Amenities
Air Conditioning
Bar
Beach Facility
Beach Front
Ceiling Fans
Childrens Activities
Communal Facilities
Gym/Fitness Room
Near Beach
On site security
Private Pool
Restaurant
Shared Pool
Spa
Spa Wellness Suite
Tennis Court
TV
WaterSports
Wireless Internet
See more details...
Complimentary Airport greeting – Breakfast, lunch & dinner daily (included for single or double occupancy only) – Unlimited open bar – Imported house wine with all meals – Afternoon tea – Concierge services – Beaches – Watersports – Snorkeling gear & guided tours – Sailboarding – Sunset cocktail cruise – sunfloats & Sunfish sailboats – Fitness centre – Resort bicycles – Tennis courts – Pools – Daily NY Times facsimile – Evening turndown service –  Hawksbill Turtle Project – Daily Children's Program
Bedroom : 1 - 8
Bathroom : 1 - 8
Staff
Butler
Cook
Gardener
House Manager
Housekeeper / Cook
Maid
Security
Full team of staff - housekeepers, chefs, butler , concierge
Rate
Rates on request.
Please call or message for rates, availability or further information
Policy
HOTEL POLICIES:
Dress Policy
To preserve the elegant but casual atmosphere of the Caribbean's most exclusive private island resort, ladies may wear pareos or cover-ups over swimwear; gentlemen may wear polos or t-shirts with swim shorts at breakfast and lunch. At dinner resort wear is appropriate for ladies and gentlemen.
Children's Policy
Children of all ages are welcome year-round at Jumby Bay. The resort offers the Jumby Explorers program which includes supervised activities for children and teenagers from 3 to 16 years of age. The cost of the program is included in the Extra Person Charge. 
Children are welcome to dine with their families in any of the resort restaurants. Meals are included in the extra person charge for children. Up to one roll-away bed or crib can be installed in Rondavel One Bedroom Suites, or higher categories for families traveling with young children
Location
Private Caribbean Island Jumby Bay , Antigua
• A short taxi ride to the resort's private ferry for a boat ride over to the island