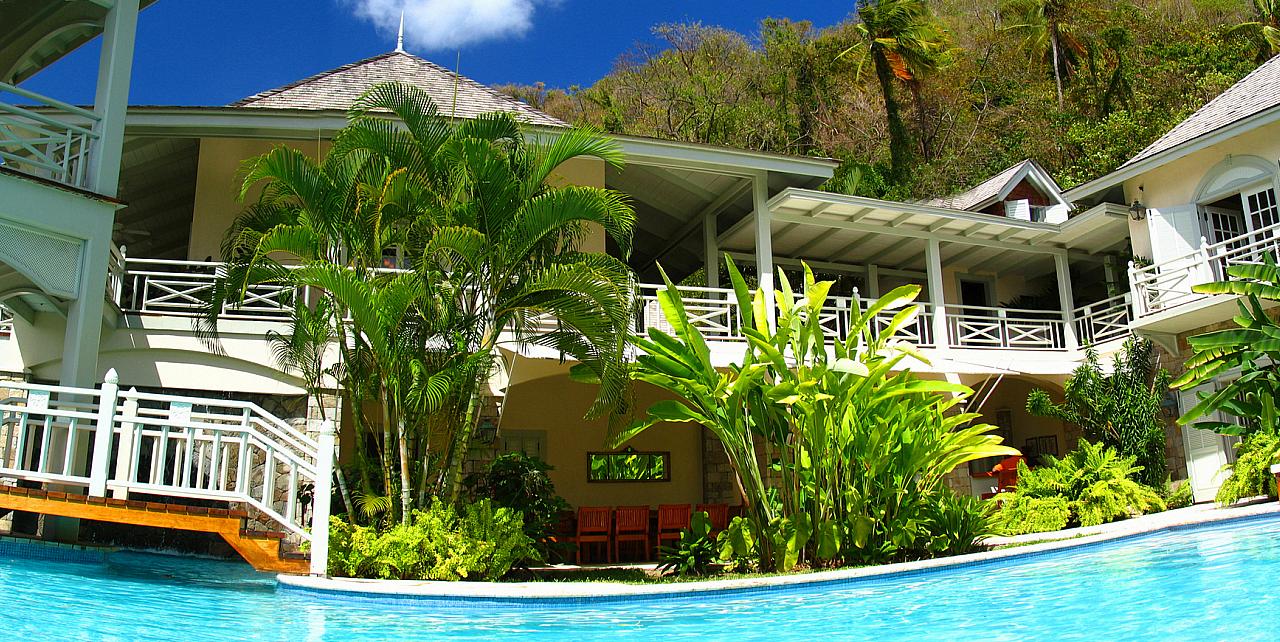 Add to Favourites
From $2,415 USD - $3,925 USD / nt
Plan Your Trip
HAVE QUESTIONS?
USA/CANADA: +1 347 707 1195
BARBADOS: +246-432-6307
UK /INTERNATIONAL: +44 1978 368531
From $2,415 USD - $3,925 USD / nt
We love this villa because...
It is close to the beach Can be rented on 3 or 5 bedroom basis Wonderful views of the pitons from the romantic dining gazebo Fabulous architecture and interior designed Designed as a number of pavilions connected by verandahs to provide ultimate privacy
Arc En Ciel is a stunning 5 bedroom home. It has been imaginatively designed to a very high standard by architect Lane Pettigrew. He is also responsible for the interior design. It is furnished with hand made furniture from Honduras and some select pieces from Tommy Bahama.
The house incorporates many aspects of traditional Caribbean style. It has terraces, jalousie shutters and wooden railings.
Arc en Ciel can be rented on a 3 to 5 bedroom basis.
Arc en Ciel has been constructed as a number of small pavilions connected by verandahs. The exterior of the house has been partially finished with a facing of hand chipped stones. It resembles the exterior of the forts which were constructed on the island many hundreds of years ago.
The house is situated in an extensive, landscaped garden with a wide variety of tropical flowers and trees.
Bedrooms
Arc En Ciel has 5 double bedrooms. All are air conditioned with ceiling fans. Each bedroom has its own TV, DVD and stereo.
Bedroom 1 has a queen size bed and a terrace with a unique view of Petit Piton. There is an ensuite bathroom, where the wall facing Petit Piton is glass. From here guests may enjoy views of this mountain from the jacuzzi bath and the shower.
There is a private swimming pool and sun deck situated off the bathroom. This is in an enclosed garden area.
Bedrooms 2 and 3 each have a queen size bed, a private patio and an ensuite bathroom with shower and jacuzzi.
Bedrooms 4 and 5 are situated downstairs and open onto the swimming pool deck. Each have two single beds, a private terrace and an ensuite bathroom with shower and jacuzzi.
The living / dining room is situated in the centre of the house. It is tastefully furnished and equipped with a TV, DVD and stereo.
The formal dining table can seat 10. This room opens out onto a terrace which leads to a spectacular dining gazebo. In here guests dine with the backdrop of the Caribbean Sea and the Pitons.
The balance of the entertainment areas are situated downstairs. Here you may enjoy the outdoor living of the Caribbean. There is a large covered terrace with a casual dining area and bar with its own fridge. This leads onto an extensive pool deck and a series of smaller pool terraces.
There is a comfortable, air conditioned family room with two large sofas. One of these can be converted into a double bed.
The infinity edge pool weaves its way around this area and includes a stone cave with a waterfall.
A modern well equipped kitchen and laundry room completes the villa.
Extra Amenities
• Gazebo
• Near beach
• Near watersports
• Stereo
If you are interested in renting Arc en Ciel contact us today
See more details...
Amenities
Air Conditioning
BBQ
CD Player
Ceiling Fans
DVD Player
Fully Equipped Kitchen
Gated Development
Hair Dryer
Internet Access
Private Pool
Safe
Sea view
Security System
Telephone
Tennis (nearby)
TV
See more details...
Bedroom : 5
Bathroom : 5.5
Staff
• Chef
• Houseman
• Housekeeper
Groceries for this villa are only to be done by the team at the villa. This will include a standard 20% service fee.
Key Facts
Access road is very long and narrow, an arrival transfer is included with rental to avoid lost clients
Rate
Bedrooms: 5 Bedrooms

| From | To | Min Stay | Nightly Rate | Weekly Rate |
| --- | --- | --- | --- | --- |
| 20-Apr-2022 | 14-Dec-2022 | 5 | $2,415 USD | $16,905 USD |
| 15-Dec-2022 | 20-Dec-2022 | 5 | $3,565 USD | $24,955 USD |
| 21-Dec-2022 | 04-Jan-2023 | 7 | $3,925 USD | $27,475 USD |
| 05-Jan-2023 | 05-Apr-2023 | 5 | $3,595 USD | $24,955 USD |
| 06-Apr-2023 | 11-Apr-2023 | 7 | $3,925 USD | $27,475 USD |
| 12-Apr-2023 | 14-Apr-2023 | 5 | $3,595 USD | $24,955 USD |
| 15-Apr-2023 | 09-May-2023 | 5 | $2,820 USD | $19,740 USD |
| 10-May-2023 | 15-May-2023 | 5 | $3,925 USD | $27,475 USD |
| 16-May-2023 | 11-Jul-2023 | 5 | $2,820 USD | $19,740 USD |
| 12-Jul-2023 | 19-Jul-2023 | 5 | $3,925 USD | $27,475 USD |
| 20-Jul-2023 | 14-Dec-2023 | 5 | $2,820 USD | $19,740 USD |
Rental rates are subject to 0.00 % TAX plus 1.50 % service charge.
Rates based on 2 person occupancy per bedroom and subject to the following Head Tax:
US$6 per head per day for adults
US$3 per head per day for children 12 - 16

Groceries are to be sourced only by Arc En Ciel team for a service charge of 20%. No unauthorized persons are allowed to procure groceries for clients at this villa.

Rates & taxes are subject to change without notice
Availability
(Please use as a guide only as availability is subject to change)
December , 2022
| Sun | Mon | Tue | Wed | Thu | Fri | Sat |
| --- | --- | --- | --- | --- | --- | --- |
| | | | | 01 | 02 | 03 |
| 04 | 05 | 06 | 07 | 08 | 09 | 10 |
| 11 | 12 | 13 | 14 | 15 | 16 | 17 |
| 18 | 19 | 20 | 21 | 22 | 23 | 24 |
| 25 | 26 | 27 | 28 | 29 | 30 | 31 |
January , 2023
| Sun | Mon | Tue | Wed | Thu | Fri | Sat |
| --- | --- | --- | --- | --- | --- | --- |
| 01 | 02 | 03 | 04 | 05 | 06 | 07 |
| 08 | 09 | 10 | 11 | 12 | 13 | 14 |
| 15 | 16 | 17 | 18 | 19 | 20 | 21 |
| 22 | 23 | 24 | 25 | 26 | 27 | 28 |
| 29 | 30 | 31 | | | | |
February , 2023
| Sun | Mon | Tue | Wed | Thu | Fri | Sat |
| --- | --- | --- | --- | --- | --- | --- |
| | | | 01 | 02 | 03 | 04 |
| 05 | 06 | 07 | 08 | 09 | 10 | 11 |
| 12 | 13 | 14 | 15 | 16 | 17 | 18 |
| 19 | 20 | 21 | 22 | 23 | 24 | 25 |
| 26 | 27 | 28 | | | | |
March , 2023
| Sun | Mon | Tue | Wed | Thu | Fri | Sat |
| --- | --- | --- | --- | --- | --- | --- |
| | | | 01 | 02 | 03 | 04 |
| 05 | 06 | 07 | 08 | 09 | 10 | 11 |
| 12 | 13 | 14 | 15 | 16 | 17 | 18 |
| 19 | 20 | 21 | 22 | 23 | 24 | 25 |
| 26 | 27 | 28 | 29 | 30 | 31 | |
April , 2023
| Sun | Mon | Tue | Wed | Thu | Fri | Sat |
| --- | --- | --- | --- | --- | --- | --- |
| | | | | | | 01 |
| 02 | 03 | 04 | 05 | 06 | 07 | 08 |
| 09 | 10 | 11 | 12 | 13 | 14 | 15 |
| 16 | 17 | 18 | 19 | 20 | 21 | 22 |
| 23 | 24 | 25 | 26 | 27 | 28 | 29 |
| 30 | | | | | | |
May , 2023
| Sun | Mon | Tue | Wed | Thu | Fri | Sat |
| --- | --- | --- | --- | --- | --- | --- |
| | 01 | 02 | 03 | 04 | 05 | 06 |
| 07 | 08 | 09 | 10 | 11 | 12 | 13 |
| 14 | 15 | 16 | 17 | 18 | 19 | 20 |
| 21 | 22 | 23 | 24 | 25 | 26 | 27 |
| 28 | 29 | 30 | 31 | | | |
June , 2023
| Sun | Mon | Tue | Wed | Thu | Fri | Sat |
| --- | --- | --- | --- | --- | --- | --- |
| | | | | 01 | 02 | 03 |
| 04 | 05 | 06 | 07 | 08 | 09 | 10 |
| 11 | 12 | 13 | 14 | 15 | 16 | 17 |
| 18 | 19 | 20 | 21 | 22 | 23 | 24 |
| 25 | 26 | 27 | 28 | 29 | 30 | |
July , 2023
Sun
Mon
Tue
Wed
Thu
Fri
Sat
01
02
03
04
05
06
07
08
09
10
11
12
13
14
15
16
17
18
19
20
21
22
23
24
25
26
27
28
29
30
31
August , 2023
| Sun | Mon | Tue | Wed | Thu | Fri | Sat |
| --- | --- | --- | --- | --- | --- | --- |
| | | 01 | 02 | 03 | 04 | 05 |
| 06 | 07 | 08 | 09 | 10 | 11 | 12 |
| 13 | 14 | 15 | 16 | 17 | 18 | 19 |
| 20 | 21 | 22 | 23 | 24 | 25 | 26 |
| 27 | 28 | 29 | 30 | 31 | | |
September , 2023
| Sun | Mon | Tue | Wed | Thu | Fri | Sat |
| --- | --- | --- | --- | --- | --- | --- |
| | | | | | 01 | 02 |
| 03 | 04 | 05 | 06 | 07 | 08 | 09 |
| 10 | 11 | 12 | 13 | 14 | 15 | 16 |
| 17 | 18 | 19 | 20 | 21 | 22 | 23 |
| 24 | 25 | 26 | 27 | 28 | 29 | 30 |
October , 2023
| Sun | Mon | Tue | Wed | Thu | Fri | Sat |
| --- | --- | --- | --- | --- | --- | --- |
| 01 | 02 | 03 | 04 | 05 | 06 | 07 |
| 08 | 09 | 10 | 11 | 12 | 13 | 14 |
| 15 | 16 | 17 | 18 | 19 | 20 | 21 |
| 22 | 23 | 24 | 25 | 26 | 27 | 28 |
| 29 | 30 | 31 | | | | |
November , 2023
| Sun | Mon | Tue | Wed | Thu | Fri | Sat |
| --- | --- | --- | --- | --- | --- | --- |
| | | | 01 | 02 | 03 | 04 |
| 05 | 06 | 07 | 08 | 09 | 10 | 11 |
| 12 | 13 | 14 | 15 | 16 | 17 | 18 |
| 19 | 20 | 21 | 22 | 23 | 24 | 25 |
| 26 | 27 | 28 | 29 | 30 | | |
December , 2023
| Sun | Mon | Tue | Wed | Thu | Fri | Sat |
| --- | --- | --- | --- | --- | --- | --- |
| | | | | | 01 | 02 |
| 03 | 04 | 05 | 06 | 07 | 08 | 09 |
| 10 | 11 | 12 | 13 | 14 | 15 | 16 |
| 17 | 18 | 19 | 20 | 21 | 22 | 23 |
| 24 | 25 | 26 | 27 | 28 | 29 | 30 |
| 31 | | | | | | |
January , 2024
| Sun | Mon | Tue | Wed | Thu | Fri | Sat |
| --- | --- | --- | --- | --- | --- | --- |
| | 01 | 02 | 03 | 04 | 05 | 06 |
| 07 | 08 | 09 | 10 | 11 | 12 | 13 |
| 14 | 15 | 16 | 17 | 18 | 19 | 20 |
| 21 | 22 | 23 | 24 | 25 | 26 | 27 |
| 28 | 29 | 30 | 31 | | | |
February , 2024
| Sun | Mon | Tue | Wed | Thu | Fri | Sat |
| --- | --- | --- | --- | --- | --- | --- |
| | | | | 01 | 02 | 03 |
| 04 | 05 | 06 | 07 | 08 | 09 | 10 |
| 11 | 12 | 13 | 14 | 15 | 16 | 17 |
| 18 | 19 | 20 | 21 | 22 | 23 | 24 |
| 25 | 26 | 27 | 28 | 29 | | |
March , 2024
| Sun | Mon | Tue | Wed | Thu | Fri | Sat |
| --- | --- | --- | --- | --- | --- | --- |
| | | | | | 01 | 02 |
| 03 | 04 | 05 | 06 | 07 | 08 | 09 |
| 10 | 11 | 12 | 13 | 14 | 15 | 16 |
| 17 | 18 | 19 | 20 | 21 | 22 | 23 |
| 24 | 25 | 26 | 27 | 28 | 29 | 30 |
| 31 | | | | | | |
April , 2024
| Sun | Mon | Tue | Wed | Thu | Fri | Sat |
| --- | --- | --- | --- | --- | --- | --- |
| | 01 | 02 | 03 | 04 | 05 | 06 |
| 07 | 08 | 09 | 10 | 11 | 12 | 13 |
| 14 | 15 | 16 | 17 | 18 | 19 | 20 |
| 21 | 22 | 23 | 24 | 25 | 26 | 27 |
| 28 | 29 | 30 | | | | |
May , 2024
| Sun | Mon | Tue | Wed | Thu | Fri | Sat |
| --- | --- | --- | --- | --- | --- | --- |
| | | | 01 | 02 | 03 | 04 |
| 05 | 06 | 07 | 08 | 09 | 10 | 11 |
| 12 | 13 | 14 | 15 | 16 | 17 | 18 |
| 19 | 20 | 21 | 22 | 23 | 24 | 25 |
| 26 | 27 | 28 | 29 | 30 | 31 | |
June , 2024
| Sun | Mon | Tue | Wed | Thu | Fri | Sat |
| --- | --- | --- | --- | --- | --- | --- |
| | | | | | | 01 |
| 02 | 03 | 04 | 05 | 06 | 07 | 08 |
| 09 | 10 | 11 | 12 | 13 | 14 | 15 |
| 16 | 17 | 18 | 19 | 20 | 21 | 22 |
| 23 | 24 | 25 | 26 | 27 | 28 | 29 |
| 30 | | | | | | |
July , 2024
| Sun | Mon | Tue | Wed | Thu | Fri | Sat |
| --- | --- | --- | --- | --- | --- | --- |
| | 01 | 02 | 03 | 04 | 05 | 06 |
| 07 | 08 | 09 | 10 | 11 | 12 | 13 |
| 14 | 15 | 16 | 17 | 18 | 19 | 20 |
| 21 | 22 | 23 | 24 | 25 | 26 | 27 |
| 28 | 29 | 30 | 31 | | | |
August , 2024
| Sun | Mon | Tue | Wed | Thu | Fri | Sat |
| --- | --- | --- | --- | --- | --- | --- |
| | | | | 01 | 02 | 03 |
| 04 | 05 | 06 | 07 | 08 | 09 | 10 |
| 11 | 12 | 13 | 14 | 15 | 16 | 17 |
| 18 | 19 | 20 | 21 | 22 | 23 | 24 |
| 25 | 26 | 27 | 28 | 29 | 30 | 31 |
September , 2024
Sun
Mon
Tue
Wed
Thu
Fri
Sat
01
02
03
04
05
06
07
08
09
10
11
12
13
14
15
16
17
18
19
20
21
22
23
24
25
26
27
28
29
30
October , 2024
| Sun | Mon | Tue | Wed | Thu | Fri | Sat |
| --- | --- | --- | --- | --- | --- | --- |
| | | 01 | 02 | 03 | 04 | 05 |
| 06 | 07 | 08 | 09 | 10 | 11 | 12 |
| 13 | 14 | 15 | 16 | 17 | 18 | 19 |
| 20 | 21 | 22 | 23 | 24 | 25 | 26 |
| 27 | 28 | 29 | 30 | 31 | | |
November , 2024
| Sun | Mon | Tue | Wed | Thu | Fri | Sat |
| --- | --- | --- | --- | --- | --- | --- |
| | | | | | 01 | 02 |
| 03 | 04 | 05 | 06 | 07 | 08 | 09 |
| 10 | 11 | 12 | 13 | 14 | 15 | 16 |
| 17 | 18 | 19 | 20 | 21 | 22 | 23 |
| 24 | 25 | 26 | 27 | 28 | 29 | 30 |
Location
Beau Estate, Soufriere, St. Lucia