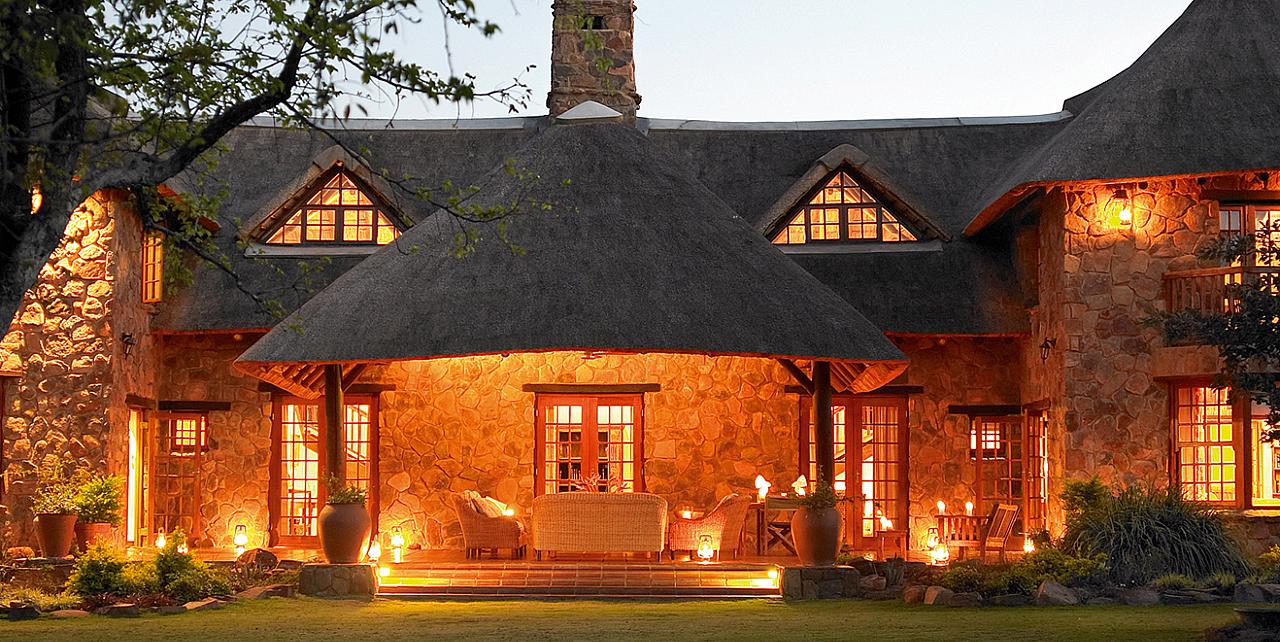 Add to Favourites
Plan Your Trip
HAVE QUESTIONS?
USA/CANADA: +1 347 707 1195
BARBADOS: +246-432-6307
UK /INTERNATIONAL: +44 1978 368531
We love this villa because...
It is a beautiful Private Safari House in a private reserve, ideal for all ages and all occasions and offers an extensive range of safari adventure activities
Jembisa is an idyllic country house safari lodge within it's own private game reserve at the heart of the beautiful Waterberg Plateau in the northern Limpopo Province of South Africa. Recently graded 5 star by the South African Grading Council - guests have their own, fully-staffed 5 star luxury safari villa for incredible good value.
The Waterberg is celebrated for it's scenery and wildlife and has been designated an international biosphere by Unesco and the reserve is a beautiful unspoilt wilderness of rivers, cliffs, gorges, woodland and open savanna that has been preserved through careful conservation management. The rugged landscape provides a wide variety of habitats, resulting in a high diversity of plant and animal species. Sightings of white rhino, giraffe, hippopotamus, Livingstone's eland, kudu, zebra, blue wildebeest, bushbuck, impala and crocodile are common. On night drives, bushbabies, porcupines, aardvark, caracals, leopards and brown hyenas can be encountered.
Jembisa's safari lodge can be booked exclusively for up to 12 adults and 4 children, who will have the lodge and reserve entirely to themselves and guests are looked after extremely attentively by the staff and the senior managers. Separate meal times can also be arranged for children. Guests enjoy dining in a variety of exciting venues, and all meals are freshly prepared by Jembisa's chef using fresh, local and seasonal ingredients wherever possible. The Chef is will also gladly cater for any special dietary requests and special meal times can be arranged for children.Children of all ages are welcome and it has proven to be an exceptional family safari destination. An additional advantage is that it is in a malaria-free area, but there are doctors, a pediatrician and a pharmacist in our local town of Vaalwater which is 30 minutes drive away.It is our recommendation that you seek general medical advice from your own doctor prior to travel. The Jembisa safari lodge is also popular with small groups travelling together, safari weddings and tutored painting safaris.
Built originally as a family home Jembisa has a wonderful atmosphere of relaxation and comfort. The lodge is built from local stone and thatch with large, spacious rooms decorated with natural materials in an Afro-colonial style. There are 6 luxury en-suite bedrooms and a single / children's bunk room across two wings of the house,and all the bathrooms have both a shower and a bath. Jembisa also has the benefits of added extras not usually found at safari lodges, for example a library, reading room and a games room - whether you wish to relax in style or be more active, there are a host of options available at Jembisa – take a dip in the natural saltwater pool, play a game of tennis on the floodlit court or for extra relaxation opt for a massage either in the privacy of your bedroom or on the secluded deck overlooking the river.
Game drives are in 4x4 open land-rovers with highly trained and experienced rangers. Night drives provide the opportunity of seeing the nocturnal animals such as leopard, brown hyena, aardvark, civet cats and porcupines. Bush walks are always fascinating and guests may experience the thrill of walking with rhino. There is an option of camping out for a night under canvas, getting closer to nature and waking with the African dawn. Visit Bushman Paintings and Archaeological sites, the reserve has been home to many peoples over time and there are Stone Age, early and late Iron Age sites and bushman paintings.
Jembisa is special because
Classic, beautiful Private Safari House in a private reserve
Great for families, celebrations, multi- generation groups
Monkeys, banded mongoose and tortoises regularly frequent the beautiful garden
Exclusive and non-exclusive use options
Extensive range of safari adventure activities

Camp outs under the stars for all ages
Sleeps up to 14
There are also lots of interesting things to do in the surrounding area;
LOCAL EXCURSIONS FROM JEMBISA
Horse riding at Horizon Horseback Adventures
Guests can choose to ride out on the cattle ranch or within the game area. Lots of scope for experienced riders with long canters on sandy tracks, or a gentle potter for the novice rider. Rides at 7 am or 4.30 pm, or to suit your group. 20 minute journey from Jembisa. Approximately 100 S.A. Rand per person per hour.
Elephant Back Safaris
Arrive for a cocktail and briefing, before being allocated your elephant! Ride alone or double up! The ride is approximately 45min through the African Bush viewing plains game. On return there is an interaction session when the handlers demonstrate the training program and brunch.
2-8 people, min age 5 years; Approximatley S.A. R995 p.p
Farm Tour with Charles Baber on Triple B Ranch;
Charles is in his 70s, a great character and very knowledgeable about the Waterberg and its history. Although of English descent, his forebears were one of the first families to settle in the area, having trekked up by ox wagon. He has a vast cattle ranch and for anyone interested in farming or cattle, provides a fascinating tour - (30 minutes from Jembisa) Approximately S.A. R125 pp (min R300) per tour
Welgevonden Game Reserve (Big 5)
Game drive within a big 5 game reserve, with one of their knowledgeable rangers.
45 mins. from Jembisa. Approximately S.A.R230 per person per drive (Subject to availability)

Entabeni Game Reserve (Big 5)
Game drive on a big 5 game reserve. Approximatley S.A. R230 per person, per drive.
45 mins. drive from Jembisa.
Helicopter ride – not for the faint-hearted! An amazing experience, flying through, down and around, majestic scenery. -
5 passengers; 6 mins Approximatley S.A. R330 per person
12 mins Approximatley S.A. R580 per person
Flight combined with picnic lunch on the 'Hanglip' mountain top;
Optimum 5 passengers; Approximately S.A. R700 per person
Rhino Museum
Founded by Clive Walker, the museum provides an interesting and informative place to visit. Whilst there, take the opportunity to visit Bwana, an orphan black rhino raised on the Lapalala reserve after being found abandoned. There are set feeding times when you can hand-feed him.
Local African Art and Curio Shops
The Waterberg boasts some excellent African art and curio shops.
See more details...
Amenities
Private Pool
Tennis Court
See more details...
Bedroom : 5 - 6
Bathroom : 6
Staff
Guests are looked after extremely attentively by the staff and the senior managers.
Key Facts
Jembisa is located in a malaria free reserve. There are doctors, a paediatrician and a pharmacist in our local town of Vaalwater which is 40 minutes' drive away.  We also recommend that you seek general medical advice from your doctor prior to travel.
Notice
Jembisa can be taken on an exclusive, private use basis, or a non shared basis.
Rate
Rates on request.
Please call or message for rates, availability or further information.
Policy
Rates are fully inclusive of all meals, all drinks, safari activities at Jembisa, laundry and 15% VAT
Location
3 hours drive North of Johannesburg and transfer services can be arranged by road or air as there is a small private airstrip on the reserve.