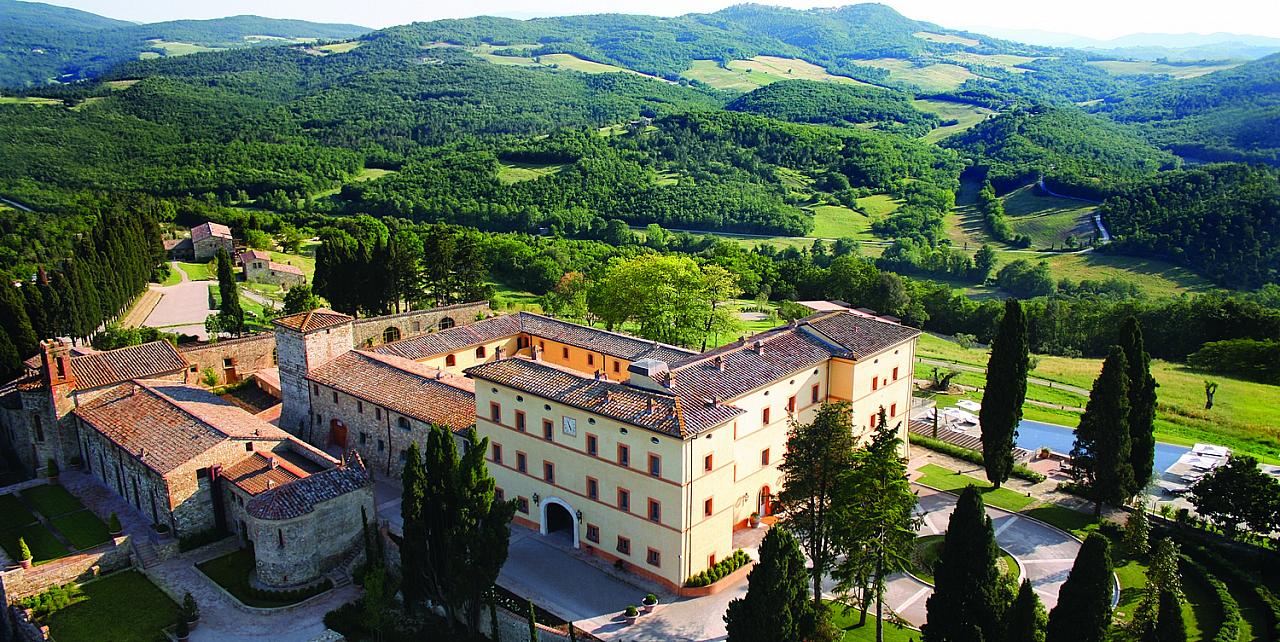 Add to Favourites
Plan Your Trip
HAVE QUESTIONS?
UK : 0845-017-6707
USA/CANADA: +1 347 707 1195
BARBADOS: +246-432-6307
INTERNATIONAL: +44 1978 368531
Casali di Casole is a tranquil, stunning community extending over 4,200 acres of unspoilt rolling Tuscan countryside with olive groves and vineyards on the horizon located only 45 minutes south of Florence and only 20 minutes from the beautiful city of Sienna. Casali di Casole , a Timbers Resort, is ranked a No 1 Resort in Europe by Travel + Leisure readers for the third year in a row. The location of this resort is second to none. It offers guests peace and beauty with an array of things to do and see both on and off the estate.
The typically Tuscan village lifestyle offered at Casali di Casole revolves around the central courtyard which has a central water feature with dining outlets, a bar and occasional live music, creating the perfect "village square" atmosphere for those guests looking for something special. From time to time during the season local artisans are invited to display their wares and provide tastings of their local produce. It is a lovely way to support the local food producers and provides a perfect opportunity to meet local artisans, other guests and to enjoy a truly unique experience in one of the most beautiful parts of the world.
As you approach the estate, two grand cypress-lined lanes ascend to the historic castle, which is now the 39-suites 5-star boutique hotel. The historic castle is perched on the highest hill within the estate and is home to a world-class spa and fitness area. There are 3 choices to enjoy fine or casual dining, plus an artisan boutique. There are spacious lawns, terraces and an amphitheatre for open-air celebrations. Both the boardroom and the intimate church are striking venues for private receptions and corporate meetings. Dining in the restaurant or on the glorious seasonal terrace can be arranged and themed for the audience and event.
Many of the products in the spa are made from local produce including olive oil, flowers, herbs and spices grown on the estate. It provides another culinary experience for the body and soul.

There is a wonderful choice of restaurants. Ristorante Tosca is the more formal restaurant offering an a la carte menu or a tasting menu. You will delight in the delicious complimentary appetisers which interlace each course. Fortunately the complimentary 'appetisers' are small but each one is divine. A diffusion of flavours to ignite the taste buds. The service is superb and the staff manage to achieve effortlessly that difficult balance between formality and cordiality.
If you prefer a more casual supper, the stunning Visconti Bar serves pastas and other local foods and you can dine in the tastefully furnished bar area or on the terrace outside overlooking the Tuscan hills outside.

There is even a restaurant, Pazzia, where kids can make their own pizzas while their parents relax by the pool or in the spa. It is a treat to then eat as a family the pizzas made by the kids. Pazzia also offers wonderful home-made Italian ice creams in its Gelateria section.
Just beyond the courtyard is the main pool area which is spacious and has seating to enjoy the wonderful views. The pool is heated to 28 degrees so ideal from Spring through to Autumn. Beyond the pool are exquisite views in the distance to the hilltop town of Casole D'Elsa.
There is so much to do on this estate it is hard to know where to begin. There are cookery courses, wildlife 'safaris', olive and balsamic vinegar tastings, ballooning over the Tuscan hillside, treks, biking, truffle hunting, wine tastings, yoga and pilates, visits to local historic sites and villages, visits to cheese farms and golfing at nearby golf courses.
If you want a truly unique experience we can even make arrangements for you to drive a Ferrari for a day (or longer) through the beautiful Tuscan countryside. It really will be a trip to remember.

The choices of accommodation include 39 suites and villas - There are 16 rooms located around the courtyard –
Including the stunning Bargagli Penthouse, that are very spacious offering 2 or 3 bedrooms over 2 floors, that open onto a private terrace taking full advantage of the wonderful landscape views. The Penthouse has three suites, each with private bathrooms. The penthouse also has its own furnished large terrace where you can sip cocktails and dine al fresco.
Behind the courtyard is the old Limonaia ( lemon tree store) which is now home to 5 suites that can sleep 2 adults and a child comfortably – they have 2 floors with a combination of modern and traditional style décor in shades of lemon and grey reflecting the building's original purpose
The 5 suites are connected outside by a garden area so would work well for families or couples travelling together.
The original Priest House now features 5 rooms, more rustic in style and décor. The location is next to the San Tommaso Chapel which can be used for functions and events.
2 bedrooms :
The original school house, once frequented by the children of lords and nobles, has been converted into three 2 bedroom Villa Scuola villas each having a kitchen, open plan living/dining area leading out to the terrace and small garden. They have a BBQ and an outdoor Jacuzzi. Located steps from the epic castle and modern day Hotel Castello di Casole , Villa Scuola is an intimate grouping of three restored villas for those who wish to experience an idyllic private villa in the Tuscan countryside, made even more perfect because they enjoy the luxuries of a five-star hotel. Furnishings are from the leading houses of Italy. Interiors are rich: the kitchens are traditional and the bathrooms are punctuated with a contemporary flair. A warm fire in winter, a stroll down the cypress path past the vineyard, and then dinner maybe dining one night in the villa, maybe another night off across the courtyard to the restaurant. Indoor spaces for each family measure 175 sq.m. or 1,890 sq.ft., comprise living, dining and kitchen area, master bedroom with king bed including a loft with a sofa bed, second bedroom with two queen beds, each with a private bathroom. Each unit has a private garden and external Jacuzzi.
3 bedrooms :
For larger families or friends travelling together, there are 3 bedroom Sant Antonio Villas, once the area where the village blacksmith lived and only a short walk from the central courtyard. Guests in these villas share a heated infinity pool. Each villa is equipped with a Tuscan style kitchen flowing into the open plan living space, outdoor dining pergola, small garden, BBQ, TV Den and 3 bedrooms – on the ground floor and 2 on the upper floor.
The 9 Oliveto Suites, aptly named as they overlook the estate Olive Groves, yet only a short stroll to the central hotel areas. The décor is more contemporary, yet stylish still displaying the flair of Italian tradition. Each suite has an open plan living and dining space, 1 bedroom and beautiful bathroom
Within the estate, are 6 rustic/luxury farmhouses ranging from 4 – 5 bedrooms, once farmhouse ruins but now restored to create private villas for rent in Tuscany. The distances from the main hotel areas vary as they are positioned within the estate a short drive from the hotel facilities. Each villa embraces the local charm and character of old-world Italy with the heavy-stone exterior walls, Grand Tuscan fireplaces, hand-set stone patios with outdoor dining areas and wood-burning pizza ovens. They enjoy plenty of space, a heated infinity-edge pool, air-conditioning, designer interiors along quality furnishings, fabrics and linens. There is a gourmet kitchen, contemporary bathrooms tiles plus the modern conveniences of flat screen satellite television and wireless internet.
Villa overview
Casale San Giuseppe - 4 Bedrooms - Main Residence and guest residence, 4.5 Baths - Total Interior Space: 7,150 square feet / 664 square meters
• Heated infinity-edge pool
Casale La Casa - 4 Bedrooms, Main Residence and 2 guest residences, 4.5 Baths - Total Interior Space: 7,500 square feet / 697 square meters
• Heated infinity-edge pool
Casale Vemignano - 4 Bedrooms,Main Residence and 2 guest residences, 4.5 Baths - Total Interior Space: 7,000 square feet / 650 square meters
• Heated infinity-edge pool
Casale Escaiole - 4 Bedrooms,Main Residence and 2 guest residences, 4.5 Baths - Total Interior Space: 5,000 square feet / 465 square meters
• Heated infinity-edge pool
Casale San Regolo - 5 Bedrooms,Main Residence and 2 guest residences 5.5 Baths - Total Interior Space: 7,000 square feet / 650 square meters
• Heated infinity-edge pool
Experiences available to guests staying at Castello di Casole
Bilingual concierges available to make dinner reservations, arrange tours and outings, and plan activities for the whole family
Wine tasting - 100 acres of Sangiovese and Cabernet vineyards - private-label vintage available only on the estate
30 acres of olive groves, harvested on property - a private-label extra virgin olive oil
Art – painting ceramics, water colours or visiting the galleries and museums of Florence
Award-winning Model Game Reserve abundant with natural wildlife i.e hare, pheasant, deer
Extensive private trail system for hiking, biking and running
On-site educational experiences, language lessons, cooking schools to make your own pizza or pasta – available to children or adults, pottery classes, and grape and oil harvesting
Cheese Farm - authentic, small sheep farm, where the owners make their own pecorino cheese
Lavender and Flowers – at Taverna di Bibbiano, a beautiful farmhouse situated in the heart of Tuscany, between Siena and Florence, with endless fields of flowers
Private animal watching tours and guided day trips with the game wardens
Truffle hunting
Hot Air Ballooning
Visit medieval towns - San Gimignano and Monteriggioni , Duomo in Sienna, Casole D' Elsa and many more
Shopping at the The Barberino Outlet Mall or The Prada Outlet
Spa- Yoga – Pilates
Golf - Golf Club Castelfalfi - 27 holes, divided into two courses or Golf Club Ugolino considered to be one of the top 50 most beautiful golf courses in the world
See more details...
Special Offer(s):
WEDDING DINNER PACKAGE!
Nothing says Gradito more than a unique and authentic dining experience enjoyed upon arrival at Casali di Casole. Framed by Tuscany's stunning beauty, Casali di Casole's luxurious villas and farm homes are the perfect setting to experience the true taste of Tuscany. Begin your stay with a memorable four-course welcome meal thoughtfully prepared by a local chef upon your arrival. Meal includes ingredients sourced from the surrounding area that are prepared to perfection. Welcome meal must be confirmed seven (7) days in advance of arrival and be added to any new reservation. Welcome Dinner Package cannot be combined with any other offers. For pricing and booking of the Welcome Dinner Package, please call or message for further information.
Offer valid for all Villas and Farmhouse Rentals for stays between 19 August 2019 to 31 October 2020 when booked by 24 October 2020.
Available on new reservations only.
BOOK NOW & SAVE!
20% savings on stays of seven nights or more when confirmed by 30 April 2020
Offer valid for all Villas and Farmhouse Rentals for stays between 01 February to 31 October 2020
Minimum stay required of seven nights or more.
Available on new reservations only.
BOOK EARLY & SAVE!
30% savings on stays of seven nights or more when confirmed by 31 January 2020
Offer valid for all Villas and Farmhouse Rentals for stays between 01 November 2019 to 31 October 2020
Minimum stay required of seven nights or more.
Available on new reservations only.
Amenities
Air Conditioning
Gym/Fitness Room
Heatable Pool
Internet Access
Private Pool
Restaurant
Satellite TV
Spa
TV
See more details...
Bedroom : 1 - 5
Bathroom : 1 - 5
Staff
Daily housekeeping service – additional staff including a personal chef are available on request.


Rate
Bedrooms: 2 Bedrooms

| From | To | Min Stay | Nightly Rate | Weekly Rate |
| --- | --- | --- | --- | --- |
| 01-Nov-2019 | 14-Mar-2020 | NA | $1,705 USD | $11,932 USD |
Rates based on 2 adults per bedroom staying in a two bedroom villa and are inclusive of 10% VAT, Wi-Fi, Sky tv, daily housekeeping and all service fees. Rates exclude Lodging rate (city tax) of 1 Euro per adult, per night and is applicable up to the first five nights of stay. Children age eleven and younger stay free in existing bedding and are not included in maximum occupancy. Extra bed charge 150 Euros. Cribs free. Rates also available for all other accommodation, call or message for further information & pricing. Rates and taxes are subject to change without notice.
Availability
December , 2019
| Sun | Mon | Tue | Wed | Thu | Fri | Sat |
| --- | --- | --- | --- | --- | --- | --- |
| 01 | 02 | 03 | 04 | 05 | 06 | 07 |
| 08 | 09 | 10 | 11 | 12 | 13 | 14 |
| 15 | 16 | 17 | 18 | 19 | 20 | 21 |
| 22 | 23 | 24 | 25 | 26 | 27 | 28 |
| 29 | 30 | 31 | | | | |
January , 2020
| Sun | Mon | Tue | Wed | Thu | Fri | Sat |
| --- | --- | --- | --- | --- | --- | --- |
| | | | 01 | 02 | 03 | 04 |
| 05 | 06 | 07 | 08 | 09 | 10 | 11 |
| 12 | 13 | 14 | 15 | 16 | 17 | 18 |
| 19 | 20 | 21 | 22 | 23 | 24 | 25 |
| 26 | 27 | 28 | 29 | 30 | 31 | |
February , 2020
| Sun | Mon | Tue | Wed | Thu | Fri | Sat |
| --- | --- | --- | --- | --- | --- | --- |
| | | | | | | 01 |
| 02 | 03 | 04 | 05 | 06 | 07 | 08 |
| 09 | 10 | 11 | 12 | 13 | 14 | 15 |
| 16 | 17 | 18 | 19 | 20 | 21 | 22 |
| 23 | 24 | 25 | 26 | 27 | 28 | 29 |
March , 2020
| Sun | Mon | Tue | Wed | Thu | Fri | Sat |
| --- | --- | --- | --- | --- | --- | --- |
| 01 | 02 | 03 | 04 | 05 | 06 | 07 |
| 08 | 09 | 10 | 11 | 12 | 13 | 14 |
| 15 | 16 | 17 | 18 | 19 | 20 | 21 |
| 22 | 23 | 24 | 25 | 26 | 27 | 28 |
| 29 | 30 | 31 | | | | |
April , 2020
| Sun | Mon | Tue | Wed | Thu | Fri | Sat |
| --- | --- | --- | --- | --- | --- | --- |
| | | | 01 | 02 | 03 | 04 |
| 05 | 06 | 07 | 08 | 09 | 10 | 11 |
| 12 | 13 | 14 | 15 | 16 | 17 | 18 |
| 19 | 20 | 21 | 22 | 23 | 24 | 25 |
| 26 | 27 | 28 | 29 | 30 | | |
May , 2020
Sun
Mon
Tue
Wed
Thu
Fri
Sat
01
02
03
04
05
06
07
08
09
10
11
12
13
14
15
16
17
18
19
20
21
22
23
24
25
26
27
28
29
30
31
June , 2020
Sun
Mon
Tue
Wed
Thu
Fri
Sat
01
02
03
04
05
06
07
08
09
10
11
12
13
14
15
16
17
18
19
20
21
22
23
24
25
26
27
28
29
30
July , 2020
| Sun | Mon | Tue | Wed | Thu | Fri | Sat |
| --- | --- | --- | --- | --- | --- | --- |
| | | | 01 | 02 | 03 | 04 |
| 05 | 06 | 07 | 08 | 09 | 10 | 11 |
| 12 | 13 | 14 | 15 | 16 | 17 | 18 |
| 19 | 20 | 21 | 22 | 23 | 24 | 25 |
| 26 | 27 | 28 | 29 | 30 | 31 | |
August , 2020
| Sun | Mon | Tue | Wed | Thu | Fri | Sat |
| --- | --- | --- | --- | --- | --- | --- |
| | | | | | | 01 |
| 02 | 03 | 04 | 05 | 06 | 07 | 08 |
| 09 | 10 | 11 | 12 | 13 | 14 | 15 |
| 16 | 17 | 18 | 19 | 20 | 21 | 22 |
| 23 | 24 | 25 | 26 | 27 | 28 | 29 |
| 30 | 31 | | | | | |
September , 2020
| Sun | Mon | Tue | Wed | Thu | Fri | Sat |
| --- | --- | --- | --- | --- | --- | --- |
| | | 01 | 02 | 03 | 04 | 05 |
| 06 | 07 | 08 | 09 | 10 | 11 | 12 |
| 13 | 14 | 15 | 16 | 17 | 18 | 19 |
| 20 | 21 | 22 | 23 | 24 | 25 | 26 |
| 27 | 28 | 29 | 30 | | | |
October , 2020
| Sun | Mon | Tue | Wed | Thu | Fri | Sat |
| --- | --- | --- | --- | --- | --- | --- |
| | | | | 01 | 02 | 03 |
| 04 | 05 | 06 | 07 | 08 | 09 | 10 |
| 11 | 12 | 13 | 14 | 15 | 16 | 17 |
| 18 | 19 | 20 | 21 | 22 | 23 | 24 |
| 25 | 26 | 27 | 28 | 29 | 30 | 31 |
November , 2020
| Sun | Mon | Tue | Wed | Thu | Fri | Sat |
| --- | --- | --- | --- | --- | --- | --- |
| 01 | 02 | 03 | 04 | 05 | 06 | 07 |
| 08 | 09 | 10 | 11 | 12 | 13 | 14 |
| 15 | 16 | 17 | 18 | 19 | 20 | 21 |
| 22 | 23 | 24 | 25 | 26 | 27 | 28 |
| 29 | 30 | | | | | |
December , 2020
| Sun | Mon | Tue | Wed | Thu | Fri | Sat |
| --- | --- | --- | --- | --- | --- | --- |
| | | 01 | 02 | 03 | 04 | 05 |
| 06 | 07 | 08 | 09 | 10 | 11 | 12 |
| 13 | 14 | 15 | 16 | 17 | 18 | 19 |
| 20 | 21 | 22 | 23 | 24 | 25 | 26 |
| 27 | 28 | 29 | 30 | 31 | | |
January , 2021
Sun
Mon
Tue
Wed
Thu
Fri
Sat
01
02
03
04
05
06
07
08
09
10
11
12
13
14
15
16
17
18
19
20
21
22
23
24
25
26
27
28
29
30
31
February , 2021
| Sun | Mon | Tue | Wed | Thu | Fri | Sat |
| --- | --- | --- | --- | --- | --- | --- |
| 01 | 02 | 03 | 04 | 05 | 06 | 07 |
| 08 | 09 | 10 | 11 | 12 | 13 | 14 |
| 15 | 16 | 17 | 18 | 19 | 20 | 21 |
| 22 | 23 | 24 | 25 | 26 | 27 | 28 |
March , 2021
Sun
Mon
Tue
Wed
Thu
Fri
Sat
01
02
03
04
05
06
07
08
09
10
11
12
13
14
15
16
17
18
19
20
21
22
23
24
25
26
27
28
29
30
31
April , 2021
| Sun | Mon | Tue | Wed | Thu | Fri | Sat |
| --- | --- | --- | --- | --- | --- | --- |
| | | | | 01 | 02 | 03 |
| 04 | 05 | 06 | 07 | 08 | 09 | 10 |
| 11 | 12 | 13 | 14 | 15 | 16 | 17 |
| 18 | 19 | 20 | 21 | 22 | 23 | 24 |
| 25 | 26 | 27 | 28 | 29 | 30 | |
May , 2021
| Sun | Mon | Tue | Wed | Thu | Fri | Sat |
| --- | --- | --- | --- | --- | --- | --- |
| | | | | | | 01 |
| 02 | 03 | 04 | 05 | 06 | 07 | 08 |
| 09 | 10 | 11 | 12 | 13 | 14 | 15 |
| 16 | 17 | 18 | 19 | 20 | 21 | 22 |
| 23 | 24 | 25 | 26 | 27 | 28 | 29 |
| 30 | 31 | | | | | |
June , 2021
| Sun | Mon | Tue | Wed | Thu | Fri | Sat |
| --- | --- | --- | --- | --- | --- | --- |
| | | 01 | 02 | 03 | 04 | 05 |
| 06 | 07 | 08 | 09 | 10 | 11 | 12 |
| 13 | 14 | 15 | 16 | 17 | 18 | 19 |
| 20 | 21 | 22 | 23 | 24 | 25 | 26 |
| 27 | 28 | 29 | 30 | | | |
July , 2021
| Sun | Mon | Tue | Wed | Thu | Fri | Sat |
| --- | --- | --- | --- | --- | --- | --- |
| | | | | 01 | 02 | 03 |
| 04 | 05 | 06 | 07 | 08 | 09 | 10 |
| 11 | 12 | 13 | 14 | 15 | 16 | 17 |
| 18 | 19 | 20 | 21 | 22 | 23 | 24 |
| 25 | 26 | 27 | 28 | 29 | 30 | 31 |
August , 2021
| Sun | Mon | Tue | Wed | Thu | Fri | Sat |
| --- | --- | --- | --- | --- | --- | --- |
| 01 | 02 | 03 | 04 | 05 | 06 | 07 |
| 08 | 09 | 10 | 11 | 12 | 13 | 14 |
| 15 | 16 | 17 | 18 | 19 | 20 | 21 |
| 22 | 23 | 24 | 25 | 26 | 27 | 28 |
| 29 | 30 | 31 | | | | |
September , 2021
| Sun | Mon | Tue | Wed | Thu | Fri | Sat |
| --- | --- | --- | --- | --- | --- | --- |
| | | | 01 | 02 | 03 | 04 |
| 05 | 06 | 07 | 08 | 09 | 10 | 11 |
| 12 | 13 | 14 | 15 | 16 | 17 | 18 |
| 19 | 20 | 21 | 22 | 23 | 24 | 25 |
| 26 | 27 | 28 | 29 | 30 | | |
October , 2021
Sun
Mon
Tue
Wed
Thu
Fri
Sat
01
02
03
04
05
06
07
08
09
10
11
12
13
14
15
16
17
18
19
20
21
22
23
24
25
26
27
28
29
30
31
November , 2021
Sun
Mon
Tue
Wed
Thu
Fri
Sat
01
02
03
04
05
06
07
08
09
10
11
12
13
14
15
16
17
18
19
20
21
22
23
24
25
26
27
28
29
30
Other Properties you may like