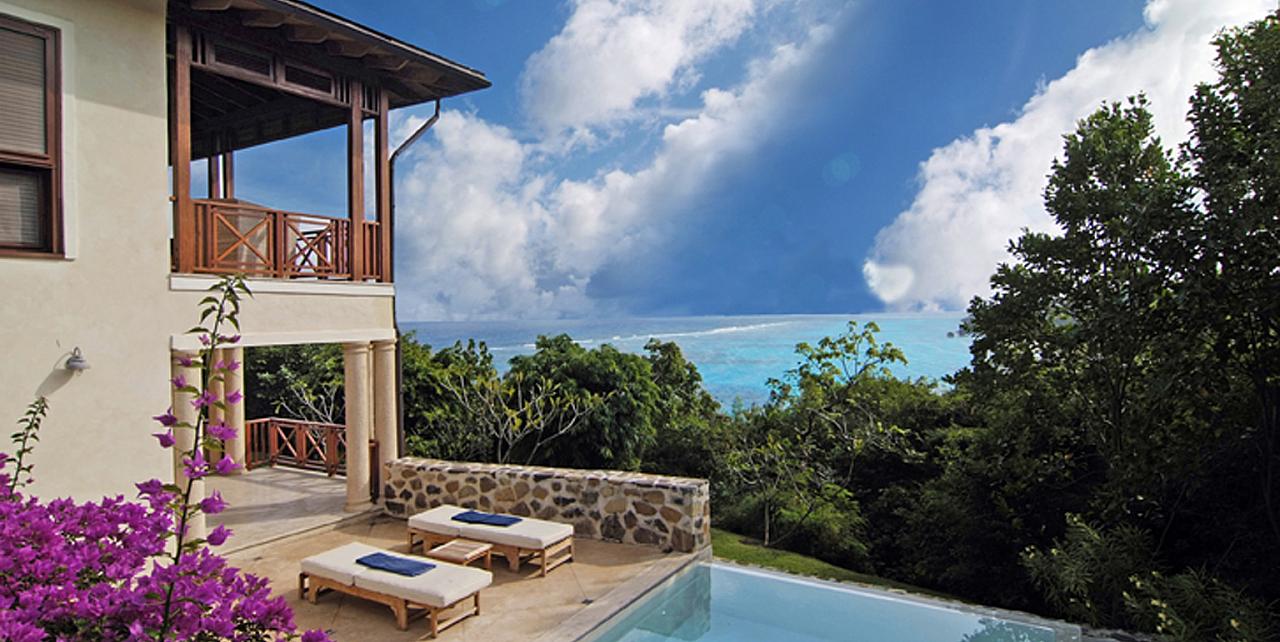 Add to Favourites
Plan Your Trip
HAVE QUESTIONS?
USA/CANADA: +1 347 707 1195
BARBADOS: +246-432-6307
UK /INTERNATIONAL: +44 1978 368531
We love this villa because...
it is located on the Canouan Estate and enjoys an array of facilities including gold, tennis, kids club and spa.
Where Else is a traditional Caribbean-style Golf villa available for rent on the island of Canouan. It is located on a hillside overlooking the ocean, the reef and Canouan Estate Golf Course. The Canouan estate and Mandarin Oriental resort offers hidden coves and beautiful white sandy beaches. There is a championship 18 hole golf course, tennis and water sports. A 17th Century English Church is located at the heart of the resort. It is ideal for weddings. There are various signature restaurants and bars, Pirates Kids Club and the magnificent Spa.
Canouan (pronounced ka-no-wan) is an island in the Grenadines, and one of nine inhabited and more than 20 uninhabited islands and cays which make up Saint Vincent & The Grenadines. With a population of around 1,700, the small, at 3.5 miles (5.6km) by 1.25 miles (2km) yet inherently captivating island of Canouan is situated 25 miles (40km) South of Saint Vincent. Running along the Atlantic facing aspect of the island is a barrier reef; whilst two bays separate its Southern side. The highest point on Canouan is Mount Royal which you can hike up to and the views are outstanding and well worth the effort !
Where Else is a two-bedroom Golf villa on Canouan with accommodation on two levels, and offers comfortable indoor and outdoor living and dining areas, a private pool and sundeck.
There are two air-conditioned bedrooms with en-suite bathrooms, ceiling fans and private verandas to enjoy the spectacular views.
Bedrooms :
Bedroom 1 – Master- king bed, en-suite bathroom with bathtub and shower, double vanity, air conditioning, fan, safe, telephone, closet, private terrace, TV, wireless access, mosquito net.
Bedroom 2 – Two Double Beds - bathroom with shower, double vanity, air conditioning, fan, safe, telephone, private terrace, TV, wireless access, mosquito net.
The interior décor and furnishings reflect a Caribbean-style and include a living area with glass sliding doors that flow out on the veranda, creating a real sense of tropical villa living. There is also a well-equipped kitchen fitted with stainless steel SMEG appliances and also has a breakfast bar.
External finishes are a combination of local stone, hardwood windows and doors and shingle roof to blend in with the natural environment.
Where Else is the sister property to Villa Else Where, also with 2 bedrooms , the 2 villas are close in proximity and are ideal for two couples or two families that want to vacation together but prefer to have their individual privacy.
Canouan Estate Golf Course
The par-72 Jim Fazio designed 18-hole golf course is considered to be one of the Caribbean's most exciting and challenging courses. It is named in the top 10 of "Best Golf Courses" in the world.
The golf course extends over a hundred and fifty undulating acres of dramatic hills and seashore. It offers breathtaking sea views from every angle. The course has three distinct settings.
The front nine holes and Hole18 are in an amphitheatre setting. One side is open to view the ocean.
Holes 11 through 17 are built around Mount Royal 877ft high with spectacular views of the Grenadines and the Caribbean.
Holes12, 13, 14 and 15 are undoubtedly the most scenic holes on the course and the most challenging. They sit on the top of the ridge and have a spectacular view of the neighbouring islands. Hole 16 features one of the longest par-3 in the world at 305 yards. The breeze at the top of the ridge adds to the challenge, but makes these holes the most sensational to play. The course has an ideal design, as holes 1 and 10 start from the clubhouse and holes 9-18 returning.
There are some of the most beautiful beaches in the world at Canouan. The beach by the fine dining restaurant, Lansan Guyac is one of the most beautiful in the world. There are also some lovely restaurants and bars including L'Ance Guyac Beach Club, Shells and Foxy Jack's. The Mandarin Oriental in Canouan and Soho Beach Club also offer lovely places to relax, eat and drink.
Day tours on catamarans or motor yachts to the Grenadines can be arranged and are a must. With turquoise waters brmming with sea life and barbeque lunches on the beach there are few better ways to enjoy the day.
Canouan Estate also has a private Cessna Jet, (6 seater), for arranging hassle free connections from Barbados and Grenada. There are also flights with the local SVG and Excecutive Airlines flights that can be arranged for you.
If you are interested in staying at Where Else contact us today
How to get to Canouan -
We recommend flying via Barbados, as it provides better connecting times and more flight options. Additionally, a dedicated VIP airport concierge in Barbados takes care of checking your luggage for your inter-island flight and assists with other airport in-transit formalities for a hassle-free journey. See below flight options:
• Canouan's 5900-foot illuminated runway can accommodate private aircraft as large as a Boeing 737 and guests can fly directly to Canouan Island. If you are arriving via Private Jet, our team will take care of coordinating your arrival pickup with Canouan (CIW) Airport personnel. All we require is your tail number.
• Utilizing the Resort jet will reduce your transfer time to Canouan. The Cessna Citation Jet - 6-seater, provides round trip non-stop service from Barbados, St. Lucia or Grenada. Departure times would be at your request
• Commercial Inter- Island air transfers are available via Grenadines Air Alliance ( https://www.grenadine-air.com/en ). Grenadines Air Alliance operates daily schedule flights to and from Canouan (CIW) from Barbados (BGI). Note: Bookings can be made directly on their website. Flight times are generally - Barbados to Canouan at 16:15 and Canouan to Barbados at 09:55. Approximate cost: US$ 600 round trip, per person.
See more details...
Amenities
Air Conditioning
Bar
Cable TV
Ceiling Fans
Children Welcome
Childrens Activities
Childrens Club
Childrens Pool
Communal Facilities
Fitness Centre
Golf (nearby)
Golf Cart
Golf Resort
Internet Access
On site security
Private Pool
Safe
Sea view
Spa
Tennis (nearby)
TV
WaterSports
Wireless Internet
See more details...
• Meet and greet VIP airport concierge in Barbados
• Roundtrip airport transfers in Canouan
• Welcome cocktail and canapes upon arrival
• Mini-bar with sodas, water (non-alcoholic beverages)
• Lavazza coffee maker and kettle (Coffee and tea replenished daily)
• Access to the fitness facilities
• Non-motorized water sports (including windsurfing, hobie-cat sailing, kayaking and snorkeling)
• Use of 3 illuminated tennis courts
• Complimentary use of golf cart
• Access to the Kids Club "Pirates of Canouan" (kids from 3 years up) – Teen room
Bedroom : 2
Bathroom : 2
Staff
Dedicated Butler service
Daily housekeeping service along with turn down service
24 hour property management
Available at an additional cost – advance notice may be required
Spa services
Private chef service
Private picnic lunches at Mahault beach
Sunset champagne reception on Hole 13 of our golf course
Private catering services
Rate
Rental rates are subject to 11.00 % TAX plus 10.00 % service charge.
Rates are based on single or double occupancy per bedroom. Rates subject to 11% Government accommodation tax applicable to accommodation charges only (a 16% tax rate applies to all non-room charges) and a 10% service charge for local staff is applicable to all charges. Meal plans available, call or message for further information.
Guests staying at Canouan Estate will enjoy the following complimentary amenities:
• Roundtrip airport ground transfers in Canouan
• Welcome cocktail and canapes upon arrival
• Villa Host Service * *8 hours
• Daily housekeeping & turndown services
• Non-alcoholic mini-bar, water, sodas, coffeemaker, kettle, coffee, and tea replenished daily
• Access to the fitness facilities
• Non-motorized water sports (including windsurfing, hobie-cat sailing, kayaking, and snorkelling, paddleboards)
• Use of 3 illuminated tennis courts
• Complimentary use of one golf cart
• Wireless internet access
• Complimentary access to the Kids and Teenagers Club.
• Access to Private Chef (charges apply)
Policy
• No pets allowed
• Non-smoking
Location
Canouan - accessible by air through Barbados, Grenada, St Lucia and St Vincent
• 10 minutes to grocery store by car in the village
• 15 minutes to the Airport
Other Properties you may like