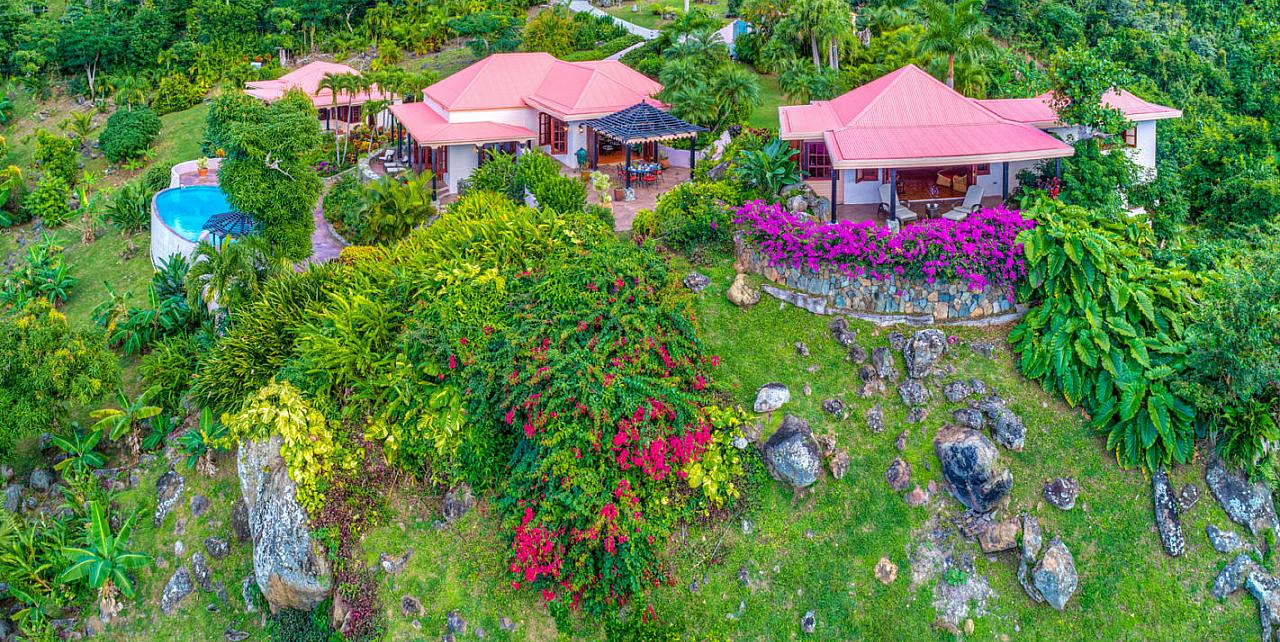 Add to Favourites
From £484 GBP - £1,210 GBP / nt
Plan Your Trip
HAVE QUESTIONS?
USA/CANADA: +1 347 707 1195
BARBADOS: +246-432-6307
UK /INTERNATIONAL: +44 1978 368531
From £484 GBP - £1,210 GBP / nt
We love this villa because...
the breathtaking views of the tropical forests and ocean combined with the acres of lovely gardens makes the setting very hard to leave
Canefield House is a 3 bedroom 17th century sugar plantation in Tortola. This historic house is set within 10 acres of grounds. It offers breathtaking views of tropical forests, a beautiful bay and expansive Atlantic Ocean. Canefield House is now offered for holiday rental. It is located on the gorgeous island of Tortola, British Virgin Islands.
You will enter this beautiful home through the gated entrance. The prettiest of tropical gardens lead to the two-storey villa. The views to the sea are spectacular.
The ground floor is known as The Great Room. This is a wonderful, spacious gathering spot with comfortable furnishings. It has a wet bar with mini-fridge, large TV and a collection of DVDs. There is a surround sound system with top of the range CD player and Wi-Fi throughout the villa. Off the Great Room is a fully equipped kitchen and dining area seating 8 guests.
French doors open out to a terrace and following the curved staircase you will reach the lovely sun-deck and swimming pool. Next to the pool is a delightful gazebo for relaxing in the shade. There is also a hammock for whiling away the afternoon.
Depending on the season, guests may enjoy the fruit grown right on the estate. The estate grows guava, coconut and avocado. It also grows banana, sour sop, breadfruit and mango. There is also red and white grapefruit, papaya, key limes and lemons.
Just ask the housekeeper or Oliver, the estate's long-time gardener, what might be ripe for picking.
Accommodation :
Canefield House is perfect for families or couples. The three different bedroom locations offer each group their own privacy.
Connected beautifully by garden pathways, the bedrooms include :
Master pavilion comprising one bedroom
The master pavilion is situated on the far side of the main house. It is an air-conditioned king-master bedroom with a sitting area and office nook. The en suite bathroom is fitted with a stone and tile shower. There is also a walk-in closet and dressing area. The bedroom has a smart TV. French doors open to a private covered terrace. This overlooks green hills and is hung with a hammock which is perfect for an afternoon siesta.
Guest pavilion comprising 2 bedrooms
On the opposite side of the main pavilion is a walkway threaded through gardens. This leads to the air-conditioned guest bedroom pavilion. In here you will find the Blue Suite and the Green Suite.
The Blue Suite can be made up as a king bedroom or with two twins (with your advance request). It features air-conditioning and satellite TV. There is an alcove with two built-in single daybeds. These are ideal for a small child or two who must be near their parents or nanny. A walk-in closet and tiled bath with hand-painted sinks and mirrors are en-suite.
The Green Suite includes one queen bed. It has an en-suite bathroom. It als has an open nook with day bed (suitable for small children). The Green suite isair-conditioned and fitted with a Smart TV.
Amenities
• Air conditioned bedrooms
• Baby crib on request
• Twin roller beds available for additional guests x 4
• Full surround sound AV system in the living room – amplifier, CD player, DVD player, outside speakers
• Large Smart TV in the living room
• Smart TV in each bedroom
• WIFI
• Gourmet Kitchen. This is equipped with gas cook top, microwave and refrigerator/ice machine. There is also a dishwasher, oven and big green egg/ceramic grill for BBQ. In the kitchen you will find a blender, coffee maker and coffee grinder. There is also a full set of dinnerware and cookware;
• Hair dryer in each suite
• Laundry
• Water purification system
• Wet bar containing mini fridge with icemaker
• Full swimming pool, lounge chairs
• Beach Umbrella x 6
• Beach Chairs x 6
• Cooler
• Indoor dining room; outdoor patio dining area
The villas is in a great location. Road Town is just ten minutes away. You are in a great location to enjoy the wonderful restaurants and beaches that Tortola has to offer.
If you are interested in renting Canefield House contact us today
For other villas to rent in the Caribbean visit caribbeanvillas.com
See more details...
Amenities
Air Conditioned bedrooms
Car Parking on site
Ceiling Fans
Children Welcome
Well Equipped Kitchen
Gazebo
Heatable Pool
Office
Private Garden
Private Pool
Satellite TV
Sea view
Staffed Villa
Sunbeds
TV
Wireless Internet
See more details...
Bedroom : 2 - 3
Bathroom : 3
Staff
Housekeeper service Twice weekly / Once during 5 night.
Additional services at an extra cost and on request.
Rate
Bedrooms: 2 Bedrooms

| From | To | Min Stay | Nightly Rate | Weekly Rate |
| --- | --- | --- | --- | --- |
| 24-Apr-2023 | 17-Nov-2023 | 3 | £484 GBP | £3,387 GBP |
| 26-Nov-2023 | 15-Dec-2023 | 5 | £544 GBP | £3,810 GBP |
| 05-Jan-2024 | 13-Apr-2024 | 5 | £685 GBP | £4,798 GBP |
| 14-Apr-2024 | 22-Nov-2024 | 5 | £484 GBP | £3,387 GBP |
| 01-Dec-2024 | 15-Dec-2024 | 5 | £484 GBP | £3,387 GBP |
Bedrooms: 3 Bedrooms

| From | To | Min Stay | Nightly Rate | Weekly Rate |
| --- | --- | --- | --- | --- |
| 24-Apr-2023 | 17-Nov-2023 | 3 | £544 GBP | £3,810 GBP |
| 18-Nov-2023 | 25-Nov-2023 | 7 | £645 GBP | £4,516 GBP |
| 26-Nov-2023 | 15-Dec-2023 | 5 | £645 GBP | £4,516 GBP |
| 16-Dec-2023 | 04-Jan-2024 | 10 | £1,210 GBP | £8,468 GBP |
| 05-Jan-2024 | 13-Apr-2024 | 5 | £766 GBP | £5,363 GBP |
| 14-Apr-2024 | 22-Nov-2024 | 5 | £544 GBP | £3,810 GBP |
| 23-Nov-2024 | 30-Nov-2024 | 7 | £645 GBP | £4,516 GBP |
| 01-Dec-2024 | 15-Dec-2024 | 5 | £544 GBP | £3,810 GBP |
| 16-Dec-2024 | 05-Jan-2025 | 10 | £1,210 GBP | £8,468 GBP |
Rental rates are subject to 10.00 % TAX plus 10.00 % service charge.
Rates subject to 10% tax and 10% Service charge. Rates based on an occupancy of two guests per bedroom except for the Thanksgiving and Christmas/New year period when the maximum occupancy will be 6 adults and 4 children. Pool heating available at an additional charge. Rates, taxes and service charges are subject to change without notice.
Location
10 minute drive to Road Town
Other Properties you may like