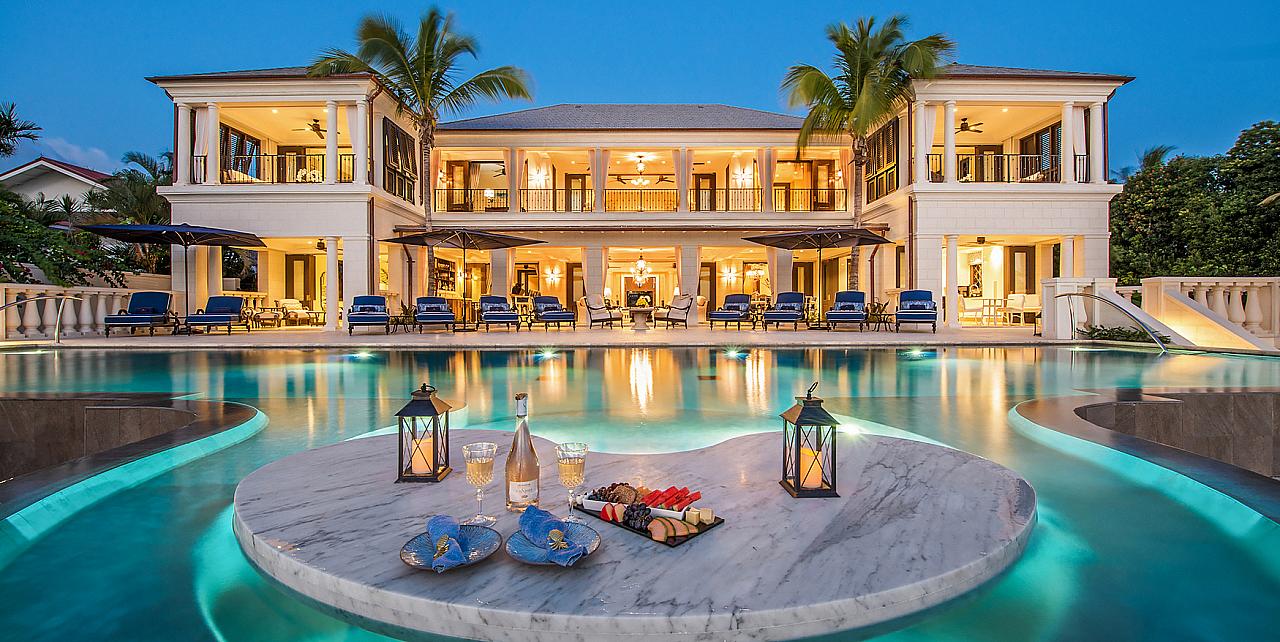 Add to Favourites
From £6,855 GBP - £13,306 GBP / nt
Plan Your Trip
HAVE QUESTIONS?
USA/CANADA: +1 347 707 1195
BARBADOS: +246-432-6307
UK /INTERNATIONAL: +44 1978 368531
From £6,855 GBP - £13,306 GBP / nt
We love this villa because...
it is one of the newest and finest villas in Barbados with fabulous views over the infinity pool to the sea. It is a tranquil luxurious oasis. We love the winding beach path down to the sea.
Seaclusion is one of the most outstanding beachfront villas in Barbados. It is located on the west coast. This 6 bedroom villa is set in an acre of tropical gardens. It is perched on a bluff overlooking the Caribbean Sea.
This extraordinary home features unparalleled sea views from all living areas. It also enjoys sea views from 5 of the 6 bedrooms.
The property has recently been completed and furnished. It has been stylishly interior designed. Its classical, elegant interiors provide an ambiance of calm. It is the perfect place to relax. There is even a grand piano at this beautiful home.
The lovely cocktail bar is a wonderful spot to enjoy cocktails. It overlooks the sea and the fabulous Caribbean sunsets.
There are substantial living and reception areas. Seaclusion also has a media room and formal dining room. It has a state of the art fully equipped kitchen. There is also a fitness room.
The main house has two guest bedrooms on the lower level. A stunning spiral staircase leads to the three master suites upstairs. All three master suites have private terraces. They all have walk in wardrobes. Each room enjoys mesmerizing sea views.
There is a further bedroom above the garage. This may suit staff or teenage children of visiting guests.
The set up at Seaclusion is perfect for outdoor living. It is ideal for those wishing to entertain.
Seaclusion has an extensive terrace overlooking the turquoise waters of the Caribbean Sea. This area is perfect for entertaining. It incorporates the beautiful cocktail bar and an ocean front gazebo. The gazebo provides a wonderfully romantic setting. What better place to dine. Sit under the stars overlooking the Caribbean Sea.
The unique infinity edge lap pool has a built in bar table and sunken seats. This is an ideal setting from which to enjoy Caribbean sundowners.
The impeccable grounds include magnificent zen gardens. There are also koi fish ponds. There is private access to a secluded beach. This is via a beautiful rustic track leading to the sea.
Seaclusion comes fully staffed. It is rented with butler, chef, housekeeper and laundress. There is also around the clock security, property management and concierge.
If you are interested in renting Seaclusion in Barbados contact us today

For other luxury villa holidays in Barbados visit barbadosdreamvillas.com
For long term rentals in Barbados visit longtermrentalsbarbados.com
For properties to buy in Barbados visit barbadosdreamproperties.com
See more details...
Amenities
Air Conditioned bedrooms
Security Guard 24hrs
Sea view
Satellite TV
Safe
Sunbeds
Wireless Internet
Well Equipped Kitchen
Tennis (nearby)
Telephone
Air Conditioning
Ceiling Fans
Car Parking on site
Cable TV
Beach Front
Bar
Approved Status for Quarantine
Media Room
Infinity edge pool
Gym/Fitness Room
Golf (nearby)
Gazebo
Garage
Games Room
See more details...
Bedroom : 6
Bedroom Types : Double,King and Twin bed
Bathroom : 6 - 6.5
Staff
Butler
Chef
House keeper
Laundress
Security
Key Facts
• Infinity edge pool
• Beachfront location with private access to a secluded beach
• Amazing sea views
• 6 Air-conditioned bedrooms
• Cocktail Bar, fitness room and media room
• Large sea facing terrace
• Magnificent zen gardens and koi fish ponds.
Rate
Bedrooms: 6 Bedrooms

| From | To | Min Stay | Nightly Rate | Weekly Rate |
| --- | --- | --- | --- | --- |
| 15-Apr-2023 | 14-Dec-2023 | 5 | £6,855 GBP | £47,984 GBP |
| 15-Dec-2023 | 19-Dec-2023 | 7 | £9,274 GBP | £64,919 GBP |
| 20-Dec-2023 | 10-Jan-2024 | 14 | £13,306 GBP | £93,145 GBP |
| 11-Jan-2024 | 14-Apr-2024 | 7 | £9,274 GBP | £64,919 GBP |
| 15-Apr-2024 | 14-Dec-2024 | 5 | £6,855 GBP | £47,984 GBP |
Rental rates are subject to 10.00 % TAX plus 1.50 % service charge.
Rates, taxes and service charges are subject to change without notice.
Christmas and New Year rates may vary and will be advised at the time of enquiry.
Availability
(Please use as a guide only as availability is subject to change)
September , 2023
| Sun | Mon | Tue | Wed | Thu | Fri | Sat |
| --- | --- | --- | --- | --- | --- | --- |
| | | | | | 01 | 02 |
| 03 | 04 | 05 | 06 | 07 | 08 | 09 |
| 10 | 11 | 12 | 13 | 14 | 15 | 16 |
| 17 | 18 | 19 | 20 | 21 | 22 | 23 |
| 24 | 25 | 26 | 27 | 28 | 29 | 30 |
October , 2023
| Sun | Mon | Tue | Wed | Thu | Fri | Sat |
| --- | --- | --- | --- | --- | --- | --- |
| 01 | 02 | 03 | 04 | 05 | 06 | 07 |
| 08 | 09 | 10 | 11 | 12 | 13 | 14 |
| 15 | 16 | 17 | 18 | 19 | 20 | 21 |
| 22 | 23 | 24 | 25 | 26 | 27 | 28 |
| 29 | 30 | 31 | | | | |
November , 2023
| Sun | Mon | Tue | Wed | Thu | Fri | Sat |
| --- | --- | --- | --- | --- | --- | --- |
| | | | 01 | 02 | 03 | 04 |
| 05 | 06 | 07 | 08 | 09 | 10 | 11 |
| 12 | 13 | 14 | 15 | 16 | 17 | 18 |
| 19 | 20 | 21 | 22 | 23 | 24 | 25 |
| 26 | 27 | 28 | 29 | 30 | | |
December , 2023
| Sun | Mon | Tue | Wed | Thu | Fri | Sat |
| --- | --- | --- | --- | --- | --- | --- |
| | | | | | 01 | 02 |
| 03 | 04 | 05 | 06 | 07 | 08 | 09 |
| 10 | 11 | 12 | 13 | 14 | 15 | 16 |
| 17 | 18 | 19 | 20 | 21 | 22 | 23 |
| 24 | 25 | 26 | 27 | 28 | 29 | 30 |
| 31 | | | | | | |
January , 2024
| Sun | Mon | Tue | Wed | Thu | Fri | Sat |
| --- | --- | --- | --- | --- | --- | --- |
| | 01 | 02 | 03 | 04 | 05 | 06 |
| 07 | 08 | 09 | 10 | 11 | 12 | 13 |
| 14 | 15 | 16 | 17 | 18 | 19 | 20 |
| 21 | 22 | 23 | 24 | 25 | 26 | 27 |
| 28 | 29 | 30 | 31 | | | |
February , 2024
| Sun | Mon | Tue | Wed | Thu | Fri | Sat |
| --- | --- | --- | --- | --- | --- | --- |
| | | | | 01 | 02 | 03 |
| 04 | 05 | 06 | 07 | 08 | 09 | 10 |
| 11 | 12 | 13 | 14 | 15 | 16 | 17 |
| 18 | 19 | 20 | 21 | 22 | 23 | 24 |
| 25 | 26 | 27 | 28 | 29 | | |
March , 2024
| Sun | Mon | Tue | Wed | Thu | Fri | Sat |
| --- | --- | --- | --- | --- | --- | --- |
| | | | | | 01 | 02 |
| 03 | 04 | 05 | 06 | 07 | 08 | 09 |
| 10 | 11 | 12 | 13 | 14 | 15 | 16 |
| 17 | 18 | 19 | 20 | 21 | 22 | 23 |
| 24 | 25 | 26 | 27 | 28 | 29 | 30 |
| 31 | | | | | | |
April , 2024
| Sun | Mon | Tue | Wed | Thu | Fri | Sat |
| --- | --- | --- | --- | --- | --- | --- |
| | 01 | 02 | 03 | 04 | 05 | 06 |
| 07 | 08 | 09 | 10 | 11 | 12 | 13 |
| 14 | 15 | 16 | 17 | 18 | 19 | 20 |
| 21 | 22 | 23 | 24 | 25 | 26 | 27 |
| 28 | 29 | 30 | | | | |
May , 2024
| Sun | Mon | Tue | Wed | Thu | Fri | Sat |
| --- | --- | --- | --- | --- | --- | --- |
| | | | 01 | 02 | 03 | 04 |
| 05 | 06 | 07 | 08 | 09 | 10 | 11 |
| 12 | 13 | 14 | 15 | 16 | 17 | 18 |
| 19 | 20 | 21 | 22 | 23 | 24 | 25 |
| 26 | 27 | 28 | 29 | 30 | 31 | |
June , 2024
| Sun | Mon | Tue | Wed | Thu | Fri | Sat |
| --- | --- | --- | --- | --- | --- | --- |
| | | | | | | 01 |
| 02 | 03 | 04 | 05 | 06 | 07 | 08 |
| 09 | 10 | 11 | 12 | 13 | 14 | 15 |
| 16 | 17 | 18 | 19 | 20 | 21 | 22 |
| 23 | 24 | 25 | 26 | 27 | 28 | 29 |
| 30 | | | | | | |
July , 2024
| Sun | Mon | Tue | Wed | Thu | Fri | Sat |
| --- | --- | --- | --- | --- | --- | --- |
| | 01 | 02 | 03 | 04 | 05 | 06 |
| 07 | 08 | 09 | 10 | 11 | 12 | 13 |
| 14 | 15 | 16 | 17 | 18 | 19 | 20 |
| 21 | 22 | 23 | 24 | 25 | 26 | 27 |
| 28 | 29 | 30 | 31 | | | |
August , 2024
| Sun | Mon | Tue | Wed | Thu | Fri | Sat |
| --- | --- | --- | --- | --- | --- | --- |
| | | | | 01 | 02 | 03 |
| 04 | 05 | 06 | 07 | 08 | 09 | 10 |
| 11 | 12 | 13 | 14 | 15 | 16 | 17 |
| 18 | 19 | 20 | 21 | 22 | 23 | 24 |
| 25 | 26 | 27 | 28 | 29 | 30 | 31 |
September , 2024
Sun
Mon
Tue
Wed
Thu
Fri
Sat
01
02
03
04
05
06
07
08
09
10
11
12
13
14
15
16
17
18
19
20
21
22
23
24
25
26
27
28
29
30
October , 2024
| Sun | Mon | Tue | Wed | Thu | Fri | Sat |
| --- | --- | --- | --- | --- | --- | --- |
| | | 01 | 02 | 03 | 04 | 05 |
| 06 | 07 | 08 | 09 | 10 | 11 | 12 |
| 13 | 14 | 15 | 16 | 17 | 18 | 19 |
| 20 | 21 | 22 | 23 | 24 | 25 | 26 |
| 27 | 28 | 29 | 30 | 31 | | |
November , 2024
| Sun | Mon | Tue | Wed | Thu | Fri | Sat |
| --- | --- | --- | --- | --- | --- | --- |
| | | | | | 01 | 02 |
| 03 | 04 | 05 | 06 | 07 | 08 | 09 |
| 10 | 11 | 12 | 13 | 14 | 15 | 16 |
| 17 | 18 | 19 | 20 | 21 | 22 | 23 |
| 24 | 25 | 26 | 27 | 28 | 29 | 30 |
December , 2024
| Sun | Mon | Tue | Wed | Thu | Fri | Sat |
| --- | --- | --- | --- | --- | --- | --- |
| 01 | 02 | 03 | 04 | 05 | 06 | 07 |
| 08 | 09 | 10 | 11 | 12 | 13 | 14 |
| 15 | 16 | 17 | 18 | 19 | 20 | 21 |
| 22 | 23 | 24 | 25 | 26 | 27 | 28 |
| 29 | 30 | 31 | | | | |
January , 2025
| Sun | Mon | Tue | Wed | Thu | Fri | Sat |
| --- | --- | --- | --- | --- | --- | --- |
| | | | 01 | 02 | 03 | 04 |
| 05 | 06 | 07 | 08 | 09 | 10 | 11 |
| 12 | 13 | 14 | 15 | 16 | 17 | 18 |
| 19 | 20 | 21 | 22 | 23 | 24 | 25 |
| 26 | 27 | 28 | 29 | 30 | 31 | |
February , 2025
| Sun | Mon | Tue | Wed | Thu | Fri | Sat |
| --- | --- | --- | --- | --- | --- | --- |
| | | | | | | 01 |
| 02 | 03 | 04 | 05 | 06 | 07 | 08 |
| 09 | 10 | 11 | 12 | 13 | 14 | 15 |
| 16 | 17 | 18 | 19 | 20 | 21 | 22 |
| 23 | 24 | 25 | 26 | 27 | 28 | |
March , 2025
Sun
Mon
Tue
Wed
Thu
Fri
Sat
01
02
03
04
05
06
07
08
09
10
11
12
13
14
15
16
17
18
19
20
21
22
23
24
25
26
27
28
29
30
31
April , 2025
| Sun | Mon | Tue | Wed | Thu | Fri | Sat |
| --- | --- | --- | --- | --- | --- | --- |
| | | 01 | 02 | 03 | 04 | 05 |
| 06 | 07 | 08 | 09 | 10 | 11 | 12 |
| 13 | 14 | 15 | 16 | 17 | 18 | 19 |
| 20 | 21 | 22 | 23 | 24 | 25 | 26 |
| 27 | 28 | 29 | 30 | | | |
May , 2025
| Sun | Mon | Tue | Wed | Thu | Fri | Sat |
| --- | --- | --- | --- | --- | --- | --- |
| | | | | 01 | 02 | 03 |
| 04 | 05 | 06 | 07 | 08 | 09 | 10 |
| 11 | 12 | 13 | 14 | 15 | 16 | 17 |
| 18 | 19 | 20 | 21 | 22 | 23 | 24 |
| 25 | 26 | 27 | 28 | 29 | 30 | 31 |
June , 2025
Sun
Mon
Tue
Wed
Thu
Fri
Sat
01
02
03
04
05
06
07
08
09
10
11
12
13
14
15
16
17
18
19
20
21
22
23
24
25
26
27
28
29
30
July , 2025
| Sun | Mon | Tue | Wed | Thu | Fri | Sat |
| --- | --- | --- | --- | --- | --- | --- |
| | | 01 | 02 | 03 | 04 | 05 |
| 06 | 07 | 08 | 09 | 10 | 11 | 12 |
| 13 | 14 | 15 | 16 | 17 | 18 | 19 |
| 20 | 21 | 22 | 23 | 24 | 25 | 26 |
| 27 | 28 | 29 | 30 | 31 | | |
August , 2025
| Sun | Mon | Tue | Wed | Thu | Fri | Sat |
| --- | --- | --- | --- | --- | --- | --- |
| | | | | | 01 | 02 |
| 03 | 04 | 05 | 06 | 07 | 08 | 09 |
| 10 | 11 | 12 | 13 | 14 | 15 | 16 |
| 17 | 18 | 19 | 20 | 21 | 22 | 23 |
| 24 | 25 | 26 | 27 | 28 | 29 | 30 |
| 31 | | | | | | |
Location
Derricks, St James, Barbados
Other Properties you may like