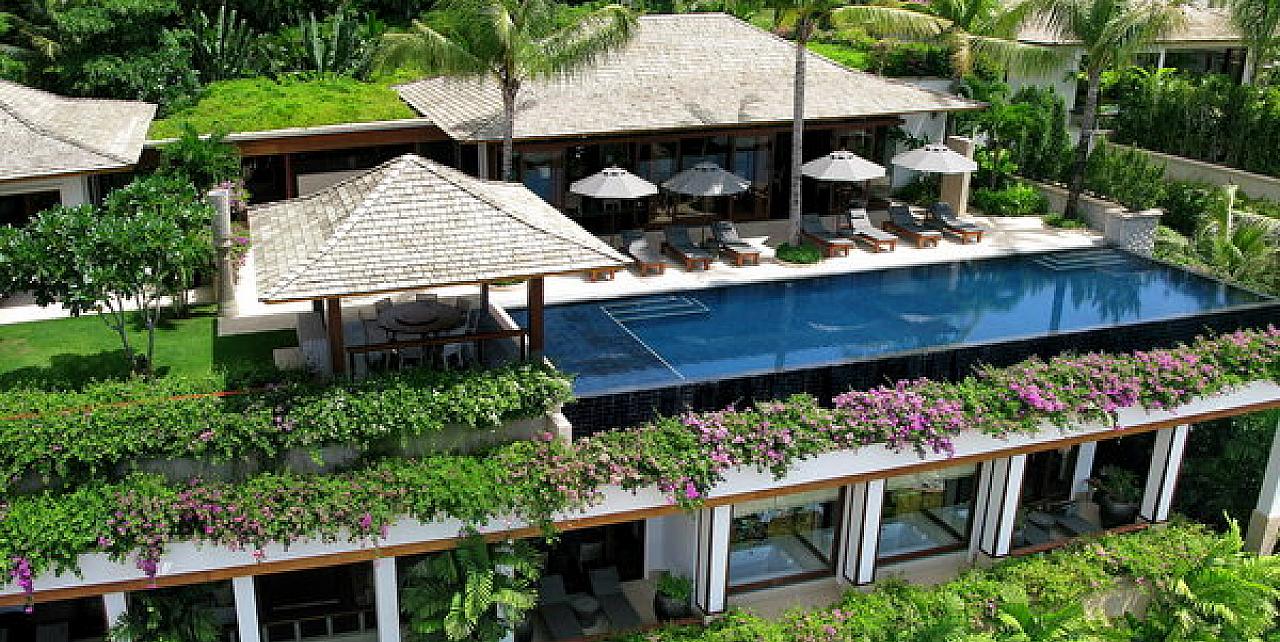 Add to Favourites
Plan Your Trip
HAVE QUESTIONS?
USA/CANADA: +1 347 707 1195
BARBADOS: +246-432-6307
UK /INTERNATIONAL: +44 1978 368531
Andara Resort Thailand is a collection of deluxe pool villas and spacious residence suites, offering the ultimate Phuket island holiday.
Pool Villas at the Andara Resort Phuket
Affording the finest views of the entire resort, these secluded villas are the only choice for a memorable Phuket experience. Spacious bedrooms open directly onto the breathtaking ocean vista providing the perfect start and end to each day. Lavish en suite facilities include indoor and discreet outdoor showers and bathtubs. Living and dining areas are perfect for entertaining or just relaxing around, whilst the latest modern appliances mean you won't miss anything from home. These villas offer 3-6 bedroom configurations
Suites at the Andara Resort Phuket
More luxurious that a resort room, Suites offer spacious accommodation to suit every occasion. Luxurious bedrooms are accompanied by beautifully appointed bathrooms, whilst the spacious living and dining areas enjoy stunning Andaman Sea views. Suites offer 1-4 bedroom configurations.
Terrace Suites at the Andara Resort Phuket
The Terrace Suites enjoy the same views of the Andaman Sea. The large 40m resort pool is nearby for a swim before retreating back to the spacious apartment with its clean and comfortable design and Thai influence. The living and master bedrooms open onto the private terrace, where you can enjoy breakfast or a cool drink at sunset. Jim Thompson silk finishes offer ultimate refinement, while Bose sound systems fill the rooms with rich sounds for the perfect holiday retreat!
Pool Suites at the Andara Resort Phuket
The Pool suites feature spacious living and dining areas and sizeable western kitchens which blend in with the large outdoor terrace and private pool overlooking the Andaman Sea for continuous enjoyment of the spectacular view. The master bedroom opens directly onto the pool terrace where there is ample space for lounging in the sun or under the shade before cooling off in the pool. The simple, yet stylish interior design with Thai accents, mirrors the Andara Villas and offers a full range of modern appliances to meet your every need.
Penthouse Pool Suites at the Andara Resort Phuket
Offering the luxury and open space of a villa, with the convenience of an apartment suite, these penthouse suites are a perfect retreat. The spacious layout maintains a premium feel, which allows pure relaxation in the comfort of your personal sanctuary. A private staircase leads up to your exclusive roof-top deck with an infinity pool and uninterrupted views from the lush hillside to blue sky to turquoise water. The bedrooms have en suite bathrooms and most enjoy superb views, while the full kitchen opens onto the elevated dining area and lower living area.
Dining at the Andara Resort Phuket
Indulge in some of the finest Thai cuisine in Phuket at Andara's renowned Silk Restaurant and Bar.
The finest traditional Thai ingredients are prepared with a focus on authenticity of taste and texture with a dash of contemporary flair ensuring each meal is an unforgettable experience. The delicious creations are carefully concocted using local flavours, time-honoured techniques and the freshest ingredients
Unwind with cocktails and after-dinner drinks at the bar which features soaring ceilings and magnificent, artfully arranged lanterns
Yacht at the Andara Resort Phuket
A private Andara motor yacht (35m) are available for use by Andara Resort and Villas' owners and guests to explore the coastline and visit nearby islands. Finished to match the superior Andara standard, the yacht offer the same level of luxury, comfort and service whilst floating on the crystal clear Andaman Sea.
With tailor made packages, romantic sunset cruises, exploratory snorkelling and other water activities, with on-board catering, the Captain and dedicated crew will ensure an exhilarating and unforgettable experience.
Spa at the Andara Resort Phuket
Escape, relax and unwind. Secluded and sensual, the spa offers an exquisite range of treatments and therapies to help soothe the body, mind and soul. Treatments include traditional Thai massages, Ayurveda, Swiss, Javanese and Swedish massages, as well as a variety of scrubs, detox and body treatments.
Immaculate private spa rooms for individual or couple treatments create a relaxing ambiance, whilst experienced therapists soothe away your stresses and strains
Staff Services:
• Daily housekeeping.
• Butler service is included at the Pool Villas.
• A chef can also be arranged at the Pool Villas for an extra charge.
See more details...
Amenities
Air Conditioned bedrooms
Air Conditioning
Bar
Childrens Activities
Well Equipped Kitchen
Golf (nearby)
Laundry Room
Private Pool
Restaurant
Sea view
Short walk to beach
Spa
Spa Wellness Suite
Telephone
Tennis Court
WaterSports
Wireless Internet
See more details...
Bedroom : 1 - 6
Bathroom : 1 - 6
Staff
Butler
Chef
Housekeeper / Maid
Rate
Rates based on single or double occupancy per bedroom staying in a 1, 2 or 3 Bedroom Terrace Suite. Rates include daily breakfast at the resort restaurant, welcome drink on arrival, welcome seasonal fresh fruits in room, complimentary Wi-Fi internet access and complimentary use of Fitness Club. Rates also include 10% service charge and 8.7% government tax. Rates also available for all other room, Suite and Villa catergories, call or email for further information. Rates, taxes and service charges are subject to change without notice.
Location
Phuket, Thailand
• 28km from Phuket's International Airport. Situated above Kamala Beach.
• A wide range of restaurants, boutique shops, golf courses and other activities are located close by.