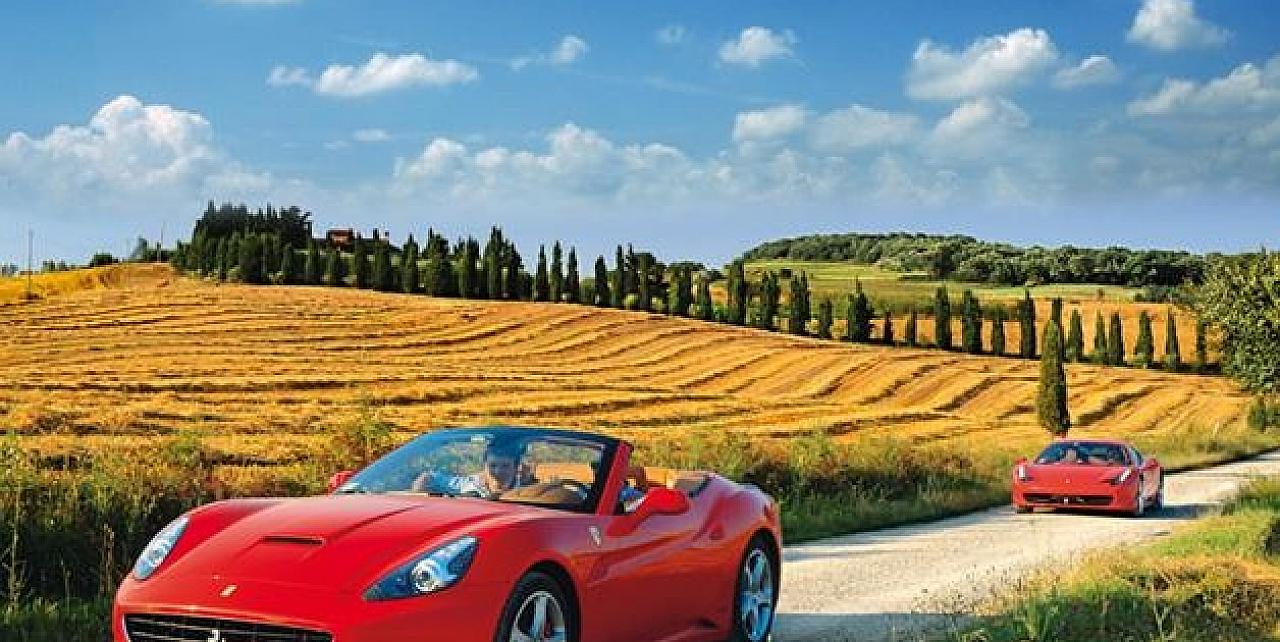 Bespoke Ferrari tours through Italy's stunning landscapes
Add to Favourites
Plan Your Trip
HAVE QUESTIONS?
USA/CANADA: +1 347 707 1195
BARBADOS: +246-432-6307
UK /INTERNATIONAL: +44 1978 368531
Would you love to explore some of Italy's most breath-taking scenic routes in a classic Ferrari? Combine your Italian holiday with a Ferrari tour around the Italian Lakes, Rome, Florence, Tuscany or Umbria? Worldwide Dream Villas & Holidays are now making dreams come true with their bespoke Ferrari tours around Italy's finest landscapes of countryside, lakes and cities.
Discovering Italy's stunning coastlines, chic hillside villages, winding cobbled streets, vibrant vineyards, rolling hills, and cypress-lined driveways all behind the wheel of a Ferrari is the ultimate travelling experience. Worldwide Dream Villas & Holidays combine this exclusive offering with some of Italy's finest hotels and farmhouse villas, plus classic Italian experiences of visiting vineyards, monasteries, stunning Italian gardens, and exquisite dining experiences.
Tours range from a simple half day Ferrari hire to 4 days touring an area of your choice. Each tour is tailored to suit individual needs, helping to create the ultimate holiday of a lifetime.
The Ferrari tours are expertly organised with maximum safety procedures in place; guests are connected by radio with a designated professional driver who travels ahead, working out the route and acting as a guide when the speed picks up! Arrangements are made to have regular pit-stops at places of interest allowing guests maximum opportunity to enjoy the spectacular sights of the Italian landscapes. For true Ferrari enthusiasts, the renowned Rome & Mille Miglia Ferrari Tour can be arranged and even a drive in the new Ferrari Spider 488.
4 DAY SAMPLE ITINERARY:
DAY 1: WELCOME TO FLORENCE, CRADLE OF THE RENAISSANCE
You will be met at Florence International Airport and transferred by Mercedes S-Class to Four Seasons Hotel Firenze.
An enchanted city sanctuary in the midst of Florence, where an art-filled Renaissance palazzo and conventino frame a centuries-old private park. Relax amidst original frescoes and sculptured relieves, graced by sunlight and airy garden vistas. Sip cappuccino under majestic trees, lounge by the open-air pool or bask in Italian spa secrets. Wonders of the Uffizi and Duomo are a stroll away. Tuscan hill towns beckon.
Check-in and accommodation in Junior Suite.
Time at disposal for shopping or for a guided tour of Florence (upon request).
Birthplace of the Renaissance, Florence is a jewel in Italy's crown with architectural treasures literally around every corner. The capital of Tuscany plays host to some of the world's most beautiful museums and galleries housing works of art by da Vinci, Michelangelo, Giotto and Botticelli. The city of Lorenzo the Magnificent, Dante and Brunelleschi is truly full of magic.
Evening
Dinner in Florence - Restaurant suggestions: Enoteca Pinchiorri (3 Michelin stars), Il Palagio (1 Michelin star) at Four Seasons Hotel Firenze.
Overnight at Four Seasons Hotel Firenze 5* (Florence).
DAY 2: DISCOVERING CHIANTI BY FERRARI
Route: Florence San Gimignano - Siena - San Casciano dei Bagni
Morning
09.30: Meeting with Tour Director at the hotel.
Our private Tour Director, an expert Ferrari driver, will introduce our guests to the world of Ferrari; clarify the finer details of the controls, explain the differences between the various models (Ferrari 488 Spider, Ferrari 488 GTB, Ferrari California T, Ferrari 458 Spider, Ferrari 458 Italia) and the engines (8-cylinder and new 8-cylinder turbo) and most importantly, give guidance on how to handle the F1 paddle-gear shifting behind the steering wheel.
All luggage will be transported separately.
10.00: Departure by Ferrari towards San Gimignano
During the tour, several halts will allow drivers and passengers to swap seats, if they wish to.
Our Tour Director leads the way at the wheel of his Alfa Romeo Giulia, guiding the Ferrari along the Chiantigiana Road passing Greve in Chianti, Castellina in Chianti, Barberino Val d'Elsa. During the whole journey, the Ferraris and the Tour Director's car will be constantly in touch by mobile radio system.
Halt in San Gimignano for a coffee at Relais La Collegiata.
San Gimignano rises on a hill (334m high) dominating the Elsa Valley with its more than 7 medieval towers. Once the seat of a small Etruscan village of the Hellenistic period (200-300 BC) nowadays it's part of Unesco Heritage.
The roads carefully selected by Red Travel ensure maximum driving pleasure while enjoying the beautiful landscape of Tuscany.
The tour continues in direction of Siena where you will stop for a visit of the town.
Siena, an unspoiled mediaeval city, is the location of the famous Palio, a horse race around the city's shell-shaped Piazza del Campo. Siena's other historic gems from the Middle Ages include the Town Hall (Palazzo Pubblico) and the Torre dei Mangia (1340), which are similar in height to the Cathedral.
Indulge for lunch in the magnificent Piazza del Campo.
Lunch in Siena - Restaurant suggestion: Al Mangia, located in Piazza del Campo, Siena's main square.
Afternoon
Free time to explore Siena.
15.00: Departure by Ferrari for the 2nd part of the tour towards the magnificent Val d'Orcia Arrival at Fonteverde Tuscan Resort & Spa and check-in.
A Medicean residence restored to its former beauty. The hotel offers rooms, richly decorated premises with terraces overlooking fields and verdant hills. A blend of Renaissance aura and present-day comfort in a hotel where luxury engenders relaxation.
Spa & Relax: The mineral-rich, natural warm spring waters that emerge here have multiple therapeutic benefits for the organism. Take advantage of the thermal pool, the bioaquam® circuit (with its various hydromassages) or any other spa treatment offered by this highly reputable spa resort set in the midst of the rolling hills of the Val d'Orcia (southern Tuscany).
Evening
Dinner in San Casciano dei Bagni - Restaurant suggestion: Ferdinando I at Hotel Fonteverde.
Taste the excellence of Tuscan cuisine: natural ingredients offering refined products of indisputable quality with particular attention to detail combine to give delicious gourmet and Spa Cuisine recipes.
Overnight at Fonteverde Tuscan Resort & Spa 5* (San Casciano dei Bagni, Siena).
DAY 3: CONTINUES THE FERRARI EXPERIENCE IN VAL D'ORCIA
Route: San Casciano dei Bagni - Bagno Vignoni - Pienza - Florence
Morning
Departure by Ferrari
A day to revel in the spectacular panorama offered by this delightful Tuscan valley, known worldwide for its extensive vineyards.
In his Alfa Romeo Giulia, Tour Director leads the tour through a succession of enchanting towns and villages, whose charming appeal encapsulates the very soul of Val d'Orcia.
First stop at Bagno Vignoni, whose characteristic, besides the thermal waters, is its unchanged structure. In fact, the main square of this town is not like it can be imagined in other places, but it is made by boiling water that flows at 52 °C (126 °F).
Second stop is Pienza, Pope Pius' II birthplace, located high on a hillside. Meant to be the ideal Renaissance town, Pienza comprises such beauties as a white stone cathedral, Palazzo Piccolomini with its fine courtyard, Palazzo Borgia, a graceful Piazza…
Lunch in Pienza - Restaurant suggestion: La Terrazza del Chiostro.
Afternoon
Departure by Ferrari, the itinerary leads back to Florence: en route Montepulciano and Arezzo
Arrival in Florence and check-in at Villa La Massa. Accommodation in Junior Suite.
Featuring two villas dating back to the days of the Medici (16th century), the Noble Villa (Villa Nobile) and the Old Mill (Vecchio Mulino), plus the more recent Little Villa (Villino), the Villa la Massa, formerly an ancient home of the aristocracy, was transformed into a hotel in 1950. The hotel offers 34 individually distinctive rooms, all recently refurbished in the traditional Florentine style. The spacious rooms are decorated with antique furniture, fabrics woven at the historic Florentine textile mills, wrought iron and woodwork from renowned Florentine cabinetmakers.
End of the Ferrari experience.
Evening
Dinner in Florence - Restaurant suggestions: Borgo San Jacopo (1 Michelin star), Il Verrocchio at Villa La Massa.
Overnight at Villa La Massa 5* (Florence).
DAY 4: ARRIVEDERCI ITALIA!
Morning
Time at disposal for shopping or just to relax.
Private transfer by Mercedes S-Class to Florence International Airport for your return flight, and the end of the services with Red Travel.
Prices start from
2,400 euros for a 4 hour Roman tour for 2 persons in one Ferrari.
A one day Chianti and Mille Miglia Ferrari tour starts at 4,180 euros for 2 persons in one Ferrari.
Large groups up to 20 Ferrari's or other super cars can be organised.
For more information please contact [email protected]
See more details...
Amenities
Bedroom : 1 - 2
Bathroom : 1 - 2
Rate
Rates available on a request basis, call or message for further information.
Other Properties you may like