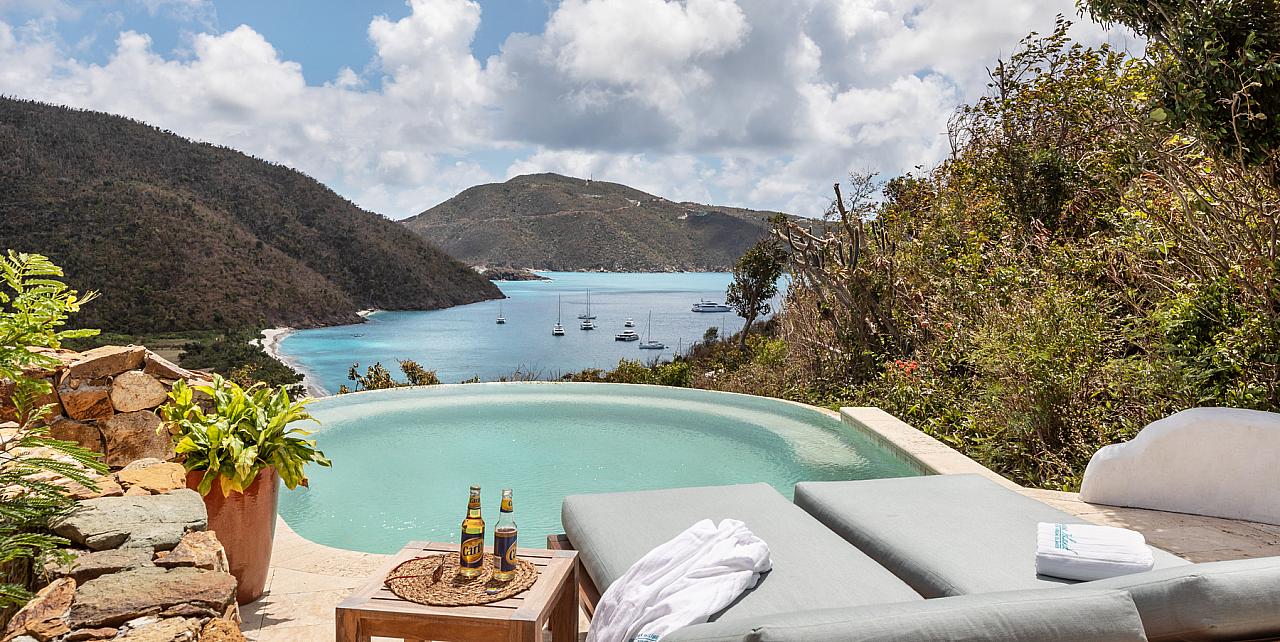 Add to Favourites
Plan Your Trip
HAVE QUESTIONS?
UK : 0845-017-6707
USA/CANADA: +1 347 707 1195
BARBADOS: +246-432-6307
INTERNATIONAL: +44 1978 368531
Guana Island in the British Virgin Islands provides acres of privacy per guest, with no marina or public facilities of any kind, guests barely need to share this stunning Caribbean Island with anyone other than those they wish to enjoy a luxury Caribbean holiday with in the British Virgin Islands. Accomodation at Guana Island consists of both Cottages and Villas: Sea View Cottage, Sea View Pool Cottage, North Beach Villa, Harbour House Villa, Anegada Villa and Jost House Villa.
Upon arrival at Guana Island in British Virgin Islands, guests are welcomed on the hilltop with a cool tropical drink, a flower and a chance to familiarise themselves with the Island and its many pleasures. The Club is where guests gather for cocktails, and dine on romantic candlelit terraces. There is the opportunity to socialise with other guests in the comfortable Living Room, or simply relax on a jasmine scented terrace under the stars.
Sea View Cottage at Guana Island in British Virgin Islands - sits within lush tropical surrounding in front of crystal clear waters, enjoy the spectacular view from your very own private terrace. The interiors are comfortably furnished reflecting the history of the Island including stone architecture.
Sea View Pool Cottage at Guana Island in British Virgin Islands - provides cozy space with villa-style amenities, Sea View Pool Cottage is the perfect choice for a couple to enjoy and has a pool for two right outside your door,take a dip in privacy or simply soak in the water, champagne in hand, to admire the sea view.
North Beach Villa at Guana Island in British Virgin Islands - the only house on the Island's stunning North Beach. Favoured for its beauty and seclusion, the villa's living room, bedroom, and kitchen are surrounded by scenic terraces. Nestled among leafy sea grape trees, the only sounds you'll hear are the surf lapping the white sand at your doorstep and the pelicans diving just off your seaside deck. It has your own saltwater pool just steps from the ocean. Your golf cart can take you along the winding trail past a Quaker stone wall, the Island's Orchard and the Flamingo Pond to the main beach and tennis courts.
Harbour House Villa at Guana Island in British Virgin Islands - sits atop Guana Island and boasts panoramic views of both the Caribbean and Atlantic. The 270 degree wrap-around terrace includes a Jacuzzi, infinity pool, outdoor shower, and private shaded dining area. It can be rented as a one or two bedroom villa, includes a fully stocked bar, air conditioning, satellite TV, Wi-Fi and a private golf cart. Harbour House Villa is directly adjacent to the Island's botanical garden, which leads guests to the public dining and hotel facilities.
Anegada House Villa at Guana Island in British Virgin Islands - elegant, understated decor, a place to soak in the inifity pool while gazing out to White Bay Beach or lounge in the tropical garden. This villa offers a complimentary bar, air conditioning, and light airy bathrooms with powerful rain showers. The villas 3 terraces and private garden offer sweeping views of the Caribbean Sea and the Atlantic Ocea. The living room provides a central place to unwind in private or to gather in with the friends. Aneganda may be rented as a villa for up to 8 people, or as 3 separate 1 bedroom units.
Jost House Villa at Guana Island in British Virgin Islands - luxurious 10,000 square foot three bedroom villa with views of the island and Atlantic Ocean and Caribbean Sea from its living room, dining room and terraces - modern and contemporary decor, emmense spaces and outdoor living areas with a private inifinity edge swimming pool and hot tub at the foot of the master bedroom. The wet bar is stocked according to guests' preferences. Jost House is serviced by its own staff, headed by Guana Island Hotel's Housekeeper/Concierge.
See more details...
Amenities
Air Conditioning
Bar
BBQ
Beach Facility
Children Welcome
Communal Facilities
Internet Access
Jacuzzi
Restaurant
Satellite TV
Sea view
TV
Villa Accommodation
Wireless Internet
See more details...
Bedroom : 1 - 16
Bathroom : 1 - 16
Rate
Rates on request.
Please call or message for rates, availability or further information
Location
Situated only 15 minutes boat transfer from Tortola