Top 10 villas in the Caribbean
Here is our personal choice of Top 10 villas in the Caribbean
5. The Sanctuary, Parrot Cay, Turks and Caicos
6. Bananaquit, Jumby Bay, Antigua
8. Oleander, Jumby Bay, Antigua
9. Casa Tres Soles, Puerto Vaillerta, Mexico
THE GREAT HOUSE, BARBADOS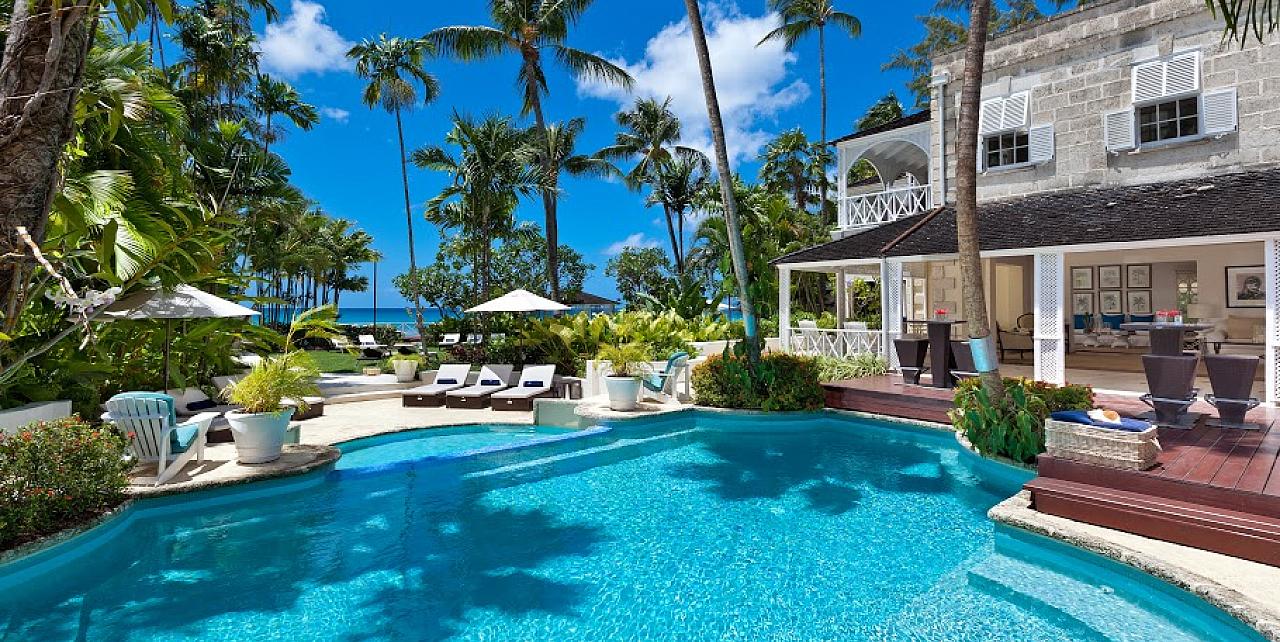 The Great House is a magnificent 12 bedroom estate. Located in a fabulous position on the beach on the west coast of Barbados. Set in private lush tropical gardens. It has recently has extensive renovation and redesign. Now, possible the best villa in the Caribbean this magnificent home may be rented on an 8 to 12 bedroom basis. It can accommodate up to 30 guests.
Private pool, tennis court, gym and spa Boat and boatman included. The team of staff run this villa like clockwork. Excellent chefs will whisk up divine breakfasts, lunches and dinners.
This is without doubt one of our Top 10 villas in the Caribbean.
OVER YONDER CAY RESORT, BAHAMAS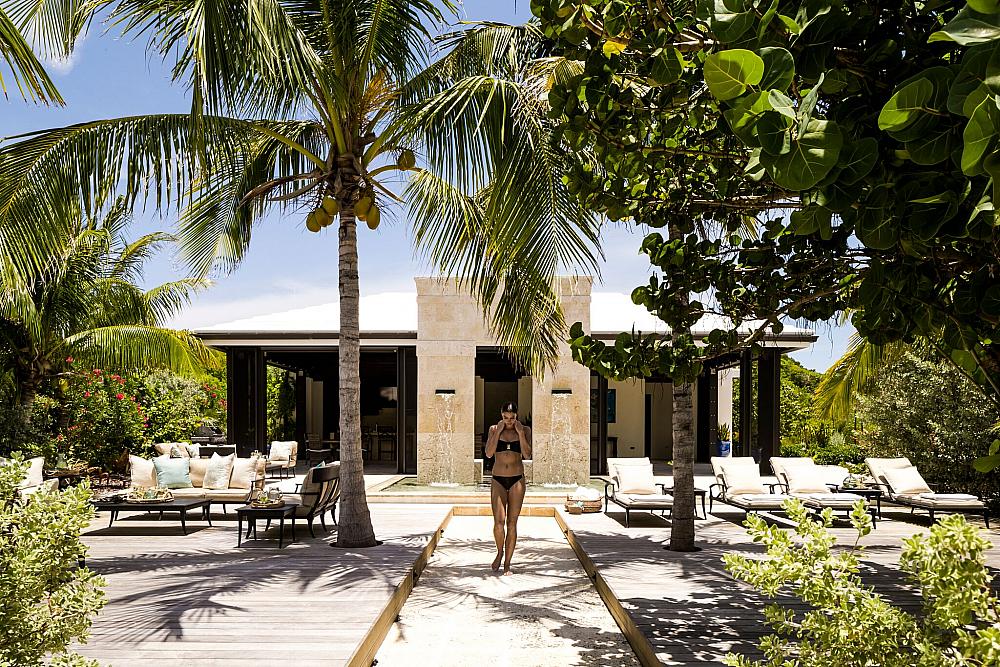 Over Yonder Cay is luxury and privacy at its finest. Certainly one of the top 10 villas in the Caribbean. Parties from 2 to 30 guests in four uniquely designed villas. All with private beaches and breath-taking views. A former fishing outpost, the island has been transformed into a unique eco-friendly have. Perfect for those seeking authentic and sustainable barefoot luxury.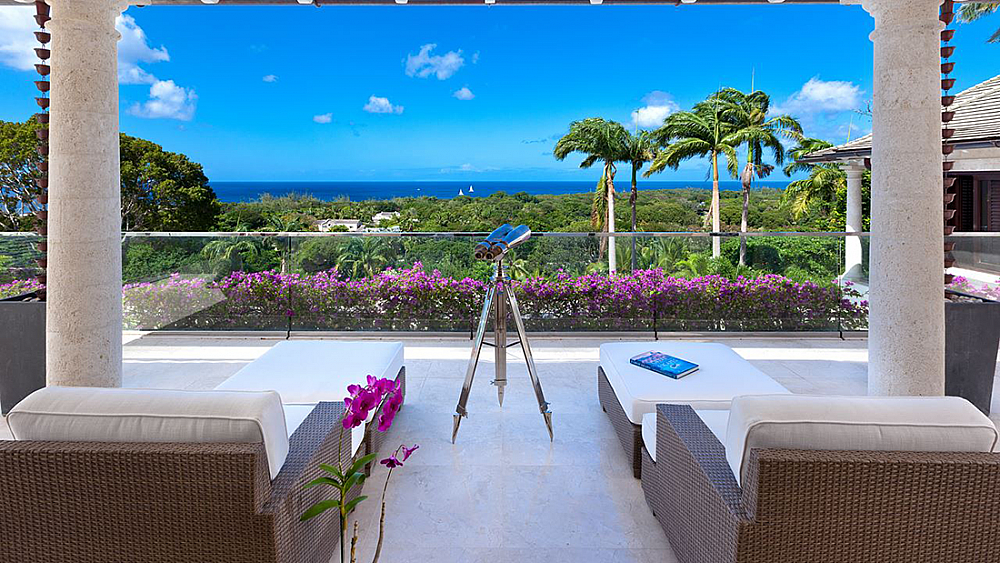 Sanzaru is one of the most stunning villas in the Caribbean. We had to include it in our list of Top 10 villas in the Caribbean. Sanzaru is located on the much sought after Sandy Lane estate in Barbados. It has wonderful views over the Caribbean Sea. Magnificent design and furnishings.
Truly spectacular 11 bedroom home belonging to a TV celebrity. Offers the privacy of a home with the service you would expect from a world-class hotel. The best of both worlds.
No list of the Top 10 villas in the Caribbean would be complete without Alaya. There are few contemporary homes in the Caribbean to match the location, style and luxury of Alaya.
Villa Alaya offers the ultimate in luxury. It has a stunning master suite and five luxurious guests suites in the main house. There are also two separate apartments ( 2 bed and 1 bed) in a separate building alongside the entrance.
Villa Alaya provides discerning guests with everything they need. Wonderful unobtrusive staff including a michelin star chef. All the services of a 5 star hotel and the privacy of a villa. Designer furnishings throughout. Spectacular sea views. Located in a quiet and secluded location with state of the art security room Alaya is an ideal luxury hideaway. It has been rented by many high profile entertainers and entrepreneurs.
THE SANCTUARY, PARROT CAY, TURKS AND CAICOS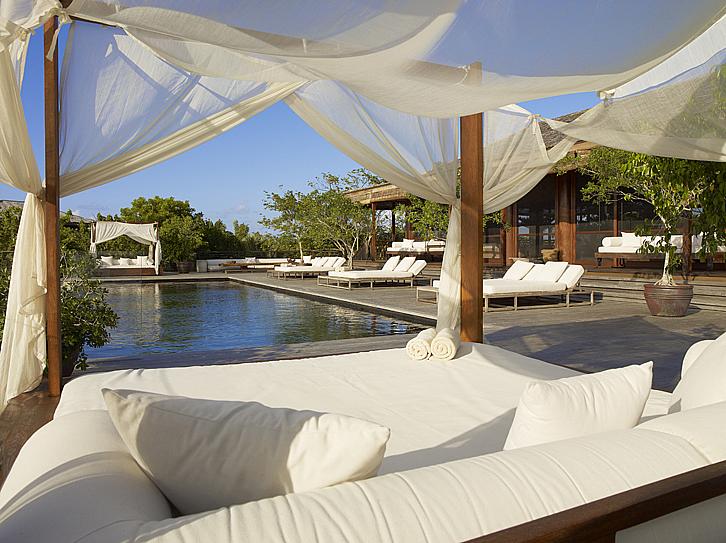 Owned by American fashion designer, Donna Karan, this villa is at its name suggests a sanctuary. There is a fusion of interior and exterior with large glass doorswhich open out completely to the pool deck. This villa deserves its plave in our list of Top 10 villas in the Caribbean.
This lovely home offers 3 double bedrooms in the main house. There are also two 4 bedroom guest villas. There are dramatic views of the ocean and surrounding garden. All bedrooms also have their own en suite bathrooms.
Cedar panelled walls, teak furniture, walnut floors and limestone bathrooms are part of the high interior finish.
Eclectic pieces reflect the owner's world travels, from Bali to Africa. There is also an enviable art collection. Further personal touches are introduced through service provided by Parrot Cay, which is essential to this private island's award winning reputation.
BANANAQUIT, JUMBY BAY, ANTIGUA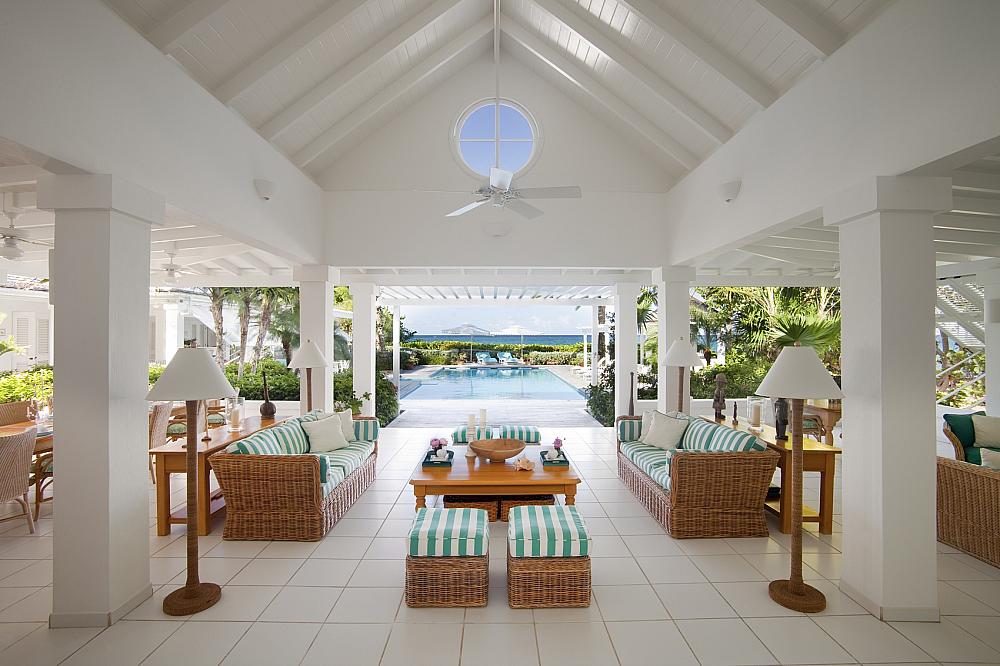 Villa Bananaquit is a 7 bedroom estate Home on the exclusive private island of Jumby Bay Island, off the coast of Antigua.
It is a haven of peace and tranquility and deserving of a place in our Top 10 villas in the Caribbean. This is a luxury beachfront villa which sits on the soft white sandy beach on Pasture Bay.
The accommodation in Bananaquit is designed in an L-shape with seven en suite bedrooms, each with their own bathroom. There is a living room, kitchen and dining area. There is also a library and sitting room with TV, outdoor lounge areas, tennis court and a magnificent 15-metre saltwater pool.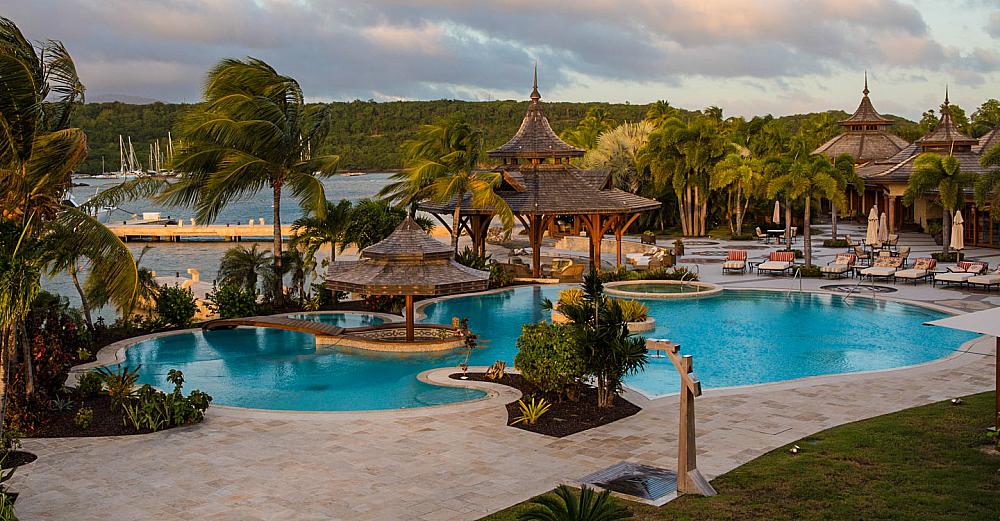 A magical private Caribbean island which we had to include in our Top 10 villas in the Caribbean.
Calivigny Island will be exclusively yours to enjoy and explore. This private Caribbean Island is the ideal place for all occasions. Perfect for family holidays, wedding celebrations and high-level corporate vacations. Available for exclusive rent only.
On the island there are seceral choices of accommodation.
The Beach House is an 8,000 sq m villa (including outside areas) with 10 luxury suites. The villa is an architectural masterpiece.
There is a second villa luxury villa of 3,000 sq m. It has 9 bedroom suites.
There is also a cottage with 3 bedroom suites.
All are all designed and finished to the highest of standards.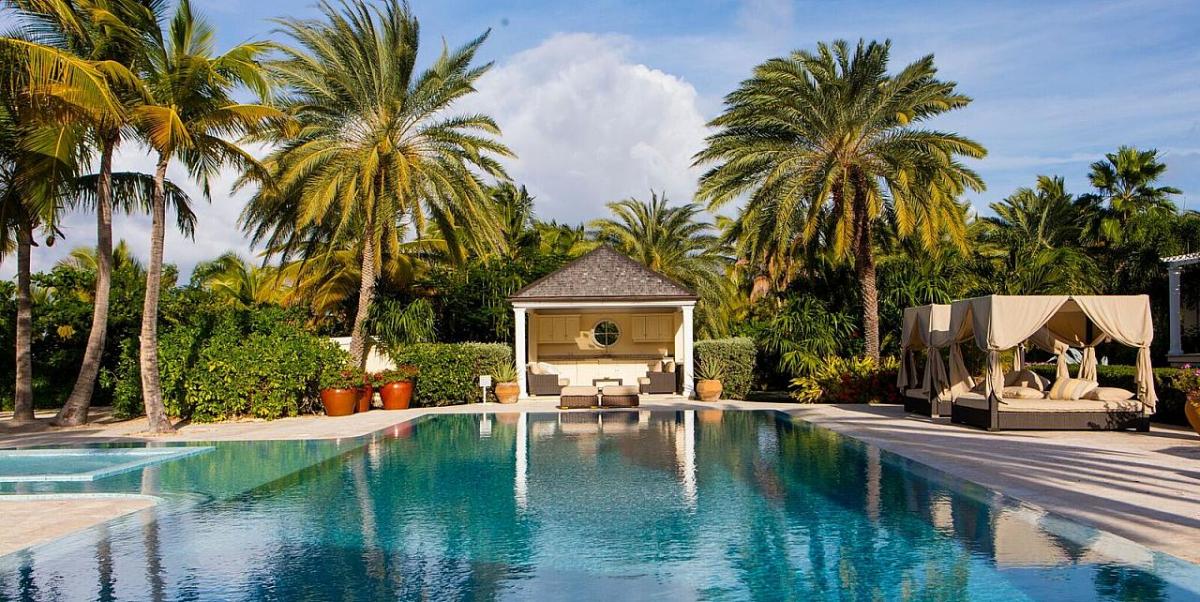 Oleander is a luxury villa within the private Carribean island paradise of Jumby Bay. The island is located just off the coast of Antigua.
This beautiful villa has large covered terraces at the front and back. There are 6 spacious and very private bedrooms each with en suite bathrooms. This villa has a fully equipped and spacious kitchen, indoor and outdoor dining areas and an office. Oleander also features a swimming pool with pool house and a flood lit tennis court.
Oleander has exceptional views of the sea and is surrounded by 3 acres of manicured gardens.
2 golf carts are provided for guests' use.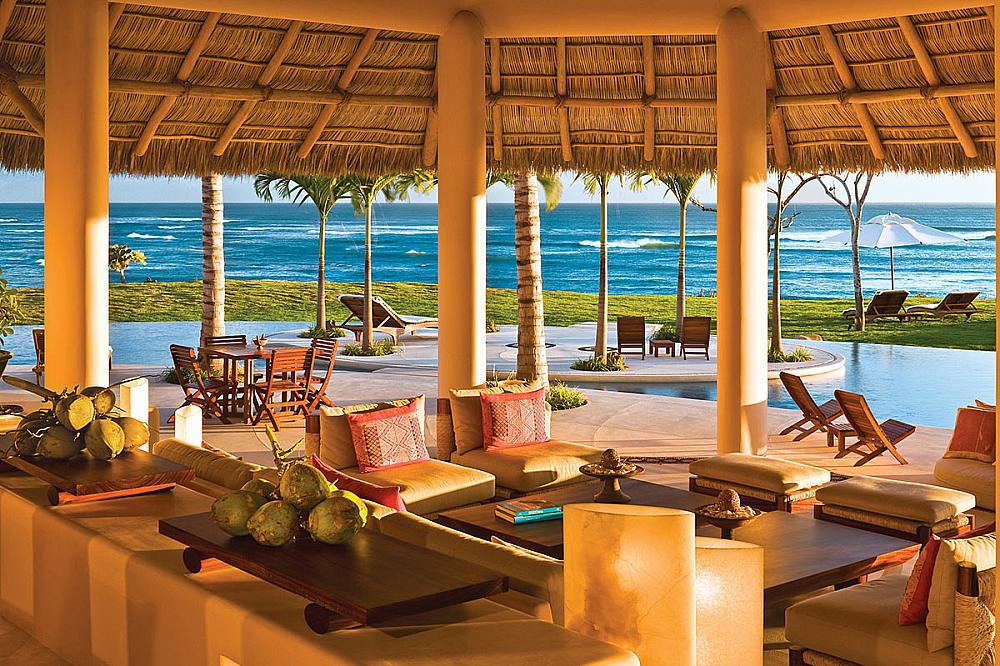 Casa Tres Soles is one of the most beautiful homes in Punta Mita. It has uninterrupted ocean views in all directions. It deserves its place on our Top 10 villas in the Caribbean.
An extraordinary feeling of peace and serenity pervades the entire property.
Surrounded by stunning ocean views, the oval shaped terrace is elegantly furnished with oversized sofas, hand embroidered fabrics, indigenous art and renowned Mexican craft works that contribute to the villa's ambience. The view of the ocean merging with the edge of the pool is sure to leave a lasting impression.
Curving private pool with more than 160 feet of infinity edge.
A wonderful, air conditioned retreat.
NECKER ISLAND BRITISH VIRGIN ISLANDS
Necker Island is the perfect private island paradise. It is located in the British Virgin Islands and surrounded by the clear turquoise Caribbean waters. The island expands over 74 acres with beautiful white sandy beaches and coral reefs.
Guests can hire the whole island on an exclusive basis for 30 plus six children in the bunkroom. In addition at certain times of year Necker Island offers their Celebration Weeks. This is ideal for couples or singles, who can reserve one room individually and take full advantage of the services the island has to offer, shared with other guests, "house party style."
For families, Necker Island provides a 'Family fun week' during October. This is a great chance to have some fun with the children.
Necker Island includes nine bedrooms in the Great House and six individual Bali Houses dotted around the island. There is also a bunkroom in the Great House that sleeps up to six children. All rooms have private en-suite bathrooms.
If you are interested in renting one of the Top 10 villas in the Caribbean contact us today
It was difficult to compile this list of To 10 villas in the Caribbean. There are so many to choose from. If you don't find what you are looking for speak to one of our villa specialists today
For holidays in other destinations visit our wesbite worldwidedreamvillas.com