One Love - Jamaica !
One Love – Jamaica !
Did you know that Jamaica is the only Caribbean island completely surrounded by the Caribbean Sea ? This means gorgeous calm waters, stunning coastline and beautiful beaches surround the whole of this approx. 4000 sq. mile island, covered in lush tropical landscapes, national parks, breathtaking mountains and rainforests, with striking waterfalls, an abundance of fauna and flora and stunning gardens filled with tropical flowers, plants, palms and indigenous trees such as the centuries old Silk Cotton Tree which the original Taino people used to craft their canoes.
Just a 9 hour direct flight with Virgin Atlantic from London brings you to the wonderful Montego Bay – that's lunch, afternoon tea, 2 films and you are there ! Some of the best and most beautiful hotels, resorts and private villas are situated around the Montego Bay area and stretching along the coast east to Ocho Rios and there really is something for everyone of all ages and with all interests. Luxurious hideaways away from the crowds, family resorts with a range of activities and colonial style retreats with a distinctive ambience of the past carrying through to the present day so you have a true sense of Jamaica's journey and its connection to England, retaining the charming ritual of afternoon tea, croquet and gentleman's cricket. Image : the Hummingbird Garden at Mystic Mountain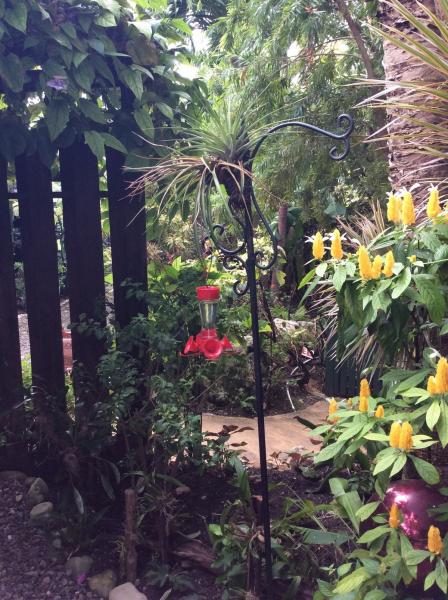 On arrival into Montego Bay, pay a little extra for the convenience of Fast Track to avoid the immigration queues, collect your luggage and you will be met by your personal driver to be whisked to your private villa – here are some of our top picks – all personally visited !
Roaring Pavilion – a privately owned, 5 bedroom retreat located directly on the most stunning beach close to Ocho Rios and within a stone's throw of where Dr. No and the famous Ursula Andress scene was filmed. In the picturesque courtyard as you enter, there is a starfruit tree and the freshly made juice from the fruit is delicious….. as is the chef's most loved banana bread and plantain pastries. The highly-trained, professional chef offers some of the best cuisine on the island, all served by the dedicated butler who takes care of you throughout your stay, along with the rest of the team which includes a resident Spa therapist and her amazing Spa facility right at the villa. You will be mesmerised by the views, the unforgettable gardens, relaxing areas around the sparkling infinity pool, lunching on the terrace and afternoon tea in the lounge.
Where else can you find a villa with a personal Watersports instructor and your own jet-skis (4 of them !) plus kayaks, paddle and boogie boards as well as snorkelling equipment and there is a fully equipped gym too. Every detail has been thought of to entertain, from a state-of-the-art Bowers and Wilkins home theatre, SONOS music system, high-speed Wi-Fi, Xbox games for the younger ones and traditional board games for lots of fun evenings. Image : garden leading to the beach at Roaring Pavilion.
If you prefer a resort style community with access to lots of facilities and restaurants, our favourites are :
Round Hill Resort, Montego Bay
This exclusive historic resort has a fascinating past having been originally built in the 1950's on the site of a sugarcane, coconut and pineapple plantation by Jamaican-born entrepreneur John Pringle who created one of the first luxury boutique hotels frequented by royalty, high-profile Hollywood figures, politicians and English aristocracy who all loved Round Hill for its relaxed, discreet and private atmosphere. Today it is one of the best loved resorts and in addition to the 37 guestrooms (all with Ocean Views and designed by Ralph Lauren) there are 27 privately owned villas thoughtfully placed throughout this peaceful, tropical enclave. All villas are individually designed so no two are the same, with private swimming pool, lovely gardens, gorgeous views and amazing service. The luxurious 6-bedroom Villa 20 has the ultimate "pool with a view", various relaxing lounge areas, the loveliest dining gazebo where the cook serves the most delicious breakfasts (fresh fruit platters, pastries, bacon and eggs to order, pancakes and if you would like to try the traditional Jamaican dish of Salt Fish and Ackee, she will do that too !)
The resort's facilities and activities are almost too numerous to list…. From the finest restaurants with memorable dining from Executive Chef Martin Maginley (don't miss the Jamaican Night Buffet to sample the traditional Jerk chicken with "rice and peas" and the tastiest grilled Red Snapper) to the swimming pools, beach, Watersports, tennis, nearby golf and the sublime Spa (the Hot Stone Massage is highly recommended !), not forgetting the exceptional Children's Club to keep little ones happy whilst you relax at one of Jamaica's most renowned retreats. Image – villa pool with a view at Round Hill.
Golden Eye – Ocho Rios
For smaller, resort style villa suites in a superb, eco setting featuring rustic luxury and a great menu of activities don't look further than this 83 acre estate close to Ocho Rios, famed for its connection to Ian Fleming, evident from the moment you enter the main reception with its exciting display of "Bond" memorabilia - photographs and media articles. As you check-in, get into the mood with a delicious "Goldeneye Cocktail" made from the amazing Blackwell Rum and pineapple juice.
At Goldeneye we recommend the acclaimed "Fleming Villa" – the original home of Ian Fleming and it was here that he created the unforgettable characters of his iconic works. Today you can rent this beautiful 5-bedroom colonial style home and have a small cove and sandy beach, private swimming pool, gorgeous tropical gardens, dedicated staff all to yourself with your family and friends. Enjoy access to all the resort's facilities and particularly the fabulous restaurants and fun-filled bars with live entertainment. Image : "memorabilia Ian Fleming wall" at Goldeneye.
Half Moon – Montego Bay
A superb, classic Caribbean estate that oozes sophisticated resort living at its finest. Half Moon is an iconic 5 star resort with a fabulous mix of accommodations from Deluxe rooms, cottages and suites to the luxurious 7-bedroom villas set in a separate enclave in a beautiful villa community. The whole estate is set overlooking 2 miles of beachfront with guests enjoying 2 private beaches, immaculate grounds with tropical landscaping, two swimming pools – lagoon style and a superb Olympic size if you are keen on pushing the lengths on holiday – possibly the largest and best equipped gym/fitness centre in the Caribbean, no less than 13 tennis courts, squash, Watersports and diving centre, an incredible 18-hole golf course and an equestrian centre. Incredible dining options range from buffet breakfast and lunch at Seagrape with an a la Carte menu in the evenings, renowned Italian at Il Giardino, "feet in the sand" casual and fun dining at the Sunrise Beach BBQ to exquisite fine dining at Sugar Mill – considered to be the best in the Caribbean.
When staying at the luxury villas, you have your own dedicated cook who will prepare 3 meals a day for you and together with the full time butler and housekeeper, you are guaranteed your most relaxed holiday yet. Image : Main living area of a 7 bedroom villa.
Close to Montego Bay and set within 2000 acres of the most beautiful, lush green tropical landscape with rolling hills and the finest views, the Tryall Club is truly renowned for its incredible collection of private, individually owned villas and residences, scattered throughout this breathtaking landscape. The focal point is the original historic plantation house, now a sophisticated Club House where residents and guests can gather for sunset cocktails and superb dining. The impressive range of villas represent ownership from around the world giving a fabulous cosmopolitan feel and each residence reflects the owner's personal lifestyle and taste within the gorgeous designs, from contemporary, modern to ultra-colonial, with stunning reflections of Jamaican life.
Each villa is available for weekly rental throughout the year. They all feature private swimming pools, immaculate landscaped gardens, a choice of relaxation and dining areas and above all the wonderful outdoor lifestyle. Each villa offers a full dedicated staff with butlers, cooks or chefs, housekeepers and ardeners. Nothing is too much trouble for this incredible service orientated estate.
With an 18-hole championship golf course, 9 tennis courts, state-of-the art Gym, Spa, stunning beach with a Beach Café for lunch, Watersports and a Children's Club, you are not short of things to do and of course Tryall Club is within easy reach of all that Montego Bay and the north coastline of the island has to offer. Image : aerial view of The Great House, Tryall Club