Luxury yacht charters in Greece with crew
LUXURY YACHT CHARTERS IN GREECE
If you are looking for luxury yacht charters in Greece then look no further.
Alexa J is a stunning 38 metre superyacht. She is a sailing schooner that exudes style, spacious interiors, a bespoke service and complete privacy. She is chartered with an experienced crew of 6.
Alexa J is a luxurious superyacht like no other. There are few luxury yacht charters in Greece to match Alexa J.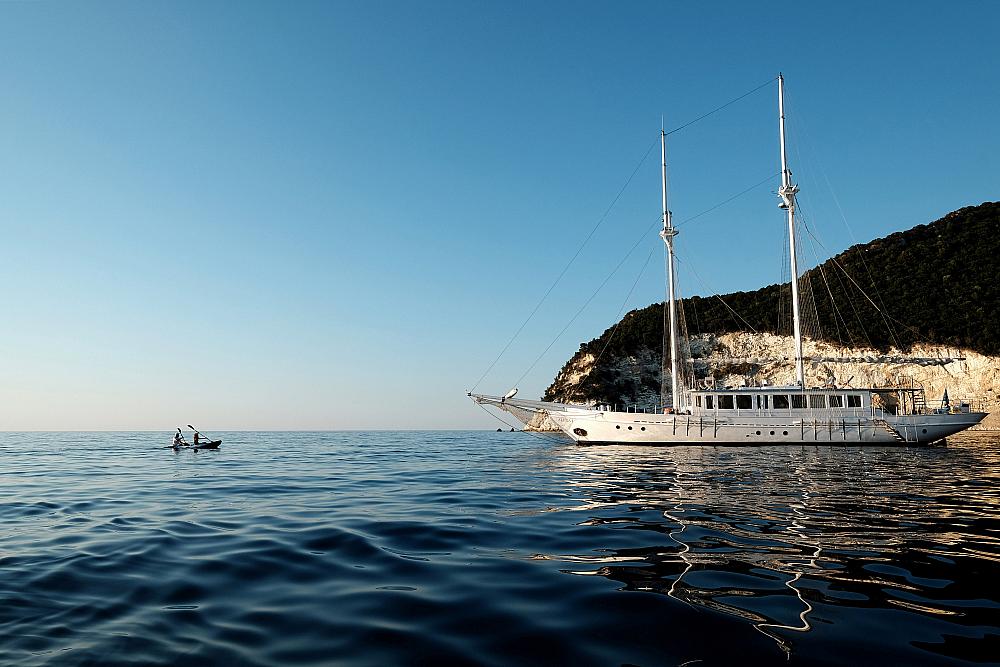 Cruise around the beautiful Greek Islands in the Ionian Sea with its stunning coastlines and many treasures. Explore by private yacht unspoilt sandy beaches and idyllic coves. Discover the marine life with some underwater diving with Alexa J's dive master.
The experienced crew of 6 are experts in taking care of guests. They are of course also established sailors. They are experience crew of luxury yacht charters in Greece.
The crew will be happy to suggest a wonderful sailing holiday itinerary for you. Alternatively decide where to go on the day.
Amongst the crew is your private chef who will prepare Michelin-starred menus.
A Holistic Spa Therapist will soothe your cares away and a Cruise Director/ Divemaster will tailor make a service to suit your requirements. The crew will ensure that the yacht experience exceeds all your expectations.
Alexa J is the most romantic luxury charter in the Greek Islands. It has its own old-world charm and has been ideally configured.
Alexa J is ideal for a couple and it has a magnificent master cabin. It is also perfect for a family as there is flexibility of an additional multi-use cabin.
The creative and passionate owners have taken great measures with every detail. The yacht has contemporary design and luxurious world class comforts. Guests will feel at home and enjoy a wonderful experience.
Dining aboard Alexa J couldn't be better.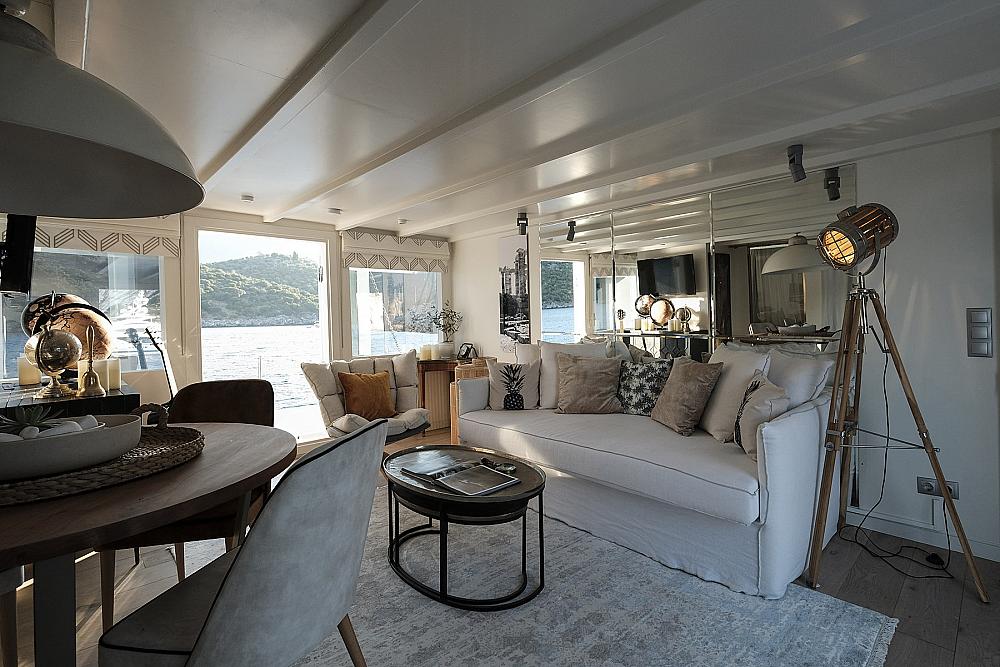 Enjoy fresh fish you caught boat-side, grilled on deck. Savour a fine dining experience under the stars. If you like try your hand at a pizza making class. A wonderful way to enjoy some family fun.
The superyacht's, celebrated Chef will prepare all kinds of culinary delights. The smells and flavours will make your heart skip a beat. He is happy to work with those with specific dietary needs. You will feast on some of the most amazing culinary dishes the Mediterranean has to offer.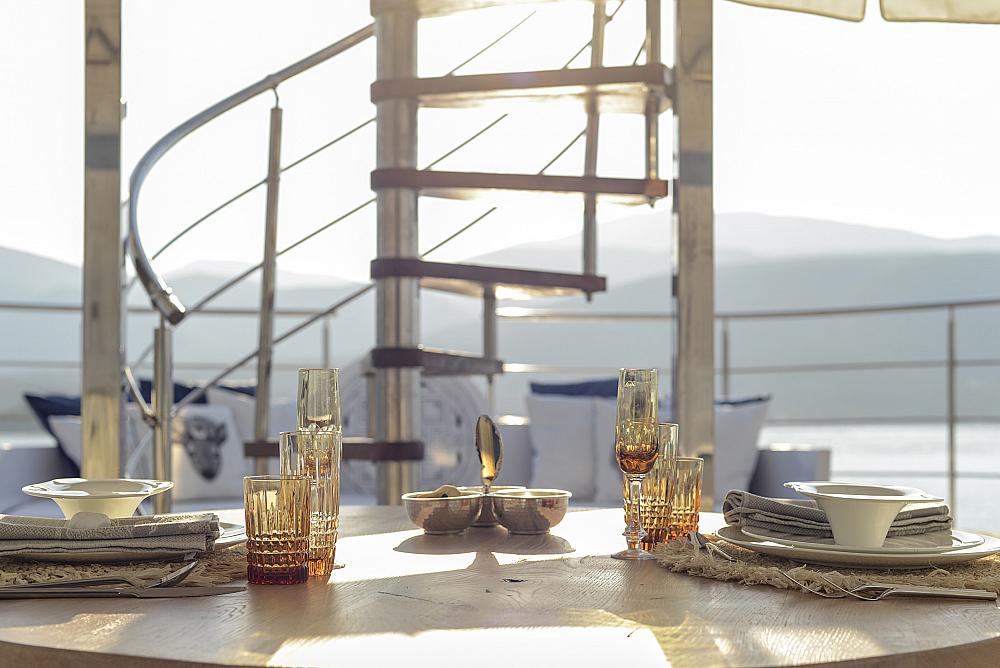 Alexa J's bar carries famous vintages, along with unknown and local favourites. Wines will be paired with every dish at dinner. For an added speciality sample some extravagant wine tasting whilst sailing through the turquoise Greek waters.
Your sailing itinerary is flexible and adaptable. It will be tailoured to suit what you prefer to see and do. You may choose a predefined itinerary. Alternatively you may prefer an evolving itinerary to unbeaten paths on fairytale journeys. Just make the decisions as you go.
The Cruise Director has a wealth of knowledge. He also has a "black book" of local contacts so those extra "special" holiday experiences can be created.
After a busy day, step into your "floating spa" and select from the best spa treatments. Perhaps enjoy a sports massage after a hiking tour. For something special have an Ayurvedic massage set up on a deserted beach. Feel the sun on your back on the top deck.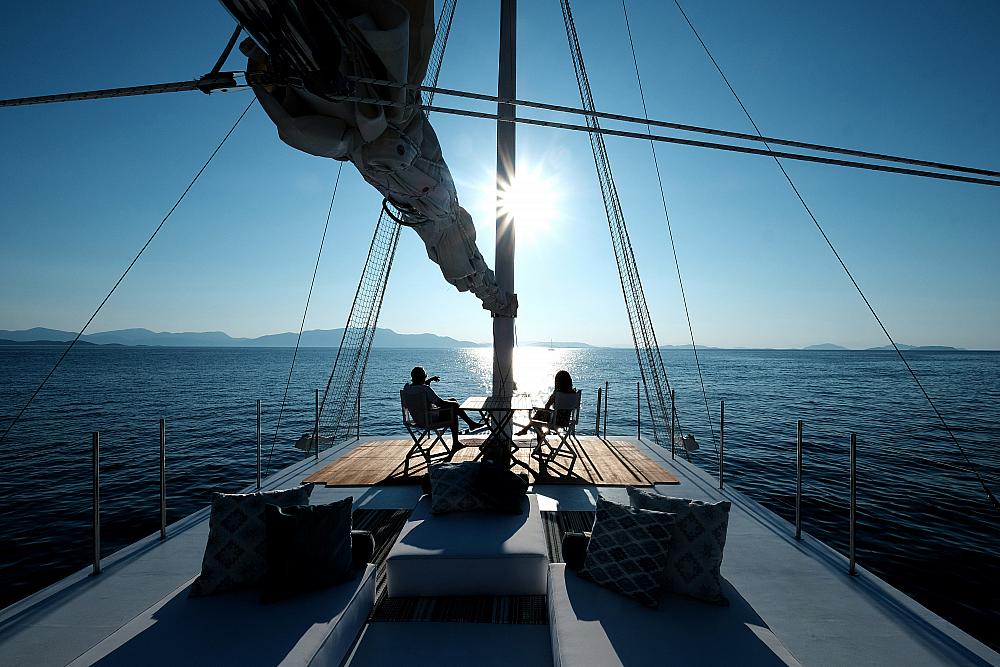 Leave all stress behind. Take a glass of champagne and watch the sunset whilst the therapist works her magic. Maybe with some Reiki Healing or Reflexology. The choice is yours to enjoy, wherever and whenever.
7 day Sample Itinerary :
Day 1 – start from Zakynthos. You will be picked up from your hotel or the airport then taken on a short speed boat ride to join Alexa J. Step aboard and be welcomed by the crew. The sail off to the Keri Caves.
Day 2 – Visit Kefalonia. Enjoy a peaceful swim or massage before heading to the beautiful village of Assos in Kefalonia. Spend the day exploring Melissani and the beaches of Platia Ammos, Koroni and Paliolinos.
Day 3 - Visit Ithaka and the village of Fiscardo. Explore artisan shops, taverns and Byzantine churches. Visit an ancient acropolis. Explore The Temple dive site. Having worked up an appetite get back on board for a gourmet meal.
Day 4 – Visit the natural beauty of Atokos, Kastos and Kalamos. Wonder at the opal coloured seas and lush green hills of some of Greece's most beautiful islands. A day includes exquisite food and serene sailing
Day 5 – Visit Meganisi, Lefkada and Preveza with its peaceful private bays. Pop in to a local taverna for lunch. Sample some of the best tzatziki around. Stroll on white sandy beaches and dive the depths of Poseidon gate.
Day 6 – today it's off to Ambracian Gulf, Acheron River. This is a day of marshlands and lagoons. Visit the home of the endangered Dalmation pelican, spotted eagle and Caretta turtles. Discover the ancient city of Nicopolis and stop for a picnic under the olive trees.
Day 7 – Visit Antipaxos, Paxi and Corfu. Here glorious beaches await at Vrika and Voutoumi. Take a plunge underwater in Corfu with Alexa J's own dive instructor. Hike the Corfu trail followed by a soothing spa treatment onboard.
Alexa J is the perfect choice to provide the best honeymoon cruise or an amazing family yachting holiday in the Greek islands. It will leave you with memories for a lifetime.
Top Deck :
Fly bridge
Rooftop lounge
Sleeping under the stars area
Yoga and meditation open deck space
Main Deck :
Bedroom with en-suite bathroom & walk-in wardrobe
Living room
The bridge
Open air dining and lounge
Lower Deck
Library, study and home theatre room
Galley
Engine room
Crew cabins
Alexa J spends her summers cruising around the Ionian Islands in Greece. Alexa J has a sister too in Indonesia !
This superyacht experience extends to the coasts of Indonesia. Expect the same world-class service and style in a different part of the world.
For more details about Alexa J or other luxury yacht charters in Greece or other parts of the world please don't hesitate to call or email us.