Ibiza Luxury Villas Available This Summer
It's not too late to escape to the magical island of Ibiza this summer! We have a selection of luxury ibiza villas available this summer for dates across July & August with some great savings too. If you are interested in any of the below villas please get in touch with our expert Ibiza team who will be happy to assist and let you know of the discounted rates for these late availabilty villas.

Luxurious 6 bedroom 6 bathroom family-friendly villa located between Ibiza Town and fashionable Santa Gertrudis. To the front of the property is a wonderful L-shaped and child friendly beach style swimming pool surrounded by lawn. There is a further magnificent fully equipped 'event-style' outdoor dining room complete with industrial kitchen with BBQs, wood oven, lobster tank etc adjacent to the house in the grounds.

This is the perfect house for a large family, or someone who loves living life to the full, or both. Cick here to explore this villa....
Available dates: 28-30th July, 6th-10th August, 10th-17th August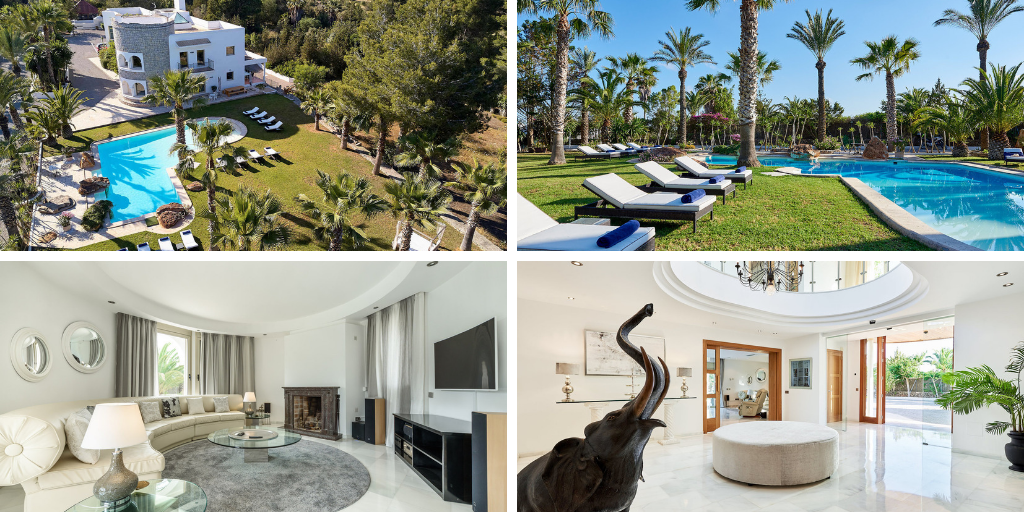 Classic Ibizan chic, Las Palomas villa has 4 bedrooms and 4 bathrooms. This contemporary villa designed by a renowned Spanish designer, is nestled in a lush pine and eucalyptus forest between Sant Josep de sa Talaia and Cala Tarida. With its panoramic outlook of the Ibizan landscape and Mediterranean, the home is orientated towards the sunset with views to the islands of Conillera, S´Espartar and Es Vedrá.
It is these magical Mediterranean vistas and the sumptuous design that make this residence such a pleasure to be in. Click here to explore this villa.....
Available dates: 3rd -10th August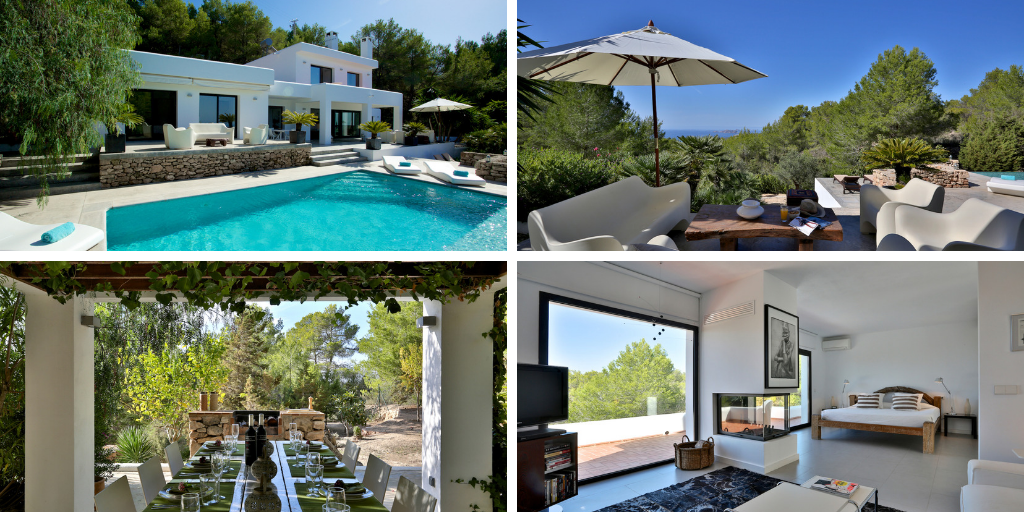 Ultra modern 6 bedroom villa, located 4km from Ibiza Town with panoramic views overlooking the famous salt flats, the sea and Ibiza Town. Set in 30,000m2 of land, the villa has huge open living spaces and an amazing 17 m swimming pool, a huge chill out area, lounging areas, sunbeds and sunbathing areas and a wonderful outdoor dining area with BBQ.
This villa has beautifully maintained gardens with many palm trees and the swimming pool has a beach effect - gentle sloping going into the pool. Click here to explore this villa ....
Available dates: 27th July-3rd August, 3rd-10th August, 10th-17th August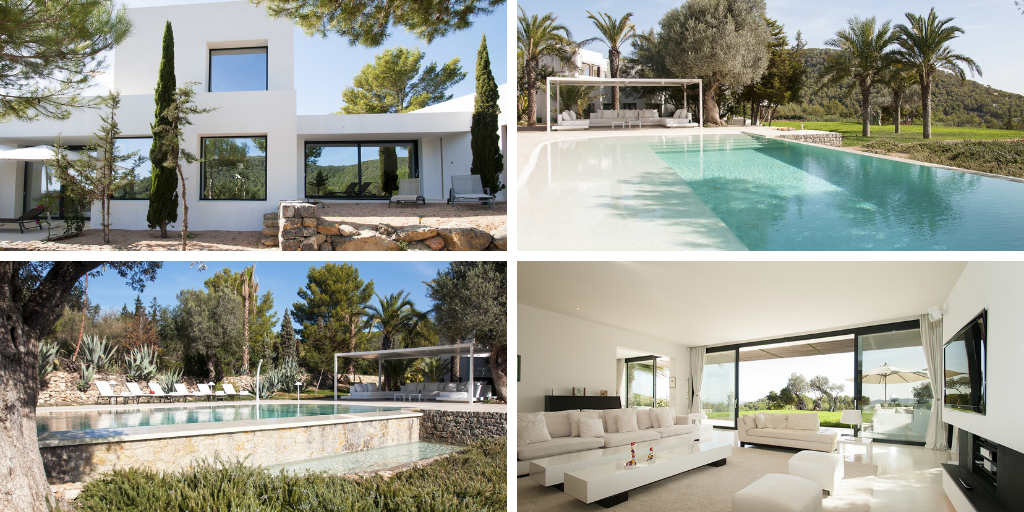 This magnificent 5 bedroom villa is located 300 metres from Sol d'en Serra beach on the east of the island, a stunning, rocky, paradise beach with beautiful clear turquoise water. It is just a 2 minute walk from the exceptional beach club 'Amante', which is one of the best on the island. Set high above the sea, the views over the sparkling waters of the bay of Sol den Serra are unrivalled, taking your breath away every time.
The wonderful village of Cala Llonga is only a 15 minute walk and offers a beautiful beach as well as all kinds of other amenities. Perfectly located this property is only 15 minutes from Ibiza Town and 20 minutes from the airport. Click here to explore this villa......
Available dates: 13th-20th July, 20th-27th July, 24th-31st August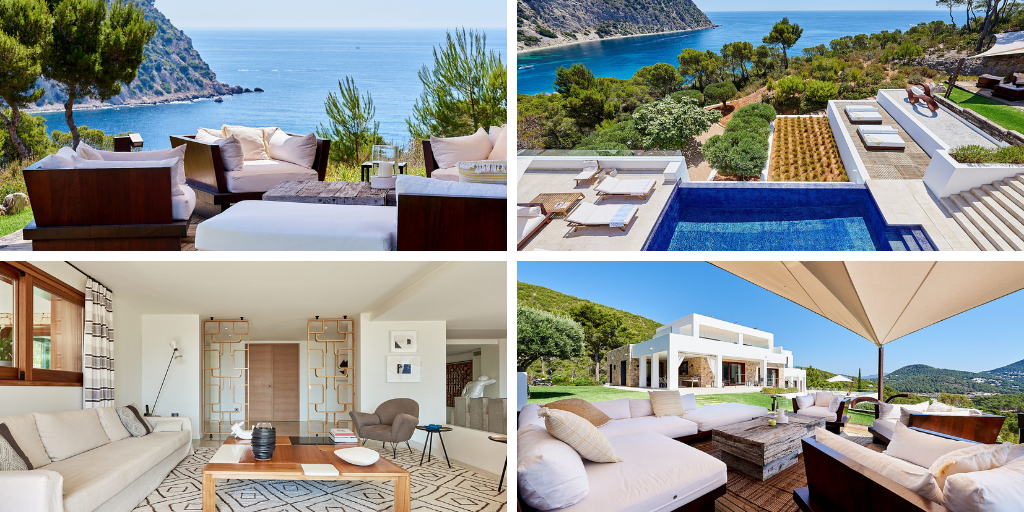 Stunning modern family-friendly finca with amazing privacy and outdoor entertaining areas.This 7 bedroom 8 bathroom beautiful Villa is located just a 5 minute drive from Santa Eulalia, set in picturesque countryside. The house nestles in 6000m2 of beautiful garden and has a super tranquil vibe with the many water features and outside areas to unwind in. There are some of Ibiza's best beaches just a few minutes drive away as well as local supermarkets and restaurants.
The house is very private and completely fenced in with video entry via the private electric gates. There is a surround sound system indoors and outdoors and the house and the casita are fully air conditioned throughout. Click here to explore this villa.....
Available dates:13th-20th July, 17th-24th August, 24th-31st August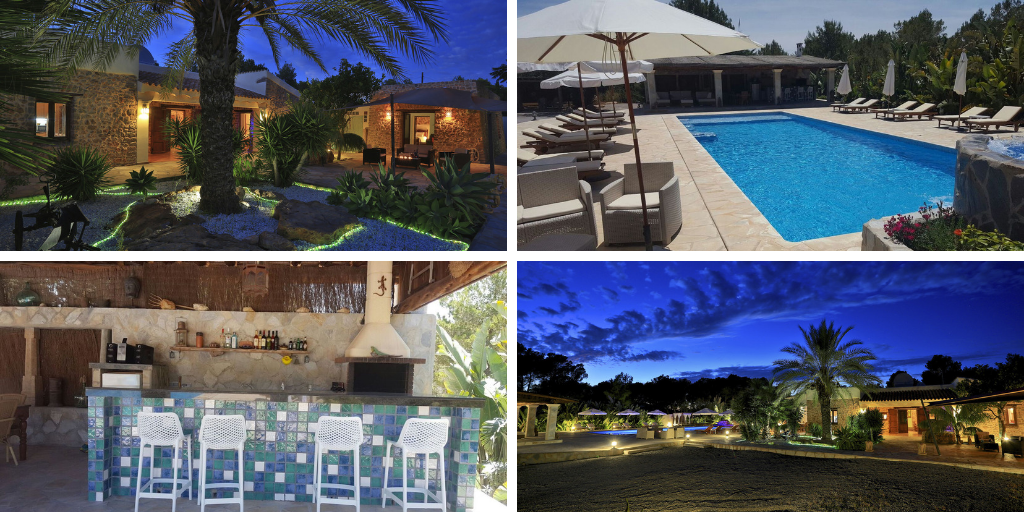 For our full collection of Ibiza villas discover www.dreamvillasibiza.com