Easter Villas in Barbados 2022
Easter Villas in Barbados 2022
Easter in Barbados is one of the loveliest times. A lot of families come to Barbados at Easter and there is a relaxed, busy ambience.
Easter villas in Barbados 2022 are filling fast but we have an extensive selection to suit all requirements and budgets.
Here is a small selection of our Easter villas in Barbados 2022. Availability is constantly changing so contact us to check up to date availability for Easter Villas in Barbados 2022.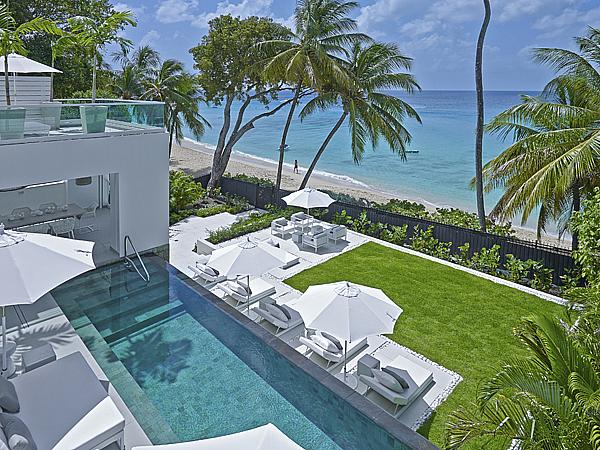 Footprints is a contemporary 5 bedroom villa in a wonderful location. It is finished with Kelly Hoppen designer interiors. Footprints has its own stunning pool with sea and sunset views. It is fully staffed and ideally located.
Footprints has a striking contemporary style that takes full advantage of its prime location. Located on the beach on the west coast of Barbados there are few villas in a better location. It is within a few minutes drive from all the amenities of Holetown. Footprints is also just a short walk from the famous Lone Star restaurant and hotel.
Footprints is predominantly white with driftwood finishes. It has been furnished in grey and brown taupes. These colours so create a calm, relaxing sanctuary. They are in contrast with the vibrant blue of the ocean below.
All bedrooms have en suite bathrooms.
The spacious master bedroom suite spans an impressive 1,300 sq. ft. It enjoys amazing sea views due to its elevated position. It also has an "Outdoor" bath tub. This is tucked discreetly away on a terrace. There is also a huge shower room with stunning finishes.
The house has all the latest technology you would expect. There is Lutron lighting and Sonos music system throughout. It is also IPad accessible. The media room is completely air conditioned and a welcome escape from time to time.
For the fitness conscious the house comes with a fully equipped gym facility.
Outside, the shimmering infinity edge pool softly blends into the striking blue Caribbean Sea.
A meandering path through a verdant tropical garden leads to the white sandy beach.
If you like walking there are good beach walks south and north of the property. The beach is one of the most beautiful on the wes coast. Lone Star and Fairmont Royal Pavilion are within a short walk along the beach from Footprints.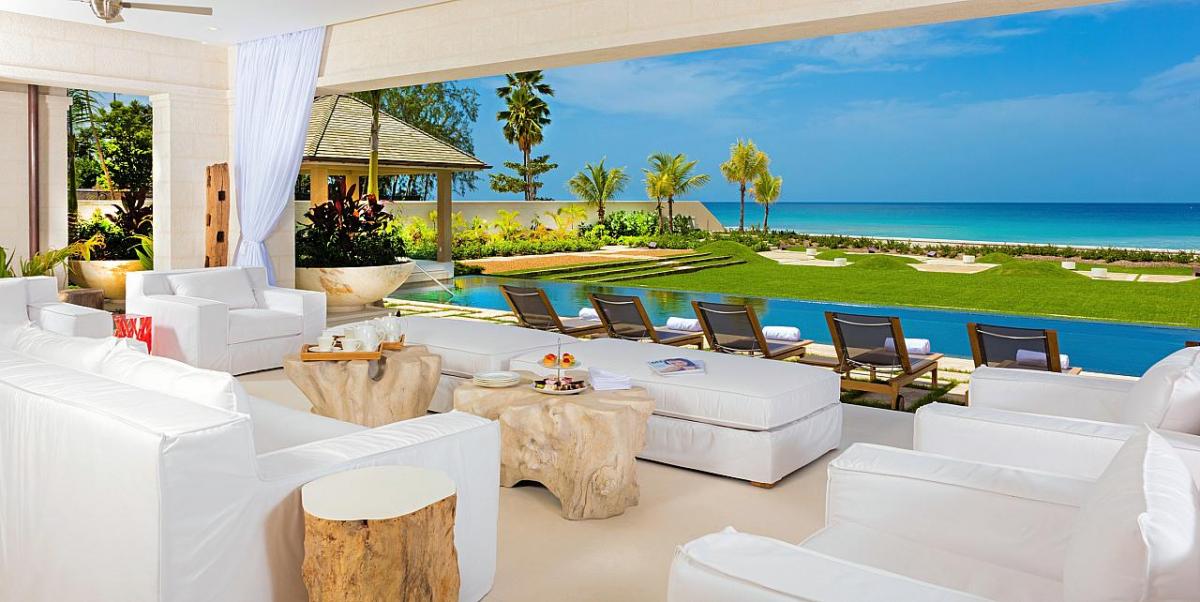 Godings Beach House is striking and stylish in a beachfront position. The style is contemporary and it has been beautifully designed and furnished. It has a lovely private swimming pool. The house is rented with a full complement of staff including butler, cook, housekeeping and laundress
Godings Beach House sits directly beside the beautiful golden sands of Godings Bay. It is located on the island's much sought after West coast.
You will enter this expansive 5 bedroom, home from home, through its colonial gates and tranquil tropical gardens. Your first view beyond the immaculate open living space is to the breathtaking blue of the Caribbean sea and the crystal clear waves gently caressing the shoreline.
Godings Beach House has been beautifully decorated and there are vases overflowing with white roses all over the living areas.

The ground floor is bright and open plan throughout. There are huge windows which foster a calming sense of being at one with your natural surroundings.
A large and comfortable living room enjoys a cooling breeze and captivating views of the sea.
In this wonderful home with a team of staff who are there to make you holiday a dream come true you may find you never want to leave!
LA LUNE
La Lune is a dreamy, romantic villa just a few steps from one of the best beaches on the west coast of Barbados. Sit back and relax and your cook/housekeeper will look after your needs.
La Lune is a 2 bedroom, 2 bathroom home. It has recently been renovated and it sits on the beautiful Gibbes Beach on the west coast of Barbados. Gibbes is one of the most beautiful, quiet sandy beaches in Barbados.
La Lune is nestled among several mature trees and lush vegetation. It sits on a 3/4 acre plot. La Lune has stunning views of the tranquil, glistening Caribbean sea.
La Lune has a sprawling 200' deck area. From here you will enjoy uninterrupted views of world famous Gibbes Beach and the Caribbean Sea.
The covered terrace is perfect for casual dining or just relaxing with a favourite book.
The twelve foot wide glass entry doors slide open seamlessly inviting the outside in.
The living room is an open plan area with a huge linen sofa and antique Barbadian chairs.
This property is the epitome of barefoot luxury. With drink in your hand and toes in the sand it is in the ideal location. Just sit back, relax and enjoy a hassle free holiday.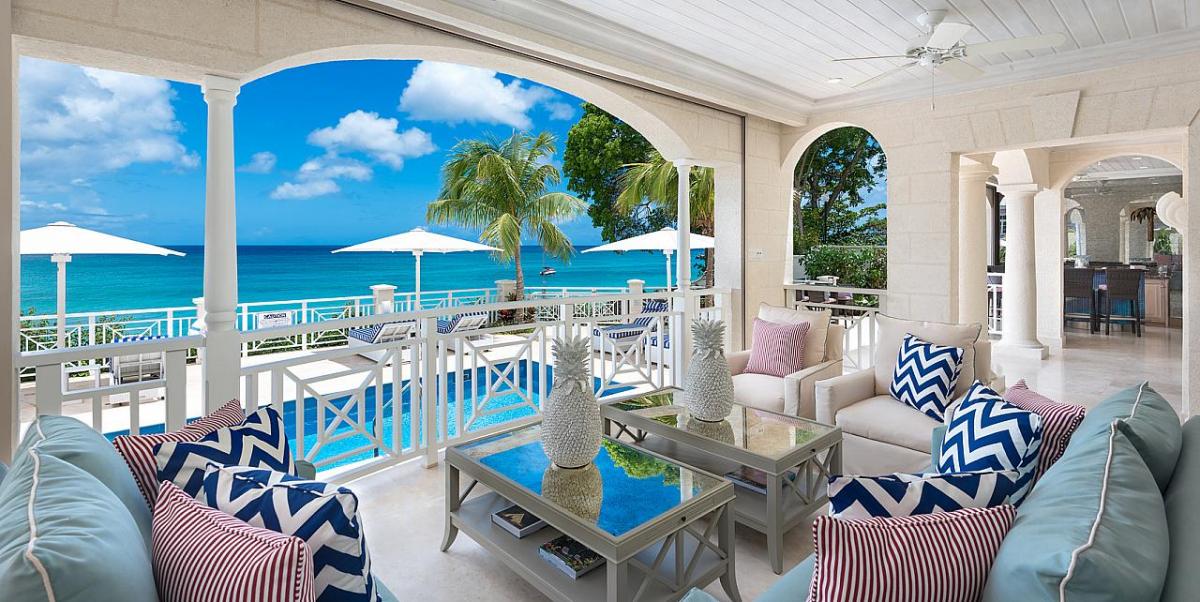 Blue Lagoon is one of newest and most prestigious beachfront holiday villas for rent in Barbados. It boasts a prime west coast location in the exclusive Garden Area. This is often referred to colloquially as 'Millionaire's Row'. After undergoing a complete re-build the villa now offers approximately 12,000 square feet of space. It is rented with the services of a chef, housekeeper and laundress. It also offers a gym, spa, cinema room and games room.
The accommodation offers 5 bedrooms overall. There are 4 ocean view bedroom suites in the main part of the villa. There is also a separate cottage with 1 bedroom plus staff quarters (possible 6th bedroom on request an extra cost).
This stunning villa has been delightfully furnished in a contemporary style throughout.
Blue Lagoon offers touch-based control throughout. There is also a Sonos sound system, air-conditioned gym and spa. There is also a theatre and games room with billiards/pool table. For those who need it, there is an office.
The villa layout provides extensive indoor-outdoor living areas. These look out on to the beautiful Caribbean sea right in front of the villa. There is formal or casual dining on the covered terrace which can seat up to 10 guests.
This is a small selection of our Easter Villas in Barbados 2022. Availability is changing daily so speal to one of our specialist villa agents to find a villa to suit your needs.
Contact us today for Easter Villas in Barbados 2022
For properties for sale in Barbados visit barbadosdreamproperties.com
For long term rentals in Barbados visit longtermrentalsbarbados.com