Croatia villa holidays- don't miss Magnificent Croatia for Summer 2020 !
Croatia villa holidays are really very special. Croatia is renowned for its magnificent Adriatic coastline. The sea is the most stunning blue-green colouring with crystal clear waters. The views from every angle are quite breathtaking. Croatia sits against the backdrop of green hills, mountains and forests.
Enjoy mesmerising vistas of picturesque islands encircled by pretty harbours. There are historic villages and towns. The constant sight of a range of sailing boats in all shapes and sizes gives a wonderful sense of peace and unspoilt beauty.
From Istria in the north down to Dubrovnik in the south, you will find so much to do and see throughout this beautiful country. There is something for everyone. From active sports and outdoor pursuits to gentle sailing along the coastline. There are tranquil coves and pretty beaches for relaxing and swimming.
Croatia is a wonderful place and Croatia villa holidays provide a wonderful way in which to see Croatia.
Brac Island is a very peaceful, natural retreat. It is perfect for people looking for a quieter holiday. Lots of beautiful countryside, green hills and always lovely sea views. There are charming peaceful villages with narrow little streets and quaint shops and restaurants. There are historical areas, churches and a couple of wineries. Croatian wines are amazing. Brac is also famous for its olive oil.
Highlights also include the little harbour town of Bol and the horn shaped sand beach of Zlatni Rat. This is surrounded by a lovely wooded area and park. There are so many activities to enjoy. These range from hiking, walking, cycling and quad bikes. There is also wine tasting. The beaches are beautiful and you can enjoy watersports like sailing and wind surfing. There are villages, churches, monasteries and historical sites. If you choose Croatia villa holidays your days will be filled with wonderful things to see and do!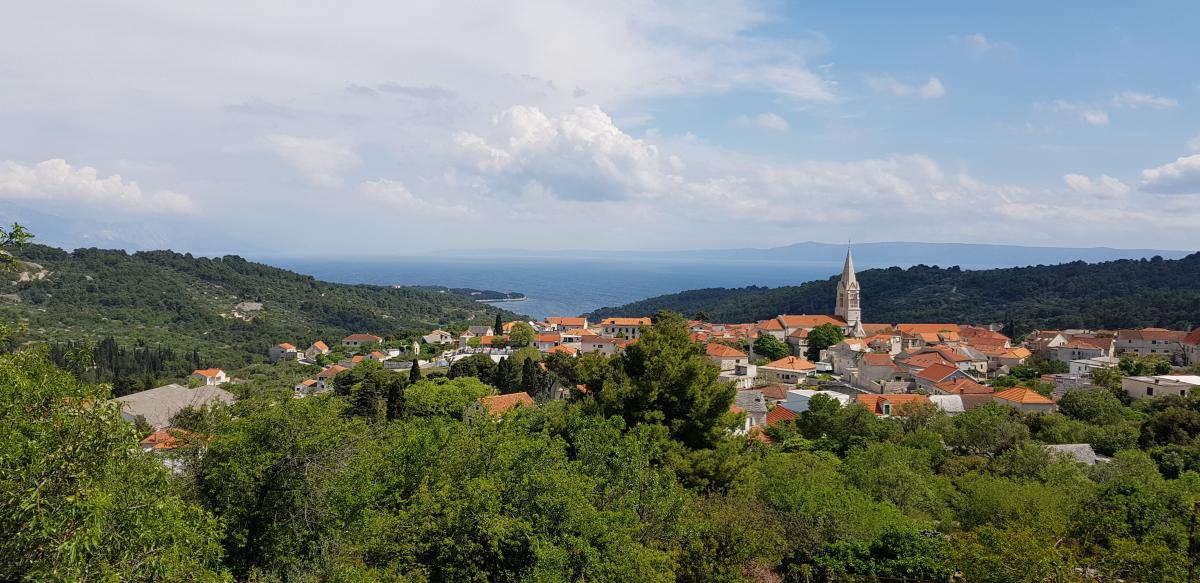 Getting to Brac Island couldn't be easier. Flying from London Gatwick into Split on Easyjet/BA/Jet2 takes just 2 ½ hours. The airport at Split is quite small but modern and efficient. There are plenty of taxis outside which are all regulated. You should however agree a price before taking them. It is a short 10 minute drive to the ferry port. From here you can take ferries to Brac (and the other different islands). You can pre-book on this link either with your hire car or as a foot passenger: https://www.jadrolinija.hr/en/ferry-croatia
Our top villa pick on Brac Island is Akuna. This is a fabulous modern style villa. It is built on 3 levels in stone, marble and with amazing wood and glass accents.
The kitchen is a chef's, state-of-the-art dream. It is open plan with the living and indoor dining area. There is also a games room and small gym as well as a steam room area.
The main living area leads out to the terrace with a small pool. The terrace is set up for outdoor dining. It has the most peaceful, gorgeous views of the sea and natural surroundings.
The 5 bedrooms are located on the 2 upper floors of the house and have incredible bathrooms. This house is unique for Brac Island and completely new and pristine. Relax in its gorgeous surroundings. If you fancy a day out book the skipper to take you exploring in the owner's boat for island hopping and sublime lunches.
Airport transfers from Split by private boat are also highly recommended. It is a fantastic way to arrive. Just step directly from your boat onto the plateau leading up to the villa.
Hvar Island
Hvar Island is known as the "party island" of Dalmatia. It is another beautiful, picturesque Croatian island, very much on the sailing itinerary and with a focus on long sunshine days of fun and celebration. Hvar Town is the focus with its nightlife, bars and restaurants (ranging from pizzas to the very best Dalmatian cuisine), the marina, St. Stephen's Square, baroque Hvar cathedral, 15th-century Franciscan monastery and other historical sites ; beautiful, charming narrow cobbled streets with Venetian style architecture, little shops and cafes, patisseries, museums and boat trips.
Day trips to the Pakleni Islands is a recommendation – a small archipelago with pretty bays for snorkelling and swimming, forest terrain for nature walks, pebbly beaches, a marina and a selection of restaurants in a boho chic retreat atmosphere. We recommend this fabulous, unique family run spot for lunch : Palmizana Menghello with the emphasis on dining surrounded by art and nature – opened by the Menghello family in 1906.
Do hire a car and drive through the countryside, the lavender fields, visit picturesque towns such as Stari Grad and Jelsa as well as beautiful beaches (mostly pebbly), such as Pokonji Dol and Bonj (with its Beach Club). You can also reach Hvar easily on the ferries from Split.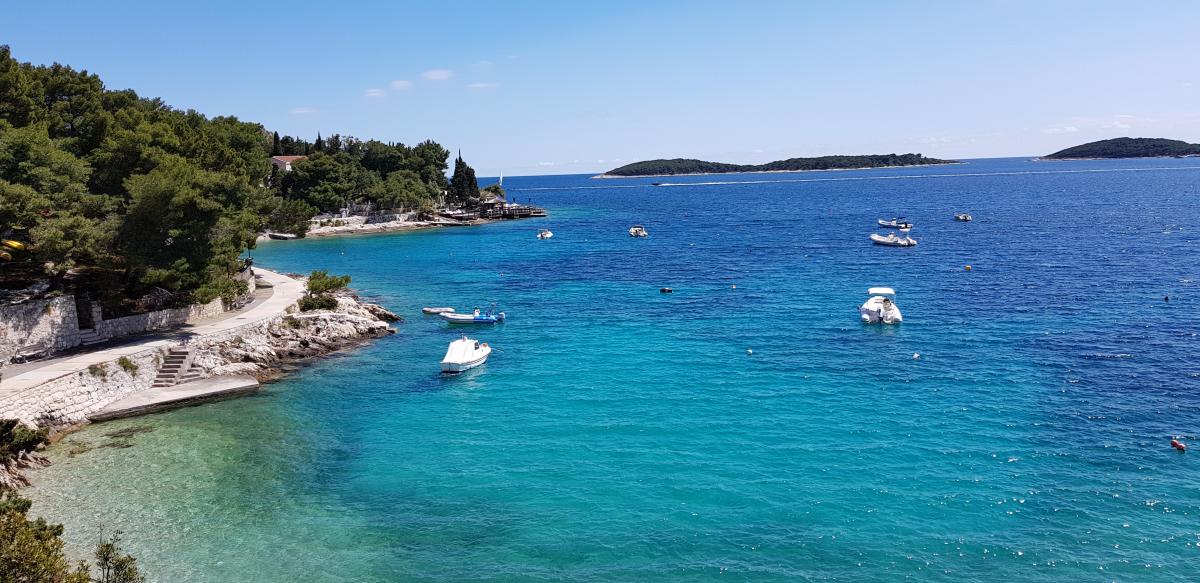 Our top villa recommendation on Hvar for groups of families and friends to enjoy the best of Hvar and its attractions is Rosmarinus – with 7 bedrooms all located on 3 different levels with lots of terraces, private chilling areas and a fabulous swimming pool area and gardens perfect for gatherings with its outdoor dining table for 14 guests. The bedrooms, all with private en-suite bathrooms are chic and comfy, air-conditioned and have terraces and small lounge areas. Rosmarinus is perfectly positioned in a quiet residential area but an easy 15 minute stroll to Hvar Town along a pretty pathway next to the sea with a couple of beach clubs along the way.
View from Rosmarinus top floor to marina where the owner's boat awaits for your private hire :
Dubrovnik
The closer you get to Dubrovnik, the more beautiful, dramatic and scenic the coastline becomes, it's quite extraordinary. Winding roads hugging the coastline offering stunning views from every aspect. Croatians are very proud of their history and heritage and are exceptional in the way they preserve their old towns. Dubrovnik Old Town is the most fantastic example of this and is magnificent. One of the best ways to appreciate it is by walking around on top of the city wall – amazing views of the city, sea and coastline. The town is literally filled with historical buildings, churches, museums, lovely shops, bars, cafes and restaurants and an incredible atmosphere. Just within the city walls you will find the Michelin star restaurant www.360dubrovnik.com – the only Michelin star establishment. There is an abundance of other dining choices from bistro style to 5 star experiences.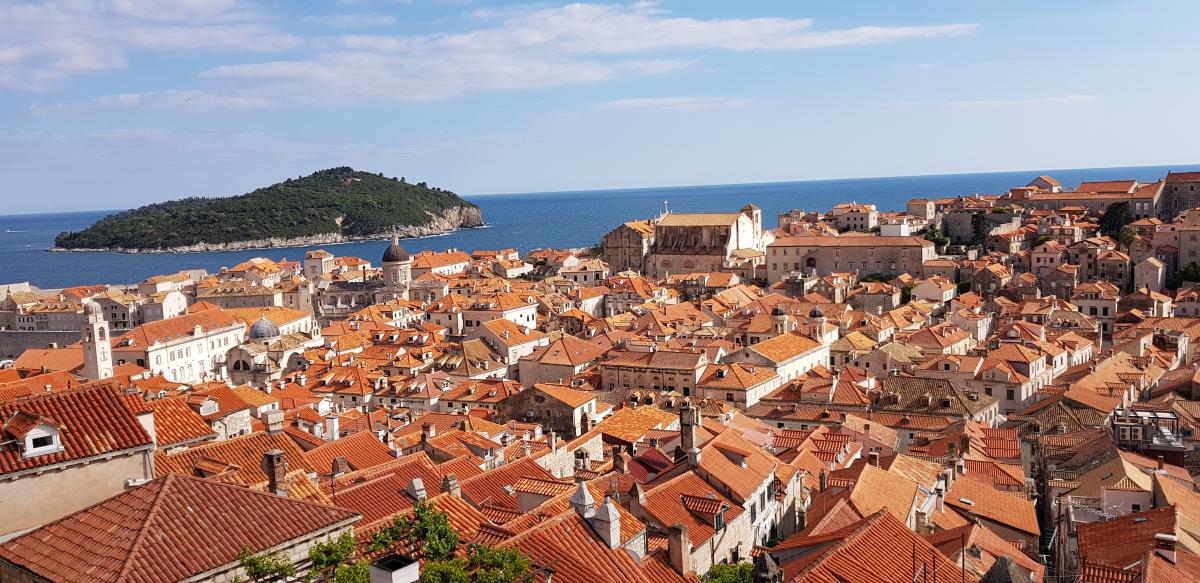 Either on the outskirts of the town or within 15 minutes' drive, we offer a fabulous selection of villas including Bellavista, Casa del Mare, Pugliesi, Toni and Amelie. These are all beautiful, luxury 5 star residences with exceptional views of the sea and coastline. If you prefer to be within walking distance to Dubrovnik Old Town, there are options including Revelin located opposite the eastern gate to the city.
Casa del Mare terrace with stunning views :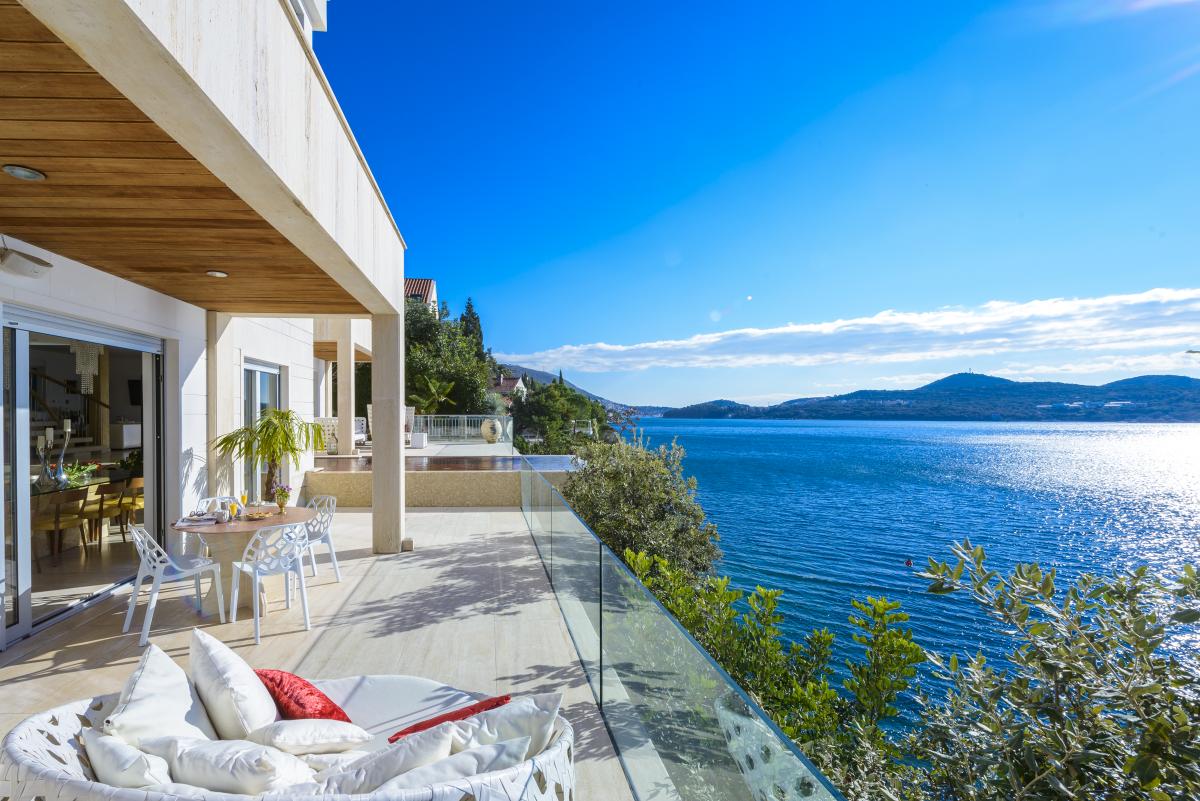 Elegant Bellavista with magnificent gardens and views to Dubrovnik Old Town :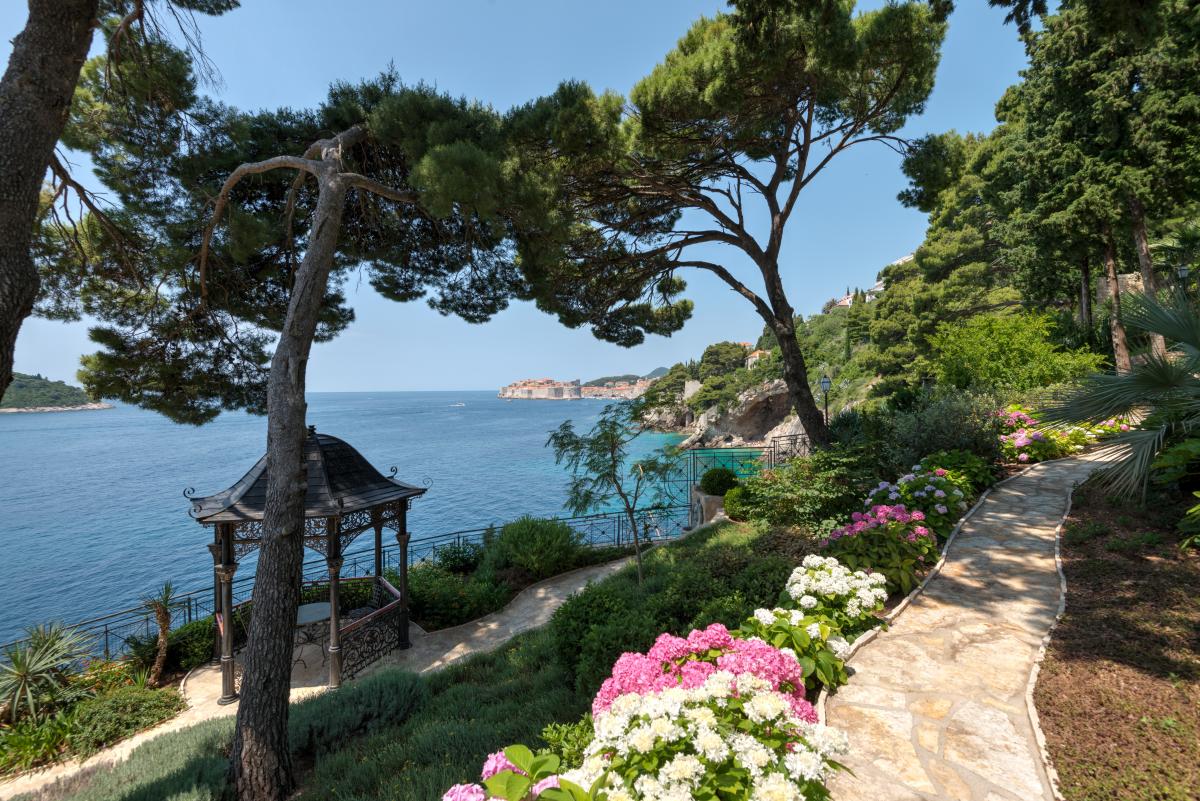 Charming Revelin - for Dubrovnik Town living :
Luxury contemporary living at Amelie: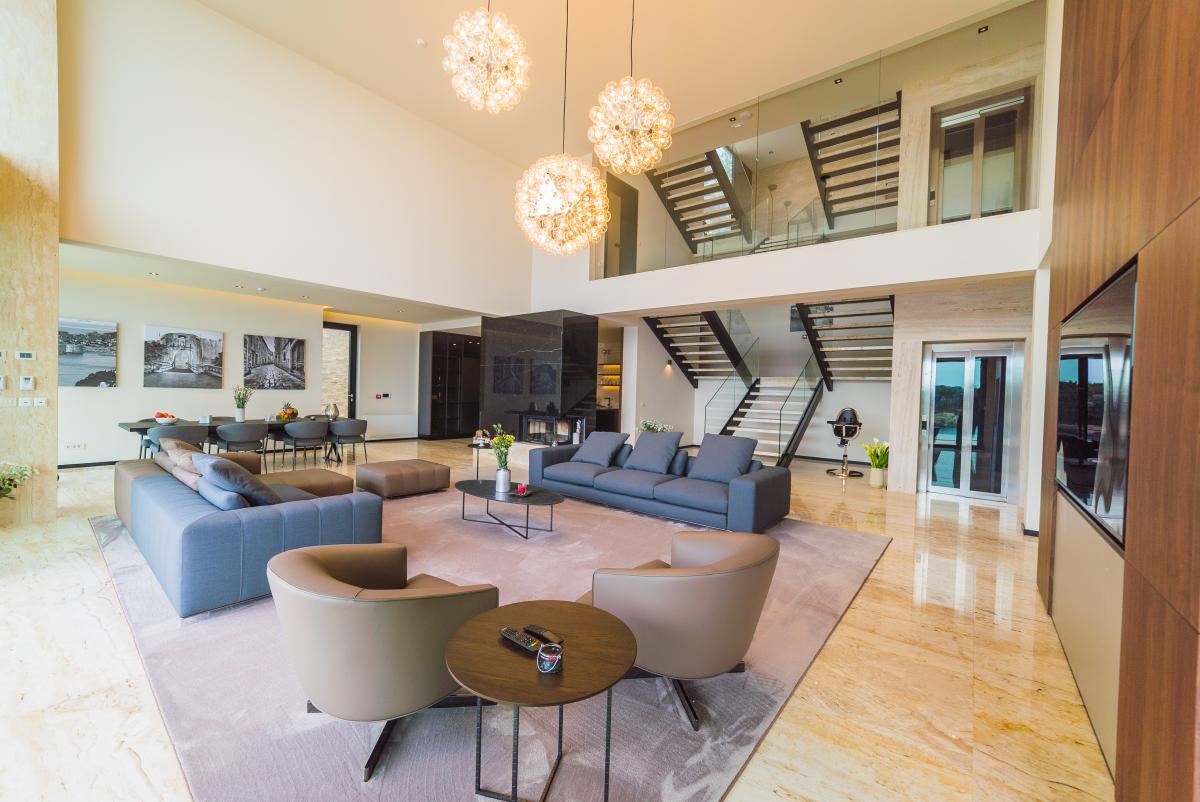 Gorgeous pool and sundeck at Villa Toni :
Villas are a popular way to enjoy the best of Croatia and tend to be booked early, so do contact us soon to book your unforgettable Croatia experience for summer 2020 !