Barbados villas on the beach
Barbados villas on the beach generally come with a hefty price tag but is you are looking for Barbados villas on the beach look no further.
We have a huge selection of Barbados villas on the beach and our website Barbadosbeachhouses.com is dedicated to Barbados villas on the beach
Here are some of our favourite Barbados villas on the beach.
St Helena is a beautiful 5 bedroom villa. It has a stunning beachfront location on the calm clear waters of the west coast. It is also close to the historic Holetown. There are plenty of fine dining restaurants, beach bars and shopping opportunities just a stone's throw away.
St Helena has a charming 3 bedroom cottage in the grounds. This was recenty refurbished and is beautifully decorated with modern en suite bathrooms and air-conditioning.
St Helena and its cottage can accommodate up to 16 guests. It may, however be rented on a 5 to 8 bedroom basis (price adjusted accordingly).
It comes with butler, cook, 2 maids and a laundress who will look after your every need.
There are few beach front villas in a better location and grounds than St Helena.
If you are looking for Barbados villas on the beach and you are interested in St Helena contact us today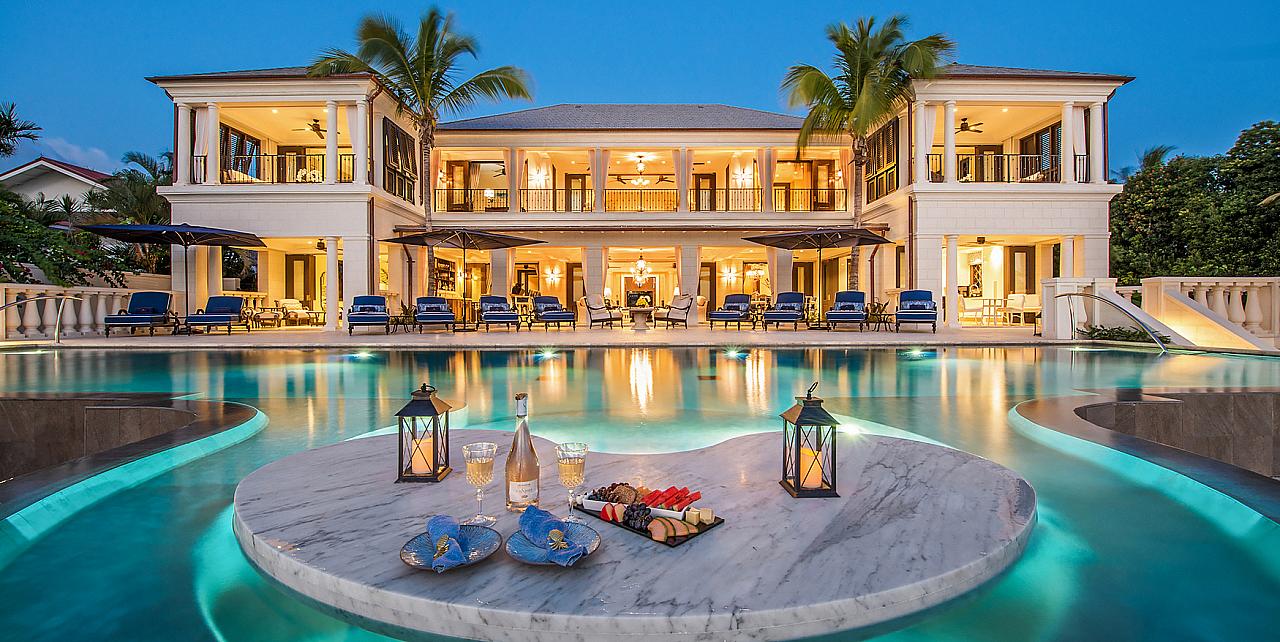 Seaclusion is one of the most outstanding beachfront villas in Barbados. It is located on the west coast. This 6 bedroom villa is set in an acre of tropical gardens. It is perched on a bluff overlooking the Caribbean Sea.
This extraordinary home features unparalleled sea views from all living areas. It also enjoys sea views from 5 of the 6 bedrooms.
The property has recently been completed and furnished. It has been stylishly interior designed. Its classical, elegant interiors provide an ambiance of calm. It is the perfect place to relax. There is even a grand piano at this beautiful home.
The lovely cocktail bar is a wonderful spot to enjoy cocktails. It overlooks the sea and the fabulous Caribbean sunsets.
There are substantial living and reception areas. Seaclusion also has a media room and formal dining room. It has a state of the art fully equipped kitchen. There is also a fitness room.
The main house has two guest bedrooms on the lower level. A stunning spiral staircase leads to the three master suites upstairs. All three master suites have private terraces. They all have walk in wardrobes. Each room enjoys mesmerizing sea views.
There is a further bedroom above the garage. This may suit staff or teenage children of visiting guests.
The set up at Seaclusion is perfect for outdoor living. It is ideal for those wishing to entertain.
The impeccable grounds include magnificent zen gardens. There are also koi fish ponds. There is private access to a secluded beach. This is via a beautiful rustic track leading to the sea.
Seaclusion comes fully staffed. It is rented with butler, chef, housekeeper and laundress. There is also around the clock security, property management and concierge.
If you are looking for Barbados villas on the beach and you are interested in Seaclusion contact us today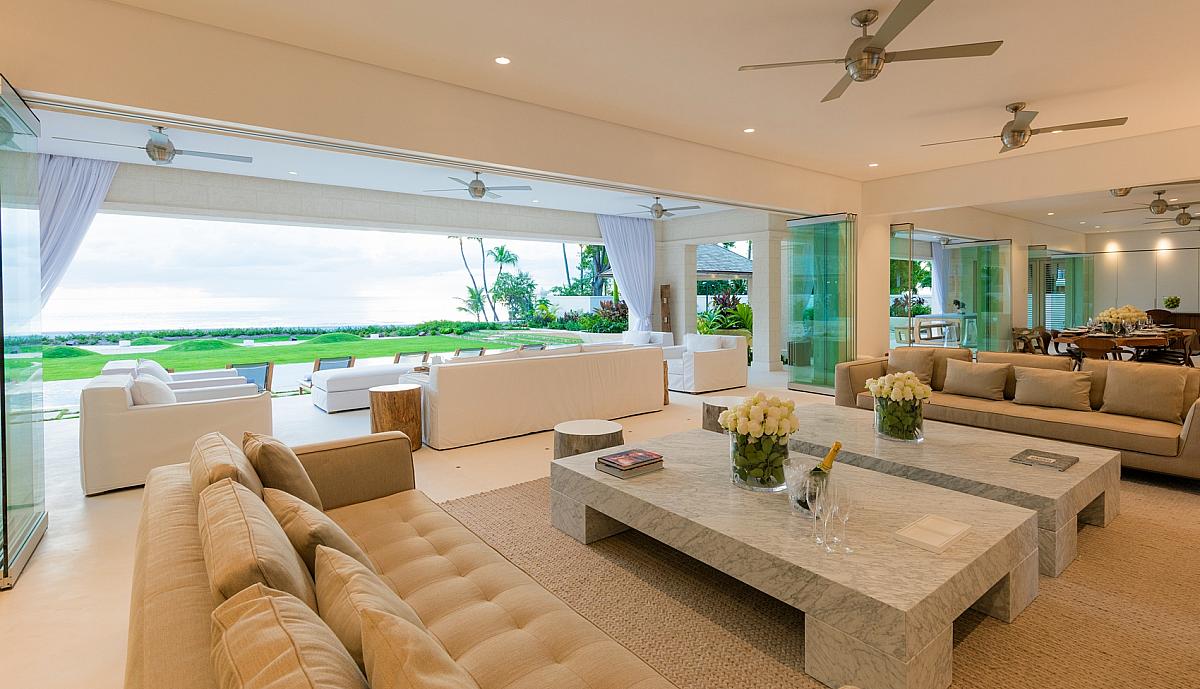 Striking and stylish, Godings Beach House is located on the west coast.
This newly built, ultra exclusive beach house boasts all the facilities you would expect from a rental villa of its calibre. It sits directly beside the beautiful golden sands of Godings Bay.
You will enter Godings Beach House through its colonial gates. It sits in tranquil tropical gardens. Your first view beyond the immaculate open living space is to the breathtaking Caribbean Sea. It really does take your breath away. Contemporary glass vases artfully overflow with decorative, white roses.
The ground floor of Godings Beach House is bright and open plan throughout. Its huge windows foster a calming sense of being at one with your natural surroundings.
A large and comfortable living area enjoys a cooling breeze and captivating views of the sea. To the north of the ground floor an imposing oak table provides ample space for dining. A modern "Boffi" kitchen allows guests, or their butler to prepare drinks and snacks.
The main commercial kitchen of Godings Beach House (yes there are two beautiful kitchens!) allows the cook to create delicious gourmet meals out of sight.
For less formal occasions two ambient open air seating areas offer a perfect setting in which to dine beneath the sultry evening sky.
Running parallel to the living room is a 25 metre long pool. This is enclosed by a limestone deck. Comfortable sun loungers provide a perfect space to relax. The pool is ideal for laps or just for cooling off. At each end of the pool are pavilions which can be used for a number of activities. These include yoga, massages and al fresco dining.

Also on the ground floor is a unique, air conditioned office. It has glass walls and views over the extensive pool and lush gardens to the glistening sea beyond. Beside the office you will find a cinema. There is also a fitness room featuring a full range of state of the art equipment.
Grand staircases stand at either end of the beach house and are dressed by chandeliers.
On the first floor are five good sized double bedrooms some of which have four poster beds. All the bedrooms showcase stunning views of the sea.
The villa itself is perched above the beach. The beach is accessed via secure keypad gates.
When rented the rate for Godings Beach House includes a full complement of staff. This includes a butler, cook, housekeeping and laundress. There is also night time security from 7 pm to 7 am .
If you are looking for Barbados villas on the beach and are interested in Godings Beach House contact us today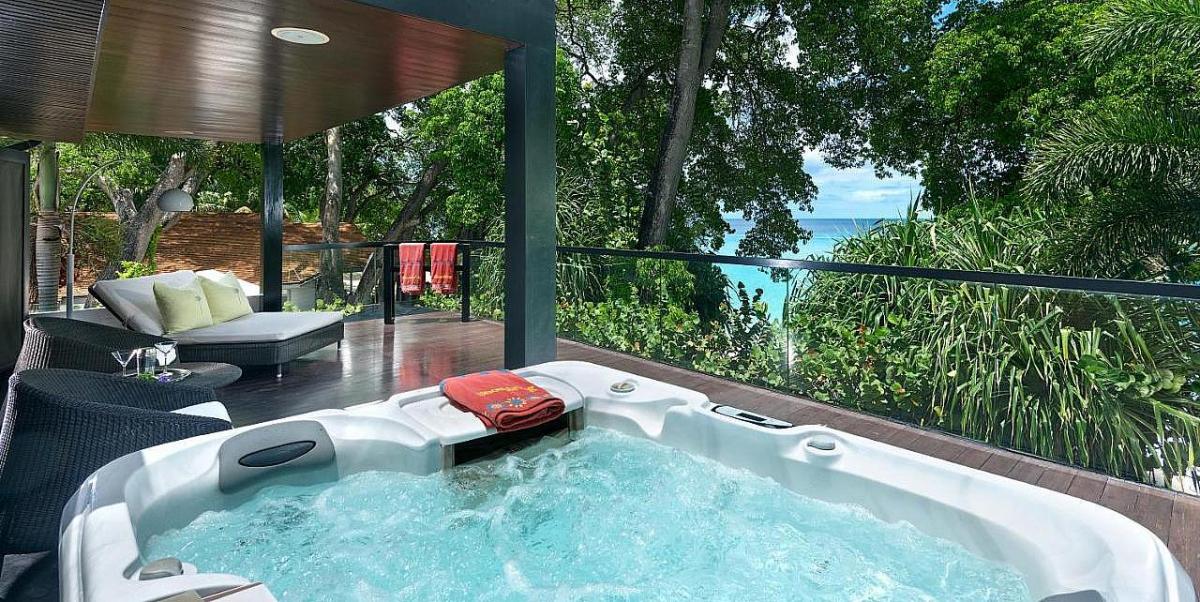 Shoestring is a lovely 3 bedroom home located on Gibbes Beach, Barbados. Gibbes Beach is one of the most beautiful, quiet beaches on the west coast of Barbados.
Shoestring is one of the newest additions to the villa rental market in Barbados.
Set right on the beach against a backdrop of tall trees this is a wonderful beach front home. It is designed in simple, contemporary style. There are large living areas and louvre windows with glass doors. From here there are extensive views of of the turquoise waters in front of the house.
The beach and swimming outside the house is second to none.
The design in Shoestring is minimalistic with smooth granite finishes. There is plenty of glass and straight lines.
The ambience is one of peace and tranquility. A quiet haven on a stunning golden beach.
The master bedroom suite is on the upper level. The master suite is built around a large glass shower enclosure. It has an unrivalled view of the sea. The sea is so close you feel you could reach out and touch the turquoise waters. There is an outdoor terrace from the bedroom with jacuzzi where you can relax glass in hand under the stars. The outdoor terrace is a relaxing, calming place to sit and enjoy the views with the sound of the sea ebbing and flowing below.
The other two bedrooms are on the lower level. Both have en suite bathrooms. One has a cool bath tub as well as shower. There is a garden view.
All bedrooms have king sized beds and air-conditioning and ceiling fans. The bed in one of the bedrooms can be converted into twins.
The design is open plan. The kitchen and living areas are open plan and let in an abundance of light. The modern kitchen is well equipped and has a central island.
The space is clean, modern and ucluttered. Furnished in neutral, calming colours.
Shoestring is rented with attentive staff. These comprise a cook/housekeeper and a laundress. Their aim is to ensure you have a most enjoyable stay. They will create delicious meals and keep the home spic and span.

Gibbes beach is well positioned between Holetown and Speightstown. The beach at Gibbes is one of the finest on the west coast with fabulous swimming. The beach gently slopes into the clear azur waters. It is an ideal location for guests of any age.
If you are looking for Barbados villas on the beach and are interested in Shoestring contact us today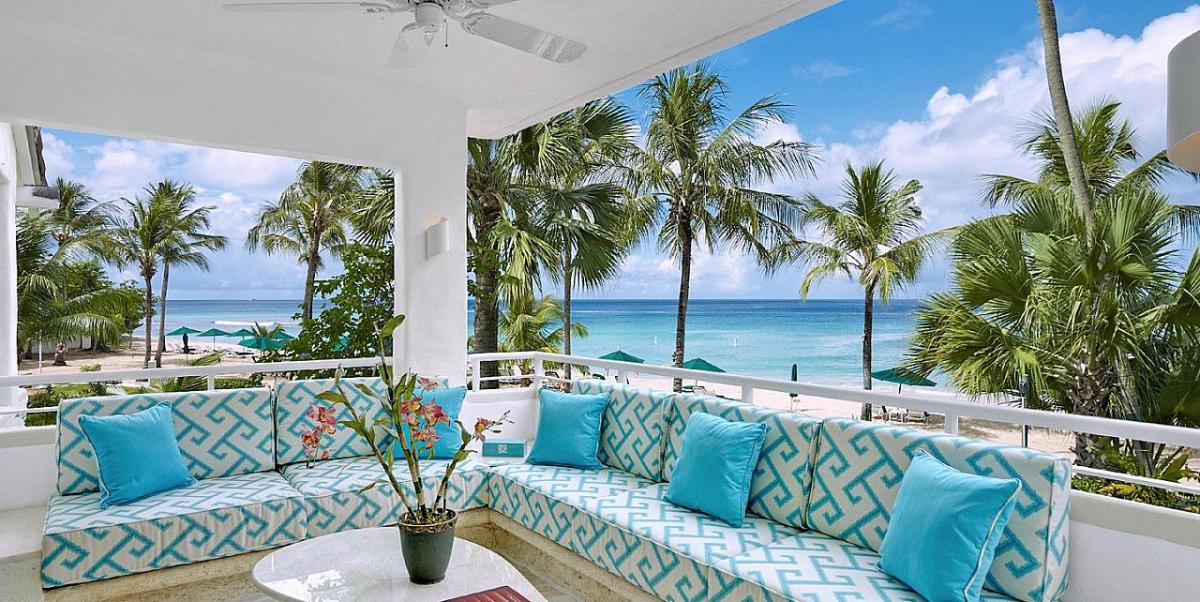 Glitter Bay Eternity is a 2 bedroom luxury apartment. It is located in the much sought after Glitter Bay resort.
Known as 'Eternity' Glitter Bay 201 is located on the first floor of the Alamanda block.
Glitter Bay Eternity has an excellent view from the dining and bedroom balcony. It looks out onto the sandy beach and Caribbean sea.
During low season (summer) it may be rented as a one bedroom suite (kitchen, sitting room & dining terrace)

Amenities include:
• Air-conditioned bedrooms
• Beachfront
• Cable TV
• CD player
• Ceiling fans
• DVD player
• Hair Dryer
• Safe
Estate Facilities include:
• Daily Concierge (8am- 5pm)
• Complimentary beach and pool loungers, umbrellas and towels
• Daily beach attendant
• 24 hour manned gate secruity
• Floodlit Tennis Courts
• Large freshwater swimming pool
• Large freshwater wading pool
• Childrens play area
• Free wireless ADSL from concierge and bar areas
The Glitter Bay development is located on one of the most beautiful beaches on the west coast of Barbados. It is less than 10 minutes drive from Holetown. There are many amenities in Holetown including the Lime Grove shopping centre, a supermarket and cinemas.
If you are looking for Barbados villas on the beach and are interested in Glitter Bay 201 Eternity contact us today
Part of the charming Little Good Harbour Hotel located in the peaceful village of Shermans in the Parish of St. Lucy, Barbados. This delightful 3-bedroom villa is set apart on the water's edge offering peace and privacy to couples and families.
Beautifully renovated and stylishly furnished throughout, Little Good Harbour House offers a private villa experience with a home from home ambience. Open plan living and dining areas and a lovely covered wooden deck surrounded by tropical gardens and an intimate plunge pool. Just a couple of steps on to the beach and always, uninterrupted views of the stunning Caribbean Sea.
Little Good Harbour House offers three, pretty, well-appointed bedrooms with delightful, comfortable furnishings. Each bedroom is air-conditioned and has its own private en-suite bathroom. The master bedroom opens on to the garden while one of the guest bedrooms opens to the pool terrace. For added security the property is completely enclosed and includes a gated entry.
Services include daily housekeeping as well as a cook for the three bedroom rental. The two bedroom rental service only includes a housekeeper, however, should you require a cook, we can source one for you.
Good Harbour Hotel and the renowned Fish Pot Restaurant are just a stone's throw away, while shopping, dining and other amenities are easily accessible in nearby Speightstown.
If you are looking for Barbados villas on the beach and are interested in Little Good Harbour House contact us today
This is just a small selevtion of our Barbados villas on the beach. To see all our Barbados villas on the beach visit barbadosbeachhouses.com
For properties for sale in Barbados visit Barbadosdreamproperties.com
For long term rentals in Barbados visit longtermrentalsbarbados.com