Antigua – The Caribbean Island with a beach for every day of the year
Rediscovering Antigua recently, was a real delight. Although well known for its crystal clear waters, beautiful beaches, most totally unspoilt and its idyllic climate, this Caribbean island has so much more.
Regular non-stop flights from the UK, North America and Europe, a broad range of accommodation, varied activities and the easy going lifestyle combined, makes Antigua a unique Caribbean holiday choice, it has something for everyone.
The relatively new VC Bird International airport, is such a welcomed improvement, albeit still a little slow passing through customs, but it is all worth the wait.
Antigua is only 14 miles long and 11 miles wide so you never feel too far away from anything, although when driving from point to point on the winding roads everything seems further away. Driving around the island is fine (avoiding the potholes) once you get your bearings as road signs are limited. Arriving at the airport for the first time, I would strongly recommend a taxi, thereafter you can explore at leisure and find your way around. Taxis have set fares, so no fear of being over charged.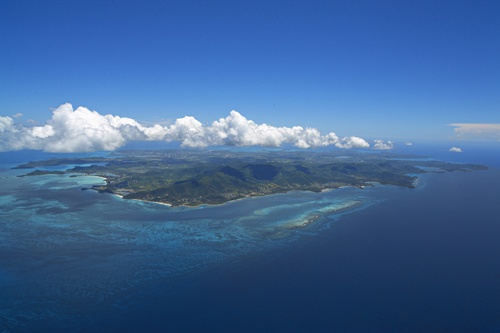 Dining out – whatever your preference or dietary needs, you will be taken good care of in Antigua. With the Italian influence are some super Italian restaurants such as Abracadabra Restaurant in English Harbour – fine dining options such as Sheers Rocks or Jacqui O's in St Mary's – Sousi Bar at South Point in Falmouth Harbour – Local cuisine – you must try Papa Zouk's amazing rum selection and the most delicious fish. Keep your eyes open too as you might be dining alongside an "A" listed Movie Star ( as I was !) or another fine restaurant would be Sheers Rocks – considered the best on the island.
What to do :
Take a fun jeep safari and visit the old sugar plantations/refineries such as Bettys Hope, stop off at Devils Bridge the place where, sadly, the slaves used to throw themselves into the sea, maybe take a trip around the village of Parham, once the islands capital where the same names are used now in the current capital of St John ie Downing Stree, Kent Street, Church Street etc, Nelson's Dock Yard named after Admiral Nelson himself. Break -up the tour with an island style, picnic lunch served at one of the local historic spots.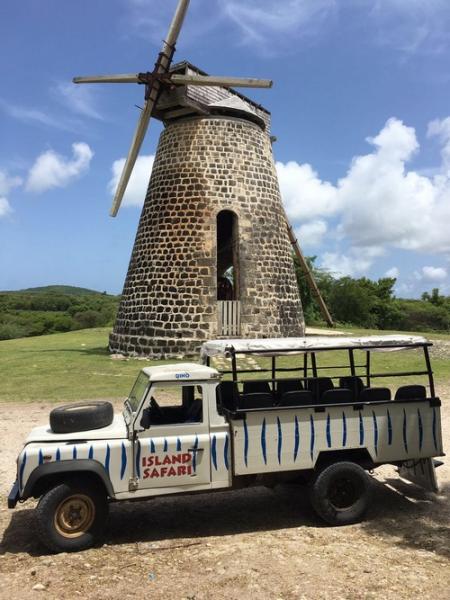 To finish of the day, combine with other activities such as Zip lining through the lush rain forest, try your hand at the shooting range, visit the Donkey Sanctuary, or take a swim with the Sting Rays. Sting Ray City was great fun, I was a little wary at first ( of course anyone wouldbe, thinking of Steve Urwin ) but everything is safe and very well organised with life jackets if required, briefing to run through the do's and don'ts, then off on the boat to a floating platform over a sand bank in the ocean. This is where the sting rays gather for dinner. They hear the boats , just like a dinner bell and they arrive in droves. The guides are very encouraging and helpful, wanting you to take full advantage of the experience – which I did ! The rays gently brush past your legs heading right for the guides who have the bucket of quid. I was brave enough to feed them, just hold the squid ( Yuk !) and they swim over your hand and suck up the food. If you get too close they can give you what's referred to as a "hickey " or "love bite" – explain that when you get home !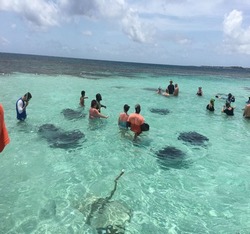 Barbuda the neighbouring island has actual pink sand beaches, 17 miles of unspoilt beaches considered to have the most desirable beaches in the world. Take a boat or fly over to check out the latest developements.
Barbuda is the smaller sister island, less than half the size of Antigua, very peaceful and inhabited by just over 100 people. Positioned approx. 30 miles North of Antigua covering only 62 square miles with Codrington as the main town area.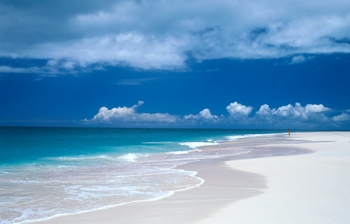 Sailing – Antigua has endless opportunities to enjoy the sea from speedboats, to catamarans or yachts, for day sails, sunset cruising or longer charters. Antigua attracts sailing enthusiasts from all over the world during the sailing weeks, racing weeks and regattas. The harbours, marinas, the fabulous breeze from the tradewinds provide the ideal setting for world class sailing events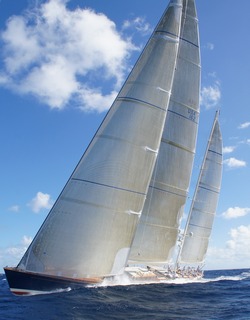 Carnival time - for a week or so end of July early August each year the island celebrates carnival - 2017 is the 60th year when locals and tourists alike , take part in the party atmosphere of steel pan bands , DJ's, street dancing all leading up to the presession finale through St John filling the streets with colour costumes and Soca rhythms
Accommodation : Antigua's selection of accommodation ranges from self-catering through to All Inclusive and from budget choices to the Ultimate luxury.
I had the pleasure of returning to the popular Blue Waters Hotel overlooking Soldiers Bay on the North Coast. A fun resort, with friendly staff who take good care of you – at lunch when the sun was at its hottest, they bring you a refreshing cold towel to the table – nice little touch and much needed too. The variety of accommodation at Blue Waters works for couples, friends travelling together, families or larger gatherings. For that little extra privacy/luxury try The Cove Suites that have a private pool shared between 9 suites. They are truly fabulous, even Royalty have enjoyed staying here on a recent trip.
Rock Cottage – stunning position on the bluff, totally private positioned slightly away from the main resort areas. Suited a certain US singer who I'm sure would have been dancing off the ceiling when he saw it.
Within the centre of the resort are Pelican Cottage ( 2 x3 beds can make a 6 bed villa) and Turtle Cottage ( 4 bedrooms) it is ideal to rent each cottage as a whole and then you can enjoy your own private pool. Perfect choice for a group or families who prefer their own pool yet need the resort amenities and services on hand. There is a children's club run in association with Worldwide Kids, creche and babysitting is also available
For those who want to keep their waistline in check whilst not missing out on the fabulous food served in one of the 4 restaurants Bartley's, The Cove, the Pam or on the beach at Carolyn's – the Living Retreats programme is ideal, available May to October at the moment. The programme offers different well-being activities each day from yoga, food advice or a mini circuit training session on the beach ( I tried this and it was hard work but felt great afterwards)
Follow this with a trip to the Spa for one of their sumptuous treatments using Elemis products
Non Such Bay – Located on the East coast of the island, more the Atlantic side and breezy. Freetown , the local town has a local store for basics, plus there is a small ( expensive convenience store on site for emergencies and basics) Family resort with various water-sport activities, kids club , beach area. In the summer months they do have a visit from the dreaded ( smelly) Sargassum seaweed, which the resort do their best to remove every day.
It is a developing resort currently offering 1 -3 bedroom cottages and on the hill top above the resort they have a collection of private villas each with a private pool. There is ongoing work which will create a new marina and 48 honeymoon suites.
Dining can be in your chosen accommodation prepared by yourself in the fully equipped kitchens provided, or a private chef service can be arranged at an extra charge. The onsite restaurant is cosy (could be a challenge to seat everyone, even in separate sittings if the resort was full and everyone wanted to dine) , with wonderful views over the bay and serves some delicious buffet options.
If water-sports/sailing are your thing, than Non Such Bay is for you. The on-site instructors are experienced and friendly and will have you handling a paddle board, a kayak or even a dinghy before you know it.
Visit one of Antigua's many uninhabited islands dotted around the coastline- for example just off Non Such Bay following an 8 minute boat ride across the bay is Green island. A stunning, peaceful spot, you are dropped off for a few hours with the all important stocked to bask on unspoilt soft sandy beach, swim or snorkel in calm, crystal clear waters ideal to explore the marine life.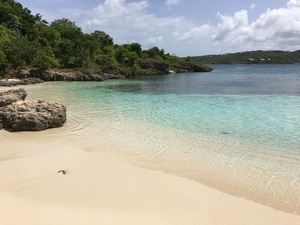 Jumby Bay Rosewood Resort - having visited this exclusive private island before, I am always "wowed" and can fully appreciate why the rich and famous choose to lose themselves on this 300 acre paradise island. No-one knows they are there and the staff are sworn to secrecy so will not divulge who their current guests are. Although I did spot one or two on my way around!
It is an 8 minute private boat ride to Jumby Bay, A Rosewood Resort from its own small dock on the Antigua mainland, located just a 10 min drive or less from the airport. I was greeted as all guests are at Jumby Bay dock with cold towels and a welcome drink of your choice.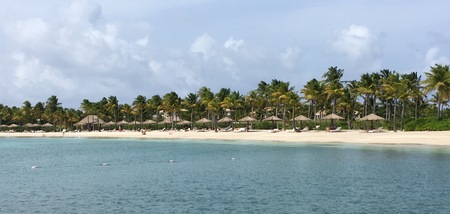 The accommodation range, as you would imagine is magnificent throughout this 5 star resort. There are 56 homes ( mixture of villas and the Estate Homes) on the island and 40 suites. From the suites to the villas some with their own plunge or private pool and beyond to the Estate Homes which private pools, some with tennis courts and more, these highlight the height of luxury and include butlers, chefs, housekeepers to take care of your every holiday request. Nothing is too much trouble, anything that can be done will be done for every guest, at this level of luxury and exclusivity is expected.
All food and drinks are included, guests are asked in advance about preferences and dietary requirements to ensure each guest has a wonderful holiday and leaves with the intention of returning.
Tamarind Hills – there is ongoing construction of the 2nd phase onto Freyers Beach , there are no facilities on site, no sun beds on the beach – so very much self-catering on your own experience– currently they have 4 x 3 bedrooms – 4 x 2 bedrooms which are the furthest away from any building activity. Then further along they have 3 ,4 and a 5 bedroom – Ocean 9 located right next to where the next villa is being built. When the wooden broad walk is completed this will connect the two beach areas together – the new Freyers Beach section will have the beach club and other facilities available to guests – estimated completion , I believe is 2 years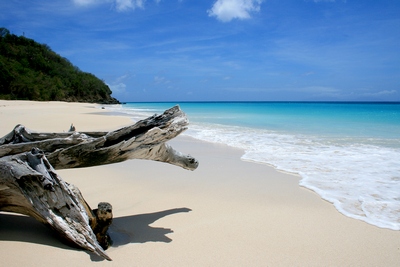 Private Villas – depending on the area you choose to be there are some really very nice private villas to choose from. Considering Antigua has all those beaches, there are very few where you can literally walk out from your garden/pool area on to sot white sands. Most are a short drive away, some beaches you can walk to, some have steps down to the water's edge or a small beach area but as many are often located on a hillside to take advantage of the views, it's not a great idea to walk down the hill, as it's a long way back up in the heat.
Galleon Beach – collection of private villas with the beach in front on the lower level and a ferry service that takes you around the bay to Nelsons Dockyard and English Harbour. For example Lime Hill
English Harbour /Falmouth Harbour – has Pigeon Point beach nearby, a delightful shaded cove - or example of a private villa nearby Villa St Anne's Point
South Point - 23 room boutique hotel in Falmouth Harbour – ideal for stopovers or a few days break – very chic, hip place for the boating community – They have a "Tie up" event for fun boat lovers who moor in Falmouth Harbour and come along to a fun event with DJ and champagne. They have an on-site Soushi chef and they serve the Finest food and drinks. All suites 1 bedroom, with full kitchen to self cater – some Suites can connect to create 2 bed they also have Penthouses - 2 bedrooms - full width living space with kitchen and terrace - fab views over the harbour. Twin and king - similar size each with walk in shower. Interior décor of the suites has a very Italian theme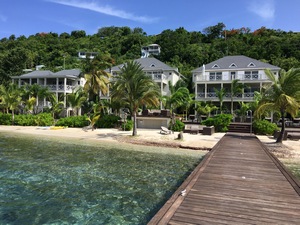 Five Islands – on the West Coast – Caribbean side - which is where Galley Bay Heights is located, again a short drive from St John – a gated community with about 20 villas – not all for rent – we have Villa Flowers and Villa Serena amongst others here. The nearest beach is either Galley Bay at the bottom of the hill, so still need a car, or Deep Bay a short drive away.

Jolly Harbour Area – quite a busy area with marina, hotels , townhouses and some villas - we offer Sul Oceano and Palm One here, both beachfront villas – there is also a complex of apartments called Sugar Ridge – not on the beach though, this has a lovely restaurant called Carmicheals. This resort would be ideal for those who prefer to be close to Jolly Harbour which is less than a 5 minute drive away. In addition to the main roos/suites in the resort, there are private villas located alongside the resort which have their own entrance, but guests have access to the resort facilities
A little further south is where Tamarind Hills is located – beaches such as Freyers Beach and Darkwood Beach – restaurants in this area – Denis' beach bar right on Freyers Beach – OJ's on Darkwood Beach and a little further away is Jackie O's

Willoughby Heights/Daniel Bay – Small villa community walking distance to Willoughby Bay beach area - take care of seaweed in summer

On to the South Coast - Curtain Bluff Hotel and Carlisle Bay Hotels - then further towards to the South East is English Harbour, Nelson's Dockyard, Falmouth Harbour – with various restaurants to choose from.
Not to forget Sunday evenings at Shirley Heights – the Sunday Night jump up with BBQ, steel pan ban and live music – not to be missed and the sunset views are amazing.is a "must do" – from within this old fortified look-out point, each Sunday evening as the sun sets over English Harbour, steels bands and reggae music fill the air – so dust off your dancing shoes ( high heels not recommended !)

I enjoyed sharing my thoughts and observations but Antigua has so much more, it is an island not to be missed. So when choosing your next Caribbean holiday Island, give me a call and I would love to share my experiences with you.
contact me at Linda@worldwidedreamvillas.com or call us on 0845 017 6707 from the UK or Int Tel No 44 1978 368531