6 bedroom villa rentals in Barbados
6 bedroom villa rentals in Barbados
There is a lot of demand for 6 bedroom villa rentals in Barbados . They are popular for large groups and for extended families, They are also popular when a couple of families want to stay together.
We have a good selection of t 6 bedroom villa rentals in Barbados. We also have 6 bedroom villa rentals in Barbados that are for sale. If you are looking to buy visit barbadosdreamproperties.com
Here are some of our 6 bedroom villa rentals in Barbados.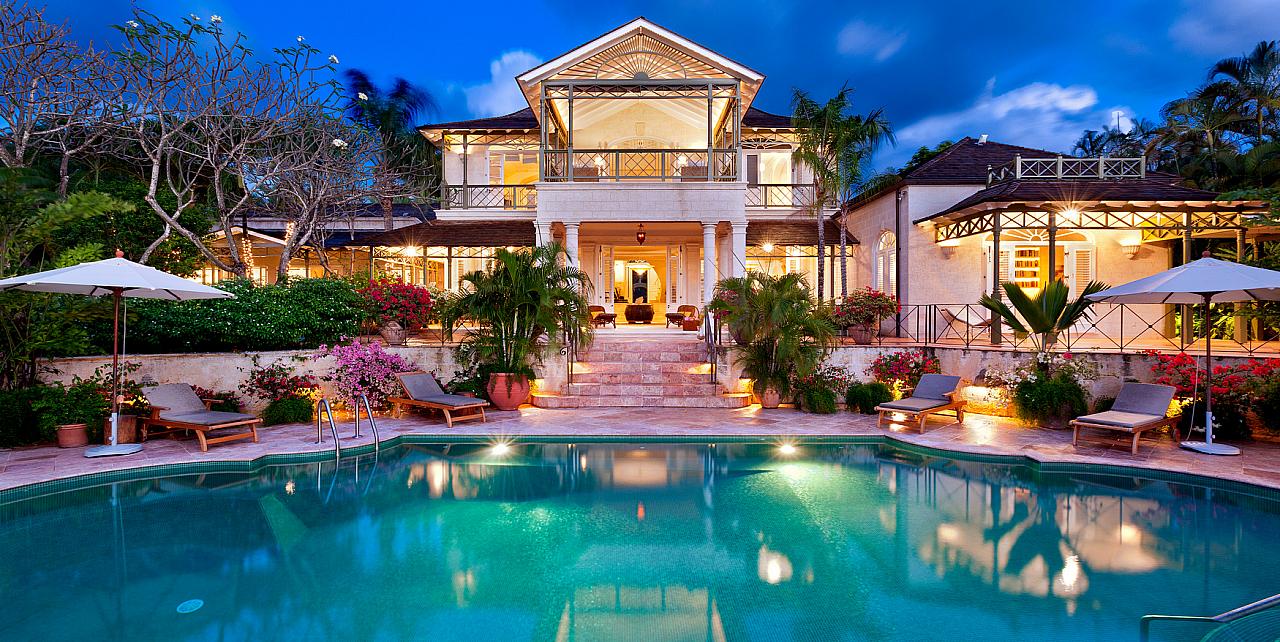 Gardenia is a stunning 6 bedroom villa. It is located on the West Coast of Barbados. Gardenia is less than 10-minutes drive from Holetown and Speightstown.
This villa has a true Caribbean feel with it's coral stone accents and trickling streams. It is set amongst lush gardens with amazing sea views, Gardenia is perfect for al fresco dining! You will be well looked after by the chef, butler, 2 housekeepers and maid. Gardenia has its own private pool and tennis court.
This luxurious villa is also located within minutes of golfing communities. Royal Westmoreland and Sandy Lane golf resorts are just a short drive away.
Gardenia offers the perfect mix of luxury, comfort and privacy.
The staff at the villa will take care of your every need. Fabulous meals will be served and all your laundry taken care of.
Gardenia's elevated position commands spectacular panoramic views. These stretch across the West Coast to the beautiful Caribbean Sea.
Designed for elegant outdoor living Gardenia features a wonderful swimming pool. It also has a large sundeck for sunbathing.
There are tennis courts and lily ponds at the property. A bridge that leads to a cantilevered deck overlooks a natural gully.
The open-plan layout of Gardenia provides a very calming and relaxing feel.
This expansive villa combines classical tastes and tropical themes. It is the ultimate vacation escape. Perfect for those seeking privacy, tranquility and unparallelled luxury!
If you are interested in 6 bedroom villa rentals in Barbados and would like more information about Gardenia contact us today
Seaclusion is one of the most outstanding beachfront villas in Barbados. It is located on the west coast. This 6 bedroom villa is set in an acre of tropical gardens. It is perched on a bluff overlooking the Caribbean Sea.
This extraordinary home features unparalleled sea views from all living areas. It also enjoys sea views from 5 of the 6 bedrooms.
The property has has been stylishly interior designed. Its classical, elegant interiors provide an ambiance of calm and relaxation. There is even a grand piano at this beautiful home.
The lovely cocktail bar is the perfect spot to enjoy cocktails. It overlooks the sea and the fabulous Caribbean sunsets.
There are substantial living and reception areas. Seaclusion also has a media room and formal dining room. It has a state of the art fully equipped kitchen. There is also a fitness room.
Seaclusion has an extensive terrace, This overlooks the turquoise waters of the Caribbean Sea. This area is perfect for entertaining. It incorporates the beautiful cocktail bar and an ocean front gazebo. The gazebo provides a wonderfully romantic setting. What better place to dine than under the stars overlooking the Caribbean Sea.
The unique infinity edge lap pool has a built in bar table and sunken seats. This is an ideal setting from which to enjoy Caribbean sundowners.
The impeccable grounds include magnificent zen gardens and koi fish ponds. There is private access to a secluded beach. This is via a beautiful rustic track leading to the sea.
Seaclusion comes fully staffed. It is rented with butler, chef, housekeeper and laundress. There is also around the clock security, property management and concierge.
If you are interested in 6 bedroom villa rentals in Barbados and would like more information about Seaclusion contact us today
Landfall is a luxury 6 bedroom villa located on the beach in the Sandy Lane estate.
It is in an ideal location with easy access to Holetown. Holetown has an array of amenities. These include restaurants, bars and shops. This idyllic villa has direct beach access. Just stroll down to the soft white sands and calm Caribbean waters. It is on the Sandy Lane Beach.
This very spacious villa is very well laid out.
Guests may enjoy romantic dining in the gazebo style dining room. There is a second external courtyard where guests can relax on the private sun terrace.
The swimming pool and gazebo here overlooks the white sandy beach.
The beautiful master bedroom has a wraparound balcony. From here guests may enjoy picturesque views over the lush gardens and private swimming pool.
Sunset cocktails before a starlit BBQ is a favourite pastime of many a guest at Landfall.
Dip into the Jacuzzi and relax whilst the team at Landfall prepare your delicious lunch.
This is a wonderful villa in one of the best locations in Barbados.
Guests here are able to use the Sandy Lane Estate Beach Club where drinks are served. They may also use the beach at the Sandy Lane Estate Beach Club. Here sun loungers and umbrellas will be provided on a complimentary basis.
Guests may also use the tennis courts on the Sandy Lane estate.
If you are interested in 6 bedroom villa rentals in Barbados and are interested in Landfall contact us today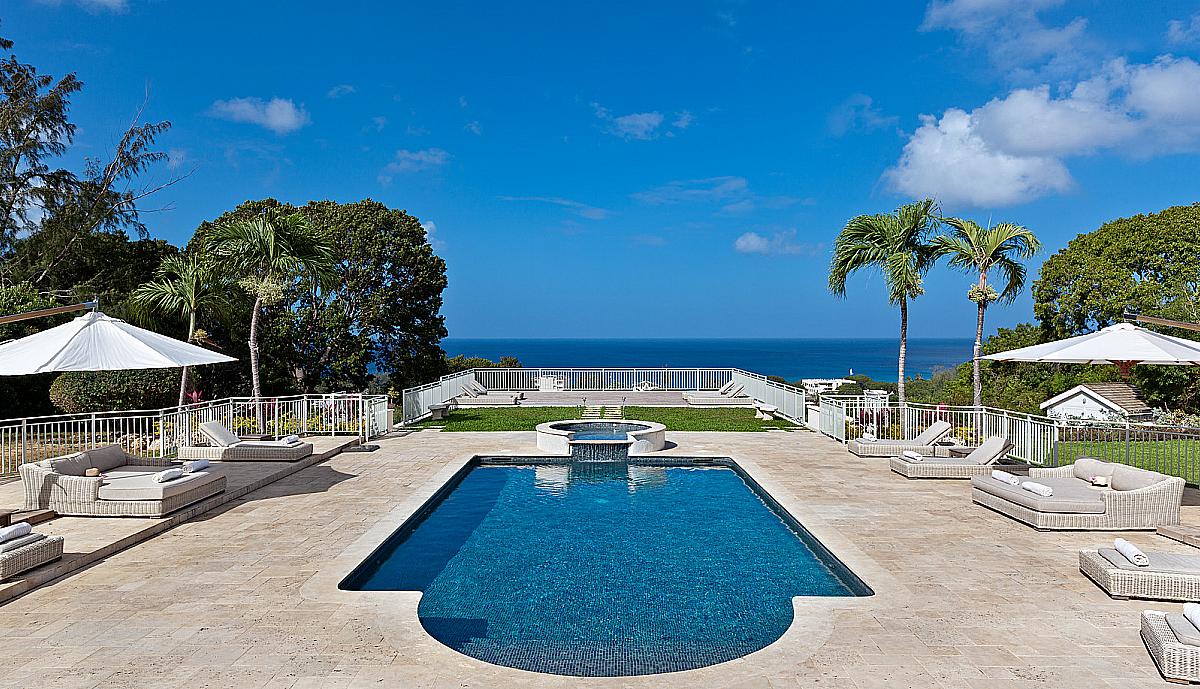 High Breeze is in a wonderful location with amazing views. It is on Polo Ridge in St James. The house is beautifully furnished with large swimming pool overlooking the Caribbean Sea. High Breeze is a wonderful home for entertaining. It is rented with fabulous staff including cook. There is a gym for those who want to work out.
High Breeze may be rented on a 4 to 6 bedroom basis.
The villa has three bedrooms in the main house and two bedrooms in the cottage.
This house has an open plan style that leads right out onto the deck and outside covered dining area where your chef will create a meal you will never forget as you take in the wonderful views.
The property comes with access to the Fairmont Royal Pavilion Beach Club, which allows guests use of beach chairs, beach umbrellas as well as the restaurants and bars within the resort. Holetown is five minutes' drive from your villa with access to excellent shopping, restaurants and bars. Limegrove is also within 10 minute drive of the villa, and offers many luxury stores, movie theatres and much more.
High Breeze is fully staffed by an experienced and friendly team who are there to make your Barbados Dream vacation one that will keep you coming back!
If you are looking for 6 bedroom villa rentals in Barbados and are interested in High Breeze contact us today
Reigate Villa is an exceptional 6 bedroom luxury property. It is located right on the beach on the West Coast of Barbados.
This brand new, contemporary villa comes complete with spacious indoor and outdoor seating areas. It is well equipped with a sleek kitchen. The villa offers a private courtyard swimming pool and terrace area. It has expansive beach front, covered and uncovered terraces with sea views from almost every room. There is direct access to the beach.
3 of the ensuite and air conditioned bedrooms all have direct sea views with private sea facing balconies.
Reigate Villa comes complete with the latest designer furniture and smart home technology and entertainment systems. Sit back and enjoy the soothing sights and sounds of the Caribbean whilst relaxing amongst cutting edge interiors. The villa is fitted with effortless modern conveniences.
Reigate is one of a trilogy of beachfront villas along with Mirador (4 bedrooms) and Nirvana (5 bedrooms). If you have a large party consider renting another in the trilogy.
Please note that beaches can change over time with the tides and the weather.
If you are interested in 6 bedroom villas to rent in Barbados and would like to enquire about Reigate Villa contact us today
If you are interested in 6 bedroom villa rentals in Barbados contact us today