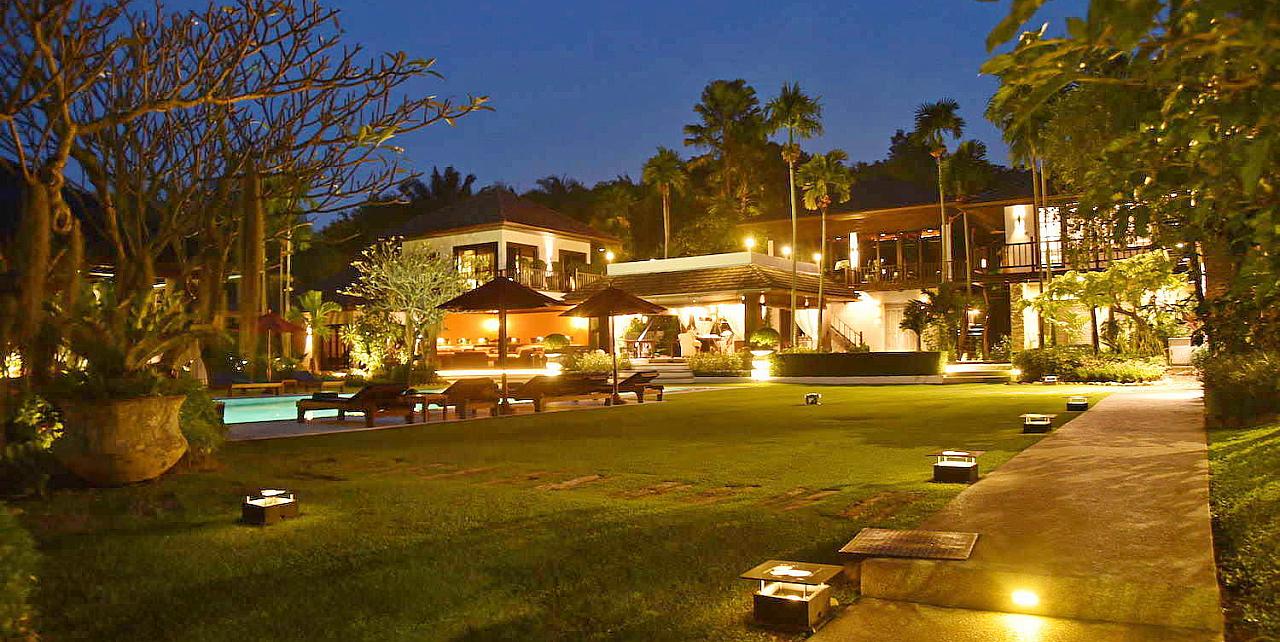 The Tamarind Villa Estate
Add to Favourites
Plan Your Trip
HAVE QUESTIONS?
USA/CANADA: +1 347 707 1195
BARBADOS: +246-432-6307
UK /INTERNATIONAL: +44 1978 368531
The Tamarind Villa Estate in Thailand comprising of 3 villas that can be rented together for larger groups - The Tamarind Villa has 9 bedrooms, The Tamarind Lake Villa as 6 bedrooms, and The Tamarind Orchid Villa has 3 bedrooms. They are situated within the gated residential estate of "Buraran," and located on the coast just 90 minutes drive from Bangkok airport and 20 minutes from the Jomtien & Pattaya resort areas. The Tamarind villa is ideal for a large family or groups of friends sleeping from 18 - 36+ people also offering an abundance of facilities including a floodlit tennis court, large swimming pool, fully-equipped gym, massage sala, cinema room and much more for all the family and friends to enjoy. The local people are kind and considerate and this is what gives Thailand the name and reputation of being the "Land of Smiles."
The Tamarind Villa - 9 bedrooms is surrounded by mature lush gardens with magnificent views that overlook the picturesque Bangsaray Village coastline and the estate has 5 km of private tree-lined roads, a great place for jogging, biking or strolling, amidst a safe and 24-hour protected environment. Bangsaray Village is 5 minutes drive away and is renowned for seafood restaurants, local shops and white sandy beaches or 20 minutes drive away is the Jomtien/Pattaya beach resort areas.
The spacious, Balinese style accommodation incorporates a fusion of Asian art & architecture offering luxurious amenities and features, with a full team of staff to take care of whatever guests need during their stay.
The Tamarind Villa accommodation consists of : ( Sleeps 20)
4 pool facing rooms (3 Kings + 1 twin)
2 Suites (2 Kings)
1 Two-bed Garden Villa (1 Kings + 1 twin plus own living room)
1 Dorm ( 4 adult-sized bunk beds)
All guest rooms are equipped with Flat screen TV with Premium Satellite Service, BOSE sound system, iPhone docking station and a safe deposit box.
The Bali House (Sleeps 4), is a self-contained villa with 2 bedrooms, a living-dining room, and a kitchenette area. The design combines original Balinese temple doors and antique Indonesian furniture with contemporary accents and modern Asian style.
7 bedrooms :
1. Zen 52.50 sqm Bedroom 36.0 + Indoor bathroom 9.0 + Outdoor shower 7.5) Bedding: Super King (6'6" x 6'6" x 10")
2. Java 59.75 sqm (Bedroom 36.0 + Indoor bathroom 19.25 + Outdoor shower 4.5) Bedding: Super King (6'6" x 6'0" x 12")
3. Africa 59.60 sqm (Bedroom 36.0/Indoor bathroom 9.0/Outdoor shower 7.5/Outdoor bath 7.1) Bedding: Twin Beds (6'6" x 3'6" x 10") OR Super Super King (6'6" x 12'6" x 10")
4. White 52.50 sqm (Bedroom 36.0 + Indoor bathroom 9.0 + Outdoor shower 7.5) Bedding: Super King (6'6" x 6'6" x 8")
5. Raj 42.00 sqm (Bedroom 21.0 + Indoor bathroom/dressing room 28.0) Bedding: Super King (6'6" x 6'0" x 11")
6. Byron 30.00 sqm (Bedroom 20.0 + Indoor bathroom 10.0) Bedding: Super King (6'6" x 6'0" x 11")
7. Sumba 36.00 sqm (Bedroom 20.0 + Vanity/Wardrobe 5.0 + Bathroom/Outdoor Garden 11.0) Bedding: Super King (6'6" x 6'0" x 11")
All guest rooms are equipped with Flat screen TV with Satellite, BOSE sound system, I-Pod docking stations, In-room safe deposit box
The Tamarind Lake Villa - 6 bedrooms
The Tamaring Orchid Villa - 3 bedrooms
Full leisure & sporting facilities available which includes:
Flood-lit Tennis Court
Private Swimming Pool (salt water with cooling system)
Fully-equipped gym, Yoga area Massage & beauty therapists
Boule Pit, Table-tennis, Pool Table Tennis coach & yoga instructor
Massage Sala, Pool & Garden salas
Entertainment room
Luxury lounges ideal for parties
Full dining facilities with several dining areas
Large tropical gardens & private lake
Dining and living areas :
The Spice Lounge: an inviting and luxurious open-air living room, a comfortable shaded retreat adjacent to the Dining Pavilion and overlooking the pool and patio. Splashes of zesty fabrics articulate the raised sofa lounge, with pillows and cushions in burnt orange, turmeric, mandarin and chocolate, off-set against a vibrant saffron wall with gold niches.
The Sunset Lounge - is a spectacular roof terrace above the Dining Pavilion, open to the warm Thai sunshine and endless blue skies, with great views. Thick cushioned benches on all sides and a large Ottoman in the centre designed for relaxing at sunset and star gazing by moonlight.
The Lava Lounge - on the ground floor of the Main House – offering a 62inch cinema display, sofa seating, remote control electronic black out curtains and acoustic ceiling, the ultimate in viewing and entertainment day or night. It has raspberry walls, custom-designed velvety charcoal and shiraz-coloured cinema-beds, and nut-brown bespoke cabinets and book-shelves
The Dining Pavilion – is the main covered dining area overlooking the pool and has a raised floor and oak-panelled ceiling, with 9 overhead fans. It is situated just below the Sunset Lounge and adjacent to the Spice Lounge. This area seats up to 24 people, 16 at an enormous solid teak rectangular table and 8 more on a matching oval table, both with luxurious upholstered wooden armchairs. The Dining Pavilion is the gathering point for guests and offers views of the entire property including the swimming pool, the waterfalls and patio.
The Dining Sala - is the open air dining area overlooking the lake and the Buraran hillside, a favourite with guests for breakfast or for early morning meditation. This wooden Thai style structure sits at the far end of the water garden, away from the main activity areas with pleasant views all around.

Other Facilities:
The Massage Sala- a stand-alone, fully-enclosed, Balinese-style sala (room) equipped to accommodate up to four guests at one time each on special massage mattresses. The Massage Sala is also equipped for sound where highly trained massage therapists heal and rejuvenate your body & mind.
The Garden Sala sits peacefully at the far corner of the garden and serves a private place for meditation, intimate conversation or just getting away from the crowd
The Pool Sala - located in the midst of poolside activity, and at night its subdued lighting creates a magical place atmosphere to sit with only the sound of crickets in the background
The Gardens & Water Features– a truly amazing design offering a chill out area in complete harmony with nature, created by a leading American landscape architect and a Thai landscape artist & contractor, which have been on the front cover of a Thai Home & Garden Magazine.
The Tower- stands 18 meters above the highest point of the complex, adjacent to the lake, the "tower" is a special place to escape for all who climb its steps to be instantly rewarded with breathtaking views of the sea & surrounding hills
The Office– a facility fully equipped PCs, printer/scanner/fax & copy unit, telephone and ample space for 3 or 4 people.
Swimming pool – a central focus point for the overall enjoyment of guests – 22m x 12m featuring special stonework imported from Bali, a water-cooling system for the very hot times of the year and a "no sting" salt water purification system and there are teak lounge chairs
Tennis Court – professional grade tennis court with the latest synthetic surface, lighting for night play and wrap-around 4 meter high fence. Local tennis professionals can provide either lessons or on-call tennis partners to suit – available on request at an extra cost
Gymnasium – overlooks the lake beside the main house and the Buraran Hills beyond - Sliding glass doors on all 4 sides - Overhead fans and/or Aircon - Satellite TV & Bose Sound system - Refridgerator / Towels / water. various machines including treadmill, cross trainer plus weights, Benches, Gym Balls, yoga mats etc
Petanque / Boule Pit – incorporated within landscaped garden, great activity to be enjoyed by all the family
Beaches :
"Sai Kaew Beach" is a short drive away, often described as "The Navy Beach" – is a semi private beach within the Thai Navy Officer's compound, which has granted special entry rights to Tamarind guests. Here guests can enjoy privacy, tropical scenery, an exquisite beach and swimming. This is considered to be one of the finest beaches in the Eastern Seaboard Region.
Buraran estate is well located to access secluded and activity beaches, marinas, water-sports, 10 fabulous golf courses, horseback riding, elephant safari, tiger zoo, crocodile park, water park, go-karting, paint-balling, traditional thai cultural shows, national parks, botanical gardens, mountain bike trails, eco-tourism areas –all within a short drive. Professional instruction (for golf, tennis, swimming) can be arranged along with tour guides to make the most of your stay. This are is also a culturally rich rural farming and fishing community, predominantly following Buddhist traditions and celebrations that provide a colourful and stimulating picture of local daily life for both visitors and locals to experience.
The Buraran scenery, with its spectacular sunsets, the countless activities available, the peace, tranquility and the magic of the starlit evenings are all reasons why guests return.


See more details...
Amenities
Air Conditioning
Gym/Fitness Room
On site security
Private Pool
Tennis Court
TV
Wireless Internet
See more details...
Bedroom : 9
Bathroom : 9
Staff
Daily maid service
English speaking Villa Managers - Concierge
Cooks
Stand-by drivers
Security guard
General house staff


Key Facts
Breakfast preparation service 
Food & Grocery shopping service Guest rooms 
Use of available vehicles (*Fuel charges apply )
Rate
Rental rates are subject to 7.00 % TAX plus 5.00 % service charge.
Breakfast is included within rate for exclusive 9 Bedroom Villa. Minimum stay 2 nights at weekends and 5 nights over Christmas and New Year. Rates also available for 3 - 18 bedroom accommodation, call or message for further information. Rates will vary on public holidays such as Songkran and other long holidays. Rates, taxes and service charge are subject to change without notice.
Availability
(Please use as a guide only as availability is subject to change)
September , 2023
| Sun | Mon | Tue | Wed | Thu | Fri | Sat |
| --- | --- | --- | --- | --- | --- | --- |
| | | | | | 01 | 02 |
| 03 | 04 | 05 | 06 | 07 | 08 | 09 |
| 10 | 11 | 12 | 13 | 14 | 15 | 16 |
| 17 | 18 | 19 | 20 | 21 | 22 | 23 |
| 24 | 25 | 26 | 27 | 28 | 29 | 30 |
October , 2023
| Sun | Mon | Tue | Wed | Thu | Fri | Sat |
| --- | --- | --- | --- | --- | --- | --- |
| 01 | 02 | 03 | 04 | 05 | 06 | 07 |
| 08 | 09 | 10 | 11 | 12 | 13 | 14 |
| 15 | 16 | 17 | 18 | 19 | 20 | 21 |
| 22 | 23 | 24 | 25 | 26 | 27 | 28 |
| 29 | 30 | 31 | | | | |
November , 2023
| Sun | Mon | Tue | Wed | Thu | Fri | Sat |
| --- | --- | --- | --- | --- | --- | --- |
| | | | 01 | 02 | 03 | 04 |
| 05 | 06 | 07 | 08 | 09 | 10 | 11 |
| 12 | 13 | 14 | 15 | 16 | 17 | 18 |
| 19 | 20 | 21 | 22 | 23 | 24 | 25 |
| 26 | 27 | 28 | 29 | 30 | | |
December , 2023
| Sun | Mon | Tue | Wed | Thu | Fri | Sat |
| --- | --- | --- | --- | --- | --- | --- |
| | | | | | 01 | 02 |
| 03 | 04 | 05 | 06 | 07 | 08 | 09 |
| 10 | 11 | 12 | 13 | 14 | 15 | 16 |
| 17 | 18 | 19 | 20 | 21 | 22 | 23 |
| 24 | 25 | 26 | 27 | 28 | 29 | 30 |
| 31 | | | | | | |
January , 2024
| Sun | Mon | Tue | Wed | Thu | Fri | Sat |
| --- | --- | --- | --- | --- | --- | --- |
| | 01 | 02 | 03 | 04 | 05 | 06 |
| 07 | 08 | 09 | 10 | 11 | 12 | 13 |
| 14 | 15 | 16 | 17 | 18 | 19 | 20 |
| 21 | 22 | 23 | 24 | 25 | 26 | 27 |
| 28 | 29 | 30 | 31 | | | |
February , 2024
| Sun | Mon | Tue | Wed | Thu | Fri | Sat |
| --- | --- | --- | --- | --- | --- | --- |
| | | | | 01 | 02 | 03 |
| 04 | 05 | 06 | 07 | 08 | 09 | 10 |
| 11 | 12 | 13 | 14 | 15 | 16 | 17 |
| 18 | 19 | 20 | 21 | 22 | 23 | 24 |
| 25 | 26 | 27 | 28 | 29 | | |
March , 2024
| Sun | Mon | Tue | Wed | Thu | Fri | Sat |
| --- | --- | --- | --- | --- | --- | --- |
| | | | | | 01 | 02 |
| 03 | 04 | 05 | 06 | 07 | 08 | 09 |
| 10 | 11 | 12 | 13 | 14 | 15 | 16 |
| 17 | 18 | 19 | 20 | 21 | 22 | 23 |
| 24 | 25 | 26 | 27 | 28 | 29 | 30 |
| 31 | | | | | | |
April , 2024
| Sun | Mon | Tue | Wed | Thu | Fri | Sat |
| --- | --- | --- | --- | --- | --- | --- |
| | 01 | 02 | 03 | 04 | 05 | 06 |
| 07 | 08 | 09 | 10 | 11 | 12 | 13 |
| 14 | 15 | 16 | 17 | 18 | 19 | 20 |
| 21 | 22 | 23 | 24 | 25 | 26 | 27 |
| 28 | 29 | 30 | | | | |
May , 2024
| Sun | Mon | Tue | Wed | Thu | Fri | Sat |
| --- | --- | --- | --- | --- | --- | --- |
| | | | 01 | 02 | 03 | 04 |
| 05 | 06 | 07 | 08 | 09 | 10 | 11 |
| 12 | 13 | 14 | 15 | 16 | 17 | 18 |
| 19 | 20 | 21 | 22 | 23 | 24 | 25 |
| 26 | 27 | 28 | 29 | 30 | 31 | |
June , 2024
| Sun | Mon | Tue | Wed | Thu | Fri | Sat |
| --- | --- | --- | --- | --- | --- | --- |
| | | | | | | 01 |
| 02 | 03 | 04 | 05 | 06 | 07 | 08 |
| 09 | 10 | 11 | 12 | 13 | 14 | 15 |
| 16 | 17 | 18 | 19 | 20 | 21 | 22 |
| 23 | 24 | 25 | 26 | 27 | 28 | 29 |
| 30 | | | | | | |
July , 2024
| Sun | Mon | Tue | Wed | Thu | Fri | Sat |
| --- | --- | --- | --- | --- | --- | --- |
| | 01 | 02 | 03 | 04 | 05 | 06 |
| 07 | 08 | 09 | 10 | 11 | 12 | 13 |
| 14 | 15 | 16 | 17 | 18 | 19 | 20 |
| 21 | 22 | 23 | 24 | 25 | 26 | 27 |
| 28 | 29 | 30 | 31 | | | |
August , 2024
| Sun | Mon | Tue | Wed | Thu | Fri | Sat |
| --- | --- | --- | --- | --- | --- | --- |
| | | | | 01 | 02 | 03 |
| 04 | 05 | 06 | 07 | 08 | 09 | 10 |
| 11 | 12 | 13 | 14 | 15 | 16 | 17 |
| 18 | 19 | 20 | 21 | 22 | 23 | 24 |
| 25 | 26 | 27 | 28 | 29 | 30 | 31 |
September , 2024
Sun
Mon
Tue
Wed
Thu
Fri
Sat
01
02
03
04
05
06
07
08
09
10
11
12
13
14
15
16
17
18
19
20
21
22
23
24
25
26
27
28
29
30
October , 2024
| Sun | Mon | Tue | Wed | Thu | Fri | Sat |
| --- | --- | --- | --- | --- | --- | --- |
| | | 01 | 02 | 03 | 04 | 05 |
| 06 | 07 | 08 | 09 | 10 | 11 | 12 |
| 13 | 14 | 15 | 16 | 17 | 18 | 19 |
| 20 | 21 | 22 | 23 | 24 | 25 | 26 |
| 27 | 28 | 29 | 30 | 31 | | |
November , 2024
| Sun | Mon | Tue | Wed | Thu | Fri | Sat |
| --- | --- | --- | --- | --- | --- | --- |
| | | | | | 01 | 02 |
| 03 | 04 | 05 | 06 | 07 | 08 | 09 |
| 10 | 11 | 12 | 13 | 14 | 15 | 16 |
| 17 | 18 | 19 | 20 | 21 | 22 | 23 |
| 24 | 25 | 26 | 27 | 28 | 29 | 30 |
December , 2024
| Sun | Mon | Tue | Wed | Thu | Fri | Sat |
| --- | --- | --- | --- | --- | --- | --- |
| 01 | 02 | 03 | 04 | 05 | 06 | 07 |
| 08 | 09 | 10 | 11 | 12 | 13 | 14 |
| 15 | 16 | 17 | 18 | 19 | 20 | 21 |
| 22 | 23 | 24 | 25 | 26 | 27 | 28 |
| 29 | 30 | 31 | | | | |
January , 2025
| Sun | Mon | Tue | Wed | Thu | Fri | Sat |
| --- | --- | --- | --- | --- | --- | --- |
| | | | 01 | 02 | 03 | 04 |
| 05 | 06 | 07 | 08 | 09 | 10 | 11 |
| 12 | 13 | 14 | 15 | 16 | 17 | 18 |
| 19 | 20 | 21 | 22 | 23 | 24 | 25 |
| 26 | 27 | 28 | 29 | 30 | 31 | |
February , 2025
| Sun | Mon | Tue | Wed | Thu | Fri | Sat |
| --- | --- | --- | --- | --- | --- | --- |
| | | | | | | 01 |
| 02 | 03 | 04 | 05 | 06 | 07 | 08 |
| 09 | 10 | 11 | 12 | 13 | 14 | 15 |
| 16 | 17 | 18 | 19 | 20 | 21 | 22 |
| 23 | 24 | 25 | 26 | 27 | 28 | |
March , 2025
Sun
Mon
Tue
Wed
Thu
Fri
Sat
01
02
03
04
05
06
07
08
09
10
11
12
13
14
15
16
17
18
19
20
21
22
23
24
25
26
27
28
29
30
31
April , 2025
| Sun | Mon | Tue | Wed | Thu | Fri | Sat |
| --- | --- | --- | --- | --- | --- | --- |
| | | 01 | 02 | 03 | 04 | 05 |
| 06 | 07 | 08 | 09 | 10 | 11 | 12 |
| 13 | 14 | 15 | 16 | 17 | 18 | 19 |
| 20 | 21 | 22 | 23 | 24 | 25 | 26 |
| 27 | 28 | 29 | 30 | | | |
May , 2025
| Sun | Mon | Tue | Wed | Thu | Fri | Sat |
| --- | --- | --- | --- | --- | --- | --- |
| | | | | 01 | 02 | 03 |
| 04 | 05 | 06 | 07 | 08 | 09 | 10 |
| 11 | 12 | 13 | 14 | 15 | 16 | 17 |
| 18 | 19 | 20 | 21 | 22 | 23 | 24 |
| 25 | 26 | 27 | 28 | 29 | 30 | 31 |
June , 2025
Sun
Mon
Tue
Wed
Thu
Fri
Sat
01
02
03
04
05
06
07
08
09
10
11
12
13
14
15
16
17
18
19
20
21
22
23
24
25
26
27
28
29
30
July , 2025
| Sun | Mon | Tue | Wed | Thu | Fri | Sat |
| --- | --- | --- | --- | --- | --- | --- |
| | | 01 | 02 | 03 | 04 | 05 |
| 06 | 07 | 08 | 09 | 10 | 11 | 12 |
| 13 | 14 | 15 | 16 | 17 | 18 | 19 |
| 20 | 21 | 22 | 23 | 24 | 25 | 26 |
| 27 | 28 | 29 | 30 | 31 | | |
August , 2025
| Sun | Mon | Tue | Wed | Thu | Fri | Sat |
| --- | --- | --- | --- | --- | --- | --- |
| | | | | | 01 | 02 |
| 03 | 04 | 05 | 06 | 07 | 08 | 09 |
| 10 | 11 | 12 | 13 | 14 | 15 | 16 |
| 17 | 18 | 19 | 20 | 21 | 22 | 23 |
| 24 | 25 | 26 | 27 | 28 | 29 | 30 |
| 31 | | | | | | |
Location
Pattaya, Thailand
• 90 minutes drive from Bangkok's New International Airport
• Two hours from the centre of Bangkok
• 5 minutes from Bangsaray Village
• 20 minutes drive to Jomtien/Pattaya beach resort areas