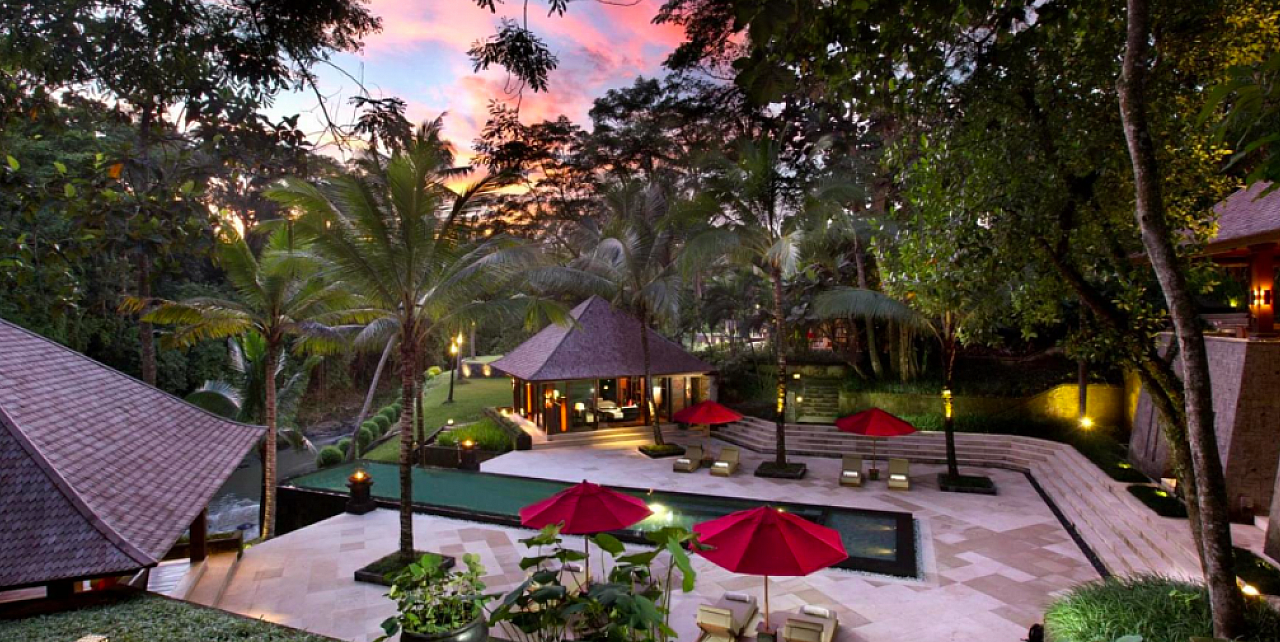 Add to Favourites
From $1,680 USD - $2,480 USD / nt
Plan Your Trip
HAVE QUESTIONS?
UK : 0845-017-6707
USA/CANADA: +1 347 707 1195
BARBADOS: +246-432-6307
INTERNATIONAL: +44 1978 368531
From $1,680 USD - $2,480 USD / nt
The Sanctuary Bali is a stunning luxury villa estate located in Canggu on the south west coast of Bali and just minutes away from the famous surf breaks. The Sanctuary is the ultimate private retreat, set in a wonderfully tranquil setting, featuring a 35 metre infinity pool and 500 metre river frontage offering unobstructed jungle and scenic river views. The living space and beautiful, tropical gardens encompass 30.000 m2 of space, perfect for special occasions such as intimate weddings or anniversary celebrations as well as those seeking a luxury secluded holiday.
The Sanctuary Bali has been designed in a traditional Balinese style, using local materials such as Balinese lava stones and Benkarai wood, with a series of magnificent stone and wooden pavilions housing the living, dining and sleeping areas. Each pavilion is spaced thoughtfully throughout the gardens, with high ceilings, huge windows and large patio doors to allow plenty of light.
With 9 bedrooms, including a bunk room that can sleep up to 20 kids, and Villa The Sanctuary Bali can accommodate groups of almost any size. The master bedroom is like a villa within itself, as it has two storeys, a king-sized bed, ensuite bathroom, private 10-metre pool, tropical garden and a wooden terrace. The wooden pavilion next to the living and dining area has four luxurious bedrooms, the pavilion by the pool houses two peaceful bedrooms, and there is a small romantic pavilion with one bedroom behind the master suite. And for little ones or extra house guests there is a roomy bunk house with 10 comfy bunk beds. Each bedroom features a private bathroom, beautiful quality linen and towels, amenities, TV, Wi-Fi and are fully air-conditioned.
The magnificent, Balinese style dining room is housed in the main, open-air pavilion with space for up to 16 guests at its incredible antique teak wood table. Beautiful views of the gardens, quaint ponds and magnificent lawns can be enjoyed when dining here for breakfast, lunch and dinner. Each mealtime will surprise and delight as the professional kitchen caters to every taste, serving traditional Indonesian and international cuisine. The enormous living room, also in the main pavilion features incredible Indonesian art, with huge relaxing sofas, integrated music and spectacular views all around. Enjoy pre-dinner cocktails or after dinner night-caps, afternoon tea whilst reading a book or gather for board games, billiards and fun in the Billiards Room. Other pavilions include a media room with a 50 inch cinema screen, a selection of DVD films and international satellite TV, a Spa and a fully equipped gym.
A full team of dedicated, Balinese staff are headed by an Estate Manager and include professional cooks, villa attendants (housekeeping), butlers serving meals, drinks and snacks throughout your stay as well as gardeners and maintenance staff. Additionally there are 2 drivers should guests wish to visit attractions or do shopping and activities during their stay.
See more details...
Amenities
Air Conditioning
DVD Player
Infinity edge pool
Jacuzzi
Library
Media Room
Private Garden
Spa
Sunbeds
TV
See more details...
Bedroom : 9
Bathroom : 10
Staff
Managing director - Fluent in English, French, Dutch and German who oversees the property
Villa manager - Meet and greet guests on arrival and departure and ensures that the team meets all expectations. In charge of all operations and can help with booking restaurants or organising exercusions
Cooks - The Sanctuary Bali only employs professional chefs who create excellent food. Cooks are recruited from only the finest 5 star resorts on the island. The chefs are available any time of the day and cater for a range of tastes including Asian, Western and Vegetarian food.
Villa attendants - Friendly Balinese staff who will clean the house daily
Butlers - Serve drinks and food at any time of the day
Security Guard - The Sanctuary Bali ensures privacy and safety are a main priority with guests having to register and nobody being allowed in the villa without your permission. There is also safety deposit boxes in every room to protct all valuables
Gardeners - The Sanctuary Bali has professional staff that maintain the beautiful gardens and pool without disturbing the guests
Technician - The Sanctuary Bali has a full time technician ready to fix immediately
Driver - The Sanctuary Bali provides two drivers and a Toyota Innova car for 7 people
Rate
Bedrooms: 9 Bedrooms

| From | To | Min Stay | Nightly Rate | Weekly Rate |
| --- | --- | --- | --- | --- |
| 16-Sep-2019 | 20-Dec-2019 | 5 | $1,680 USD | $11,760 USD |
| 21-Dec-2019 | 15-Jan-2020 | 7 | $2,480 USD | $17,360 USD |
Rental rates are subject to 15.50 % TAX plus any applicable service charge.
Rates are subject to 10% tax (VAT) and 5.5% Service charge. All rates are inclusive of WiFi Internet access, Complimentary car and driver for 8 hours/day (excludes petrol),
Welcome drink and fruit basket, Turndown service, Personal service by the villa staff including full time villa manager, housekeeper, chef/cook, security and attendants plus exclusive use of the whole villa and listed facilities. Rates, taxes and service charges may be subject to change without notice
Availability
December , 2019
| Sun | Mon | Tue | Wed | Thu | Fri | Sat |
| --- | --- | --- | --- | --- | --- | --- |
| 01 | 02 | 03 | 04 | 05 | 06 | 07 |
| 08 | 09 | 10 | 11 | 12 | 13 | 14 |
| 15 | 16 | 17 | 18 | 19 | 20 | 21 |
| 22 | 23 | 24 | 25 | 26 | 27 | 28 |
| 29 | 30 | 31 | | | | |
January , 2020
| Sun | Mon | Tue | Wed | Thu | Fri | Sat |
| --- | --- | --- | --- | --- | --- | --- |
| | | | 01 | 02 | 03 | 04 |
| 05 | 06 | 07 | 08 | 09 | 10 | 11 |
| 12 | 13 | 14 | 15 | 16 | 17 | 18 |
| 19 | 20 | 21 | 22 | 23 | 24 | 25 |
| 26 | 27 | 28 | 29 | 30 | 31 | |
February , 2020
| Sun | Mon | Tue | Wed | Thu | Fri | Sat |
| --- | --- | --- | --- | --- | --- | --- |
| | | | | | | 01 |
| 02 | 03 | 04 | 05 | 06 | 07 | 08 |
| 09 | 10 | 11 | 12 | 13 | 14 | 15 |
| 16 | 17 | 18 | 19 | 20 | 21 | 22 |
| 23 | 24 | 25 | 26 | 27 | 28 | 29 |
March , 2020
| Sun | Mon | Tue | Wed | Thu | Fri | Sat |
| --- | --- | --- | --- | --- | --- | --- |
| 01 | 02 | 03 | 04 | 05 | 06 | 07 |
| 08 | 09 | 10 | 11 | 12 | 13 | 14 |
| 15 | 16 | 17 | 18 | 19 | 20 | 21 |
| 22 | 23 | 24 | 25 | 26 | 27 | 28 |
| 29 | 30 | 31 | | | | |
April , 2020
| Sun | Mon | Tue | Wed | Thu | Fri | Sat |
| --- | --- | --- | --- | --- | --- | --- |
| | | | 01 | 02 | 03 | 04 |
| 05 | 06 | 07 | 08 | 09 | 10 | 11 |
| 12 | 13 | 14 | 15 | 16 | 17 | 18 |
| 19 | 20 | 21 | 22 | 23 | 24 | 25 |
| 26 | 27 | 28 | 29 | 30 | | |
May , 2020
Sun
Mon
Tue
Wed
Thu
Fri
Sat
01
02
03
04
05
06
07
08
09
10
11
12
13
14
15
16
17
18
19
20
21
22
23
24
25
26
27
28
29
30
31
June , 2020
Sun
Mon
Tue
Wed
Thu
Fri
Sat
01
02
03
04
05
06
07
08
09
10
11
12
13
14
15
16
17
18
19
20
21
22
23
24
25
26
27
28
29
30
July , 2020
| Sun | Mon | Tue | Wed | Thu | Fri | Sat |
| --- | --- | --- | --- | --- | --- | --- |
| | | | 01 | 02 | 03 | 04 |
| 05 | 06 | 07 | 08 | 09 | 10 | 11 |
| 12 | 13 | 14 | 15 | 16 | 17 | 18 |
| 19 | 20 | 21 | 22 | 23 | 24 | 25 |
| 26 | 27 | 28 | 29 | 30 | 31 | |
August , 2020
| Sun | Mon | Tue | Wed | Thu | Fri | Sat |
| --- | --- | --- | --- | --- | --- | --- |
| | | | | | | 01 |
| 02 | 03 | 04 | 05 | 06 | 07 | 08 |
| 09 | 10 | 11 | 12 | 13 | 14 | 15 |
| 16 | 17 | 18 | 19 | 20 | 21 | 22 |
| 23 | 24 | 25 | 26 | 27 | 28 | 29 |
| 30 | 31 | | | | | |
September , 2020
| Sun | Mon | Tue | Wed | Thu | Fri | Sat |
| --- | --- | --- | --- | --- | --- | --- |
| | | 01 | 02 | 03 | 04 | 05 |
| 06 | 07 | 08 | 09 | 10 | 11 | 12 |
| 13 | 14 | 15 | 16 | 17 | 18 | 19 |
| 20 | 21 | 22 | 23 | 24 | 25 | 26 |
| 27 | 28 | 29 | 30 | | | |
October , 2020
| Sun | Mon | Tue | Wed | Thu | Fri | Sat |
| --- | --- | --- | --- | --- | --- | --- |
| | | | | 01 | 02 | 03 |
| 04 | 05 | 06 | 07 | 08 | 09 | 10 |
| 11 | 12 | 13 | 14 | 15 | 16 | 17 |
| 18 | 19 | 20 | 21 | 22 | 23 | 24 |
| 25 | 26 | 27 | 28 | 29 | 30 | 31 |
November , 2020
| Sun | Mon | Tue | Wed | Thu | Fri | Sat |
| --- | --- | --- | --- | --- | --- | --- |
| 01 | 02 | 03 | 04 | 05 | 06 | 07 |
| 08 | 09 | 10 | 11 | 12 | 13 | 14 |
| 15 | 16 | 17 | 18 | 19 | 20 | 21 |
| 22 | 23 | 24 | 25 | 26 | 27 | 28 |
| 29 | 30 | | | | | |
December , 2020
| Sun | Mon | Tue | Wed | Thu | Fri | Sat |
| --- | --- | --- | --- | --- | --- | --- |
| | | 01 | 02 | 03 | 04 | 05 |
| 06 | 07 | 08 | 09 | 10 | 11 | 12 |
| 13 | 14 | 15 | 16 | 17 | 18 | 19 |
| 20 | 21 | 22 | 23 | 24 | 25 | 26 |
| 27 | 28 | 29 | 30 | 31 | | |
January , 2021
Sun
Mon
Tue
Wed
Thu
Fri
Sat
01
02
03
04
05
06
07
08
09
10
11
12
13
14
15
16
17
18
19
20
21
22
23
24
25
26
27
28
29
30
31
February , 2021
| Sun | Mon | Tue | Wed | Thu | Fri | Sat |
| --- | --- | --- | --- | --- | --- | --- |
| 01 | 02 | 03 | 04 | 05 | 06 | 07 |
| 08 | 09 | 10 | 11 | 12 | 13 | 14 |
| 15 | 16 | 17 | 18 | 19 | 20 | 21 |
| 22 | 23 | 24 | 25 | 26 | 27 | 28 |
March , 2021
Sun
Mon
Tue
Wed
Thu
Fri
Sat
01
02
03
04
05
06
07
08
09
10
11
12
13
14
15
16
17
18
19
20
21
22
23
24
25
26
27
28
29
30
31
April , 2021
| Sun | Mon | Tue | Wed | Thu | Fri | Sat |
| --- | --- | --- | --- | --- | --- | --- |
| | | | | 01 | 02 | 03 |
| 04 | 05 | 06 | 07 | 08 | 09 | 10 |
| 11 | 12 | 13 | 14 | 15 | 16 | 17 |
| 18 | 19 | 20 | 21 | 22 | 23 | 24 |
| 25 | 26 | 27 | 28 | 29 | 30 | |
May , 2021
| Sun | Mon | Tue | Wed | Thu | Fri | Sat |
| --- | --- | --- | --- | --- | --- | --- |
| | | | | | | 01 |
| 02 | 03 | 04 | 05 | 06 | 07 | 08 |
| 09 | 10 | 11 | 12 | 13 | 14 | 15 |
| 16 | 17 | 18 | 19 | 20 | 21 | 22 |
| 23 | 24 | 25 | 26 | 27 | 28 | 29 |
| 30 | 31 | | | | | |
June , 2021
| Sun | Mon | Tue | Wed | Thu | Fri | Sat |
| --- | --- | --- | --- | --- | --- | --- |
| | | 01 | 02 | 03 | 04 | 05 |
| 06 | 07 | 08 | 09 | 10 | 11 | 12 |
| 13 | 14 | 15 | 16 | 17 | 18 | 19 |
| 20 | 21 | 22 | 23 | 24 | 25 | 26 |
| 27 | 28 | 29 | 30 | | | |
July , 2021
| Sun | Mon | Tue | Wed | Thu | Fri | Sat |
| --- | --- | --- | --- | --- | --- | --- |
| | | | | 01 | 02 | 03 |
| 04 | 05 | 06 | 07 | 08 | 09 | 10 |
| 11 | 12 | 13 | 14 | 15 | 16 | 17 |
| 18 | 19 | 20 | 21 | 22 | 23 | 24 |
| 25 | 26 | 27 | 28 | 29 | 30 | 31 |
August , 2021
| Sun | Mon | Tue | Wed | Thu | Fri | Sat |
| --- | --- | --- | --- | --- | --- | --- |
| 01 | 02 | 03 | 04 | 05 | 06 | 07 |
| 08 | 09 | 10 | 11 | 12 | 13 | 14 |
| 15 | 16 | 17 | 18 | 19 | 20 | 21 |
| 22 | 23 | 24 | 25 | 26 | 27 | 28 |
| 29 | 30 | 31 | | | | |
September , 2021
| Sun | Mon | Tue | Wed | Thu | Fri | Sat |
| --- | --- | --- | --- | --- | --- | --- |
| | | | 01 | 02 | 03 | 04 |
| 05 | 06 | 07 | 08 | 09 | 10 | 11 |
| 12 | 13 | 14 | 15 | 16 | 17 | 18 |
| 19 | 20 | 21 | 22 | 23 | 24 | 25 |
| 26 | 27 | 28 | 29 | 30 | | |
October , 2021
Sun
Mon
Tue
Wed
Thu
Fri
Sat
01
02
03
04
05
06
07
08
09
10
11
12
13
14
15
16
17
18
19
20
21
22
23
24
25
26
27
28
29
30
31
November , 2021
Sun
Mon
Tue
Wed
Thu
Fri
Sat
01
02
03
04
05
06
07
08
09
10
11
12
13
14
15
16
17
18
19
20
21
22
23
24
25
26
27
28
29
30
Location
The Sanctuary Bali, Banjar Batanduran 8217, Kediri, Canggu, Bali
Other Properties you may like