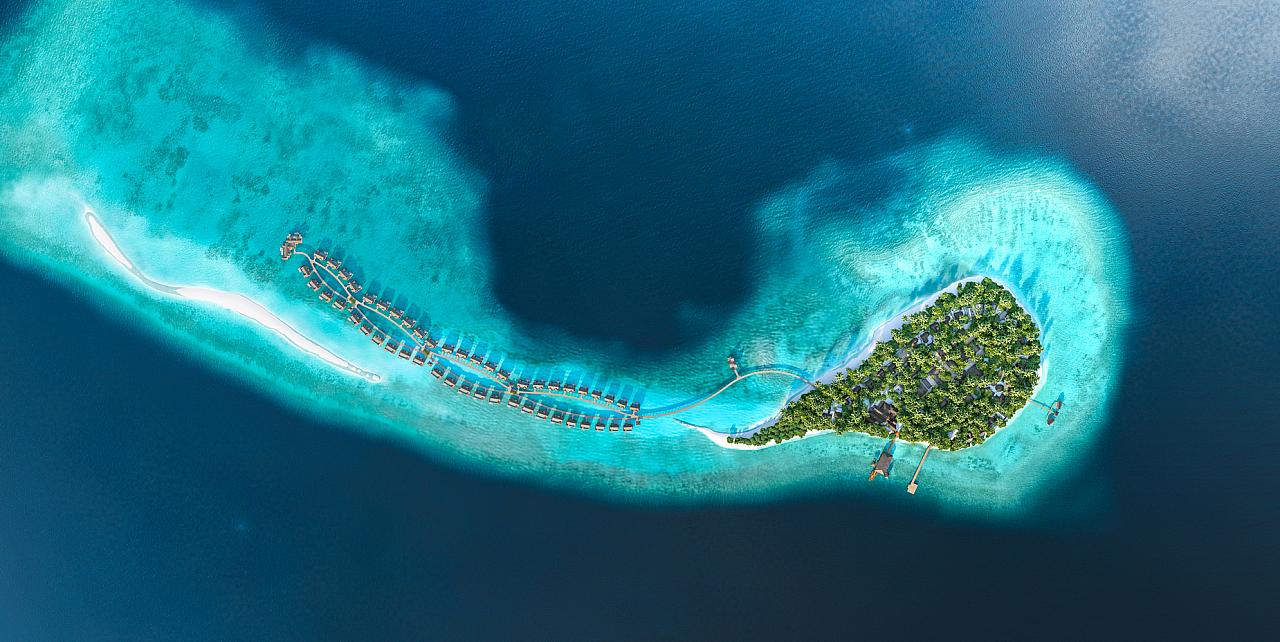 Add to Favourites
Plan Your Trip
HAVE QUESTIONS?
USA/CANADA: +1 347 707 1195
BARBADOS: +246-432-6307
UK /INTERNATIONAL: +44 1978 368531
OPENED IN 2018
Visit this hidden paradise on Muravandhoo Island in the Indian Ocean and relax under the plam trees with your toes in the sand and shimmering waters that surround you
Getting to Joali Island Resort
There is a Joali lounge at Male airport to wait in comfort, before taking a seaplane journey from Male taking approx 45 minutes and lands directly at Muravandhoo island, where you will be receive a speical welsomce and transferred to the resort .
Alternatively take a seaplane from Male to Ifru airport and then a 25 minute speedboat to Muravandhoo
Either way the views are spectacular
JOALI Island Resort resides in the northern Maldives on the picture-perfect Muravandhoo island on the Raa Atoll. Being one of the largest and deepest atolls in the world, guests will be surrounded by brilliant blue waters, pristine white-sand beaches and a lush land of coconut palms. This woncderful retreat in the Maldives has been desiged in and around every tree, ensuring the delicate ecosystem is maintained.
JOALI Island resort's elegant one to four bedroom villas and residences are the epitome of sustainable glamour. Each takes inspiration from individual stories and evokes a sense of unconventional luxury with hand-picked artisanal amenities, curated in-room libraries, music, movies, thoughtful design and deluxe objet d'art. In addition, they have a dedicated Joali butler and private infinity pools.
Four restaurants to choose from, providing inventive fusion cuisine from Asian and Peruvian to Italian and Mediterranean dishes. You have the opportunity to enjoy delicious meals as well as learning about the menus through personalised cooking experiences , and your dessert cravings will be satisfied by Joali's artisinal chocoloate and ice-cream !
JOALI Island Resort is one of the first and only hotels in the Maldives to be immersed in art, with interactive and experiential pieces displayed throughout the island. Many from local artists and artisans, to support the community. Those who are Art-lovers can indulge your passion at the hotel's art studio, which also arrange interactive events with guest artists and organise workshops.
The Joali Spa by ESPA - the ultimate spa experience with bespoke, personalised treatments, followed by working out in natural beauty that surrounds you.
Villas choices available at the JOALI Island Resort:- The villas are designed to inspire giving you a rich sensory experience. Each villa has an infinity pool and 24 hour butler service
Beach Villas (5) - intertior space 106sqm - enjoying beach, garden and ocean views, suite like accommodation with integrated living are and bedroom that can accommodate up to 3 people. Ensuite bathroom with spa amenities and luxury toiletries
Luxury Beach Villas (16) - (total indoor space 117 sqm ) separate living room and bedroom area, cozy library area - can sleep up to 4 people
Two Pool Luxury Beach Villas (2) - (total indoor space 117sqm ) - can sleep up to 4 people ideal for a family - with 2 pools , one at the fornt and one in the back garden giving more privacy
Private Duplex Residence (1) - (total indoor space 500sqm ) 2 storey beach villa with 4 bedrooms each with en-suite bathroom and can comfortably sleep up to 8 people
there is a cozy library area plus a biggy and driver at your service
Water Villas - (10) 1 bedroom -(total indoor space 100sqm ) can accommodate up to 3 people - suite like accommodation with integrated living are and bedroom positoned over the crystal clear waters of the Indian Ocean below.
In the evening the water villas are beautifully lit, presenting a magical aquatic show
Private Ocean Residence - (1 ) (total indoor and outdoor space 400sqm ) exceptionally spacious villa on the water with 3 bedrooms, 2 living rooms , 2 infinity pools and terraces that wrap around the the villa to take in the fabulous ocean views .
When you are ready to go back to the resort to dine or use the spa etc a boat and driver are available to take you as and when you choose.
Luxury Water Villas - (38) - (total indoor space 108sqm ) 1 bedroom and separate living area and magical lighting system reflecting on the clear waters below
A wonderful holiday retreat in the Maldives in an idylic setting.
See more details...
Amenities
Air Conditioning
Bar
Beach Front
Boat with driver
Boutique
Children Welcome
Communal Facilities
Complimentary Concierge Service
Internet Access
Library
Restaurant
Sea view
Spa
Sunbeds
Villa Accommodation
Wireless Internet
See more details...
Bedroom : 1 - 4
Bathroom : 1 - 2
Location
Joali Island Resort, Muravandhoo Island, Maldives