A Unique Tuscan Experience
A UNIQUE TUSCAN EXPERIENCE
If you are looking for a unique Tuscan experience read on. We recently enjoyed 4 days in Tuscany – a short break that felt like weeks. This was a stay that we could not recommend more. It was a truly unique Tuscan experience.
Having flown into Pisa we picked up our hire car and drove towards the Castello di Casole estate. We were staying for one night. Castello di Casole is a 4,200 acre estate perfectly located for visits to Siena, San Gimignano and Florence. En route we stopped at Volterra. This is a beautiful Tuscan hillside town. It provided the stunning amphitheatre setting for the meeting of vampires in one of the Twilight films.
Although still early April, the sun was shining and the skies were blue. It was a joy to wander through the delightful streets inside the city walls of Volterra.
Having just arrived in Tuscany we naturally wanted authentic Italian food. We were lucky enough to find it in the first restaurant we walked into. Lucca, the owner, had spent 8 years working in Yorkshire. He was happy to recommend the best of local Tuscan cuisine. His wife, the chef, made us divine chicken liver pate which we savoured with gusto.
Our starter was a sharing dish. It was a beautiful selection of local Tuscan salamis and prosciuttos served with pickled vegetables. We were also served with home made bread which we dipped in local olive oil. This was washed down with local Chianti Classico and followed by delicious home made pastas. The spinach and ricotta ravioli in sage butter was a delicate dish with exquisite flavours. Stephen enjoyed home made tagliatelle with porcini mushrooms.
After our stop in Volterra we headed through the unspoilt countryside to Castello di Casole. This is an unspoilt 4,200 acre estate just half an hour from Siena. Part of the US Timbers group, this estate is truly one of a kind. It offers a truly unique Tuscan experience. There is a choice of hotel accommodation. For those of you who prefer it you can rent one of the beautiful farmhouses on the estate.
We meandered up the dirt track roads dividing the vineyards and olive groves. There was a long drive lined with Cypress trees. This led to the stunning 5 star Timbers resort hotel. It stands out on the hill top in its burnt sienna colours.
The Maitre d' met us with a smile and warm handshake. Whilst our bags were being collected from the car we were offered chilled Prosecco to sip by the large open fireplace.
We were then whisked up to our beautiful room (which was really more of a suite than a room). Decorated in warm Italian colours with views of the courtyard on one side and the magnificent gardens and Tuscan landscape on the other we were in Heaven.
On our dressing table were wonderful local gifts from the management. These included local estate pressed olive oil, honey from the estate and Chianti Classico from the vineyeyards of Castello di Casoli.
We enjoyed views from the infinity pool overlooking the Tuscan hills. We could also see the hilltop town of Casole d'Elsa in the distance. After a long soak in the expansive en suite bathroom we were ready for dinner.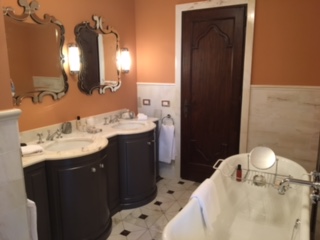 Our choices were a casual supper in the stunning Visconti Bar. This serves pastas and other local foods. Alterntively we could dine in the more formal Tosca restaurant.
We opted for Ristorante Tosca. As foodies we were not disappointed. We thought we were ordering a 3 course meal but with all the complimentary taster courses before and in between we probably ate around 6 or 7 courses.
Fortunately the 'appetisers' were small but each one was divine. A diffusion of flavours to ignite the taste buds. This was without doubt one of the best meals we have ever tasted. The staff achieved successfully that difficult balance between formality and cordiality. They could not have been better.
Our first 'appetiser' was a delicate dish of asparagus lightly battered in a vegetable sauce. This was followed by an assortment of Tuscan meats and cheeses served with locally made truffle honey.
Another complimentary appetizer followed. An abundance of flavours combined in a small bowl. This was something between a warm soup and a puree. It contained spinach, chick peas and cannellini beans all simmered in a delicate flavoursome broth.
Our next dish I will remember forever. It was a tri-colore pasta dish with wild boar ragout. This was an unusual assortment of egg pasta, spinach pasta and chocolate pasta. All wrapped around a delicious ragout. The flavours were sensational. The chocolate pasta was a wonderful mix of dark chocolate flavours and textures without being sweet in the slightest.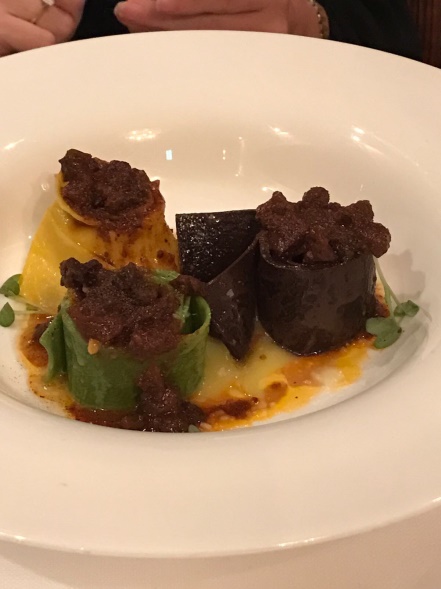 Even though we declined dessert, a beautiful glass dish of miniature home-made macaroons arrived. Miniature strawberry mille-feuille and chocolate profiteroles appeared. All were devoured within minutes. The whole evening was one of joy and certainly added to our unique Tuscan experience.
When we returned to our room the 'turn down service' lights had dimmed the lights and there was romantic music playing. It was the perfect end to a perfect evening.
After breakfast the next morning we visited the spa. This was a culinary experience for the body and soul. Many of the products in the spa are made from local produce. These include olive oil, flowers, herbs and spices grown on the estate.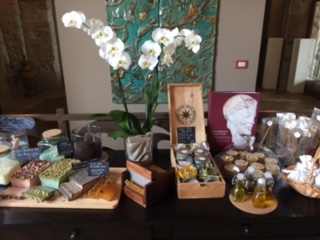 There is so much to do on this estate and sadly we did not have time to enjoy all the activities. There are safaris in the woods at dusk to view the deer, the wild boar and the huge hares. This is a unique family activity to be enjoyed by all.
The trails are perfect for hiking, jogging or cycling. For those who enjoy food you may wish to partake in a cookery course in the display kitchen with friends, family and a local chef.
If you like you can 'rentamama' who will take you around the local food markets and cook for you in your villa or farmhouse. Kids can make their own pizzas in the Pazzia restaurant while parents laze by the pool. Alternatively enjoy a spa treatment only to enjoy the fruits of your children's labour afterwards. Pazzia means 'crazy' and the name is a play on 'crazy' and 'pizza'.
We enjoyed a delicious cappuccino in the Bar Visconti. This has historically been host to Sophia Lauren, Burt Lancaster and Alain Delon. We then reluctantly dragged ourselves away from Castello di Casole. Within half an hour we were exploring the beautiful cobbled streets of Siena.
Siena is a town to behold with its magnificent outer walls. There are beautiful squares and churches. Each year before the Palio horse races, horses are welcomed into the churches to be blessed.
After a lazy afternoon in Siena we drove south towards Florence. Our next stop was Villa Massa, sister hotel of the internationally renowned Villa D'Este on Lake Como.
Entering the grand hallway of Villa Massa was like stepping back in time. This villa used to be owned by a prominent Italian family. They used it as a retreat and a retreat it still is.
Set on the banks of the River Arno it is hard to imagine a hotel that could be better located. With a hotel shuttle bus leaving every hour you can be in Florence in 15 minutes. The beauty of La Massa is the return from the hustle and bustle of Florence to this haven of tranquillity.
Service at this hotel is second to none. The waiters and waitresses just want to please. A beautiful afternoon tea in the gardens by the river is a must.
Stefano the manager, is a charming, friendly gentleman. He immediately made us feel welcome and in safe hands. He could not have been more helpful and kind during our stay.
Gregory, who is responsible for sales and marketing at La Massa and Villa D'Este was also charming and great company. We could not have felt more at home or received a warmer welcome.
We dined with other guests at La Massa and were booked on a Ferrari experience for the following day.
After a briefing at 9am we set off for an experience of a lifetime. This is definitely a 'bucket list' item.
What could be better than driving an Italian super car around the Chianti region of Tuscany? The car, the route, the entourage- it was like living a dream. The car was the new Ferrari 488 Spider. At the time of driving it we were told this car not available in the UK.
The company who organised this driving event were exceptional. With a focus on safety, in the comfort of our tan leather upholstered Ferrari, we followed the pilot car in front of us. He has carefully mapped out a stunning scenic route.
Driven by Lorenzo, the pilot car dictated a safe speed for us to travel in the Ferrari on the winding Tuscan roads.
Lorenzo thought nothing of putting his foot down ahead of us. This signalled that we could do the same. We thoroughly enjoyed the thrill of acceleration and the roar of this beautiful car. It purred around the beautiful Italian countryside.
The memory of this experience will live with us forever. Instead of counting sheep at night we now remember the thrill of piloting this high spirited streamlined vehicle. There could be no better route that the lanes that weave between the Chianti vineyards.
It was not just about the driving though. Our route was a circular one through the Chianti wine region and we stopped in some beautiful places.
First stop was a monastery where monks had lived for 800 years before being ordered off the land by French troops.
The monastery was subsequently sold to an Italian banker, Joseph Givntini, whose family have owned it ever since. It is now host to small weddings with a few guest bedrooms to be rented. The main business of the monastery, however, is the production of wine and olive oil.
We were shown the crypt where the monks had once been buried for centuries. When it was discovered that their bodies were so well preserved they were moved to a nearby cemetery. Their placed in the crypt made way for the barrels of wine which also needed to be well preserved!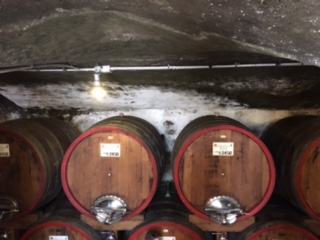 The wine is stored in either French oak or Austrian oak barrels. for 20 to 25 years these provide a distinctive flavour to the wine. It slowly matures into the famous Chianti Classico which is now sold worldwide.
Not only did we drive a Ferrari around the Tuscan countryside but en route we learnt of the history. We experienced the vineyards and the wine making process in this beautiful country.
After the tour of the Italian gardens and wine cellars in the monastery we enjoyed a light lunch. This was served at a restaurant on site. We then drove on through this wonderful landscape to the Castillo de Brollo. What a unique Tuscan experience that was.
Castillo di Brollo is a magnificent castle built in the 10th century. It was bought in 1141 by the powerful Ricasole family who turned the castle into a fortress.
Finally, at the end of the 1500s, the two cities of Siena and Florence stopped fighting. Bettino Ricasole who was the 32nd generation of Ricasoles to live in Castillo di Brollo, built a private church on the site. He also constructed a new red brick building which is still home today to the Ricasole family when they visit.
Bettino Ricasole was an incredible man. He was a talented artist, he was mayor and he was prime minister for 2 separate terms. He was a great supporter of unification in Italy.
Bettino dedicated the last 20 years of his life to studying the Tuscan soils, land and climate that would produce the best wines. He even blended wines made from grapes from other parts of the region to improve his wines. These improved his sales throughout the world. It is clear to see from everything he turned his hand to what a perfectionist this man was. He left behind quite a legacy.
After an action packed, adrenaline filled day it was back to the sanctuary of Villa Massa. Sadly we had to say goodbye to the car which had been our beloved companion for the day.
After yet another wonderful dinner in La Massa we set off the next day to explore the churches, galleries, shopping and gelaterias of Florence. Although we had visited Florence several times before we were not disappointed.
Our last day was spent cycling in and around the walls of Lucca. Lucca is just an hour away from Pisa airport.
If you haven't visited Lucca it is an absolute must. Lucca is a typical Italian walled town with magnificent views from the walkways and cycle paths over the hills of Tuscany.
Within the walls itself are wonderful eateries, cafes, quaint boutique hotels, churches and shops. We hired bicycles and cycled around the town in the sunshine. At one point we stopped at a gorgeous restaurant on the city walls to enjoy antipasti and truffle pastas. These were followed by Pecorino cheeses and home-made Italian bread and olive oil.
Just 4 nights away and we felt we had been away for weeks. It was a unique Tuscan experience.
Italy offers more than a destination, it offers a way of life.
If you would like to enjoy a similar Tuscan experience, whether with or without the Ferrari, contact us at [email protected] or call us on 0845 017 6707.
We will be happy to advise and to arrange a trip of a lifetime for you. Let us create your very own unique Tuscan experience.