Fully staffed villas in Barbados
FULLY STAFFED VILLAS IN BARBADOS
It is not unusual for villas in Barbados to be rented on a fully staffed basis.
Clients tend to look for fully staffed villas in Barbados. This is because they can generally relax and know that their rooms will be cleaned, washing and ironing done and food prepared and served.
There are many fully staffed villas in Barbados to choose from and we have an excellent selection.
Here are a few of our favourite fully staffed villas in Barbados.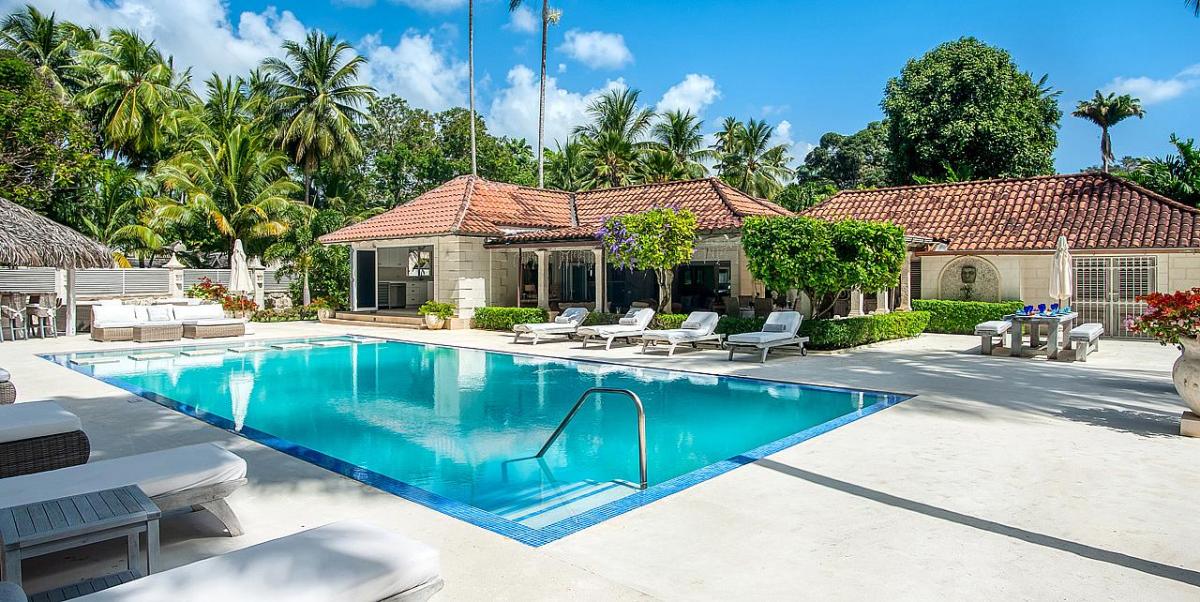 We love Villa Melissa because the staff are amazing. The poolside bar is the ideal spot to gather round, before or after dinner, sipping your favourite cocktail and the light show from the pool at night creates a truly enchanting atmosphere.
Villa Melissa is a lovely beach style villa just 3 minutes walk from the beach in Barbados. It offers 5 en suite bedrooms and is the perfect family villa.There are 3 air conditioned bedrooms in the main house and a futher 2 double air-conditioned en suite bedrooms in the delightful, self-contained cottage.
The cottage is particularly romantic with its vaulted ceilings and original coral stone walls.
A white, modern kitchen opens right out into the garden. It is a cook's delight. There are 2 fridge freezers, 2 ovens, microwave, dishwasher and wine fridge. There is even a butler's pantry and much more. Of course you don't have to do the cooking! Eurice the cook is there to look after you and of course the restaurants and bars in Barbados offer a wide range of wonderful, tasty cuisine in sea front settings.
The cottage is a wonderful original coral stone building. There are fossils in its walls and the bedrooms are large and furnished in calming creams and taupes. The master bedroom in the cottage is particularly romantic with a delightful four poster bed. It is often first choice accommodation for honeymooners.
Villa Melissa is rented with cook, housekeeper/laundress and Ian, the general assistant. Ian will prepare your drinks at the bar and serve your meals. Ian loves to please and can make just about any cocktail you require. He is also master of the napkin fold and you will rarely see the same napkin fold during your stay!
If you are interested in fully staffed villas in Barbados and would like more information contact us today
For more details about Villa Melissa click here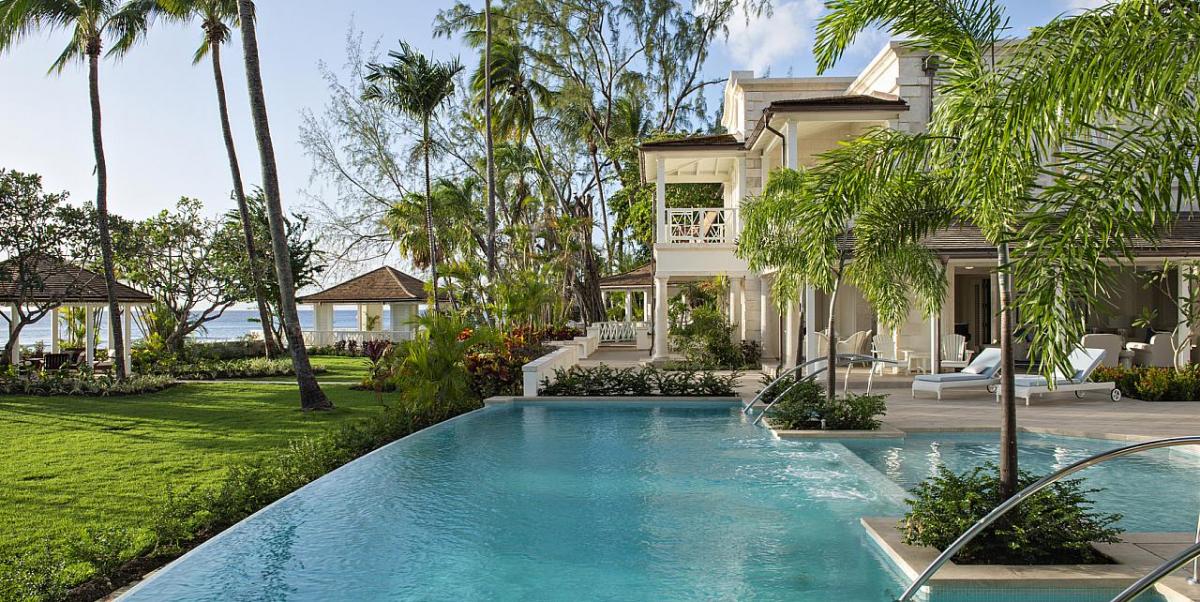 There are few properties in Barbados that can beat The Great House for location, beauty and service.
It is in a wonderful beach front location set in private lush tropical gardens. It has recently has extensive renovation and redesign. The Great House offers12 bedrooms, private pool, tennis court, gym and spa. A boat and boatman is included.
The team of staff run this villa like clockwork. Excellent chefs will whisk up divine breakfasts, lunches and dinners.
The Great House offers the ideal beachfront accommodation on the west coast of Barbados. It has 12 double bedroom suites and with the right configuration for families with children it can accommodate up to 30 guests. This superb, modernised West Indian style plantation house is nestled amongst swaying palm trees on the beachfront in the parish of St Peter. It has its own large private swimming pool.
With its new yet classical bathrooms and bedrooms it is now one of the most exclusive properties beachfront in the Caribbean. The gardens extend to around two and a half acres.
The Great House may be rented on an 8 to 12 bedroom basis (with price adjusted accordingly).
This home has had the most sympathetic of renovations. Notwithstanding the size of the estate and extensive bedrooms and living areas, the designers have managed to retain that cosy, comfortable feeling of a home. When you arrive you will be enchanted by the peace and serenity of this calming beach front home.
Staying at The Great House you will feel that you are in one of the most beautiful boutique hotels in the world. There are few fully staffed villas in Barbados that can match The Great House.
If you are looking for fully staffed villas in Barbados contact us today
For more information about the Great House click here or contact us today
Alila is a beautifully designed open plan Balinese style home. It enjoys tropical gardens and the stunning pool gives this villa a touch of paradise! Occupiers also enjoy access to Sandy Lane Estate beach facility.
Alila is situated on the edge of a ridge on the Sandy Lane Estate. It is located on Barbados' West Coast. Villa Alila has a wonderful treetop view out to the Caribbean Sea.
This two storey luxury villa is beautifully built with a flowing open plan design. Each room leads onto another and each offers a lovely view. With beautiful foliage all around this is a tropical paradise.
Alila is rented with a full team of staff including chef, housekeeper and laundress.
Guests staying at Villa Alila will also have access to a private beach cabana at the renowned Sandy Lane beach. Guests have access tennis and golf nearby. They may also use the Sandy Lane Estate Beach Club facilities.
Ask the chef at Alila to prepare a picnic for you and take it with you to the beach. Enjoy your sumptuous lunch using the Sandy Lane Estate Beach Club facilities.
If you are interested in Alila contact us today
For other fully staffed villas in Barbados contact us today or visit barbadosdreamvillas.com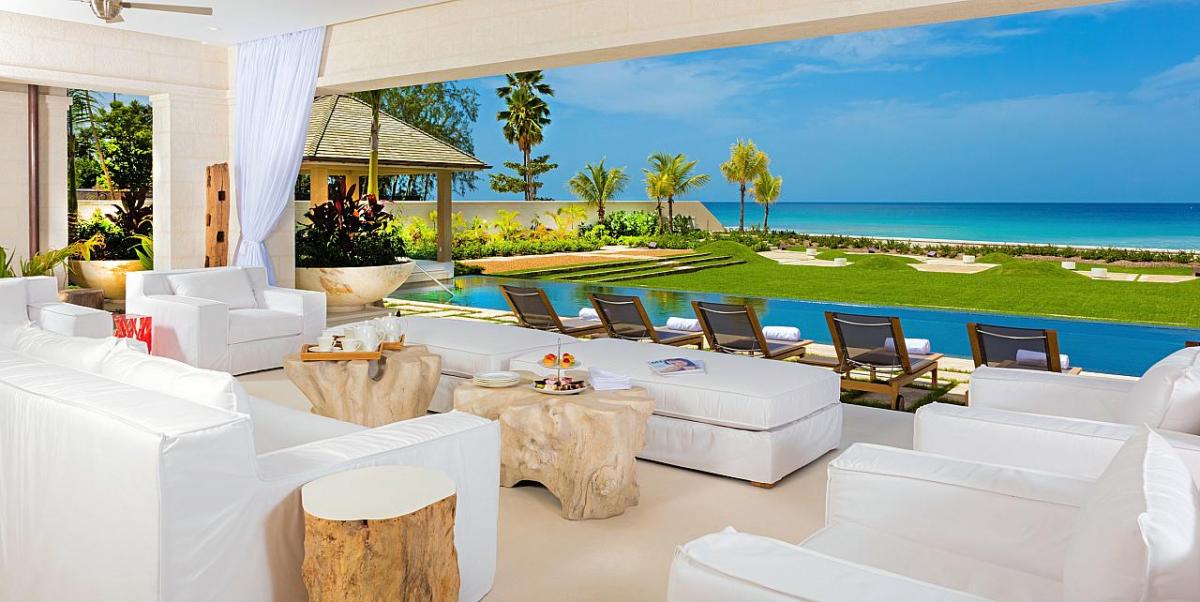 Godings Beach House is striking and stylish in a beachfront position.
It is contemporary in style and beautifully designed and furnished. The property has a lovely private swimming pool
Striking and stylish, Godings Beach House is located on the west coast. Godings is rented with a full complement of staff including butler, cook, housekeeping and laundress. They will look after your every need.
You will enjoy the privacy of a private villa and the services you might expect in a boutique hotel.
Godings Beach House sits directly beside the beautiful golden sands of Godings Bay.
You will enter Godings Beach House through its colonial gates. It sits in tranquil tropical gardens. Your first view beyond the immaculate open living space is to the breathtaking Caribbean Sea. It really does take your breath away.
The ground floor of Godings Beach House is bright and open plan throughout. Its huge windows foster a calming sense of being at one with your natural surroundings.
A large and comfortable living area enjoys a cooling breeze and captivating views of the sea. To the north of the ground floor an imposing oak table provides ample space for dining. A modern "Boffi" kitchen allows guests, or their butler to prepare drinks and snacks.
The main commercial kitchen of Godings Beach House (yes there are two beautiful kitchens!) allows the cook to create delicious gourmet meals out of sight.
For less formal occasions two ambient open air seating areas offer a perfect setting in which to dine beneath the sultry evening sky.
Running parallel to the living room is a 25 metre long pool. This is enclosed by a limestone deck. Comfortable sun loungers provide a perfect space to relax. At each end of the pool are pavilions which can be used for a number of activities. These include yoga, massages and al fresco dining.

Also on the ground floor is a unique, air conditioned office. It has glass walls and views over the extensive pool and lush gardens to the glistening sea beyond. Beside the office you will find a cinema.
If you are looking for fully staffed villas in Barbados Godings Beach House should be on your list.
For more information about Godings Beach House contact us today
For details of other fully staffed villas in Barbados contact us today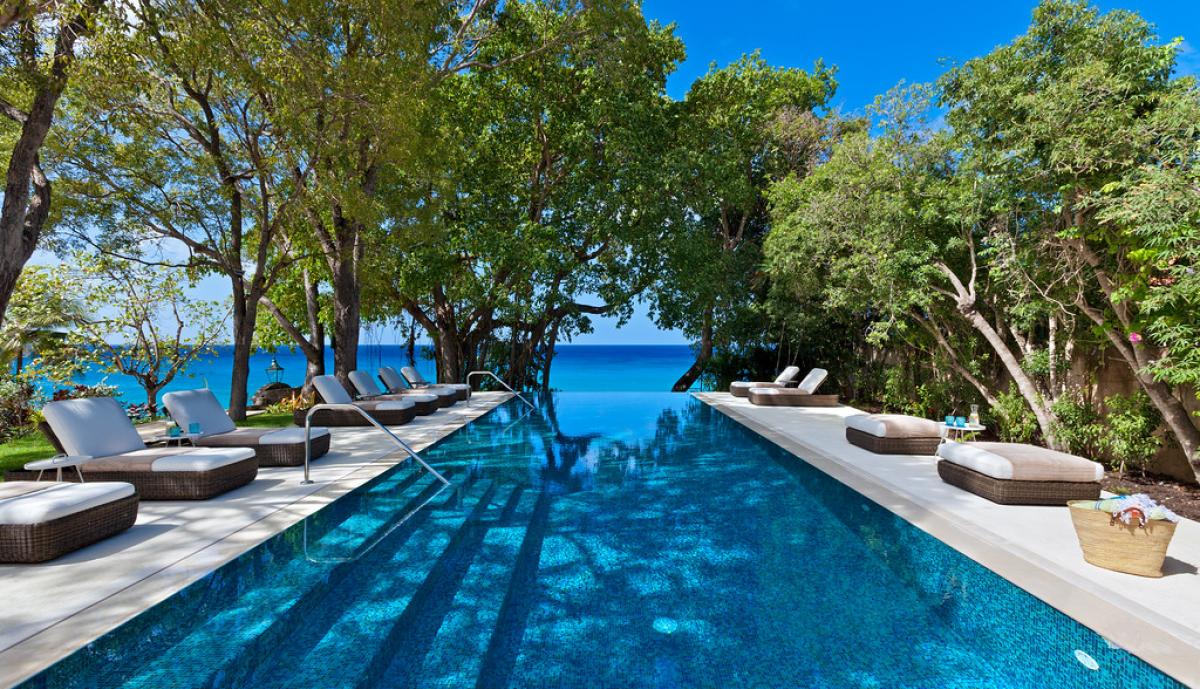 We love this villa because it is one of the most romantic villas in Barbados. Crystal Springs was designed by world acclaimed Oliver Messel and has recently been beautifully renovated. With trompe d'oeil, its own beach and use of boat it is set in lush gardens with it's own waterfall. Just steps away from the beach and so close to all the local amenities!
Crystal Springs is a stunning 10 bedroom villa on the beach on the West Coast of Barbados.
It sits on 1.7 acres of beachfront estate. It offers accommodation for up to 20 guests.
Crystal Springs is located between Speightstown and Holetown. It is in an ideal postion for shopping. Crystal Springs is also just a short drive to golf and tennis at Sandy Lane Estate or Sugar Hill.
Crystal Springs is set right above the Caribbean Sea amongst landscaped mature gardens. It has fountain pools and waterfalls. Its views directly overlook the crystal blue Caribbean sea and a white sandy beach. The beach is just a few steps down.
Stairways and paths lead down to the small beach/ swimming cove. This can be accessed both from the Gully and the Terraces above. Steps to the east of the terrace allow easy access to a large swimming pool. This has spectauclar views over the sparkling waters of the Caribbean. It is set amidst Bougainvillea and shady young Mahogany trees.
The villa is rented with the benefit of a property manager and a full complement of staff. These include 2 butlers, chef, cook, 3 housekeepers, 2 laundresses, boatman and 2 security guards.
If you are interested in Crystal Springs contact us today
For more fully staffed villas in Barbados contact us today or visit barbadosdreamvillas.com