Driving Ferraris in Italy
DRIVING FERRARIS IN ITALY
Can there be anything better than driving Ferraris in Italy? Imagine stepping into your gleaming red Ferrari and cruising along the beautiful lanes of the Chianti region of Tuscany? This is a bucket list dream come true.
Even those of you who are not car lovers could not fail to enjoy this experience. With beautiful rolling hills, young vines on the hillsides and blue skies above what more could you wish for. Driving ferraris in Italy is the experience of a life time. A dream come true.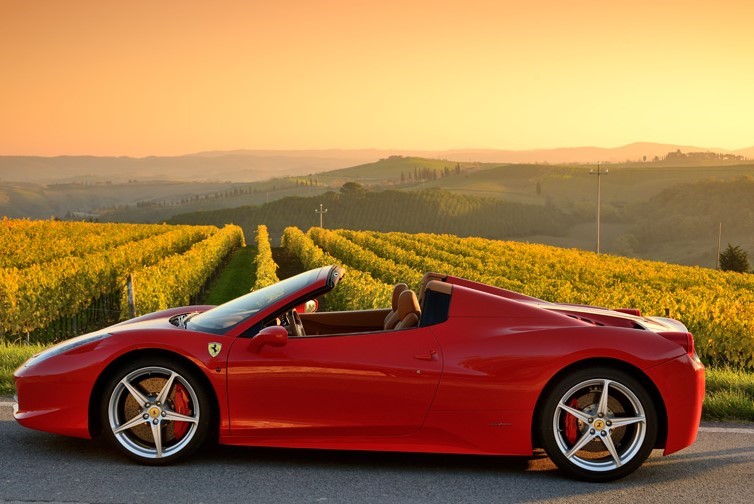 Let us whisk you away to sunshine and beautiful landscapes in one of the most beautiful countries in the world. Not only is the scenery stunning and unspoilt but the people are fun and full of the joys of life. As if that were not tempting enough, the food and wines are diverse and delicious. These are such simple pleasures to whet your palate.
Whether you want simply to enjoy half a day in a Ferrari or 4 days touring the wonderful Tuscan countryside whilst staying in beautiful hotels we can organise it all for you. We can tailor make trips for you and your friends and help you to create memories of a lifetime.
For businesses wanting to incentivise their staff we will create the most amazing, team building, memorable incentive trip. There really could be no better experience.
These trips are safe and well organised. No need to worry about driving Ferraris in Italy. A driver in a car ahead of you will work out your route and guide you on when to put your foot down. There is nothing more exhilarating than hearing the roar of this incredible beast beneath you. To feel that rush of adrenaline as you accelerate and watch the Tuscan hills rolling past you like the wind. You will be connected by radio with the driver ahead who will warn you of any dangers and guide you should you need it. He will become your best friend before you know it. Arrangements will be made for you to have regular stops at places of interest giving you the opportunity to savour delectable local dishes in wonderful restaurants. This is the trip of a lifetime.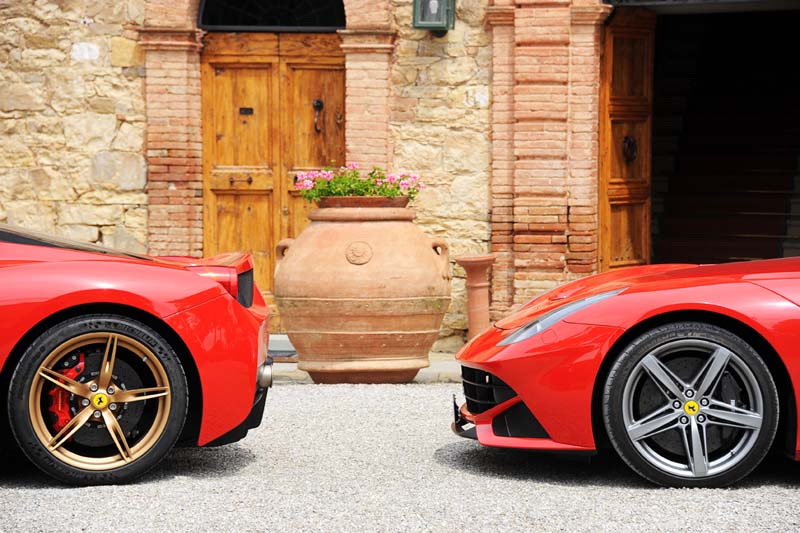 If you would prefer another route we can arrange trips around Lake Como or perhaps Rome and Tuscany or Rome and Umbria. We can even arrange for you to do the Rome & Mille Miglia Ferrari Tour. Just ask and your wish will be our command.
We will make arrangements for you to visit some of the most beautiful vineyards in Italy, to visit monasteries with ornate Italian Gardens, to see how the local wines like Chianti Classico is made and to stay in some of the most beautiful hotels in Italy.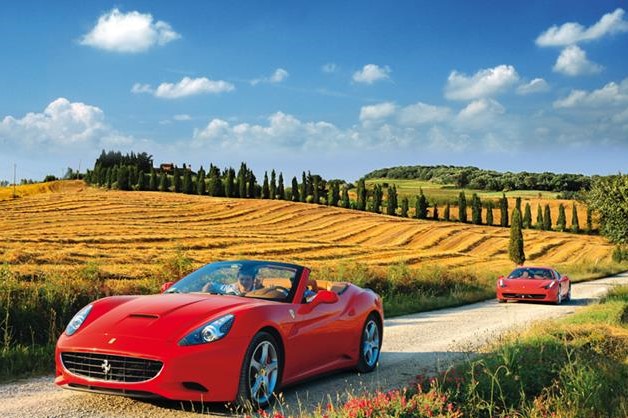 Arrangements can even be made for you to drive the new Ferrari Spider 488.

Prices range from 2,400 euros for a 4 hour Roman tour for 2 persons in one Ferrari. A one day Chianti and Mille Miglia Ferrari tour starts at 4,180 euros for 2 persons in one Ferrari.
One of the best selling Ferrari tours is the 4 day tour in Rome and Tuscany or alternatively Florence and Tuscany. Prices for 2 persons with a double junior suite and 2 days on the road in a Ferrari start at 13,750 euros.
Of course we can organise other parts of your holiday in Italy whether that be in Rome, Florence, Umbria, Tuscany, the Italian Lakes or anywhere else in Italy. We have the very best hotels to offer or if you prefer a little more privacy we have some of the most beautiful homes and farmhouses in Italy to rent.
If you are interested in driving Ferraris in Italy contact us today.
To hear more and turn your dream into a reality call us today in the UK on 0845-017-6707 or toll Free USA/CANADA: 1-888-349-7844 or or email us at [email protected]