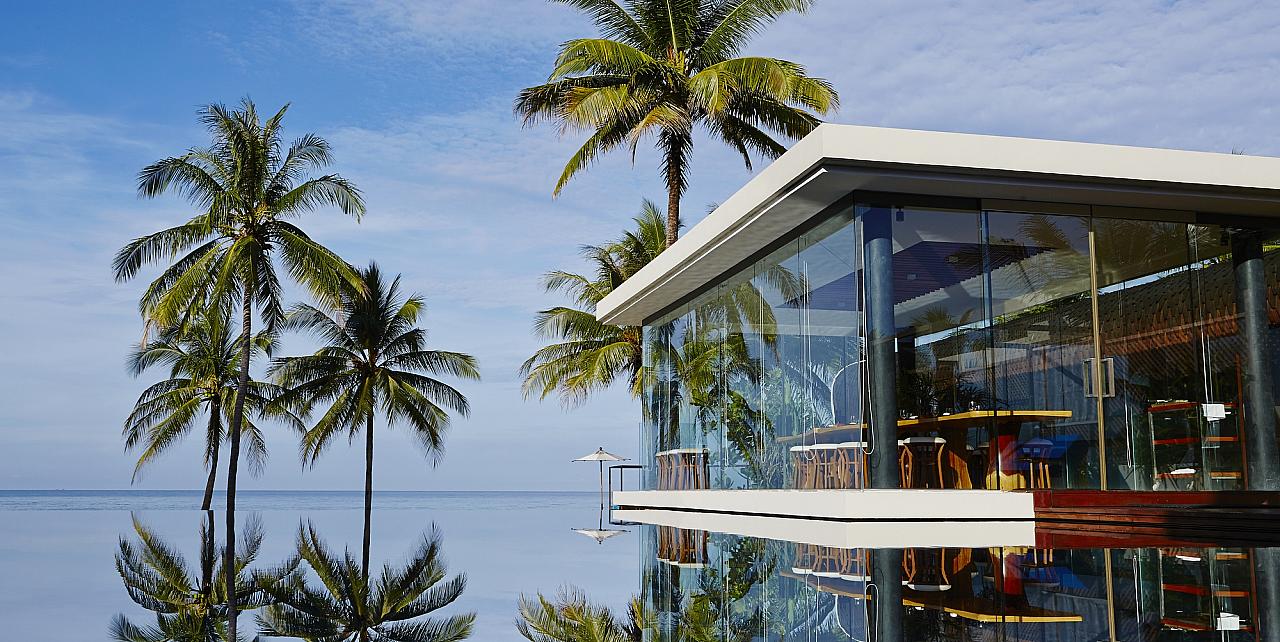 Add to Favourites
Plan Your Trip
HAVE QUESTIONS?
UK : 0845-017-6707
USA/CANADA: +1 347 707 1195
BARBADOS: +246-432-6307
INTERNATIONAL: +44 1978 368531
Iniala Beach House, Thailand – one of the most spectacular private Estates in Asia, epitomises creative designer sophistication and elegance within extraordinary, unique architecture and interiors.
Set on the secluded area of Natai Beach, just a short drive from the island of Phuket, this distinctive residence comprises three beachfront villas (each with 3 bedrooms) and an exclusive Penthouse, all overlooking the stunning Andaman Sea. Each villa is available to book separately, or gather your friends and family for an unforgettable experience in all 10 bedrooms. Each villa features full services from your personal butler, driver, chef, housekeeper and Spa therapist.
Every stay at Iniala is completely unique, tailor-made to exact requirements, be it a Spa and Fitness programme, fun activities for the children in the dedicated "Kids Hotel", stunning private yacht cruises around the islands, exploring the Thai cultures and cuisine or just relaxing around your own private pool and sundeck.
One of the most impressive aspects of Iniala is the gastronomical experiences with your own personal chef or the memorable dining offered at Aziamendi restaurant, headed by Eneko Atxa (3 Michelin star chef) located on the border of the estate. Your stay includes two extraordinary evenings in the restaurant per week with a choice of truly remarkable tasting menus.
INIALA PENTHOUSE : A futuristic vision with cushioned flooring resembling a soft sand beach, a sumptuous, suspended white leather bed with open-plan bath area including an oversized bath, "tardis" like shower and walk-in wardrobe. The adjoining living area with an oversized "crater" sofa also features a dining suite and kitchen from which your personal chef serves incredible cuisine. The entire suite is the ultimate in sumptuous living with a huge private pool on the roof top with spectacular sea views and gorgeous seating and dining areas

VILLA BIANCA : Architects and designers from Spain and Russia have together created a marvel of iconic living with magnificent seashell shaped exteriors with spectacular curvaceous ceilings, white furnishings with natural wood which provides a showcase background for the exquisite Asian art. Each private suite features a stunning bathroom and the quintessential Russian Matryoshka doll's shape can be seen within the furniture's design from the bed to the bathtub. A 20 metre swimming pool, perfect for lap swimming and a private deck offering outdoor living and dining.
VILLA SIAM : created by 'Eggarat Wongcharit' who has sculpted an extraordinary celebration of contemporary Thai art, craft and design. Two beach suites, just a step to the beautiful sands, are known as "Coccoons" with their ornate bamboo detail and sculptured furnishings inspired by the fascinating Thai cultures. The third suite "Lotus Flowers" has sculpted flowers that adorn the walls and ceiling. Each suite includes a resplendent, luxurious bathroom. The central BELL Spa in the shape of a Thai temple bell offers 2 massage tables and 2 pedicure chairs decorated in ornate gold leaf.
THE COLLECTOR's VILLA : The largest of the 3 villas at Iniala Beach House features the creativity of 4 leading international designers with its concept of a traditional Thai House accentuated by a contemporary twist. With a large private pool, sundeck with loungers and seating areas looking out to the beach and shimmering sea. The villa features its own private spa, cinema room and living area that is a perfect gathering area for cocktails and night-caps. The three extraordinary suites are an eclectic mix of designer including the Owner's Suite, Carpenter's Chamber with its hand-carved bed and the spectacular Boudoir with its mix of crystal, silks, mirrors and metallic structures.
See more details...
Amenities
Air Conditioned bedrooms
Air Conditioning
Bar
BBQ
Beach Front
Boutique
Car and Driver
Ceiling Fans
Childrens Activities
Cinema
Complimentary Concierge Service
Fitness Centre
Games Room
Hair Dryer
On site security
Private Pool
Restaurant
Satellite TV
Sea view
Sunbeds
Telephone
TV
Wireless Internet
See more details...
Bedroom : 1 - 10
Bathroom : 1 - 10
Staff
• Butler
• Driver
• Chef
• Housekeeper
• Spa therapist
• Fitness and yoga instructors.
Rate
3 Bedroom Iniala Penthouse rental starting from US$2,350 per night.
Rates available for all accommodation, call or message for availability, pricing and further information
Location
Natia Beach, Thailand
• 30 minutes drive from Phuket Airport
• One hour's drive from Phuket Town
Other Properties you may like