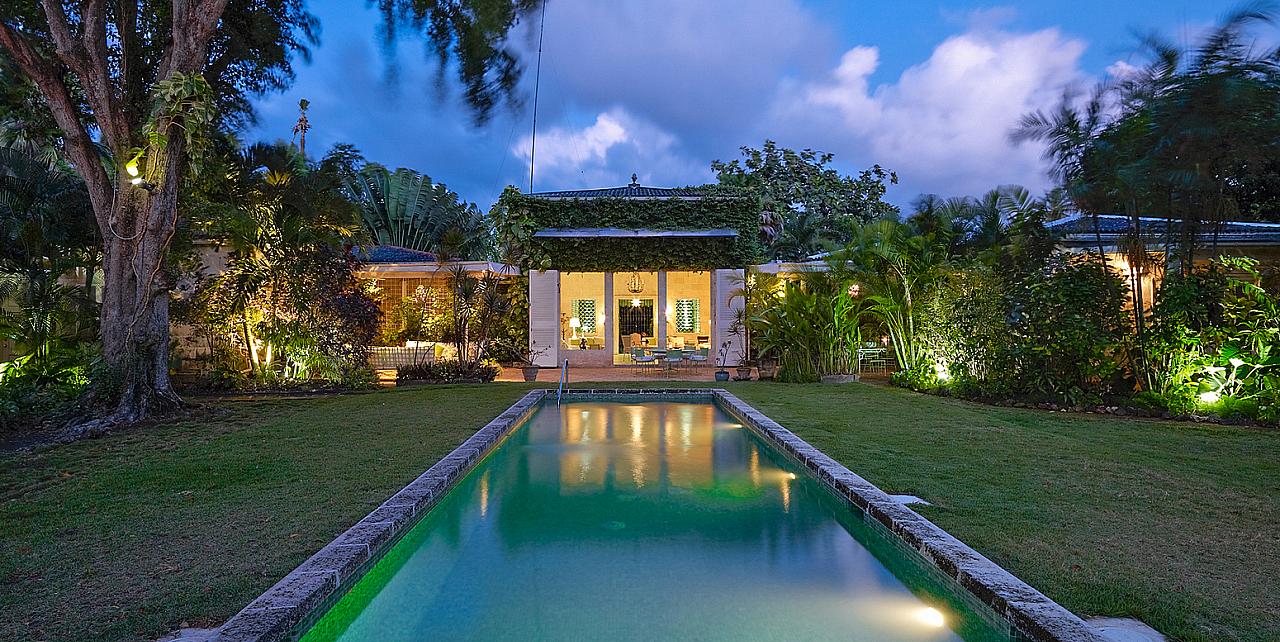 Add to Favourites
Plan Your Trip
HAVE QUESTIONS?
USA/CANADA: +1 347 707 1195
BARBADOS: +246-432-6307
UK /INTERNATIONAL: +44 1978 368531
We love this villa because...
set in a lush tropical garden with it's fruiting tree's and sea view pool, this 1950's coral stone villa is perfectly placed with direct access to the pristine coral sand beach and only a 10 minutes walk to Speightstown!
Nelson Gay is built in the finest colonial style. It makes the most of probably the best location on the favoured west coast of Barbados. It is located next to the celebrated Cobbler's Cove Hotel. It sits on a half-mile crescent of pristine coral sand. This house is one of Barbados' best kept secrets.


Nelson Gay was built in the '60s for US Ambassador Robert M. Scotten. He was a personal friend of President F.D. Roosevelt. The house was designed by British architect Barbara Hill. Inspired by a book on life in the Windward Islands, she moved from England to Barbados in 1958.
Nelson Gay has been refurbished including new upholstery in the house and garden. There are new floors in the master bedrooms. There are also new telecoms, new TV audio-visual facilities and a 60" flat panel screen in the media room. There is also a PS3, cable and SONO Wireless Home Audio System, There is a new chattel house with its own bathroom and kitchenette and new plantings in the amazing gardens.
Nelson Gay has always been famous for its lush gardens. It enjoys excellent swimming immediately in front of house. The accommodation is on one level offering a total of 9 bedrooms,
6 bedrooms include
Master 1
Master 2
Erte room
Green Room
South wing bedroom
Cottage
There are then three additional rooms, which can be added on for the 7, 8 or 9 bed rate:
• Chattel 1
• Chattel 2
• Media room, transformed into a bedroom (this is the only room that shares a bathroom with one of the master bedrooms - ideal for children)
The pool can be heated (at an extra cost). It is ideal for infants and the elderly (it can be fenced off if required). The house is rented with the services of outstanding staff.

In addition, the latest improvements include:
• Garden. The walkways have been re-laid to provide a safe and even surface. Hundreds of new plants have been planted along with new grass and new lighting.
• Terraces . There are 2 new 20' x 20' awnings and 3 new extra comfortable 9' sofas. The outdoor dining area for 14 has also been upgraded.
• House. Every room has been redecorated with new flooring in the master bedrooms and bathrooms matching the classic Oliver Messel floor in the living room
• Entertainment . A 55" flat screen in the media room with surround sound. There is also a DVD and PS3. 42"screens in the master bedrooms, 32" flat screens in three other bedrooms . The house is rented with the benefit of 400+ DVDs
The 50' pool can be heated and fenced in. Nelson Gay sits in nearly 2 acres of mature tropical gardens.
The spacious living room is a central point with 14ft high ceilings . This room opens up onto an 80ft terrace. The terrace overlooks the pool, garden and sea. There is an incredible swimming pool (50ft x 12ft x 4.5ft deep). This is tiled in green mosaic and located in the centre of the garden.
At the end of the garden is a half mile of pristine, sandy beach. There is a reef to one side which is ideal for snorkeling. There is also a large area immediately in front of the villa. This is roped off with buoys for safe swimming.
At night the garden takes on another identity with the new spectacular garden lighting. Nelson Gay has various seating arrangements within the gardens. There is a garden gazebo by the beach. There is also a beautiful candlelit dining room to seat 12. This is furnished with French antique chairs and a large Messell mirror. It is ideal for evening meals.
The villa is child friendly for all ages. It is equipped with a cot for babies up to 9 months, a high chair and children's crockery and cutlery. There are also buckets and spades for fun on the beach.
There are five bedrooms in the main house. Each is decorated in a soothing palette of green and white. There are high quality linens and chandelier lighting. billowing curtains blow in the breeze and the tiled flooring is designed by Messel.
The bedrooms are each individually air-conditioned and feature plasma televisions, cable and DVD.
One bedroom is located in the South Wing; featuring his and hers en suite bathrooms with showers. The bedroom's external doors fold back to reveal a charming private terrace. This has a sitting area and verdant foliage. It is ideal for a morning cup of tea or private relaxation.
Bedrooms:
Main House
Master Bedroom 1 - King Bed, En Suite with Toilet, Shower & Single Vanity
Master Bedroom 2 - King Bed, Shared Bathroom with Toilet, Shower & Single Vanity
Erte Bedroom - Queen Bed, En Suite with Toilet, Combo Tub Shower & Single Vanity
Green Room - Twin Beds (2), En Suite with Toilet, Combo Tub Shower & Single Vanity
South Wing - Queen Bed
Cottage - King Bed, En Suite with Toilet, Shower & Single Vanity
Chattel House 1 - King Bed, En Suite with Toilet, Shower & Single Vanity
Chattel House 2 - King Bed, En Suite with Toilet, Shower & Single Vanity
Media room transformed into bedroom. Twin Beds (2),Please note this room shares a bathroom with Master Bedroom 2. We recommend this bedroom as an option for young children.
Nelson Gay Villa can be rented as a 4, 5, 6, 7, 8 or 9 Bedroom Villa sleeping up to 18 guests.
If you are interested in renting Nelson Gay in Barbados contact us today
For other luxury villa holidays in Barbados visit barbadosdreamvillas.com
For long term rentals in Barbados visit longtermrentalsbarbados.com
For properties to buy in Barbados visit barbadosdreamproperties.com
See more details...
Special Offer(s):
NOVEMBER - DECEMBER SPECIAL OFFER!
Two free nights when you book and pay for 12 nights
One free night when you book and pay for 6 nights
Only available 26th November - 10th December 2022
Amenities
Air Conditioned bedrooms
Approved Status for Quarantine
BBQ
Beach Front
Cable TV
Car Parking on site
Car Recommended
Ceiling Fans
Children Welcome
DVD Player
Fax Machine
Fully Equipped Kitchen
Gazebo
Hair Dryer
Media Room
Private Garden
Private Pool
Safe
Security System
Staffed Villa
Telephone
TV
Wireless Internet
See more details...
Bedroom : 4 - 9
Bathroom : 7
Staff
• Butler
• Cook (prepares 3 meals per day)
• Housekeeping
• Laundress
Key Facts
• Beachfront location with direct access to beach
• Pristine beach perfect for swimming and nearby reef ideal for snorkeling
• 10 minutes walk or 2 minute drive to Speightstown
• Suitable for all age groups, families and friends
• Ideal wedding venue
Rate
Rates on request.
Please call or message for rates, availability or further information.
Availability
(Please use as a guide only as availability is subject to change)
December , 2022
| Sun | Mon | Tue | Wed | Thu | Fri | Sat |
| --- | --- | --- | --- | --- | --- | --- |
| | | | | 01 | 02 | 03 |
| 04 | 05 | 06 | 07 | 08 | 09 | 10 |
| 11 | 12 | 13 | 14 | 15 | 16 | 17 |
| 18 | 19 | 20 | 21 | 22 | 23 | 24 |
| 25 | 26 | 27 | 28 | 29 | 30 | 31 |
January , 2023
| Sun | Mon | Tue | Wed | Thu | Fri | Sat |
| --- | --- | --- | --- | --- | --- | --- |
| 01 | 02 | 03 | 04 | 05 | 06 | 07 |
| 08 | 09 | 10 | 11 | 12 | 13 | 14 |
| 15 | 16 | 17 | 18 | 19 | 20 | 21 |
| 22 | 23 | 24 | 25 | 26 | 27 | 28 |
| 29 | 30 | 31 | | | | |
February , 2023
| Sun | Mon | Tue | Wed | Thu | Fri | Sat |
| --- | --- | --- | --- | --- | --- | --- |
| | | | 01 | 02 | 03 | 04 |
| 05 | 06 | 07 | 08 | 09 | 10 | 11 |
| 12 | 13 | 14 | 15 | 16 | 17 | 18 |
| 19 | 20 | 21 | 22 | 23 | 24 | 25 |
| 26 | 27 | 28 | | | | |
March , 2023
| Sun | Mon | Tue | Wed | Thu | Fri | Sat |
| --- | --- | --- | --- | --- | --- | --- |
| | | | 01 | 02 | 03 | 04 |
| 05 | 06 | 07 | 08 | 09 | 10 | 11 |
| 12 | 13 | 14 | 15 | 16 | 17 | 18 |
| 19 | 20 | 21 | 22 | 23 | 24 | 25 |
| 26 | 27 | 28 | 29 | 30 | 31 | |
April , 2023
| Sun | Mon | Tue | Wed | Thu | Fri | Sat |
| --- | --- | --- | --- | --- | --- | --- |
| | | | | | | 01 |
| 02 | 03 | 04 | 05 | 06 | 07 | 08 |
| 09 | 10 | 11 | 12 | 13 | 14 | 15 |
| 16 | 17 | 18 | 19 | 20 | 21 | 22 |
| 23 | 24 | 25 | 26 | 27 | 28 | 29 |
| 30 | | | | | | |
May , 2023
| Sun | Mon | Tue | Wed | Thu | Fri | Sat |
| --- | --- | --- | --- | --- | --- | --- |
| | 01 | 02 | 03 | 04 | 05 | 06 |
| 07 | 08 | 09 | 10 | 11 | 12 | 13 |
| 14 | 15 | 16 | 17 | 18 | 19 | 20 |
| 21 | 22 | 23 | 24 | 25 | 26 | 27 |
| 28 | 29 | 30 | 31 | | | |
June , 2023
| Sun | Mon | Tue | Wed | Thu | Fri | Sat |
| --- | --- | --- | --- | --- | --- | --- |
| | | | | 01 | 02 | 03 |
| 04 | 05 | 06 | 07 | 08 | 09 | 10 |
| 11 | 12 | 13 | 14 | 15 | 16 | 17 |
| 18 | 19 | 20 | 21 | 22 | 23 | 24 |
| 25 | 26 | 27 | 28 | 29 | 30 | |
July , 2023
Sun
Mon
Tue
Wed
Thu
Fri
Sat
01
02
03
04
05
06
07
08
09
10
11
12
13
14
15
16
17
18
19
20
21
22
23
24
25
26
27
28
29
30
31
August , 2023
| Sun | Mon | Tue | Wed | Thu | Fri | Sat |
| --- | --- | --- | --- | --- | --- | --- |
| | | 01 | 02 | 03 | 04 | 05 |
| 06 | 07 | 08 | 09 | 10 | 11 | 12 |
| 13 | 14 | 15 | 16 | 17 | 18 | 19 |
| 20 | 21 | 22 | 23 | 24 | 25 | 26 |
| 27 | 28 | 29 | 30 | 31 | | |
September , 2023
| Sun | Mon | Tue | Wed | Thu | Fri | Sat |
| --- | --- | --- | --- | --- | --- | --- |
| | | | | | 01 | 02 |
| 03 | 04 | 05 | 06 | 07 | 08 | 09 |
| 10 | 11 | 12 | 13 | 14 | 15 | 16 |
| 17 | 18 | 19 | 20 | 21 | 22 | 23 |
| 24 | 25 | 26 | 27 | 28 | 29 | 30 |
October , 2023
| Sun | Mon | Tue | Wed | Thu | Fri | Sat |
| --- | --- | --- | --- | --- | --- | --- |
| 01 | 02 | 03 | 04 | 05 | 06 | 07 |
| 08 | 09 | 10 | 11 | 12 | 13 | 14 |
| 15 | 16 | 17 | 18 | 19 | 20 | 21 |
| 22 | 23 | 24 | 25 | 26 | 27 | 28 |
| 29 | 30 | 31 | | | | |
November , 2023
| Sun | Mon | Tue | Wed | Thu | Fri | Sat |
| --- | --- | --- | --- | --- | --- | --- |
| | | | 01 | 02 | 03 | 04 |
| 05 | 06 | 07 | 08 | 09 | 10 | 11 |
| 12 | 13 | 14 | 15 | 16 | 17 | 18 |
| 19 | 20 | 21 | 22 | 23 | 24 | 25 |
| 26 | 27 | 28 | 29 | 30 | | |
December , 2023
| Sun | Mon | Tue | Wed | Thu | Fri | Sat |
| --- | --- | --- | --- | --- | --- | --- |
| | | | | | 01 | 02 |
| 03 | 04 | 05 | 06 | 07 | 08 | 09 |
| 10 | 11 | 12 | 13 | 14 | 15 | 16 |
| 17 | 18 | 19 | 20 | 21 | 22 | 23 |
| 24 | 25 | 26 | 27 | 28 | 29 | 30 |
| 31 | | | | | | |
January , 2024
| Sun | Mon | Tue | Wed | Thu | Fri | Sat |
| --- | --- | --- | --- | --- | --- | --- |
| | 01 | 02 | 03 | 04 | 05 | 06 |
| 07 | 08 | 09 | 10 | 11 | 12 | 13 |
| 14 | 15 | 16 | 17 | 18 | 19 | 20 |
| 21 | 22 | 23 | 24 | 25 | 26 | 27 |
| 28 | 29 | 30 | 31 | | | |
February , 2024
| Sun | Mon | Tue | Wed | Thu | Fri | Sat |
| --- | --- | --- | --- | --- | --- | --- |
| | | | | 01 | 02 | 03 |
| 04 | 05 | 06 | 07 | 08 | 09 | 10 |
| 11 | 12 | 13 | 14 | 15 | 16 | 17 |
| 18 | 19 | 20 | 21 | 22 | 23 | 24 |
| 25 | 26 | 27 | 28 | 29 | | |
March , 2024
| Sun | Mon | Tue | Wed | Thu | Fri | Sat |
| --- | --- | --- | --- | --- | --- | --- |
| | | | | | 01 | 02 |
| 03 | 04 | 05 | 06 | 07 | 08 | 09 |
| 10 | 11 | 12 | 13 | 14 | 15 | 16 |
| 17 | 18 | 19 | 20 | 21 | 22 | 23 |
| 24 | 25 | 26 | 27 | 28 | 29 | 30 |
| 31 | | | | | | |
April , 2024
| Sun | Mon | Tue | Wed | Thu | Fri | Sat |
| --- | --- | --- | --- | --- | --- | --- |
| | 01 | 02 | 03 | 04 | 05 | 06 |
| 07 | 08 | 09 | 10 | 11 | 12 | 13 |
| 14 | 15 | 16 | 17 | 18 | 19 | 20 |
| 21 | 22 | 23 | 24 | 25 | 26 | 27 |
| 28 | 29 | 30 | | | | |
May , 2024
| Sun | Mon | Tue | Wed | Thu | Fri | Sat |
| --- | --- | --- | --- | --- | --- | --- |
| | | | 01 | 02 | 03 | 04 |
| 05 | 06 | 07 | 08 | 09 | 10 | 11 |
| 12 | 13 | 14 | 15 | 16 | 17 | 18 |
| 19 | 20 | 21 | 22 | 23 | 24 | 25 |
| 26 | 27 | 28 | 29 | 30 | 31 | |
June , 2024
| Sun | Mon | Tue | Wed | Thu | Fri | Sat |
| --- | --- | --- | --- | --- | --- | --- |
| | | | | | | 01 |
| 02 | 03 | 04 | 05 | 06 | 07 | 08 |
| 09 | 10 | 11 | 12 | 13 | 14 | 15 |
| 16 | 17 | 18 | 19 | 20 | 21 | 22 |
| 23 | 24 | 25 | 26 | 27 | 28 | 29 |
| 30 | | | | | | |
July , 2024
| Sun | Mon | Tue | Wed | Thu | Fri | Sat |
| --- | --- | --- | --- | --- | --- | --- |
| | 01 | 02 | 03 | 04 | 05 | 06 |
| 07 | 08 | 09 | 10 | 11 | 12 | 13 |
| 14 | 15 | 16 | 17 | 18 | 19 | 20 |
| 21 | 22 | 23 | 24 | 25 | 26 | 27 |
| 28 | 29 | 30 | 31 | | | |
August , 2024
| Sun | Mon | Tue | Wed | Thu | Fri | Sat |
| --- | --- | --- | --- | --- | --- | --- |
| | | | | 01 | 02 | 03 |
| 04 | 05 | 06 | 07 | 08 | 09 | 10 |
| 11 | 12 | 13 | 14 | 15 | 16 | 17 |
| 18 | 19 | 20 | 21 | 22 | 23 | 24 |
| 25 | 26 | 27 | 28 | 29 | 30 | 31 |
September , 2024
Sun
Mon
Tue
Wed
Thu
Fri
Sat
01
02
03
04
05
06
07
08
09
10
11
12
13
14
15
16
17
18
19
20
21
22
23
24
25
26
27
28
29
30
October , 2024
| Sun | Mon | Tue | Wed | Thu | Fri | Sat |
| --- | --- | --- | --- | --- | --- | --- |
| | | 01 | 02 | 03 | 04 | 05 |
| 06 | 07 | 08 | 09 | 10 | 11 | 12 |
| 13 | 14 | 15 | 16 | 17 | 18 | 19 |
| 20 | 21 | 22 | 23 | 24 | 25 | 26 |
| 27 | 28 | 29 | 30 | 31 | | |
November , 2024
| Sun | Mon | Tue | Wed | Thu | Fri | Sat |
| --- | --- | --- | --- | --- | --- | --- |
| | | | | | 01 | 02 |
| 03 | 04 | 05 | 06 | 07 | 08 | 09 |
| 10 | 11 | 12 | 13 | 14 | 15 | 16 |
| 17 | 18 | 19 | 20 | 21 | 22 | 23 |
| 24 | 25 | 26 | 27 | 28 | 29 | 30 |
Location
Road View, St Peter
• 2 minutes drive or 10 minute walk to Speightstown
• 55 minute drive from Grantley Adams International Airport
Other Properties you may like