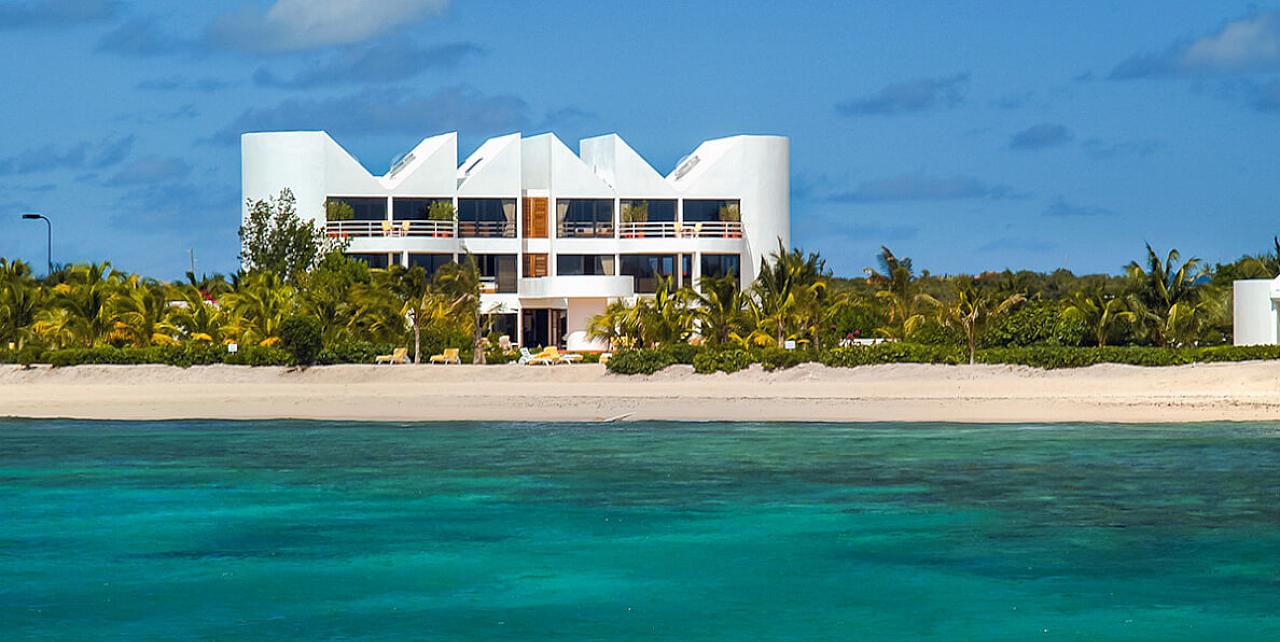 African Sapphire - Altamer Villas
Add to Favourites
From $3,571 USD - $6,914 USD / nt
Plan Your Trip
HAVE QUESTIONS?
UK : 0845-017-6707
USA/CANADA: +1 347 707 1195
BARBADOS: +246-432-6307
INTERNATIONAL: +44 1978 368531
COMING SOON -
Altamer Villas Anguilla are located on Shoal Bay, this a trio of luxury beachfront villas in Anguilla offer accommodation from 5 - 8 bedrooms making them an ideal choice for any group event, family get together or corporate entertaining. There are currently two five-bedroom villas and a third six/eight bedroom villa, and the question is which luxury villa in Anguilla do you choose? Each villa has its own individual layout, personalized interiors and their own unique features, but all are fully staffed, they have private pools, an elevator for easy access for those who find stairs difficult, fitness centre, air-conditioning, access to the tennis and volleyball courts, plus they are all located on the beach.
African Sapphire Villa Altamer - This luxury villa in Anguilla over accommodation in 6 - 8 bedrooms and offers guest everything they need in terms of luxury, comfort and the latest technology. The rooms in this luxury villa are appointed with African art and artifacts, and the Pommele African wood has been used throughout including on the custom built master suite beds. There is also a home theatre with comfortable sofas and a 110 inch screen on the ground floor and then on the upper floor there are also additional seating and entertainment areas with satellite TV, a bar, pool table, card table, an office and a fitness centre.
Also on the second floor is a skywalk terrace with hot-tub - this area is ideal for larger groups as there is lots of space to gather socially. There are 14 flat screen TV's through African Sapphire so guests can watch their favourite sports team in peace. There are two master suites with two guest rooms that can also convert to a third suite. All the bedrooms have en-suite bathrooms and there are two extra rooms and 3 extra bathrooms without views that can be used for maybe staff or children
Altamer Villa African Sapphire features include :
• Two master bedrooms each with private terrace, office, en-suite bathroom with Jacuzzi bath and shower for two
• Four guest rooms, two of which can be converted to a suite
• Two non-view rooms with en-suite bathroom - ideal for staff, children or nanny
• Formal dining room with seating for up to 30 people
• Main living area with 21 ft high ceilings with huge glass windows
• Sitting room with African sculpture and chandelier with over 1 million beads
• Home Theatre with digital sound system
• 14 flatscreen TVs throughout Altamer Villa African Sapphire
• Card and billiard tables
• Outdoor Hot Tub ( seats 12 people) floating Hot Tub for 2 on the second floor skywalk
Each villa includes the following features:
• All bedrooms have en-suite bathrooms
• Professional gourmet kitchen designed for personal dining and large events
• Private fitness center
• Home theater, digital sound system with over 30,000 songs, speakers throughout the villas and LCD TVs in every bedroom
• Broadband and wireless internet connections (additional charge)
• All indoor areas are fully air conditioned
• Handicap accessibility with in-villa elevator
• 45'x20' private outdoor swimming pool and hot tub
• 2 tennis courts with basketball hoops and volleyball court
Altamer Villas have been designed by internationally renowned architect Myron Goldfinger, and interiors by June Goldfinger. They have been branded "Villas for the Connoisseur: The International Gems of Altamer". This luxury villa complex in Anguilla is located on a long white sand beach, ideal for walking and set within five acres of beautifully landscaped grounds with coconut palms and indigenous plants that frame the outstanding views of the sea and nearby island of St Martin.
Guests at Altamer can dine in their fabulous villa and enjoy a cocktail whilst a private chef tkaes care of the cooking. Whether you are planning a wedding, an executive retreat or a family holiday, guests will experience the finest accommodation from bold, exciting forms and spaces with museum quality interiors, and a royal service complemented by excellent cuisine and fine wines. A place to relax, unwind and enjoy your own private special place at one of the Altamer villas on the beach, located at Shoal Bay West.
See more details...
Amenities
Air Conditioning
BBQ
Beach Front
Cable TV
CD Player
Ceiling Fans
Cot
DVD Player
Games Room
Gym/Fitness Room
Hair Dryer
Iron & Board
Jacuzzi
Library
Private Pool
Safe
Telephone
Tennis Court
TV
Wine Cooler
Wireless Internet
See more details...
Bedroom : 8
Bathroom : 6 - 8
Staff
Personal butler with dedicated staff (chef available for additional charge)
Rate
Bedrooms: 8 Bedrooms

| From | To | Min Stay | Nightly Rate | Weekly Rate |
| --- | --- | --- | --- | --- |
| 01-May-2019 | 31-Oct-2019 | NA | $3,571 USD | $24,997 USD |
| 01-Nov-2019 | 30-Nov-2019 | NA | $5,186 USD | $36,302 USD |
| 01-Dec-2019 | 14-Dec-2019 | NA | $6,914 USD | $48,398 USD |
Rental rates are subject to 20.00 % TAX plus any applicable service charge.
Rates based on an occupancy of 2 guests per bedroom and are subject to 20% tax and service charge.
Rates are inclusive of the following: Villa comes with its own private swimming pool, hot tub, fitness center, personal butler with 8 other dedicated staff (chef available if meal plan selected), home theater, state of the art villa sound system, elevator, in villa office with high speed internet connection and wireless access, Caribbean breakfast (fruit, assortment of breads, cereal), cocktail hour canapés, selected beverages (mineral water, coffee, tea). There are 2 tennis courts, with basketball hoops, and 1 volleyball court for the three villas. Rates also available for 6 bed rental, call or message for further information. Rates, taxes and service charges are subject to change without notice.
Availability
September , 2019
| Sun | Mon | Tue | Wed | Thu | Fri | Sat |
| --- | --- | --- | --- | --- | --- | --- |
| 01 | 02 | 03 | 04 | 05 | 06 | 07 |
| 08 | 09 | 10 | 11 | 12 | 13 | 14 |
| 15 | 16 | 17 | 18 | 19 | 20 | 21 |
| 22 | 23 | 24 | 25 | 26 | 27 | 28 |
| 29 | 30 | | | | | |
October , 2019
| Sun | Mon | Tue | Wed | Thu | Fri | Sat |
| --- | --- | --- | --- | --- | --- | --- |
| | | 01 | 02 | 03 | 04 | 05 |
| 06 | 07 | 08 | 09 | 10 | 11 | 12 |
| 13 | 14 | 15 | 16 | 17 | 18 | 19 |
| 20 | 21 | 22 | 23 | 24 | 25 | 26 |
| 27 | 28 | 29 | 30 | 31 | | |
November , 2019
| Sun | Mon | Tue | Wed | Thu | Fri | Sat |
| --- | --- | --- | --- | --- | --- | --- |
| | | | | | 01 | 02 |
| 03 | 04 | 05 | 06 | 07 | 08 | 09 |
| 10 | 11 | 12 | 13 | 14 | 15 | 16 |
| 17 | 18 | 19 | 20 | 21 | 22 | 23 |
| 24 | 25 | 26 | 27 | 28 | 29 | 30 |
December , 2019
| Sun | Mon | Tue | Wed | Thu | Fri | Sat |
| --- | --- | --- | --- | --- | --- | --- |
| 01 | 02 | 03 | 04 | 05 | 06 | 07 |
| 08 | 09 | 10 | 11 | 12 | 13 | 14 |
| 15 | 16 | 17 | 18 | 19 | 20 | 21 |
| 22 | 23 | 24 | 25 | 26 | 27 | 28 |
| 29 | 30 | 31 | | | | |
January , 2020
| Sun | Mon | Tue | Wed | Thu | Fri | Sat |
| --- | --- | --- | --- | --- | --- | --- |
| | | | 01 | 02 | 03 | 04 |
| 05 | 06 | 07 | 08 | 09 | 10 | 11 |
| 12 | 13 | 14 | 15 | 16 | 17 | 18 |
| 19 | 20 | 21 | 22 | 23 | 24 | 25 |
| 26 | 27 | 28 | 29 | 30 | 31 | |
February , 2020
| Sun | Mon | Tue | Wed | Thu | Fri | Sat |
| --- | --- | --- | --- | --- | --- | --- |
| | | | | | | 01 |
| 02 | 03 | 04 | 05 | 06 | 07 | 08 |
| 09 | 10 | 11 | 12 | 13 | 14 | 15 |
| 16 | 17 | 18 | 19 | 20 | 21 | 22 |
| 23 | 24 | 25 | 26 | 27 | 28 | 29 |
March , 2020
| Sun | Mon | Tue | Wed | Thu | Fri | Sat |
| --- | --- | --- | --- | --- | --- | --- |
| 01 | 02 | 03 | 04 | 05 | 06 | 07 |
| 08 | 09 | 10 | 11 | 12 | 13 | 14 |
| 15 | 16 | 17 | 18 | 19 | 20 | 21 |
| 22 | 23 | 24 | 25 | 26 | 27 | 28 |
| 29 | 30 | 31 | | | | |
April , 2020
| Sun | Mon | Tue | Wed | Thu | Fri | Sat |
| --- | --- | --- | --- | --- | --- | --- |
| | | | 01 | 02 | 03 | 04 |
| 05 | 06 | 07 | 08 | 09 | 10 | 11 |
| 12 | 13 | 14 | 15 | 16 | 17 | 18 |
| 19 | 20 | 21 | 22 | 23 | 24 | 25 |
| 26 | 27 | 28 | 29 | 30 | | |
May , 2020
Sun
Mon
Tue
Wed
Thu
Fri
Sat
01
02
03
04
05
06
07
08
09
10
11
12
13
14
15
16
17
18
19
20
21
22
23
24
25
26
27
28
29
30
31
June , 2020
Sun
Mon
Tue
Wed
Thu
Fri
Sat
01
02
03
04
05
06
07
08
09
10
11
12
13
14
15
16
17
18
19
20
21
22
23
24
25
26
27
28
29
30
July , 2020
| Sun | Mon | Tue | Wed | Thu | Fri | Sat |
| --- | --- | --- | --- | --- | --- | --- |
| | | | 01 | 02 | 03 | 04 |
| 05 | 06 | 07 | 08 | 09 | 10 | 11 |
| 12 | 13 | 14 | 15 | 16 | 17 | 18 |
| 19 | 20 | 21 | 22 | 23 | 24 | 25 |
| 26 | 27 | 28 | 29 | 30 | 31 | |
August , 2020
| Sun | Mon | Tue | Wed | Thu | Fri | Sat |
| --- | --- | --- | --- | --- | --- | --- |
| | | | | | | 01 |
| 02 | 03 | 04 | 05 | 06 | 07 | 08 |
| 09 | 10 | 11 | 12 | 13 | 14 | 15 |
| 16 | 17 | 18 | 19 | 20 | 21 | 22 |
| 23 | 24 | 25 | 26 | 27 | 28 | 29 |
| 30 | 31 | | | | | |
September , 2020
| Sun | Mon | Tue | Wed | Thu | Fri | Sat |
| --- | --- | --- | --- | --- | --- | --- |
| | | 01 | 02 | 03 | 04 | 05 |
| 06 | 07 | 08 | 09 | 10 | 11 | 12 |
| 13 | 14 | 15 | 16 | 17 | 18 | 19 |
| 20 | 21 | 22 | 23 | 24 | 25 | 26 |
| 27 | 28 | 29 | 30 | | | |
October , 2020
| Sun | Mon | Tue | Wed | Thu | Fri | Sat |
| --- | --- | --- | --- | --- | --- | --- |
| | | | | 01 | 02 | 03 |
| 04 | 05 | 06 | 07 | 08 | 09 | 10 |
| 11 | 12 | 13 | 14 | 15 | 16 | 17 |
| 18 | 19 | 20 | 21 | 22 | 23 | 24 |
| 25 | 26 | 27 | 28 | 29 | 30 | 31 |
November , 2020
| Sun | Mon | Tue | Wed | Thu | Fri | Sat |
| --- | --- | --- | --- | --- | --- | --- |
| 01 | 02 | 03 | 04 | 05 | 06 | 07 |
| 08 | 09 | 10 | 11 | 12 | 13 | 14 |
| 15 | 16 | 17 | 18 | 19 | 20 | 21 |
| 22 | 23 | 24 | 25 | 26 | 27 | 28 |
| 29 | 30 | | | | | |
December , 2020
| Sun | Mon | Tue | Wed | Thu | Fri | Sat |
| --- | --- | --- | --- | --- | --- | --- |
| | | 01 | 02 | 03 | 04 | 05 |
| 06 | 07 | 08 | 09 | 10 | 11 | 12 |
| 13 | 14 | 15 | 16 | 17 | 18 | 19 |
| 20 | 21 | 22 | 23 | 24 | 25 | 26 |
| 27 | 28 | 29 | 30 | 31 | | |
January , 2021
Sun
Mon
Tue
Wed
Thu
Fri
Sat
01
02
03
04
05
06
07
08
09
10
11
12
13
14
15
16
17
18
19
20
21
22
23
24
25
26
27
28
29
30
31
February , 2021
| Sun | Mon | Tue | Wed | Thu | Fri | Sat |
| --- | --- | --- | --- | --- | --- | --- |
| 01 | 02 | 03 | 04 | 05 | 06 | 07 |
| 08 | 09 | 10 | 11 | 12 | 13 | 14 |
| 15 | 16 | 17 | 18 | 19 | 20 | 21 |
| 22 | 23 | 24 | 25 | 26 | 27 | 28 |
March , 2021
Sun
Mon
Tue
Wed
Thu
Fri
Sat
01
02
03
04
05
06
07
08
09
10
11
12
13
14
15
16
17
18
19
20
21
22
23
24
25
26
27
28
29
30
31
April , 2021
| Sun | Mon | Tue | Wed | Thu | Fri | Sat |
| --- | --- | --- | --- | --- | --- | --- |
| | | | | 01 | 02 | 03 |
| 04 | 05 | 06 | 07 | 08 | 09 | 10 |
| 11 | 12 | 13 | 14 | 15 | 16 | 17 |
| 18 | 19 | 20 | 21 | 22 | 23 | 24 |
| 25 | 26 | 27 | 28 | 29 | 30 | |
May , 2021
| Sun | Mon | Tue | Wed | Thu | Fri | Sat |
| --- | --- | --- | --- | --- | --- | --- |
| | | | | | | 01 |
| 02 | 03 | 04 | 05 | 06 | 07 | 08 |
| 09 | 10 | 11 | 12 | 13 | 14 | 15 |
| 16 | 17 | 18 | 19 | 20 | 21 | 22 |
| 23 | 24 | 25 | 26 | 27 | 28 | 29 |
| 30 | 31 | | | | | |
June , 2021
| Sun | Mon | Tue | Wed | Thu | Fri | Sat |
| --- | --- | --- | --- | --- | --- | --- |
| | | 01 | 02 | 03 | 04 | 05 |
| 06 | 07 | 08 | 09 | 10 | 11 | 12 |
| 13 | 14 | 15 | 16 | 17 | 18 | 19 |
| 20 | 21 | 22 | 23 | 24 | 25 | 26 |
| 27 | 28 | 29 | 30 | | | |
July , 2021
| Sun | Mon | Tue | Wed | Thu | Fri | Sat |
| --- | --- | --- | --- | --- | --- | --- |
| | | | | 01 | 02 | 03 |
| 04 | 05 | 06 | 07 | 08 | 09 | 10 |
| 11 | 12 | 13 | 14 | 15 | 16 | 17 |
| 18 | 19 | 20 | 21 | 22 | 23 | 24 |
| 25 | 26 | 27 | 28 | 29 | 30 | 31 |
August , 2021
| Sun | Mon | Tue | Wed | Thu | Fri | Sat |
| --- | --- | --- | --- | --- | --- | --- |
| 01 | 02 | 03 | 04 | 05 | 06 | 07 |
| 08 | 09 | 10 | 11 | 12 | 13 | 14 |
| 15 | 16 | 17 | 18 | 19 | 20 | 21 |
| 22 | 23 | 24 | 25 | 26 | 27 | 28 |
| 29 | 30 | 31 | | | | |
Location
Shoal Bay
• 20 minutes from Anguilla Airport and The Valley town area
Other Properties you may like