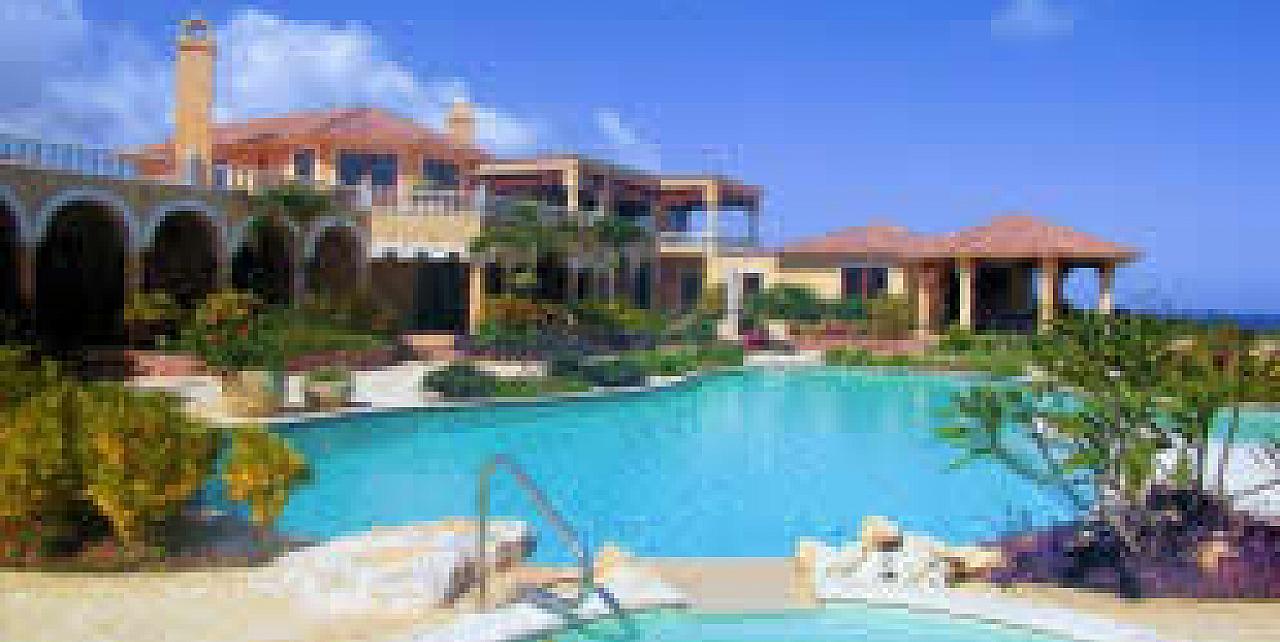 Add to Favourites
HAVE QUESTIONS?
UK : 0845-017-6707
USA/CANADA: +1 347 707 1195
BARBADOS: +246-432-6307
INTERNATIONAL: +44 1978 368531
Floor Area: 15000 sq ft
Designed by a world renowned, award-winning architect using individually selected materials from throughout the world, this stunning 13,000+ square foot Tuscan-style luxury villa embodies peace and tranquility.
The full name of the villa is Villa Castellamonte del Mare, which means "little castle on the hill by the sea." The architecture of Villa Castellamonte is based on the elegant Tuscan villas from Firenza, Lucca, Montalcino and Siena. Graceful archways, deep shady grand terraces, lush romantic gardens and a luxurious swimming pool placed in the "piazza" of the villa are examples of the Tuscan influence. The second floor of the villa, dedicated to a massive bedroom suite, offers an architectural nod to the Moorish influence found throughout southern Europe. The layout of the villa is open, friendly and welcoming with easy line-of-sight throughout the house.
Landscaping in and around Villa Castellamonte completes the feeling of "Tuscany in the Caribbean." Imported Italian marble fountains, quiet romantic flower filled gardens, a huge pergola offering an enchanting al fresco dining area, fish ponds and faux cobblestone walkways all bring the ambiance and charm of Italy to this seaside Caribbean villa. Completing the picture is a stunning hand-built rock wall surrounding the villa, giving the impression of age and European grandeur without interrupting the spectacular Caribbean vistas.
Following strict architectural guidelines, construction of the villa complies with both California earthquake and Florida hurricane standards. The building itself is solid monolithic block and concrete bound together with thousands of feet of reinforced steel sunk into the bedrock of the island. The design called for this simply to provide security against any unforeseen weather or natural event.
The house consists of Seven (7) King-Size Air-Conditioned Elegant Bedroom
Suites
with En Suite Baths, One Queen-Size Air-Conditioned Bedroom Suite w/En Suite Bath, 2 Huge Living Areas; one a splendid
grand living room
for entertaining, the other a totally equipped
game room
for relaxation. Formal Dining, Al Fresco Dining, Private Dining and Grand Terrace Dining areas. Massive 18' deep, shady
grand terrace
with luxurious furnishings for outdoor living and relaxation.Two Gourmet
Kitchens
for Entertaining Large Groups. . Private Wine Cellar with Individual Temperature Controls Holds 600+ Bottles. 3 Elegant Hand-Carved Coralina Fireplaces with Gas Logs & Remote Ignition. Gorgeous Hand Painted Ceilings and Wall Murals by International Muralist. 18' (5m) Deep Grand Terrace Encompasses the Villa for Splendid Outdoor Living. Fully equipped
Exercise Facility
. 60' x 60' Custom Designed Zero Entry Swimming Pool w/Peninsula, swim-through tunnel and diving rock.
There is direct access to a romantic 600' Secluded White Sand Beach.
A 4 Hole PGA-Quality
Putting / Chipping Golf Greens
.
A fully Landscaped & Maintained Rooftop Gardens.
See more details...
Amenities
Exclusive Beach Club
Near Beach
Sea view
See more details...
Location
Orchid Bay Estates
Other Properties you may like