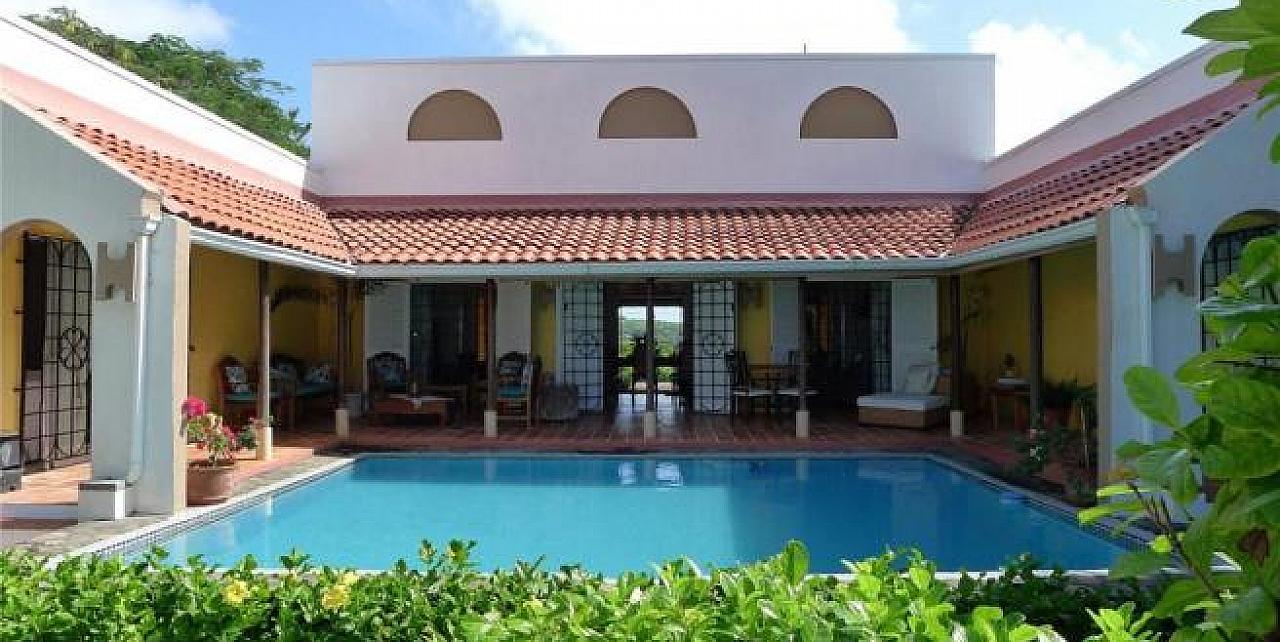 Add to Favourites
HAVE QUESTIONS?
UK : 0845-017-6707
USA/CANADA: +1 347 707 1195
BARBADOS: +246-432-6307
INTERNATIONAL: +44 1978 368531
Property Size: Main House, Covered Verandahs and two car Garage: 3,840 sq ft Cottage: 690 sq ft sq ft
Land Area: 21,768 sq ft sq ft
Windscape House is located in Prospect on an elevated cool headland with commanding views over the Southern point of St Vincent and the Northern Grenadine islands of Bequia and Mustique.
The very private and secure home is entered through a landscaped courtyard into the great room which opens onto the pool and covered living terraces. All the main internal rooms are accessed off this double height space which has 6 large double doors to the external terraces giving a very "open" internal/external space. The great room, bathrooms, kitchen and cottact have recently been extensively refurbished. All the bedrooms are air conditioned while the other main rooms and the kitchen have ceiling fans.
The mature landscape designed gardens have a number of large feature trees and palms as well as a varied mixture of fruit trees. These include mango, banana, golden apple, coconut, papaya, pineapple, Barbados Cherry and advocado. Under a 30 foot tall large rubber tree are orchids, bromeliads and large leafed vines cascading onto an open terrace for garden dining and lounging.
The self-contained garden cottage is on the West of the property nestled under a large mango tree. The Cottage has a 30 ft long private verandah along with a large open roof terrace.
Windscape House and Cottage are situated in a wonderful spot with some fabulous views - a fantastic opportunity to purchase a fabulous property.
See more details...
Amenities
Air Conditioned bedrooms
Car Parking on site
Ceiling Fans
Fully Equipped Kitchen
Garage
Private Pool
Sea view
Sunbeds
See more details...
TV/Living Room
Great Room including Entrance Hall, Living and Dining Room
Covered living Verandahs
Open plan Kitchen and breakfast island.
Laundry Room
Staff wash room
2 Car Garage
Gardeners Store Room
Bedroom : 1 - 5
Bedroom Types : Double
Main House: Master Bedroom, Ensuite Bathroom, WIC Bedroom 02, Ensuite Bathroom Bedroom 03 (shares Bathroom 02) Bedroom 04 / Study, Ensuite bathroom Cottage: 1 Bedroom, Ensuite bathroom, WIC, Internal and Verandah Living Areas, Galley Kitchen, Roof Terrace
Swimming Pool