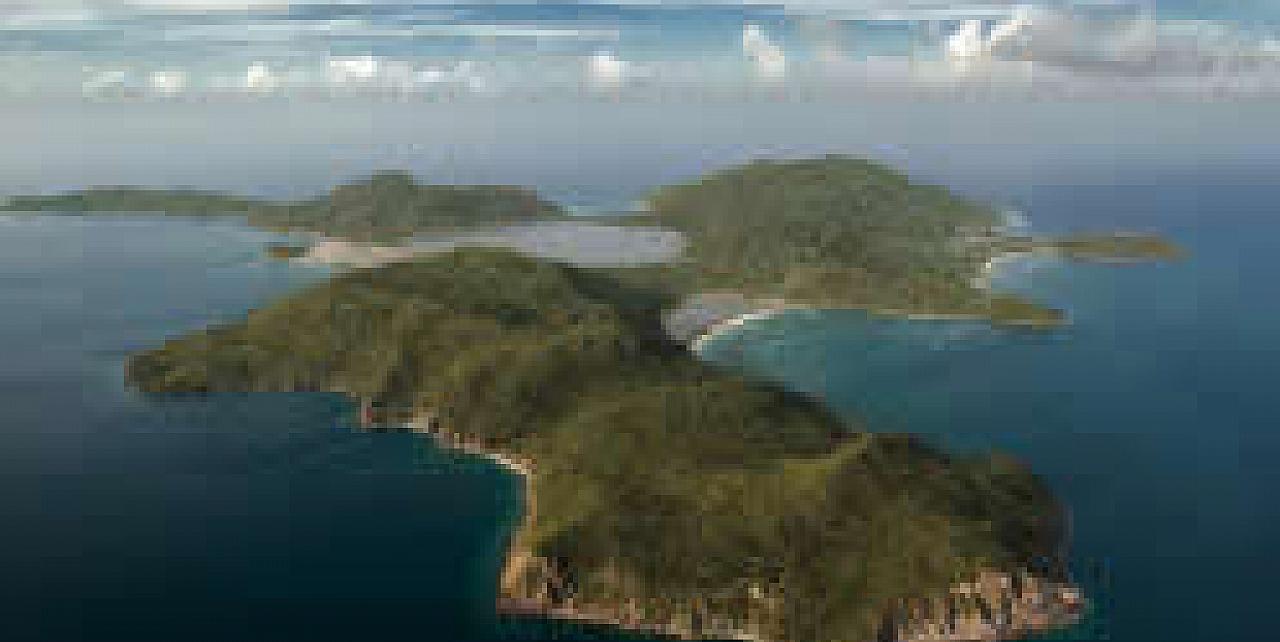 Christophe Harbour - St Kitts
Add to Favourites
$875,000 USD - $4,300,000 USD
HAVE QUESTIONS?
UK : 0845-017-6707
USA/CANADA: +1 347 707 1195
BARBADOS: +246-432-6307
INTERNATIONAL: +44 1978 368531
$875,000 USD - $4,300,000 USD
November 2010 : Stephen Grant has just returned from visiting Christophe Harbour in St Kitts and says that this is probably one of the most exciting opportunities to buy property in St Kitts and Nevis for many very good reasons.
Just released - Pavilion Hill - 7 homesites on 1/3rd acre priced at US$ 875,000 !
Likely to go quickly and purchase includes membership in the Christophe Harbour Club. Further incentives possible for early construction.
july 2011
Christophe Harbour
St Kitts is very much underway and they are already dredging
what was a salt pond to create a modern marina that will
offer berths up to 250 feet long. Several Houses are under construction and
11
holes of the Tom Fazio course are being shaped. The
Beach restaurant is open and is already considered one of St Kitts best restaurants and there are 4 wonderful beach house villas located adjacent to the restaurant that are available to rent should you wish to visit. Contact us for more details.
[email protected]
Windswept Villas:
Only 11 three and four bedroom furnished turnkey residences nestle within the harbour side at Sandy Bank Bay, offering harbour, Atlantic ocean and Caribbean sunset views.
Three bedroom: 3,482 ft |US $1.975m
Four bedroom: 3,893 ft |US$2.45m
Villa Lorreanna: four bedroom, five-and-a-half bathroom 5,833ft villa at Sandy Bank Bay: priced at US$4.5m.
All villas are sold furnished and include Christophe Harbour Golf Club membership for the duration of property ownership.
BENEFITS OF OWNERSHIP
o Christophe Harbour is an approved project of the Citizenship by Investment Programme, which includes dual-citizenship, full-residency status, citizenship for life, and a valid passport.
o Streamlined customs procedures and reduced or deferred import duties and taxes on the import of home building materials.
o Concierge assistance throughout the purchase and construction process.
o Resources for referrals for legal, financial, banking, architectural, and builder services.
This St Kitts Resort will have
two 5 star Hotels
and a Management agreement
with one leading worldwide brand to create
Mandarin Oriental, St. Kitts. This will be an extraordinary resort ideally situated on a pristine 50-acre site at Majors Bay, a private cove on the islands secluded southeast peninsula. The luxurious 125-room resort, plus 60 private Residences at Mandarin Oriental, will be an integral part of Christophe Harbour.
The overall development will also offer an array of leisure activities, including a Marina village offering docking spaces for private yachts, shops, restaurants and access to the 18-hole Tom Fazio Championship golf course.
The 60 privileged Christophe Harbour owners at The Residences will be treated as permanent guests of the Hotel
experiencing both the magic of the Orient and the warm and inviting atmosphere of St. Kitts for their very own.
Christophe Harbour is the
brain child
of award-winning Kiawah Development Partners (KDP), known for its very succesful residential resort communities at Kiawah Island, South Carolina and Doonbeg Golf Club in County Clare, Ireland. Working with a host of leading environmental, engineering, design, and architectural firms, KDP brings years of expertise to the development. Their tremendous success may be attributed to careful long term planning and a corporate philosophy that protects land and sea and integrates development within natural environments.
New FBO Terminal Planned for St. Kitts
Christophe Harbour is pleased to share with you that the St. Christopher Air & Sea Port Authority (SCASPA) has partnered with Veling Limited to build a private jet fixed base of operations (FBO), set to be constructed on the southeast corner of St. Kitts' Robert L. Bradshaw International Airport.
The estimated $20 million project will be constructed in two phases over the next 10 years. Contracts will be awarded in October this year, with construction commencing February 2011. Completion of the first phase is expected by winter 2012.
The architectural design of the FBO will reflect that of the West Indian culture, while the interior will offer ultra-modern facilities and first-class services.
See more details...
Amenities
Communal Facilities
Exclusive Beach Club
Gated Development
Golf Resort
Land
Near Beach
Sea view
See more details...
Location
At the southern tip of St. Kitts, Christophe Harbour with views across the Atlantic Ocean to Nevis, Majors Bay will soon be home to one of the Caribbean's most exclusive resort properties. Mandarin Oriental, St. Kitts, expected to open in 2010, will blend the luxury hotel group's exotic oriental roots with the rich culture and lush, tropical landscape of St. Kitts for a truly unique experience at Christophe Harbour.
Other Properties you may like