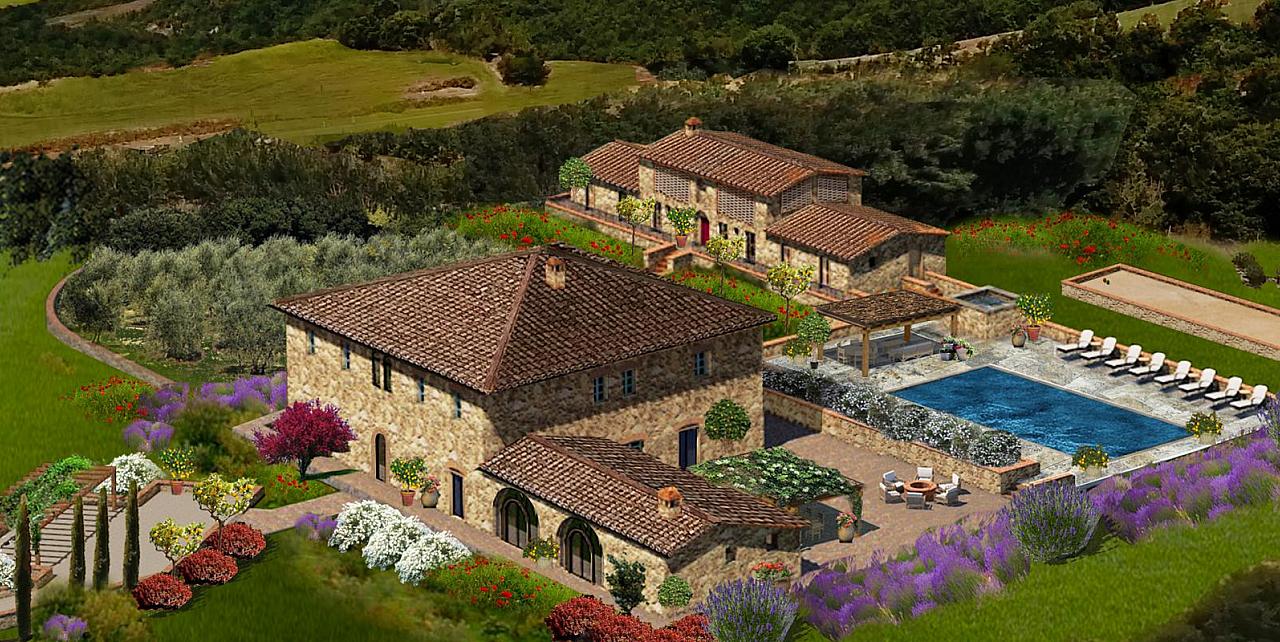 Tuscan Farm with Own Vineyard - Farm San Gaetano
Add to Favourites
HAVE QUESTIONS?
UK : 0845-017-6707
USA/CANADA: +1 347 707 1195
BARBADOS: +246-432-6307
INTERNATIONAL: +44 1978 368531
Farm San Gaetano is ideally located just below the town of Mensano, a small village perched on the hilltop that hosts many authentic traditional festivals attended mostly by the local Tuscans. Farm San Gaetano includes 154 acres of land consisting of vineyards, olive groves and fruit orchards.
Farm San Gaetano includes two farmhome buildings, a large main home and guest house, comprising 8,200 square feet that can be customized to your liking. The design philosophy of the architecture and design team of this property celebrates the traditional historical elements of Tuscan farmhomes such as barrel vaulted ceilings accenting living and dining areas and archways seamlessly connecting the flow of the home and exposed stone walls. They have used all of these traditional architectural elements with modern comforts such as expansive outdoor relaxation areas, infinity-edged pools and outdoor kitchens with pizza forno ovens.
A superb property amongst the stunning Tuscan landscape. An opportunity not to be missed!
See more details...
Amenities
Air Conditioning
Car Parking on site
Fully Equipped Kitchen
Guest House
Gym/Fitness Room
Heatable Pool
Jacuzzi
Land
Private Pool
See more details...
Bedroom : 1 - 5
Bedroom Types : King
Master suites, each with own dressing area