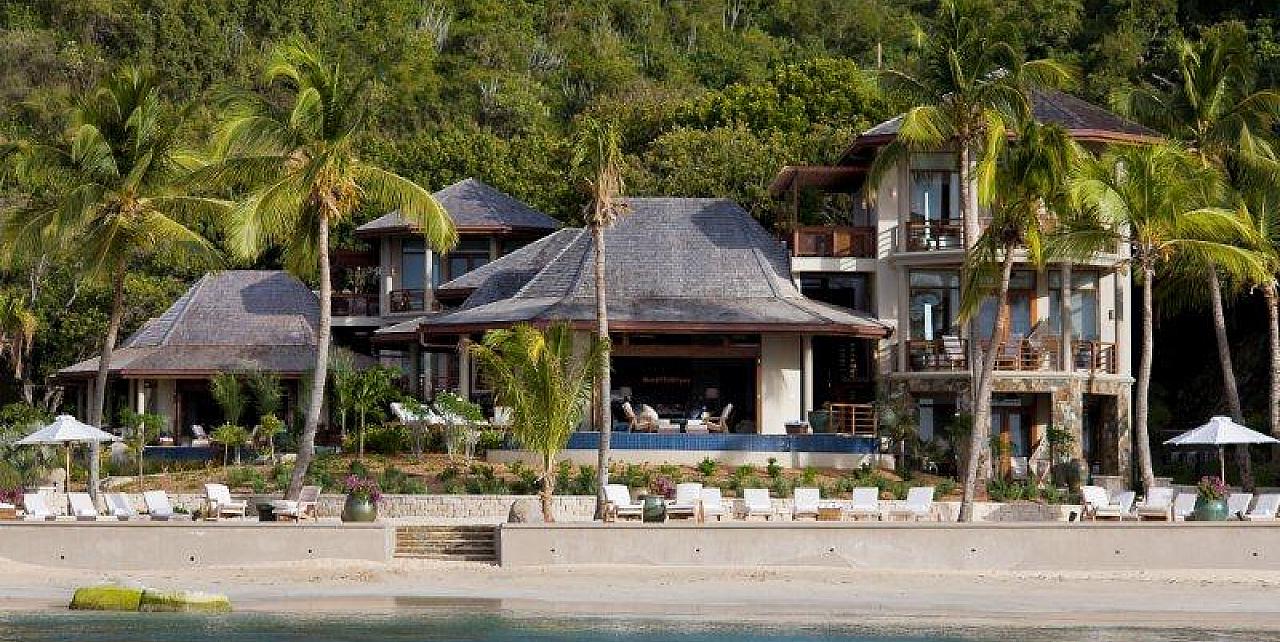 Add to Favourites
HAVE QUESTIONS?
UK : 0845-017-6707
USA/CANADA: +1 347 707 1195
BARBADOS: +246-432-6307
INTERNATIONAL: +44 1978 368531
800 ft of unparalleled luxury situated on the beachfront with beautiful sandy beaches and crystal clear waters. This is your first taste of Aquamare Virgin Gorda; three five bedrooms villas surrounded by tropical lush landscape and in complete seclusion. Each villa consists of three en suite spa suites, one double bedroom and one studio room, spacious living areas, professional grade kitchens and unobstructed views of the islands in Drake's Channel, affording some of the most beautiful sunsets in the Caribbean. Each villa has a number of great features such as a marble bath area, large ocean view balconies and separate outdoor shower rooms. The entire property is for sale for $18.5m. Each of the three villas may be purchased separately from $5.5m.
Aquamare Virgin Gorda's consists of three private beachfront villas, complete with fifteen unique guest rooms, perfect for a luxury wedding, private party or a large group of friends and family. If booked all together the accommodation allows for up to 36 guests to comfortably enjoy this exquisite place.Villa Aquamare Virgin Gorda's covers a splendid 24,000 square feet with stunning waterfalls, a private white beach area and live reefs.
Every villa at Aquamare Virgin Gorda's gives you an experience of luxury beyond compare. From each villas 8,000 square feet of living space to the five stunning large bedrooms, three of them master suites, Aquamare offers its guests a breathtaking experience. Each villa has been designed with expansive living areas and wonderful terraces offering spectacular views that lead to a private infinity pool.
Aquamare Virgin Gorda has been arranged to an impeccable standard, with local stonework, rich hardwoods, travertine marble, expansive private balconies in each room. Aquamare's stands above the rest with its 30-feet vaulted wood ceilings, private infinity pools and spacious open-air living area. For the food enthusiasts, every villa comes complete with a fully equipped gourmet kitchen, with both inside and outside dining areas perfect for any dining experience. Each meal comes prepared by chefs who use locally sourced delicacies.
The surrounding area has ornamental gardens that have formed natural walls giving each villa its own peace and privacy. Aquamare Virgin Gorde has a stunning white sandy beach area at the front of the villas, perfect for a secluded intimate wedding, sunset party or a great place just to relax and unwind on the stunning king sized bed perfectly positioned over the sand.
The interior of each house is designed with meticulous detail and sophistication throughout. All three feature three master suites, one double room and one junior suite, and accommodate up to 12 guests. Rooms are very spacious and have over 1,000 sq/ft of room for you to feel at ease, pampered to your heart's content. Each spa suite features a 9- by-12-foot marble baths with separate outdoor shower room with large 12-inch diameter shower heads.
Villa Aquamare Virgin Gorda's boasts a fantastic location on Mahoe Bay, with two live reefs bursting with colour and underwater life, home to turtles, parrot fish and calamari just 15 feet from the waters edge.
See more details...
Amenities
Air Conditioning
Beach Front
Cable TV
CD Player
DVD Player
Sea view
Tennis (nearby)
See more details...
Bedroom : 5 - 15
Location
Virgin Gorda British Virgin Islands
Other Properties you may like