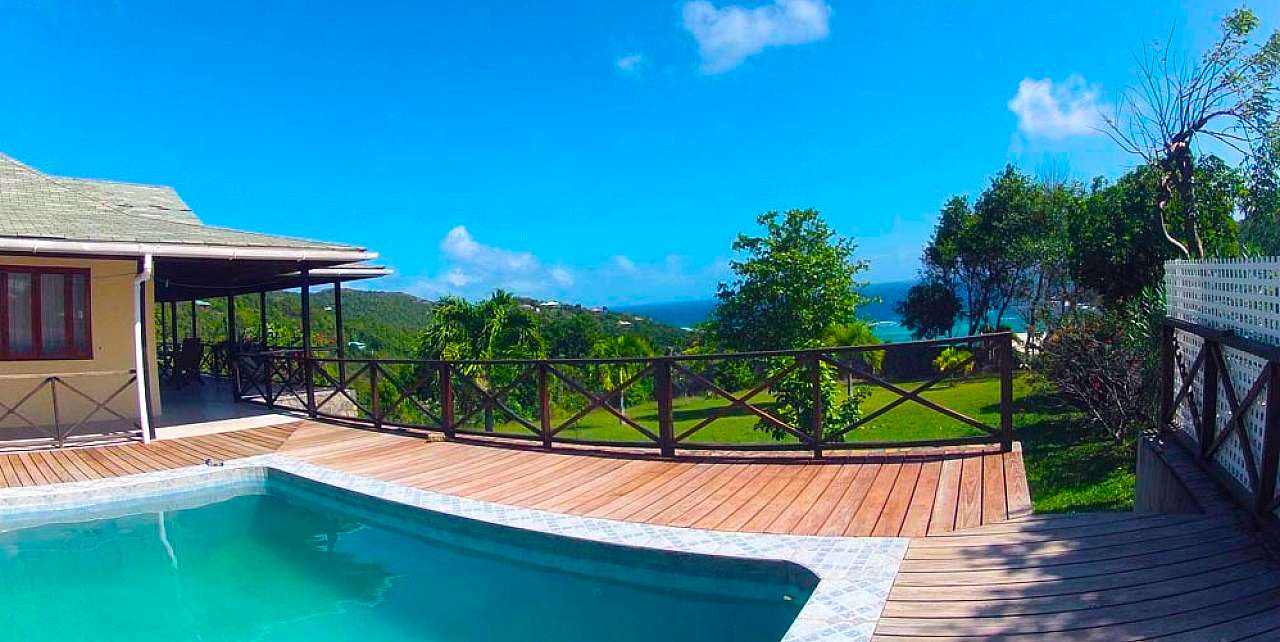 Add to Favourites
HAVE QUESTIONS?
UK : 0845-017-6707
USA/CANADA: +1 347 707 1195
BARBADOS: +246-432-6307
INTERNATIONAL: +44 1978 368531
Kalamunda Bequia is a stunning luxury four bedroom villa designed in traditional Caribbean style. The villa is secluded and private with exquisite views of the Atlantic coast and Spring Bay from the full scale balcony that stretches around the house. A beautiful garden, with fruit trees, a vegetable patch and palm trees cover the well kept gently sloping lawn. The villa also has an attractive 14,000 gallon swimming pool raised with full views of the gardens and sea beyond that.
The interior is split, with two bedrooms and bathrooms in the main house and an adjacent guest section comprising two self contained rooms one with shower and one with a full bath (tub) and walk-in storage/wardrobes. The modern kitchen is air conditioned with fully fitted built in units and a large fridge freezer unit. Opening the doors from the large living area over the balcony gives its visitors beautiful views of the sea and allows trade winds to gently cool the house.
Kalamunda Bequia's main bedroom is spacious with en suite toilet and separate shower room. It can be accessed from both the inside and outside, and has large doors with lourves that open up allowing the trade winds to create a natural breeze. The other bedroom in the main house, is also air conditioned and features a hand-crafted twin wardrobe and dressing table unit occupying the full width of the room.
The guest suite has two large bedrooms with air conditioning and walk in closets.
This villa needs a few extra touchs in the interior to make it the perfect Caribbean holiday home
See more details...
Amenities
Air Conditioned bedrooms
Guest House
Near Beach
Sea view
See more details...
Bedroom : 4
Location
Kalamunda, Old Cart Road, Spring Estate, Bequia. St. Vincent and the Grenadines
Less than ten minutes from Port Elizabeth
Restaurant and Spa facilities are a short drive away
East coast beach 20 minutes walks from the house
Three west coast beach 5 minutes drive
Turtle Sanctuary 5 minutes drive
Bequia Island Airport 10min
Barbados International 50 min flight
Grenada International 40 min flight
Other Properties you may like