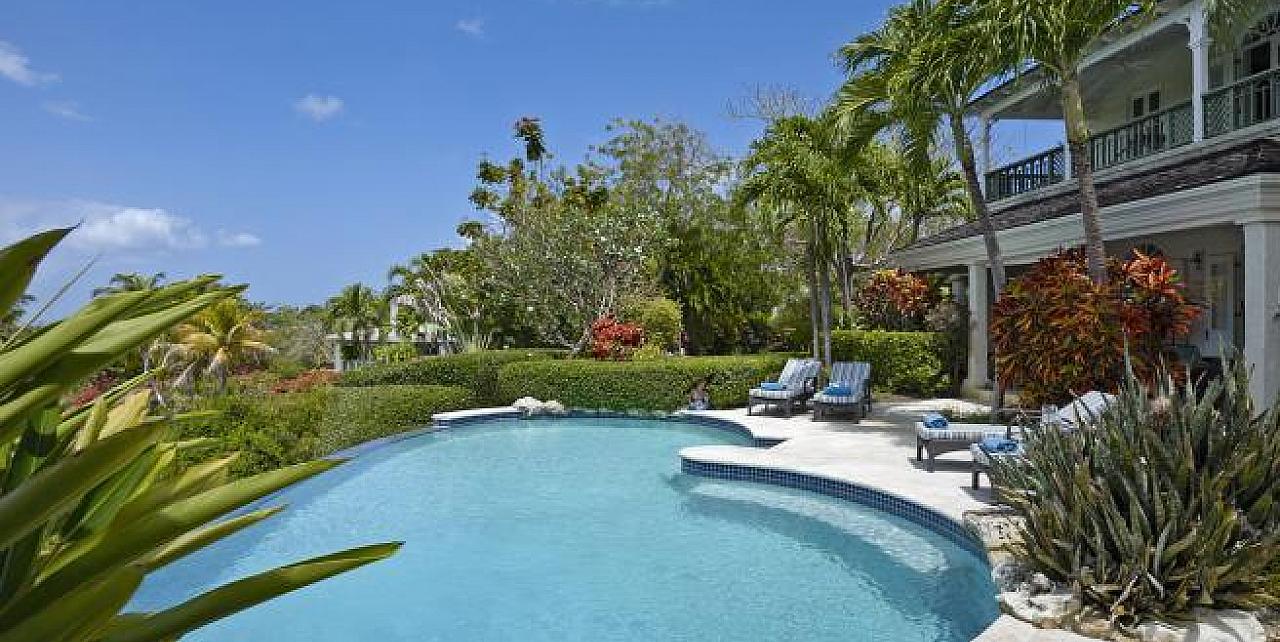 Pandanus Great House Estate
Add to Favourites
HAVE QUESTIONS?
UK : 0845-017-6707
USA/CANADA: +1 347 707 1195
BARBADOS: +246-432-6307
INTERNATIONAL: +44 1978 368531
Pandanus Great House is a stunning colonial style Caribbean villa just a few hundred yards from Mullins Beach. It is located on a breathtaking coral cliff overlooking the sparkling Caribbean Sea.
Pandanus Great House is palatial with around 9,000 sq.ft. of space. It is set in nearly three acres of tropical gardens and there are two guest cottages in its grounds.
The approach to Pandanus Great House leads through a sugar cane plantation along a 1,200 foot. drive through landscaped gardens.
The main house is entered through a lush atrium garden. This is filled with exotic plants and flowering vines.
There is a spectacular staircase in the entrance hall with mahogany handrails and a 23 ft. high window overlooking the pool and Caribbean sea beyond.
Panadanus Great House enjoys unobstructed panoramic views from every room. The wonderful views extend over a rainforest canopy to the sandy shores and aquamarine seas of Mullins and Gibbes Beaches. These are two of the most acclaimed beaches in the Caribbean.
The spacious living room has been designed to connect indoor and outdoor entertaining space. The living room has French doors on each side.
The doors on one side lead to tropical gardens with charming seating areas. The doors on the other side lead to the pool area with outdoor dining facilities, gazebo and spa pool.
A large dining room that can seat up to 20 people is served by a fully equipped kitchen. The kitchen is equipped with GE appliances that also offer catering facilities for up to 100 guests.
The Pandanus Great House and guest cottages offer a combined six bedrooms and five bathrooms.
The main house has a master suite and two guest bedrooms. The master suite is located on the first floor. This has an en suite bathroom, dressing area and private balcony. From here there are views of the pool, gardens and Caribbean Sea.
The first, older guest cottage has a bedroom, sitting room, small kitchen and bathroom. The second guest cottage is newer and has two bedrooms and two bathrooms. It also has its own kitchen and private terrace area.
Pandanus is equipped with a private office and independent telephone line.
An upgraded satellite dish delivers a complete array of international television stations to the dedicated media area on the ground floor. There are also separate staff quarters in the main house.
The extensive grounds and all accommodation, both internal and external, are protected by a state-of- the-art security system.
The entrance is secured by electronic gates set in a six feet high perimeter wall. The estate has its own generator to provide electricity in the event of a power outage. An integral garage and storeroom provide a safe home for vehicles and other equipment.
Scheduled flights direct from the UK, US and Canada put Barbados within easy reach.
There is wonderful shopping at Lime Grove shopping centre in Holetown. There are internationally acclaimed restaurants all over the west coast. There are also five world-class golf courses on Barbados making the island a sophisticated tropical destination.
Shimmering white sand beaches, elegant restaurants and the near year-round tropical climate have made Barbados a very popular holiday destination for stars of music, film and television.
Many have chosen Pandanus Great House for its security, luxury and unrivalled location.
Recently reduced from US$8,250,000 down to US$4,975,000.
If you would like to see Pandanus Great House contact us today.
For long term rentals in Barbados visit longtermrentalsbarbados.com
For holiday rentals visit barbadosdreamvillas.com
See more details...
Amenities
Air Conditioned bedrooms
BBQ
Ceiling Fans
Fully Equipped Kitchen
Garage
Golf (nearby)
Internet Access
Laundry Room
Private Garden
Private Pool
Security System
Sunbeds
Tennis (nearby)
See more details...
Bedroom : 6
Bedroom Types : Double,King,Twin
Other Properties you may like