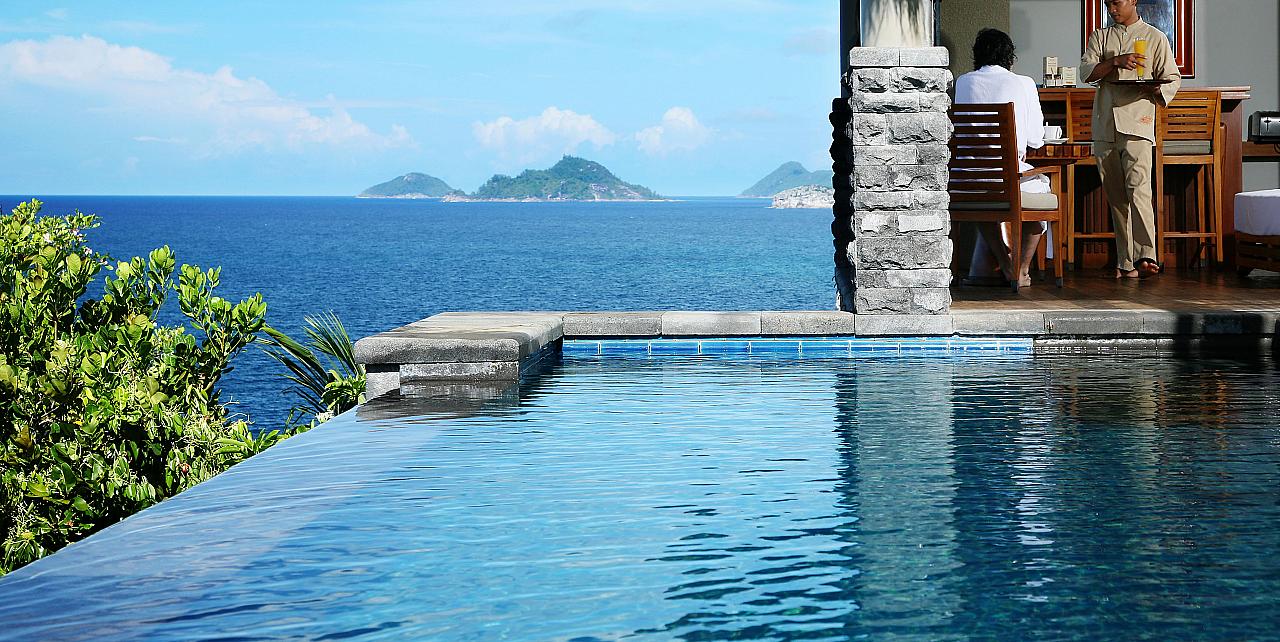 Maia Luxury Resort and Spa
Add to Favourites
Plan Your Trip
HAVE QUESTIONS?
USA/CANADA: +1 347 707 1195
BARBADOS: +246-432-6307
UK /INTERNATIONAL: +44 1978 368531
Maia Luxury Resort and Spa Seychelles is a shining gem in this archipelago of jewels in The Seychelles. On the lush green island of Mahe is a beach called Anse Louis - a secluded, untouched beach with transparent turquoise sea and sand where you will find Maia Resort. Maia is more than a sanctuary, more than an escape and much, much more than a hotel. Situated on 12 hectares of award winning gardens, across the peninsula of Mahe, Maia is a pure and tranquil refuge from the cares of the world.
Accommodation at Maia Luxury Resort and Spa Seychelles
There are 30 villas located within the lush tropical gardens and enjoying the 180 degree, uninterrupted sea views offset by the warm, earthy tones of the villa's interior design
• 19 Ocean Panoramic Villas - on the hilltop, overlooking Anse Louis or Anse Boileau Bays
• 11 Maia Signature Villas - unprecedented levels of privacy and are graced by spectacular ocean views
Each of the 1 bedroom air conditioned villas feature private, infinity edge swimming pools and enjoy luxury en-suite bathrooms and bedroom pavilions. They are equipped with privately stocked bars, flat screen TVs, DVD players, iPod stations, ceiling fans and a La Prairie fridge for cosmetics. The outdoor gazebo is fully equipped with en-suite dining facilities and a wonderfully oversized day bed.

The hi-end Hermès brand products are now provided as in villa amenities throughout the 30 private villas within the resort each with private pool and butler service. Les essentiels Hermès" two distinctive collections - Terre d'Hermès for him including Body wash & shampoo and Kelly Calèche amenities for her including Soap bars, body wash, shampoo, conditioner & body lotion.

The Spa at Maia Luxury Resort and Spa Seychelles - Opened Nov 1st 2013
The boutique spa has been designed as a haven for pure relaxation, transcendental meditation and pampering for adults and children alike, featuring:
• 3 luxurious open air treatment rooms
• A meditation pavilion offering complimentary and private classes in yoga, self shiatsu and qi qong
• High skilled therapists selected for their 'touch'
• The new spa menu with exclusive treatments by Omorovicza with include 5 natural facials & 4 body massages

Relax at the Maia Luxury Resort and Spa Seychelles
Paradise is just a step and scent away. Breathe deeply and inhale the sweet sea air and the soft fragrance of the tropical flora. Enjoy the following services during your stay:

• A fully equipped fitness centre
• Morning yoga, self shiatsu and qi qong
• A range of bath treatments in the spa or the privacy of your villa
• Swimming pool with tanning decks
• Anse Louis - a tranquil bay free from the din of motorized sports
• Easy access to Anse Louis' long, white, sandy beach
• Canoeing, kayaking, snorkelling and fishing
• National parks and tropical forests for hiking
• Discover the beauty of the Maia award winning gardens as voted by the South African Landscape Institute as "The most beautiful hotel gardens in Africa 2008" and in August 2015, MAIA was awarded the "Gold Award of Excellence" by SALI (South African Landscapers Institute)
Cuisine at Maia Luxury Resort and Spa Seychelles
The cuisine is a cornucopia of cultures, colours and flavours using only the freshest and finest ingredients. At Maia Luxury Resort and Spa Seychelles, you have complete freedom to dine in the privacy of your own villa with a meal organised by your personal butler - or you can take to the beaches for a candlelit dinner alongside the stunning Indian Ocean waves. Barbeques can be arranged in the seclusion of your own villa's gazebo and there is a wide choice of secluded garden terraces by the poolside providing a refreshing choice for those seeking intimacy. Maia uphold a policy of flexibility for dining beyond the regular menu and times to satiate individual requirements and tastes. So, wherever and whenever you choose to dine at Maia, and whatever you wish to savour staff will be on hand to grant your wishes.
Alternatively you may choose from:
The Tec-Tec restaurant - specialising in Mediterranean cuisine with an Asian Creole accent
The Pool Bar - surrounded by granite rocks overlooking the Indian Ocean
Weddings at the Maia Luxury Resort and Spa Seychelles
Maia Resort can tailor make private exclusive wedding ceremonies. Discover the three idyllic wedding offers: Frangipani, Maia Sunset and Maia Signature.
See more details...
Amenities
Air Conditioned bedrooms
Air Conditioning
Bar
Beach Front
Ceiling Fans
Childrens Activities
Complimentary Concierge Service
DVD Player
Gym/Fitness Room
iPod connection
Restaurant
Shared Pool
Short walk to beach
Spa
TV
See more details...
Bedroom : 1
Bathroom : 1
Staff
Your private butler can prepare light dishes, meals and refreshments throughout the day – this includes off menu items such as barbecues and freshly caught fish.
Rate
Rates on request.
Please call or message for rates, availability or further information

Location
5th June Ave, Anse Boileau, Seychelles
• 25 minutes chauffeured drive to and from Mahe airport
• 30 minutes from Victoria, Mahe's capital
• Helicopter transfers to and from other islands can be booked
• 8 km from Seychelles Golf Club
• 17 km from the Seychelles National Botanical Gardens