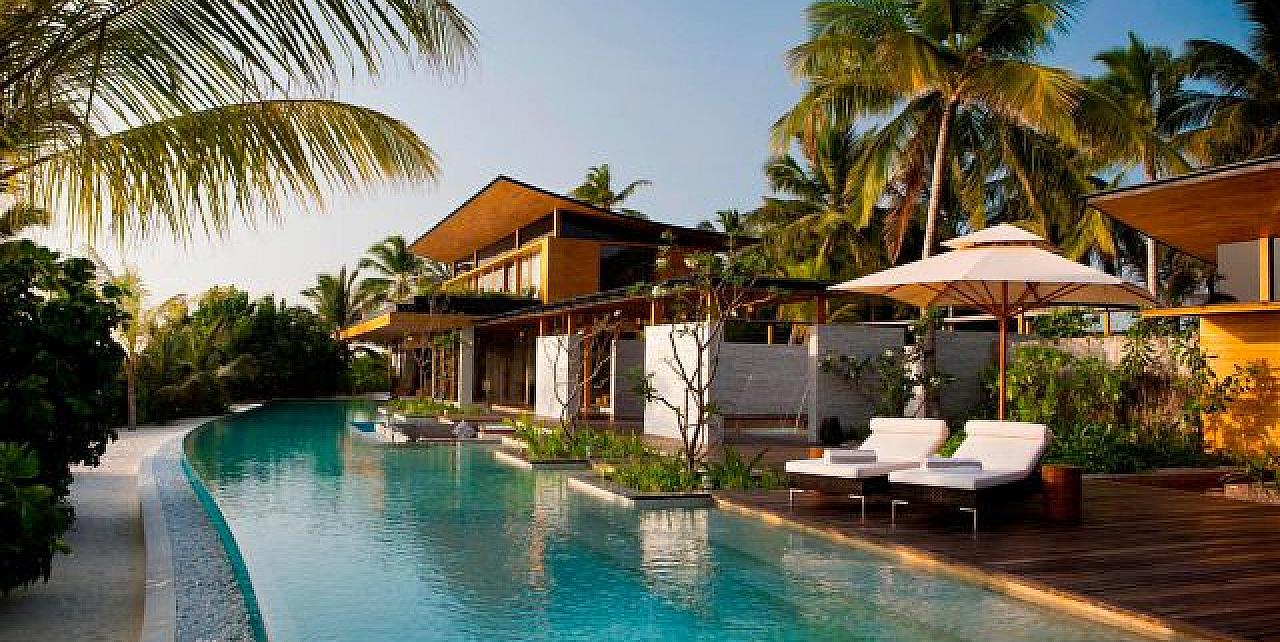 Coco Prive Kuda Hithi Island
Add to Favourites
Plan Your Trip
HAVE QUESTIONS?
UK : 0845-017-6707
USA/CANADA: +1 347 707 1195
BARBADOS: +246-432-6307
INTERNATIONAL: +44 1978 368531
Coco Prive Kuda Hithi Island in the Northern atoll of the Maldives. It is a place where luxury meets nature creating the ultimate private retreat with exceptional service levels - including 24 hours personalised service, private chefs and spa therapists. Accommodation is avialble for up to 12 people as a family or friends gathering together - staying in the grand Master Residence and 5 luxurious villas. Each suite is beautifully designed and decorated with palettes of natural earthy hues and tactile textures.
Coco Privé Kuda Hithi Island Master Residence - Palm Island
The island's spectacular Master Residence is split into two levels - the upper level incorporates a spacious open bedroom, living area and large master bathroom. There is a lovely, private upper deck complete with sunken lounge and Jacuzzi which offers uninterrupted views of the turquoise waters of the glistening Indian Ocean. The lower level features a library, dining room, living room, cocktail bar and gym with a steam shower.
Coco Privé Kuda Hithi Island - Five Luxurious Villas
In addition to this Master Residence, there are five luxurious villas - two of which have private swimming pools, while the others share the magnificent infinity pool. They each offer generous living spaces and ample privacy with uninterrupted ocean views.
Starfish Villa
A private retreat for guests, offering a choice of twin or double beds, large private bathroom, and spacious living area.
Heron Villa
Heron Villa opens out on to the share pool decking and has a choice of twin or double beds, large private bathroom, and spacious living area.
Turtle Villa
Heron Villa and is a multi-purpose space that can be used for a variety of occasions. From your own private spa area to an additional bedroom, Turtle Villa provides your guests with additional space and flexibility if required
Manta Villa
Villa Manta is one of two large properties that stand alone from the other residences. Located on the beach, Villa Manta has a private pool, a choice of twin or double beds, spacious living areas and large bathroom with outdoor shower.
Gecko Villa
The second of the large beachfront properties and neighbour to Villa Manta, Villa Gecko also has its own private pool, a choice of twin or double beds, spacious living area and large bathroom with outdoor shower.
Dining and Entertainment
Multiple outdoor dining and entertainment spaces are featured within the island's 13,000 metre square of tropical grounds, offering unique and inspirations settings for either dining, socialising or relaxing alike. There is also a lovely entrance water feature complete with a raised fire pit and a vast wine-cellar offering an eclectic worldwide selection chosen by Coco Prive's sommelier.
Guests will have access to the five fine-dining restaurants located at the neighbouring 5 stay resort Coco Body Hithi, including:
• Asian Seafood Restaurant - Aqua
• Japanese Restaurant - Tsuki
• Stars - Continental Cuisine
As part of the whole experience, guests will be met at Male International Airport and transported via yacht, 30km north to Coce Prive Kuda Hithi Island.
Additional Features and Amenities:
• Personal host service throughout your stay
• All meals, exquisitely prepared by the private chef
• Premium selection of unlimited beverages
• Daily spa treatment with dedicated spa therapist
• Complimentary water sport activities including Wind Surfing, Paddle Boarding, Kayaking and Snorkelling
• Personalised Mini bar selection
• Bespoke packages including fishing, sand bank picnics and sleeping under the stars are also available upon request - at an additional cost
See more details...
Amenities
Air Conditioning
Beach Front
Complimentary Concierge Service
Gym/Fitness Room
Jacuzzi
Shared Pool
Spa
Spa Treatments in Villa
Villa Accommodation
WaterSports
Wireless Internet
See more details...
Bedroom : 1 - 6
Bathroom : 1 - 6
Staff
The chef is on hand to develop any dish the guest may desire and with a dedicated on-site kitchen team available, guests are catered for around the clock.
Location
Coco Privé Kuda Hithi Island, Kuda Hithi 20079, Maldives
In the midst of the Indian Ocean, sat atop a vast underwater mountain range, lies one of the most tranquil and exclusive of all the Maldivian islands; Coco Privé Kuda Hithi Island. Located in the North Malé Atoll, 30 km from Malé International Airport, Kuda Hithi Island is a hideaway where culture and tradition walk hand in hand with luxury and enticement.